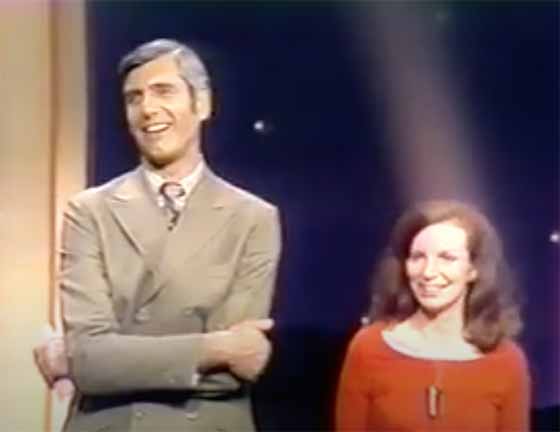 Remembering The Wonder Man
of Wonderama Sonny Fox
PART FOUR / PART THREE HERE / PART TWO HERE / PART ONE HERE
by Kevin S. Butler
Following his on-air career, Sonny Fox worked briefly as the executive Vice President in charge of NBC TV's children's shows for the 1976/77 season.
Sonny attempted to change the programs on the network with more meaningful shows… one of them was the pilot for a TV special aimed at teens "The First National Kids Quiz" hosted by actor Michael Landon.
Here Mr. Landon posed important queries to the young viewers for example: "You see your friend shoplifting at the mall. How do you handle it?" and "Your parents are not giving you enough privacy, how do you explain it to them?"
By this time the heads of NBC TV and the other networks were more interested in airing cartoons, not sophisticated educational live programming. Sonny Fox was out of work again.
He left NYC following his divorce from wife Gloria and he moved to California where he served as Associate Producer of the "Tomorrow" show with Tom Snyder and later with Don Alan Productions Inc.
By the 1980's, Sonny formed his own independent production company and his first project was finding and salvaging rare kinescope film prints of old TV dramas of the 1950's. He made them available to PBS, the educational TV network reruns such shows as "Bang The Drum Slowly" with Cliff Robertson, "Marty" with Rod Steiger and "No Time For Sargents" with Andy Griffith and Bob Hastings.
By the late 1980's, he would work on his last two projects for kids as a producer, not as an on air personality.
Sonny produced an instructional video cassette titled "When Mom And Dad Break Up" which helped kids whose parents are going through separation and divorce cope with this emotional trauma. The video was narrated and hosted by actor /singer /songwriter and former TV talk show host Alan Thicke.
He also collaborated with his fellow kids' TV host Chuck McCann and with former Providence, Rhode Island and NYC based kids host / performer and producer scriptwriter Chet Dowling on McCann's last regular kids' series "Chuck McCann's Fun Stuff."
Set against the backdrop of a local video store, Chuck and his new comedy assistant and puppeteer Barry Thompson would perform puppet and character comedy skits, and engage their young visitors to the "Fun Stuff" store in games, contests, and presented a revive version of Sonny's "Kidsmercials" (where local Southern, Cal. kids would produce and tape their own idea of TV commercials). Sonny made a cameo appearance in one of Chuck and Mr.Thompson's "Highly Scholastic" skits as an undercover investigator for "SOAKS" aka The Society Of Almost Knocked Off Snakes where he prevented the mean snake charmer Mr. Scholastic (Chuck) abusing his snake puppet pal "Bumper."
"Chuck McCann's Fun Stuff" was seen weekday mornings on KHJ (KCAL) TV Ch.9 in The Los Angeles viewing area during the fall of 1989. The series was also unsuccessful so it had a brief run on KHJ 9.
Sonny continued to work on other projects. He also appeared on many radio and TV talk shows recalling his many years as one of NYC's most popular kids' personalities.
In 1984, he appeared with Chuck McCann, Johnny Olson, Sandy Becker, Fred Scott, Don Hastings, and Soupy Sales on WNEW Ch.5 NYC's 40th Anniversary tribute, "40 Years Of Fine Tuning."
Ten years later, he appeared with Chuck, Soupy, John Zacherle(y) and, in his last public appearance "Capt. Jack" McCarthy at a seminar honoring NYC's most popular local kids' TV shows at The Museum of TV and Radio (now known as The Paley Center For Media) titled "The First Kids On The Block."
Moderated by one of the museum's execs David Bushman, the former kids' emcees reminisced about their careers and answered questions from the audience. Also attending the seminar but not appearing on stage were Bill Britten ("Johnny Jellybean" from "Time For Fun," "Bozo The Clown" and "Wonderama's" third host/performer), cartoon show host "Uncle Fred"Scott,Soupy's comedy assistant and puppeteer Frank Nastasi and "Wonderama's" fifth and last adult host/performer Bob McAllister.
Sonny, Chuck, "Capt.Jack" McCarthy and "Captain Kangaroo" (Bob Keeshan) were also featured in an article for the newspaper Newsday. He also did a cameo on an instructional TV special for the Fox/Family network "Tuned In" that aired in 1997.
The show which was hosted by singer and former TV talk show mc Ms. Kathi Lee Gifford showed dramatizations on which shows are best for family viewing. The dramatizations featured the late Fred Willard and Sonny as a shyster lawyer.
Sonny Fox also wrote and published his memoir 'But You Made The Front Page: Wonderama, Wars & A Whole Bunch Of Life.' He promoted the book in Ct, N.J., Southern, Cal. and at another seminar at The Paley Center For Media with comic actress, mimic and TV talk show host Whoopie Goldberg.
Eventually,Sonny would give up his TV production company to become an exec for Population Communications International,Inc. (A TV censor group which monitored the subject matter that was presented on television soap operas seen overseas).
He would retired from Population Communications and work with Randy Bucknoff on creating and maintaining a website honoring the network and kids' TV legends work. In 2015, Sonny was honored with a birthday celebration at Sardi's restaurant on NYC's Times Sq. And he received a second honor from the faculty of his alma Mater James Madison High School. He was also written up in another article for Newsday.
Sonny Fox is gone but his endeavors in TV history will not be forgotten. Paving the way for "1,2,3 Go!" with Jack Lescoulie and Richard Thomas, "Discovery" with Frank Buxton, Virginia Gibson and Bill Owen, "Exploring" with Dr. Albert Hibbs and The Ritts Puppets, "Captain Kangaroo", "Mr. Rogers" and "Nick News.