WIRE SERVICE
by Cary O'Dell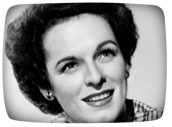 "Wire Service," a 60 minute newspaper drama, debuted over ABC on October 4, 1956 and told the story of three roving reporters working for the TransWorld News Service (1). The series starred George Brent, Dane Clark and Mercedes McCambridge each of whom appeared every third week in their own solo-starring adventure.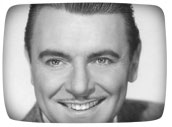 The series's unique rotation of talent was the first of its kind and helped pave the way for later programs that would follow this same production cycle, notably "The Name of the Game," "The NBC Mystery Movie" (which alternated "Columbo," "McMillian and Wife" and "McCloud") and, alternately, "The Hardy Boys/Nancy Drew Mysteries."
Along with that prefiguration, "Wire Service" can also make some claim to being one TV's first hour-long dramas starring a reoccurring cast. Granted, Clint Walker's hour-long, long-running ABC western "Cheyenne" began one year prior to "Wire"—it began September 20, 1955--but, due to the cost and complications of its production, the series appeared irregularly throughout most of its eight year run (2). Meanwhile, ABC's "The Mask," a cop drama starring Gary Merrill and William Prince, which launched on January 10, 1954, was 60 minutes in length but aired for only five months; "Wire Service," in contrast, was around for a full season.
In any event, even without these pioneering details, "Wire Service" remains a unique, hard-hitting, well-produced and well-acted drama, anchored by an impressive trio of lead stars.
Journeyman leading man Dane Clark—whose installment "The Blood Rock Mine" kicked off the series on October 4, 1955--had been in films since 1940 when he did his first uncredited bits. Later, under contract to Warner Bros., his handsome mug and likable performances helped him move up the ranks and assume the lead in innumerable B movies and in a few now largely forgotten A pictures. He began in television, also in anthology installments, around 1953. Though never a household name, Clark nevertheless enjoyed a long career, playing his final roles in the 1980s (3).
The dashing and distinguished George Brent—whose episode "Campaign Trail" aired second, on October 11, 1956--had been appearing in films since 1924 when he followed his famous wife Ruth Chatterton (the second of his five wives, which later included Ann Sheridan) to the screen. Brent enjoyed his greatest and most lucrative success in the late 1930's and early 1940's when he became the go-to leading man for Bette Davis in several of her starring vehicles including "Dark Victory," "The Old Maid" and "In This Our Life." By the time he came to "Wire Service," Brent had already dabbled in television via various appearances in popular anthology programs like "Climax!" and "Fireside Theater" (4).
Mercedes McCambridge--whose first episode "Hideout" aired on October 18, 1956--was probably the most renowned of the "Wire Service" triad when the show debuted. She had already been labeled by Orson Welles as the "world's greatest living radio actress" and had also already scored an Oscar for her film debut, in "All the King's Men" in 1949. She jumped mediums easily during this part of her career, moving from films like "Johnny Guitar" and "Giant" to TV guest spots on "Climax!" and "The Loretta Young Show" (5).
Regardless of the three's occasional small screen appearances prior, it was no doubt a major coup for ABC to bring these three former film names to weekly television. To showcase them well, the producers, Don Sharpe, Warren Lewis and Buck Houghton, built a quality series around them. The series also benefited from sometimes very innovative direction by a shifting group of TV veterans including Alvin Ganzer, Al C. Ward, and Tom Gries (6).

Though most of the series was shot on the RKO lot, at least two episodes were filmed in England and made great use of outdoor locations. The show's debut episode was said to have been shot in the Mojave Desert—amid temperatures of 124 degrees (7).
That initial episode—as mentioned, a Dane Clark installment—had the show's lead that week, newsman Dan Miller, covering a uranium hunt. The show was favorably reviewed by "Variety" who wrote, "All in all, [producers] Don Sharpe and Warren Lewis aren't going overboard with the customary melodramatics and hokum involved in the usual newspaper story, and are playing it for quality and restraint" (8).
The then timely topic of uranium and atom bombs was revisited a couple of times during "Wire Services" single season on the air. Along with its debut episode, the McCambridge episode "Run, Sheep, Run" tells the story of a farmer who finds uranium on his land. Two other episodes—"Four Minutes to Shot" and "Atom at Spithead"—have atomic tests as their backdrop.
In keeping with early television's willingness to tackle hard-hitting issues, "Wire Service" showed throughout its run a reluctance to playing it safe. The Brent episode "The Night of August Seventh" takes place amid of a prison riot. It's a prophetic installment. As a group of inmates turn the tables on their guards, the episode conjures up comparisons to the infamous Stanford prison experiment of 1971. It also has Brent's character, veteran newsman Dean Evans, and the prison's warden each wonder aloud about the humanity of holding "4,000 men in a place designed for 2,000" and of the inevitable conflicts that arise from warehousing rather than rehabilitating society's deviants.
Meanwhile, the episode "The Tower," about a disturbed man held up in a church's bell tower,
not only references real-life killer William Heirens in its dialogue but also seems to eerily foreshadow the shooting spree of Charles Whitman, who opened fire from a tower on the University of Texas in August of 1966.
Other hard-hitting subjects addressed during "Wire Service's" run included episodes devoted to POWs, mental illness, and illegal adoption.
Despite such candor and topicality, many episodes of "Wire Service" were not positively reviewed at the time of their original air. "Variety" noted of the third episode, "Hide Out" (the first to feature McCambridge), that it was "merely a dated copy of 'The Front Page' pattern, often bordering on the ludicrous" (9). Other sources at the time also questioned the overall realism of the series, especially in terms of the behavior of its reporters. A 1957 article from the "Sarasota Journal" had a reporter tongue-in-cheekly applying for a job at TransWorld since its reporters seemed to encounter much more excitement, drama and intrigue than he ever did in his day-to-day job (10).
But such demands for accuracy is in itself unrealistic in the world of televisual drama. As on the big screen and before on stage and in books, reporters of any ilk, when portrayed in the media, often act more like crusaders or detectives or cops than pen-and-ink news people. In the aforementioned episode "The Tower," reporter Dan Miller (Dane Clark) has an access to crime scenes that no real-life local PD would ever allow. In the "Hideout," Kate Wells seems to do as much sleuthing (or, at least, successful sleuthing) as the police as she hunts down an eye witness to a murder and then discovers she has to find the witness before the killer finds him!
Hunting and searching is a popular, reoccurring theme within the universe of "Wire Service." This trilogy of reporters is always on the hunt for news leads, witnesses or clues. In the Brent episode, "Flowers for the General" (shot completely in Mexico), reporter Evans spends the better part of the hour desperately searching for a young girl who, unbeknownst to her, is carrying deadly nitroglycerin within her flower bouquet.
Sometimes the series turned a harsh light on itself and its own industry. In the episode "Chicago Exclusive," reporter Evans (Brent) is pressured into revealing a confidential source, which he refuses to do. A later episode—"The Nameless"--has a character chastise one of the leads by stating, "All you care about is a good story!" In a McCambridge episode, her reporter character talks her way into a household and slyly snatches a photo off of the mantel; it will run on the paper's cover the next day, without the permission of its owner!
Sometimes as well, one of the reporter characters allows their own emotions to become overly involved in a story they are covering. For example, in the Dane Clark episode "Dateline Las Vegas," reporter Miller romantically takes up with guest star Carolyn Jones though he suspects from the beginning she's mixed up in a payroll theft his newspaper is investigating.
Interestingly, McCambridge's character seemed to be the least likely of this trio to let feelings get in the way of her job, killing the "husband-hunter" myth that unfairly tags so many early TV working women. McCambridge's Kate is quite at home in the newsroom. She calls her boss/editor by his first name—take that Mary Richards—and can't be accused of fluff or jiggle either. In her debut installment, she thinks nothing of bravely trailing a potential killer.
Though "Wire Service" liked to touch on news topics and even play toward the emotions, it was never shy about appealing to action fans either. Even Brent, the elder member of the trio, could be counted on for the occasional chase or short fist fight; he engages in fisticuffs at the end of the episode "The Deep End." Meanwhile, the episode "The Johnny Rath Story," a Dane Clark episode, has episode director Robert Florey staging a highly impressive helicopter and train chase/stunt sequence.
"Wire Service" was ABC's first foray into the newspaper drama genre; other networks had already broadcast such press-focused series as "Big Town" and the anthology series "The Big Story." Syndication offered "Foreign Intrigue" as well as the more light-hearted "Adventures of Superman." The program was sponsored by Camel Cigarettes and whether the series worked hard to incorporate the sponsor into its plots or simply followed a newspaperman's code, nearly constant cigarette smoking is a staple of most episodes. Along with smoking culture's lights, butts and drags, the series also pays homage to other particulars of the newspaper "game" and the newspaper film trope: headlines flash on the screen, news boys race about calling for "copy," and typewriter keys snap and clack in the background. The program also employed the then-popular narrative framing device of a voice-over. Each episode of "Wire" began with one of its three stars reciting the show's opening pseudo-manifesto:
Nothing travels faster than news. An electronic impulse splinters distance at one hundred and eighty-six thousand miles per second. From Tokyo, from London, from Rio, from New York. An age of speed and curiosity, the news probes and the probe is truth.
These words were spoken each week against animation of a spinning globe, city points interconnected by darting lines.
"Wire Service" aired originally on Thursdays at 9pm. In February of 1957, the series would be moved to Monday at 7:30pm. Originally, the program aired opposite the second half of CBS's "Climax" and the first half of the Eye Network's "Playhouse 90." Over on NBC, the program aired against "The People's Choice" and "The Ford Show Starring Tennessee Ernie Ford" (11).
Despite the show's quality, talented leads and impressive guest stars (which included, among others, Lee Van Cleef, Whitney Blake, Brian Keith, Beverly Garland, Michael Landon and Charles Bronson (12), "Wire Service," during its single season on the air never, broke into the top 25 Nielsen rated series. Its competition on one network ("Playhouse 90") was the critical success, its competition on another ("The Ford Show") was a popular one (13). This one-two punch seemed to have handicapped "Wire Service's" fortunes; even its subsequent day and timeslot shift didn't seem to do much in terms of getting or retaining an audience. Of course, being no doubt a costly series to produce, and on the perpetually third-rated ABC network, also limited its chance for success and renewal. All tolled, 40 episodes of the series were produced though the Classic TV Archive website can find airdates only for 36 suggesting that four episodes were produced but never aired either due to the network pulling the series or, for a time at least, had anticipated its renewal for a second season (14).
Though the demise of "Wire Service" might have been a disappointment to its creative team, no one suffered for long. Brent, Clark and McCambridge all continued their enduring careers. For McCambridge, immortality arrived many years later when she supplied the terrifying voice of the demon for the horror classic "The Exorcist" in 1973 (15). Meanwhile series producer Buck Houghton would also have later success, serving as a producer for such series as "Twilight Zone," "Harry O," "Hawaii Five-0" and for various made-for-TV movies. Executive producers Don Sharpe and Warren Lewis would go on to bring "Cavalcade of America" and "Yancy Derringer" to the small screen (16).
With only one season of episodes, "Wire Service" was not often repeated after it left the air though the Clark episodes were reshown by ABC under the title "Deadline for Action" beginning in February 1959. In some markets, in 1959, Clark may have competed against himself; his syndicated series, "Bold Venture," debuted that same year.
Last year, 15 episodes of "Wire Service" were released in a DVD set; the included episodes are divided more or less evenly between the three principal stars. The package, though incomplete, nevertheless serves as an excellent introduction, or reminder, of this noteworthy and multi-faceted series.
-30-
WORKS CITED
1 McNeil, Alex. "Total Television." New York: Penguin, 1996, p. 838.
2 Brooks, Tim and Earle Marsh. "The Complete Directory to Prime Time Network TV
Shows." New York: Ballantine, 1992, p. 162.
3 Monush, Barry. "The Encyclopedia of Hollywood Film Actors." New York: Applause,
2003, p. 129-130.
4 Katz, Ephraim. "The Film Encyclopedia" (third edition). New York: HarperPerennial,
1998, p. 172.
5 Ibid., p. 480.
6 http://ctva.biz/US/Reporter/WireService.htm
7 Mercer, Charles. "'Wire Service,' News Drama, Opens On Abc-tv On Oct. 4," OCALA STAR-BANNER 9 Sept. 1956.

8 "Television Review: 'Wire Service,'" VARIETY 10 Oct. 1956.
9 Daniel, Douglass K. "Lou Grant: The Making of TV's Top Newspaper Drama." Syracuse: Syracuse University Press, 1996, p. 9.
10 "Lives of Television Reporters Fascinating to Mercer," SARASOTA JOURNAL
(Sarasota, CA), 2 Feb. 1957.

11 Brooks and Marsh, p. 907.
12 http://ctva.biz/US/Reporter/WireService.htm
13 Brooks and Marsh, p. 907.
14 http://ctva.biz/US/Reporter/WireService.htm
15 "Rough Character," ENTERTAINMENT WEEKLY, 2 April 2004, p. 19.
16 IMDB.Com
THE 1950s
WIRE SERVICE