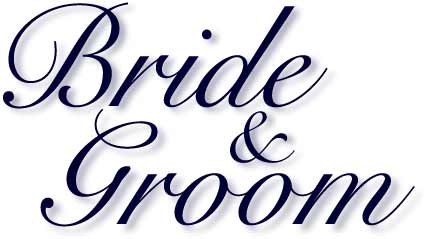 By Zachary Houle
Getting married can be, well, an insane experience with all the planning and booking that goes into making the walk down the aisle a day to remember. But for one couple almost married on national TV in the early '50s, the experience literally led to one groom's mental breakdown! (Not to mention the presumed breakdown of the relationship afterward.)
The couple was to be married on a program called Bride and Groom, where everyday John and Jane Does from all over America were legally hitched on TV. It originally ran on CBS between 1951 and 1953 in 15-minute increments between soaps weekday mornings. The show moved briefly to NBC in 1954 for one more season, and frittered into that network's rerun lineup occasionally in fits and spurts until 1958, when it was banished forever from the dial. (Originally, Bride and Groom had been a radio show that'd been on the air possibly as far back as 1946. You can actually hear a snippet of that show if you go here.)
Unlike reality TV shows of today, the couple getting married actually knew each other for some time before tying the knot. It'd be nice if producers of shows like Joe Millionaire and The Bachelor took a cue from this idea - but I digress.
During each episode of Bride and Groom, host John Nelson, who originally did the '40s radio program, would quiz real-life couples about their relationship. Then, he cut away to an in-studio commercial, usually for Betty Crocker or General Mills products. After this plug, the happy couple was whisked off to another part of the set for their wedding as sidekick Phil Hanna crooned the couple's chosen wedding song. Afterwards, the couple would be showered with prize "gifts" - some silverware, towels, cigarette lighters and bedroom suites.
But wait! There was always something more! Also thrown into the deal was an all-expense paid honeymoon, and the chance to drive a new car to the airport along the way. What do you know? Cheap thrills were even cheaper back then.
The network also gave couples a 16mm copy of their televised marriage, since TVs were still a rarity at the time and many of the show's participants probably wouldn't ever get a chance to see their televised vows otherwise. Some of these films are still around in private collections - unlike most obscure shows of that era, which have since been lost.
Bride and Groom wasn't a bad idea for reality TV when you think about it - it'd certainly save hundreds of relatives from having to make a long trip just to see you and your loved one tie the knot. Additionally, the show reputedly drove up the sales of TV sets in some places, because, naturally, you'd want to see your friends and relatives get married, right?
Besides making TV sets a must-buy item in some families, Bride and Groom was additionally beneficial to CBS and NBC because it was such a relatively cheap show to produce. They weren't giving away that new car, after all; they were just offering you the privilege of driving it a few miles. The network also forced contestants to pay their own way to New York, and used inexpensive cardboard props - nobody could tell the difference on TV back then.
Predictably, the show was a brief hit among housewives whose husbands could afford a TV set. Though the concept wore thin after awhile, it set the tenor for latter-day real TV weddings like those featured in recent years on the Today show and, well, Who Wants To Marry A Millionaire?
Unlike those latter-day shows, though, most people on Bride and Groom really seemed to get married strictly out of love, not money or any other tangible benefit. But when we say most people in the previous sentence, we're excluding one would-be "contestant": Sigmund Welt (whose non-relation to Sigmund Freud will soon become apparent). Strangely, he seemed to be looking more forward to his studio-paid honeymoon than the actual TV marriage itself.
According to a January 23, 1954, wire story from the Associated Press, the 23-year-old Welt and his wife-to-be, Josephine Buono, went to a New York NBC-TV studio a couple days before to prepare for the show. Welt was apparently in a good mood: he was looking forward to the honeymoon, which he believed would be in California or Florida. Once he arrived on set, however, a studio hand broke it to the couple that their honeymoon destination would be Princeton, N.J.
You know, Princeton: home to Princeton University and, at the time, Albert Einstein. Welt and his would-be wife were going to glorious Geek City U.S.A., and in the middle of winter no less! The news item says "Welt became indignant" upon hearing this (understandably so), and started an argument with studio staff. But Welt must have really pissed off the studio or his fiancee with the complaint because, ultimately, the TV marriage wound up being cancelled on the spot.
Welt and his bride-to-be stormed off the set in separate directions, furious with each other. Welt retreated to a Brooklyn hotel while his now ex-fiancee went back to her nearby parent's home, where she still lived. Both parties' fury turned into despair over the cancelled wedding as the day wore on. Buono was evidentially so upset that she couldn't sleep in her own bedroom that night - she bedded with her mother, which forced her dad to take residence in her bed instead.
A distraught Welt, on the other hand, came down to the lobby of his hotel sometime before 5 a.m. the following morning and told the night clerk, "There's going to be a dead body somewhere. I'll jump from the hotel or my girl's house." Welt eventually decided that if was going to kill himself, he'd make a better statement over at his would-be bride's place.
When he arrived, though, he decided to confront his girl, even though dawn wouldn't break for at least another two hours. He snuck in through a cellar door, crept to Buono's bedroom, and shook the sleeping figure awake.
Remember, though, that his girlfriend wasn't in the bed. It was her father. As the saying goes in TV land: wacky hi-jinks ensued.
The AP story alludes to a domestic dispute between Welt and Fred Buono that was serious enough to warrant police intervention. Later on that day, Welt was brought before Magistrate Matthew Fagan on a charge of malicious mischief. After hearing the case, Fagan told Welt that he was being sent to the mental ward of a local hospital for "observation."
"That's good," he told the judge. "I have my own psychiatrist."