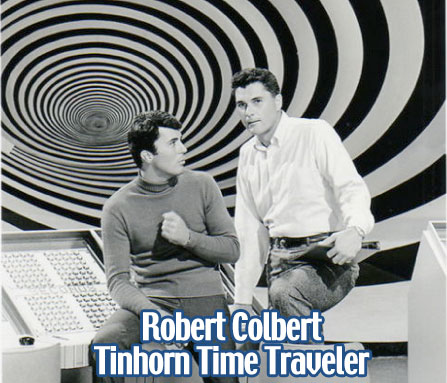 by Jim Longworth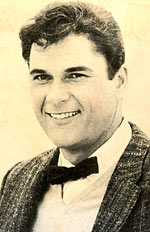 With the exception of being lost in a Time Tunnel for nearly two years, Robert Colbert always seems to be in the right place at the right time. Case in point, while serving in the military, Bob was offered a part time job as a disc jockey at a radio station in Okinawa, and one thing led to another.

"KSBK offered me two dollars an hour, four nights a week, so that was like a thousand dollars today. I took the job, then a woman from the Air Force heard my voice on the radio, and asked me to try out for a stage production of The Caine Mutiny. So I did the play and quit the radio job. Acting on stage was an incredible experience".

Colbert was hooked on acting, and, following his discharge from the Army, he kept performing on stage, and continued to be in the right place at the right time.

"I started working with the Portland Civic Theatre doing some Shakespeare, then I migrated over to a private company called the Omanskys. We were putting on a play at the Amato supper club one night, and a singer named Mickey Shaughnessy was there. He came up to me and said if I would come to Hollywood, he would introduce me to his agent. Well, I was on the next plane out".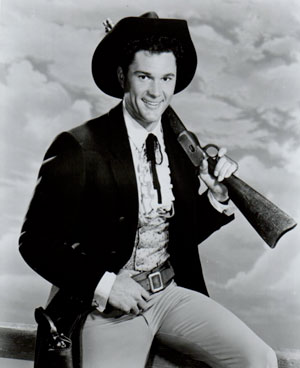 In no time at all, Colbert was signed by Warner Brothers who had over a dozen drama series on ABC. Bob was expected to guest star in nearly every one of them, most notably as cousin Brent in Maverick.

"I did Bronco, Sugarfoot, Cheyenne, so many of them. I would go from one show to the next. The Westerns were my favorite because I Ioved horses. Every night Peter Brown (Lawman) and I would go riding up through the hills in Griffith Park. I also learned how to rope and shoot guns. I was just having more damned fun. I was going to work every day, but I couldn't actually take the money without feeling guilty".

In 1966, Irwin Allen (who later went on to produce disaster films such as The Towering Inferno and The Poseidon Adventure) cast Colbert in an innovative new show called The Time Tunnel. Bob played Dr. Doug Philips, and his partner in time travel was James Darren, who played Tony Newman.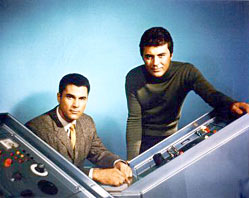 "It was the best show because it was like an anthology every week, with a different cast.

Each week, Doug and Tony found themselves traveling through time to historic venues, such as the maiden voyage of the Titanic. Colbert also got to revisit his Western roots in episodes dealing with the Alamo and Custer's last stand. The tunnel itself was one of the most recognizable set pieces in television history, and I asked Bob about its real life dimensions.


"There was a time when it extended outside the soundstage at 20th Century Fox, and went clear through to the next stage. It was enormous. When we did most of the shooting with Lee Meriwether and the control room folks, they would put a scrim at the end of the tunnel, but it was still about 50 or 60 feet in depth even when it was chopped in half".

The Time Tunnel was a big hit, and at the end of the first full season, cast and crew were told they'd be back for another go round.

"We had about 250 people working on the show, and we were all elated to know we had been picked up for another year. So we had a big party on the set where the tunnel was, and went home expecting to return to work after our hiatus. Then, Tom Moore, the head of ABC who renewed our show, was fired, and the guy who replaced him didn't like any of Tom's show, so the new guy gave us the axe after we had already been picked up. I think if we had gone on that next year, we would have probably gone on for seven or eight years".

And so, ABC left Doug and Tony stranded in The Time Tunnel. But never fear, because lucky Bob was always in demand, first as a guest star on numerous TV shows, then as a lead character in a new daytime drama called The Young and the Restless.

"It was live, so you had to hit your marks, change your wardrobe, and learn 30 pages of dialogue each day. You couldn't ad lib because there were only so many seconds of time between commercials, and you could throw the whole timing off. It was an unbelievable experience. I'll never forget it".

Fans will never forget "time traveler Bob" either, who has just landed at the Hawthorne Inn & Conference Center in Winston-Salem for this week's Western Film Fair. For more information, visit, www.westernfilmfair.com
ROBERT COLBERT
INTERVIEW