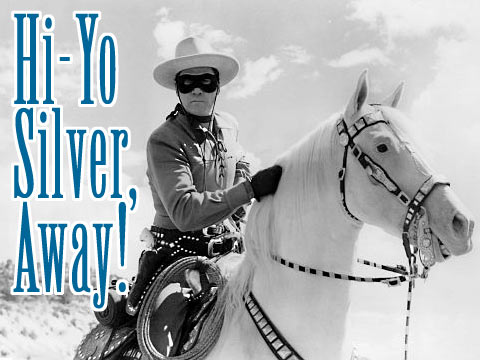 PART TWO - by L. WAYNE HICKS
PART ONE of The Lone Ranger HERE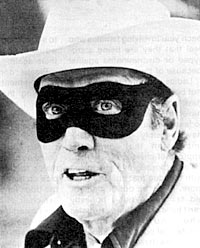 COPYING THE VOICE
A native of Chicago, Moore initially broke into showbusiness as a trapeze artist, then moved into modeling after an injury cut his circus career short. He appeared in a string of movie serials, including "The Ghost of Zorro," served three years in the Army Air Force during World War II and then returned to Hollywood for more movies.
Moore beat about 75 other actors vying to portray the Lone Ranger. His casting came with a caveat. The public had grown so used to hearing Earle Graser and later Brace Beemer as the voice of the masked man; Moore was ordered to copy their deeper voices.
"It seemed ridiculous to me at the time, but it eventually worked," Moore once said. "I developed the same depth of tone they had, and eventually it carried over into my speaking voice."
Moore's portrayal of the Lone Ranger, with the notion of a good guy hiding behind a mask and never shooting to kill, proved immensely popular.
But that mask allowed producers to switch actors after a dispute with Moore.
"In 1952, I had a little contractual problem with the corporation that owned the Lone Ranger," Moore once said. "I just wanted a little star on my dressing room door. Just a little one. We couldn't come to an agreement. So, they got a gentlemen by the name of John Hart to play the part. Well, John tried. He's a wonderful gentlemen and I'm not putting him down at all. But I just don't think he took the character to heart as much as I did."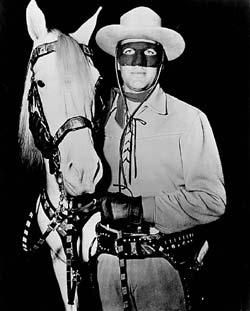 For Hart, the role was just another job.
"It was a good job," says Hart. "I worked for a while. When you're an actor, to have any kind of steady income, it's a miracle."
Each episode of The Lone Ranger, Hart recalls, was made in a hurry.
"We were supposed to make one every two days, which was a lot for scripts in those days," he says. "There were 30-some pages of dialogue. & I'd get up about 5 in the morning and start memorizing lines."
In the beginning, the budget for each episode was $12,500, a figure that was bumped to $18,000 by 1954.
"I thought it was great and it was a steady job but it was cheap, the cheapest damn job I ever had," Hart says. "But I liked working and I liked acting. I liked the weekly check; even if it wasn't so hot, it was good to have. I was paid a little over Guild minimum, which wasn't very much."
Hart says he wasn't told why Moore left the series, or why Moore returned. Hart went on to make the short-lived 1957 TV series Hawkeye and the Last of the Mohicans, with Lon Chaney Jr., where the shooting schedule was over a more relaxed four days.
While Hart may not have taken the Lone Ranger to heart as Moore did, he said he "took it for granted" not to get into any trouble during his tenure behind the mask.
"I wasn't going to go out and fight and be a drunken bum or anything. Because I knew that a lot of people thought highly of the Lone Ranger. That was part of the job. I was always nice and polite to people. I still am. I still get a lot of mail wanting the Lone Ranger's autograph. I do that."
Hart stepped into the role of the Lone Ranger twice more, in the early 1980s, for guest appearances on Happy Days and Greatest American Hero. Those parts initially were offered to Moore. "I turned them both down," Moore wrote in his autobiography. "I will only portray the Lone Ranger in a show or film about the Lone Ranger. Anything else, I'm not interested."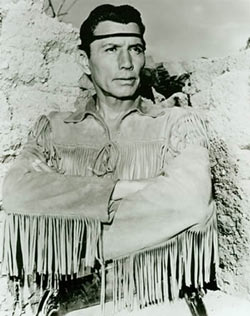 Moore did reunite with Jay Silverheels, who played Tonto alongside him on the Lone Ranger series, for a 1960s TV ad for Jeno's Pizza Rolls. "I have always been careful not to mock the character of the Lone Ranger or demean the image in any way," Moore wrote in his autobiography. "So if Jay and I decided that the commercials were funny and entertaining, and didn't make the Ranger and Tonto look silly, we'd agree. Jeno's Pizza were the most popular ads. Usually Jay and I just walked on at the end to deliver the punch line."
Silverheels died in 1980 at age 62.
Moore also appeared in costume advertising other products, including Silver gasoline for Amoco and Aqua Velva aftershave, and continued to make a string of personal appearances.
TROUBLE BREWING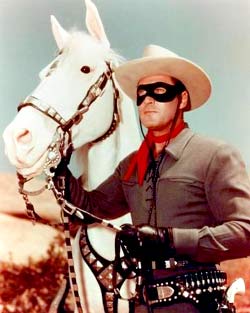 "I welcome all of you with my traditional greeting of "Tai, kemo sabe,'" Moore would say, explaining that the greeting translates to "Hello, faithful friend." At these appearances, Moore would offer warm thoughts about Silverheels, answer questions, twirl his guns and repeat his famous cry: "Hi-yo, Silver! Away!"
With each appearance, Moore paid a fee to the Wrather Corp., which paid $3 million for ownership of the Lone Ranger in 1954. Moore also kept himself in good physical shape, "always ready to step before the cameras again" should the Lone Ranger be resurrected for a new TV series or movie.
But Wrather wasn't thinking about using Moore again. Starting in 1975, the corporation began telling Moore he was to old to portray the Lone Ranger and ordered him to stop billing himself as the character.
Moore ignored Wrather's request and the subsequent "regular legal threats," although he did start billing himself as "Clayton Moore, the man who played the Lone Ranger."
Not making public appearances would have hurt Moore, he explained in his autobiography. "It was the way I made my living. More than that, it was the way I lived my life."
The battle between Wrather and Moore finally went to court in 1979. The company asked for an injunction against Moore portraying the Lone Ranger. Los Angeles Superior Court Judge Vernon Foster agreed with attorneys for Wrather.
"It's our mask," one lawyer told the court. "By wearing the mask, Moore is appearing as the Lone Ranger. But in spite of what Mr. Moore feels in his heart, he is not the Lone Ranger. We own the Lone Ranger."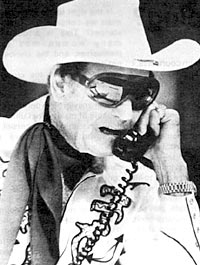 The court stripped Moore of his mask, sparking a huge outcry among his fans; they eventually would collect more than a million signatures demanding that Moore again be allowed to wear the mask.
One fan wrote to the Los Angeles Times: "The names of Clayton Moore and the Lone Ranger have been synonymous for most of my life. To ask Clayton Moore to turn in his mask is like asking all the moms in America to quit baking apple pie."
A FAILED MOVIE
But Wrather wanted another man behind the mask. The company was planning a new, big-screen treatment of the Lone Ranger. Called The Legend of the Lone Ranger, the movie starred an unknown, Klinton Spilsbury, and told the origins of the character.
Moore took to wearing large black sunglasses instead of his familiar mask.
If anything, the legal battle merely sparked more interest in Moore. In 1980, he traveled more than 1 million miles, visiting fans, spinning his guns and speaking out against the lawsuit.
During a stop in Pensacola, Florida, that year, Moore spotted a young boy wearing a souvenir Lone Ranger mask. "I wouldn't take the mask off you, young man," he told the boy. "Yet they took the mask off my face."
The new movie The Legend of the Lone Ranger, released in 1981, was an absolute bomb and lost $11 million. Fans stayed away. The script drastically altered parts of the Lone Ranger legend; for example, the Lone Ranger used silver for his bullets because he couldn't shoot straight with ordinary lead bullets. (In the original telling, the Lone Ranger used silver bullets as a reminder that life is precious.)
Moore skipped seeing the movie. In addition to the bitterness over the lawsuit, Moore was upset that the new movie was rated PG and not suitable for everyone.
"There's a PG rating on the picture," he said. "That's shocking to me. A Lone Ranger picture is supposed to have a G rating so mom and dad can take their 5-year-old to see someone fighting for what is right."
The movie masked man, portrayed by Klinton Spilsbury, who hasn't made a picture since, didn't endear himself to Lone Ranger fans when he mocked the role. Asked to wear the Lone Ranger costume in public by the movie's producers, Spilsbury refused. "In all my fantasies about acting, I never saw myself going around looking like a raccoon," he said.
A DIFFERENT IDEA
John Hart, Moore's replacement on the show, appeared in The Legend of the Lone Ranger, but Moore wasn't offered any part.
Moore later saw the movie when it aired on television and proclaimed that he "was not happy with it."
Moore had his own vision for a movie about the Lone Ranger, he told a Los Angeles Times reporter in 1981, one that opened with his faithful Indian sidekick dead.
"Tonto dies, and I find a young man who is on the fence between going bad and standing for what is right and just," Moore explained. "There's a lot of good in him but it needs to be developed. I take him under my wing and we fight the forces of evil together. At the end of the film, after he's proven himself, I give him my silver bullets and, with my back to the camera, I take off the mask and hand it to him. I advise him to find a faithful companion to help him in his work and tell him the task of seeking justice is now his."
Moore would then ride off into the sunset to the familiar strains of the William Tell Overture.
Moore never realized his version. But his own story did have a happy ending. Wrather in 1984 allowed Moore to once again wear the mask of the Lone Ranger.
A little more than a year before Moore died, Sen. Max Cleland entered his praise for Moore into the Congressional Record. Cleland noted that "Clayton has served as a wonderful and positive example to us all" and thanked him "for teaching us that the good guys do win."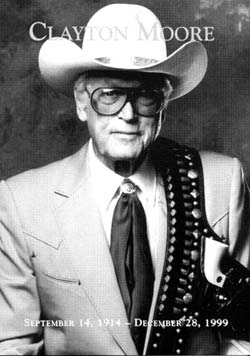 As Moore wrote in his autobiography: "I would like to have the Lone Ranger remembered as a great American, who was a friend to all. That he stood up for everyone, and that he epitomized everything that is great about America. And I would like Clayton Moore to be remembered in the same way. Until that day I am taken to that big ranch in the sky I will try to live up to the standards of honesty, decency, respect, patriotism that have defined the Lone Ranger since 1933."
Moore did exactly that.

Pop culture writer L. Wayne Hicks met Clayton Moore in 1980.