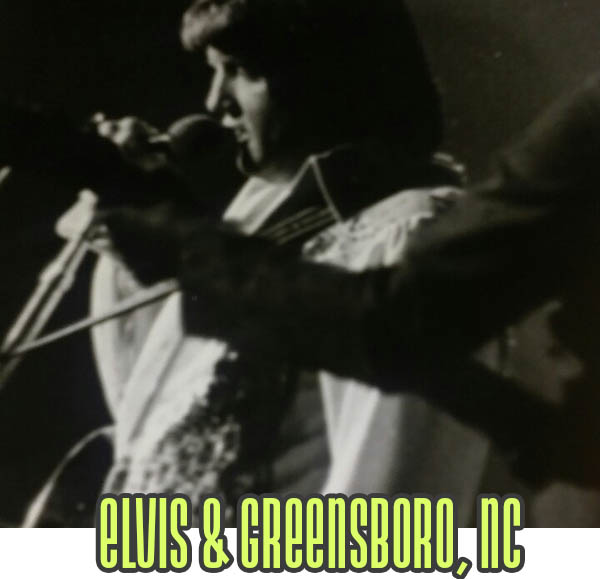 by Billy Ingram
Concert Date: April 14, 1972
Before the Memphis Mafia arrived in Greensboro, Elvis' advance men had already covered with aluminum foil every window on the top floor of the posh new high-rise Radisson Hilton on West Market, across the street from Greensboro College. This to create an environment unencumbered by the outside world.
A typical day on tour began around 3:00 in the afternoon, after the show Elvis partied with his bandmates past dawn. Other than getting in and out of a limousine, the group wouldn't see the light of day for weeks on end. As one of The King's attendants put it, "At a point you get nuts."
Documentary filmmakers who had been recording the stage show since April 9th rejoined the tour in Greensboro after a short hiatus.
There was concern on everyone's part that the project would have to be scrapped so a screening of assembled footage was arranged at a local theater for Elvis' manager Colonel Parker who was enthusiastic about what he saw and eager to continue. Cameramen were strategically positioned within the orchestra that night at the Coliseum to capture the entire performance for "Elvis on Tour", what would be Presley's last motion picture.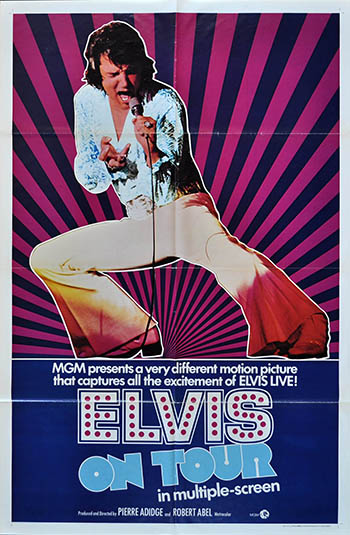 For this show Elvis wore his Royal Blue Fireworks outfit, open to the waist, with an Owl Belt and matching cape, draped with one of his trademark scarves occasionally bestowed upon a fan.
His every twitch sent forward ripples of excitement, fever-pitched screams, Instamatic cubes flashing like strobe lights, hands reaching out as if to touch what surely must be an apparition but no, The King, Hollywood, Las Vegas, every girl's teen idol, here before them.
Estelle Brown of the Sweet Inspirations told BBC2, "When Elvis walks out on stage it's like the building is being torn down. People were screaming and hollering and falling out and throwing stuff on the stage, oh, it was just amazing.
Not only did he have the Sweets and the TCB band but he had the gospel quartets like The Stamps or Imperials. If you include the orchestra it would be about 60, it was a lot of people on stage."
Cameras rolling, Elvis had in mind to attempt a new song this night, one he'd recorded a few weeks before. Holding the lyric sheet in front of him the band struck the opening chords to "Burning Love" and The King had a new anthem, his last Top Ten smash.
After finishing "I Can't Help Falling In Love" with amazing vocal flourish Presley spread his caped wings, exiting like a condor. Amid much fanfare from the orchestra a booming voice was heard over the Coliseum speakers that spoke with terse finality: "Elvis has left the building."
NEXT - PART FOUR:
Concert Date: March 13, 1974
& July 22, 1975