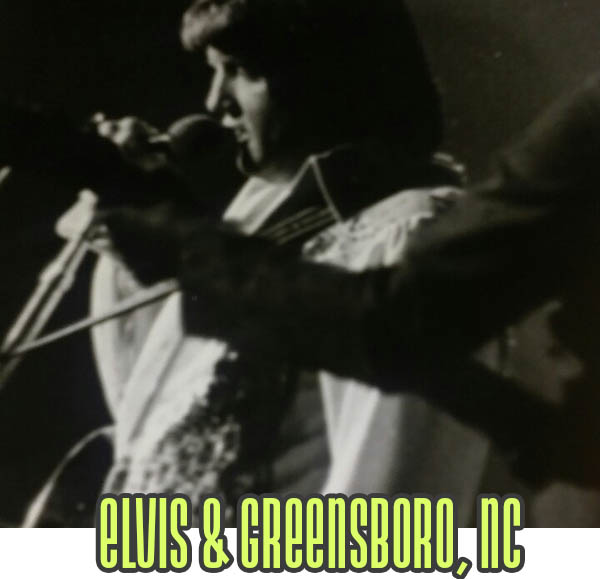 by Billy Ingram
Concert Date: June 30, 1976
At this point a theatrical practicality had taken over, Presley only pretending to play guitar, his moves now mere poses. The audience lapped it up nonetheless. Elton John met Elvis backstage a few nights before this show in Greensboro and stated, "He had dozens of people around him, supposedly looking after him, but he already looked like a corpse."
Every year in the Gate City Elvis wore a different outfit, in 1976 the Blue Egyptian Bird. When he wore this elaborately beaded getup for the first time in March he ripped the seat of his pants and made front pages headlines all around the world.
Elvis in 1976 was described by close associate Red West as, "A boy in a man's body who could not handle the celebrity he had now become. I had a sinking feeling that I would not see my best friend again. And I didn't."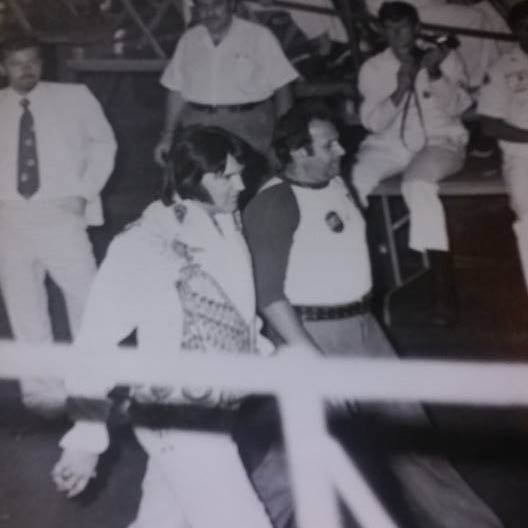 Concert Date: April 21 1977
By spring of 1977, the King of Rock 'n' Roll was on a years-long rockin' roller coaster of amphetamines and downers, a full time nursing staff and a retinue of unknowing physicians in every time zone keeping Elvis Presley medicated between near-fatal overdoses and brief bouts of drying out.
Weighing in at over 250 pounds, with a little over a million dollars in his checking account and $500,000 a month in expenses, the King was effectively broke after a lifetime of hit records, movies and sold out concerts. Regardless of his precarious health and chemical dependencies, Presley needed to be constantly on the road earning.
Opening night for what would be the last 10 weeks of concerts before his untimely death was Greensboro, about which Elvis declared from the stage in more coherent days: "Of all the places we've been to, you're one of the most fantastic audiences we've had."
The enthusiastic capacity crowd of 16,500 at the Greensboro Coliseum on April 21, 1977 was treated to one of the strongest and most exuberant of what would be The King's farewell performances. Wearing his golden Mexican Sundial suit, Elvis was feeling so frisky he sang 3 songs he'd long ago dropped from his repertoire: "Little Sister", "Little Darlin'" and "Fever."
He could still send shrieking shock waves throughout the audience with a mere turn of his head but pelvic thrusts had long ago turned to rust, Elvis strained with each movement. Action on the stage was reduced to dispensing as many scarves as possible, his naturally drowsy eyes now woozy winks.
Small wonder. Elvis had been prescribed more than 5,300 pills while on the road, a mind-numbing cocktail of opioids, amphetamines and central nervous system depressants that included (get out your Physician's Desk Reference): valmid, placydil, valium, pentobarbital, phenobarbital, butabarbital, dilaudid, demerol, morphine, biphetamine, amytal, percodan, carbrital, dexedrine, cocaine hydrochloride (ask your doctor if cocaine hydrochloride is right for you) but most especially codeine and Quaaludes.
In anticipation of an upcoming tour which would have bypassed Greensboro in favor of Asheville and Fayetteville, 600 pills were dispensed for Presley on the day before departure. It wasn't enough. Indicative of his compulsively crepuscular lifestyle, the last photo taken of Elvis was snapped by a waiting fan as The King returned to Graceland in the pre-dawn hours from a trip to the dentist. Hours later he was found dead of an overdose. It had been a little over 21 years after his first show here and just 4 months after his last.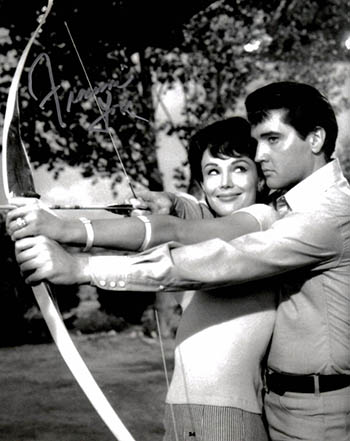 Elvis' co-star Francine York appeared in dozens of motion pictures and memorable television shows like "Lost in Space", "Bewitched", "Hot in Cleveland", she even played a villainess on "Batman".
But The King made a lasting impression, "I will be going back to Graceland again this year with all expenses paid. It was sad being in his home for the first time in 2008 and seeing his white outfit on display with the cummerbund and watch him singing on the TV up to the left. I just loved him and find it difficult to watch his movies now, it just breaks my heart."
Sadly, Francine York passed away on January 6, 2017 before she could make that trip back to Graceland.