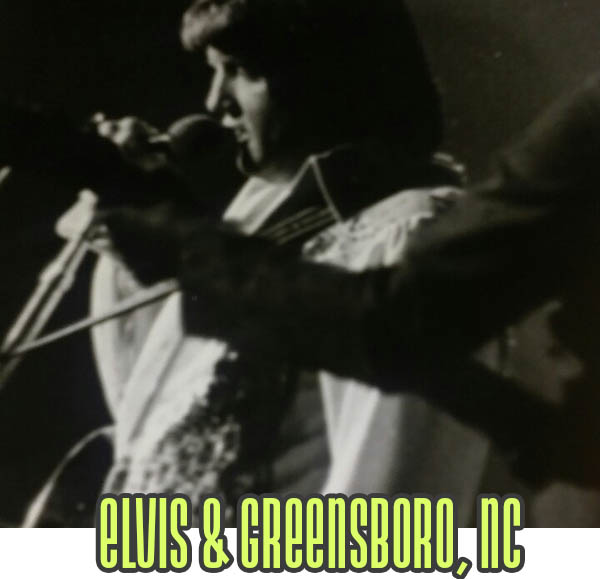 by Billy Ingram
Concert Date: March 13, 1974
After a two-year absence, the Greensboro Coliseum sold all 16,000 tickets for Elvis' return to Greensboro within minutes with scalpers commanding $200 for a front row seat that cost them $10.00.
The King was looking sharp in his high-collared, Blue Starburst belted jumpsuit with wildly exaggerated, pleated flairs. Pointing out a child in the audience outfitted in a sequined jumpsuit and cape, he brought the boy on stage, draped a scarf around him, then commanded jokingly, "Get him out of here, he's dressed better than I am."

From the show on the next night, March 14th, 1974 in Murfreesboro, TN

Concert Date: July 21, 1975
There was considerable drama surrounding Elvis' 1975 engagement here. He and his entourage deplaned shortly after midnight on Monday, July 21st from his newly acquired 96-seat Convair 800 christened the Lisa Marie. The airplane was customized, like all his vehicles, by 1966 Batmobile designer George Barris who lavished it with an executive bedroom, teak paneling, gold bathroom fixtures, 52 speaker sound system and a sophisticated videotape network.
Moments after settling in at the Hilton word went out to the manager of the Greensboro Coliseum that there was a problem. Armed with a telephone and a copy of the City Directory, he began waking up local dentists starting with the 'A's until he found someone who could see the star of that night's sold out concert for an emergency procedure.
It wasn't until Dr. J. Baxter Caldwell's patient sauntered in around 3:30am that he realized he'd be working on the most famous mouth in America, drilling behind the upturned upper lip of the King of Rock 'n' Roll. Returning to the Hilton after the procedure around sunup, Elvis dined on a fruit tray before heading off to bed.
Ironically, Dr. Caldwell was known for his reluctance to use painkillers on his patients. If what happened at the dentist he saw in Asheville two days later was indicative of this visit, Elvis ransacked his office for drugs while the doctor was out of the room. It had become a common practice for Presley to remove a filling then be seen on a rush basis for what would eventually yield him a prescription or two.
It was also in Asheville that Elvis, angry that his personal physician Dr. Nichopoulos had taken away the drugs he'd scored from the dentist that day and perturbed by a rolling vertical hold, fired a bullet into the television set at the Rodeway Inn where he was staying that ricocheted into Dr. Nick's chest but caused no injury.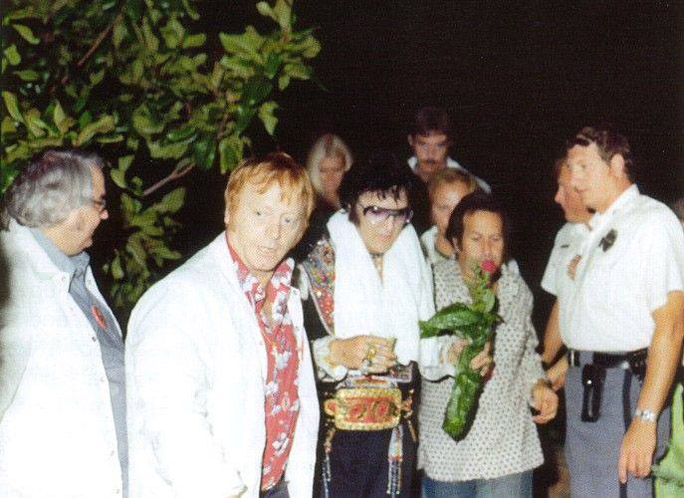 But back to Greensboro. Christopher Newsom shared a snapshot of Elvis leaving the Hilton for the Coliseum on July 22nd, "My dad and his brother went and waited for him to come out. His bodyguards told everybody he had a toothache or something and wouldn't be hanging around to talk."
Elvis had been inexplicably pestering his female backup singers from the stage for several nights with crude insults, serving up most of his vitriol for on-again, off-again girlfriend Kathy Westmoreland who harmonized with the Sweet Inspirations. When it got to be too much, all but one of the women walked off stage mid-performance in Norfolk on July 21st. They had to decided to quit then and there but agreed to make the trip to the Gate City without saying whether they'd go on or not. After a heartfelt apology from Elvis, all but Kathy performed at the Coliseum on the 22nd.
One reviewer declared the show that night, "better than ever." After returning to the dentist's office for a follow-up, Kathy met with Elvis as he sat on his bed in karate pajamas brandishing a gun in one hand and a gift-wrapped watch in the other. "Which do you want, this or this?" he asked. She nervously took the gift, agreeing to stay on until the end of the tour.
More bewildering, the next afternoon all of those who were supposed to be flying on to Asheville for the final 3 nights of the tour discovered, upon arriving at the airport, that Elvis had left the tarmac and gone ahead without them.
After the plane was sent back and they finally arrived at the Rodeway Inn, Elvis was in a contrite mood. Summoning the jeweler that traveled with a portable jewelry store in case he was feeling generous, Elvis purchased everything he had on him, with more flown in from Memphis, to be distributed to everyone in the roadshow. He took the $40,000 diamond ring off his finger to give to J.D. Sumner of The Stamps.
When The King didn't receive his customary standing ovations in Asheville he doled out expensive trinkets to audience members, expending some $85,000 all together, then handed over his guitar to a random fan (who, just a few years ago, tried to sell it for $300,000).
Like a man possessed, two days later he presented the Colonel with a Gulfstream jet and, on Sunday, July 27th, gifted thirteen 1975 model Cadillacs totaling $140,000 to band members and another to a lady admiring his personal Caddy parked in front of the dealership. When she told him her birthday was coming up Elvis had a check written so she could buy some new outfits, "to go with the car."
NEXT - PART FIVE:
Concert Date: June 30, 1976
& April 21 1977