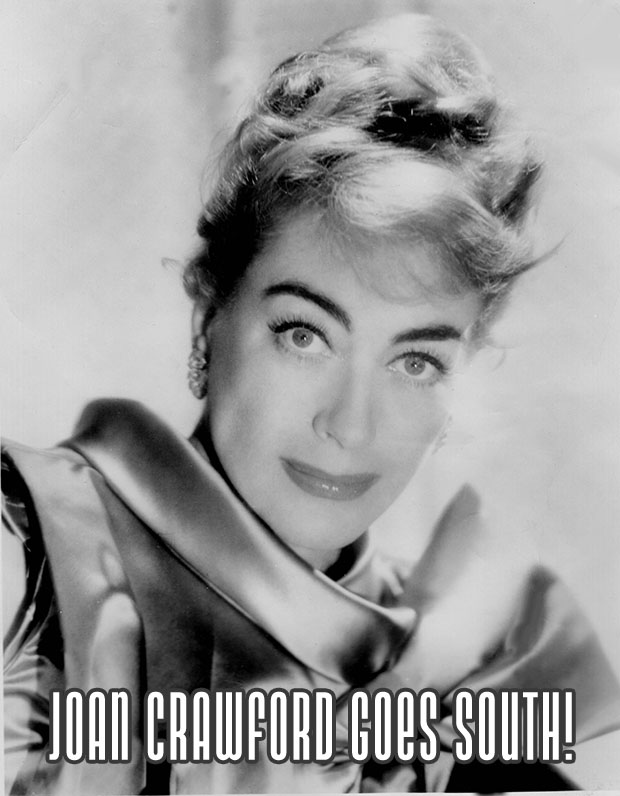 The legendary star's connections to in Greensboro,NC
by Billy Ingram
"Why am I so good at playing bitches? I think it's because I'm not a bitch. Maybe that's why Miss Crawford always plays ladies." — Bette Davis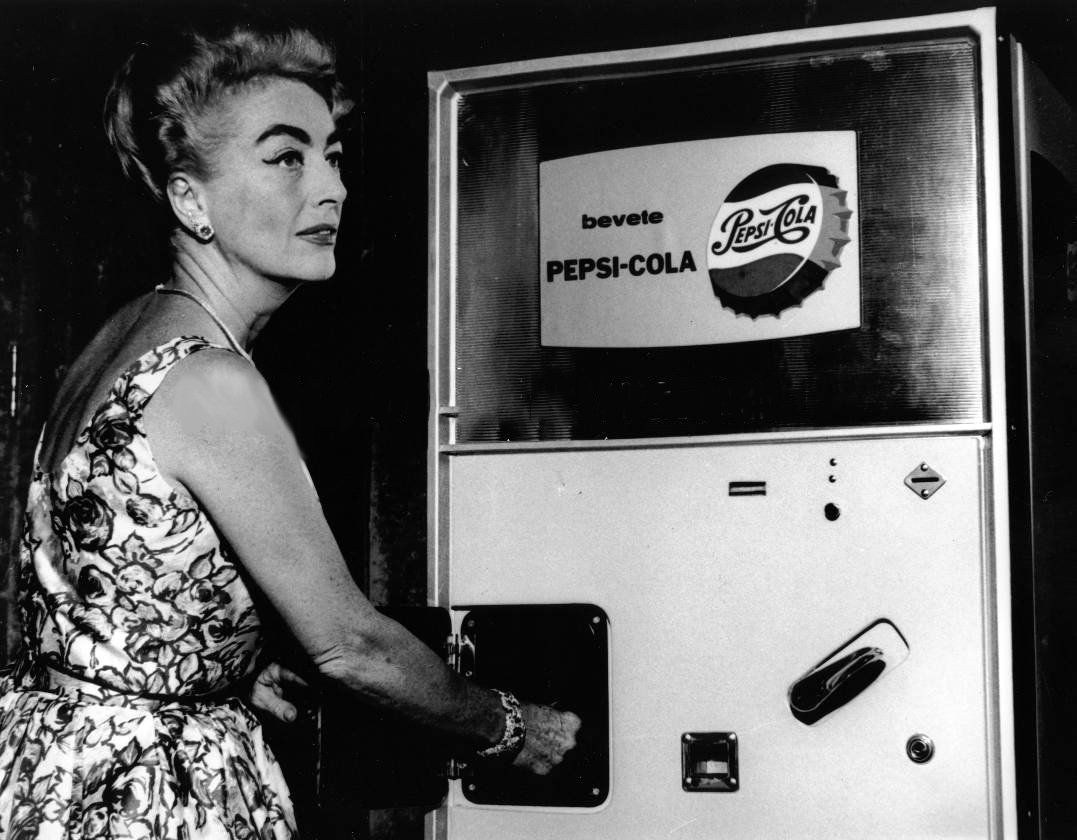 It began innocently enough. Eleven-year old Chester Arnold Jr. had acquired 5 shares of Pepsi common stock in 1957 but, after seeing the financial world spoof The Solid Gold Cadillac, he suddenly grew concerned about his investment. He fired off a letter to Pepsi's chairman Alfred Steele to ask if his board of directors was, "crooked like those people in the movie." No, really, he did.
Perhaps at the insistence of his wife, who understood more than anyone the power of publicity, the boy and his parents were flown to New York and put up at the Waldorf Astoria where Alfred Steele and his new bride, one of Hollywood's most glamorous stars, Joan Crawford were staying while their two-story Fifth Avenue penthouse was undergoing a major renovation. The Steele's planned trip to Greensboro later in the week would provide the perfect Hollywood ending to a real life fairy tale come true — plucky small town boy meets glamorous movie queen with the lights of Manhattan as their backdrop.
Although her best work was mostly behind her, Crawford was enjoying moderate box office success during the late-fifties with a run of campy B-movies that included Johnny Guitar, Queen Bee and The Story of Ester Costello. Upcoming was her seminal (but supporting) role in The Best of Everything as ballbreaking business executive Amanda Farrow.
Miss Crawford embrued herself with a regal air of royalty, a finely-tuned refinement that made her America's ideal Hollywood star, the one by which all others are measured. The haute couture fashions, ersatz British accent, she was always made up and 'on' in public, a personification every bit as real as any role she played on screen.
For three days the Arnold family were treated to all the bread and circuses the Big Apple had to offer while Joan's name was back in the newspapers, this time in a positive light. Weeks earlier her downstairs neighbor made the gossip columns by suing the Steeles over the noise associated with the heavy construction taking place in their penthouse. It was while she was entertaining the Arnolds that Crawford, through whatever means, convinced her neighbor to drop that lawsuit. Perceiving this purely as an attempt to attract attention — after all, they had offered the complaitant a hotel suite or trip around the world while work was underway — Joan bluntly told a friend, "If that bitch thinks I'm inviting her up here for tea, she has another think coming!"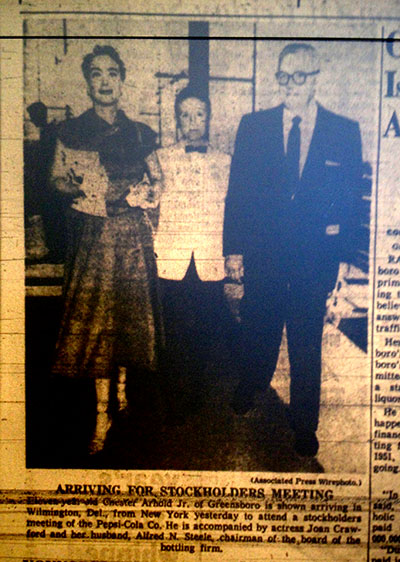 After three days being feted in New York the Arnold family traveled with the Steeles to Wilmington, Delaware where a photo was snapped and dispatched to newspapers around the world of young Chester, flanked by Crawford and her husband, entering a Pepsi board meeting.
The next morning, on Thursday, May 2nd, Joan Crawford, her husband Alfred and entourage emerged from the 9:50 train at the Southern Railway depot in Greensboro where they were presented with keys to the city by mayor Archie Cannon before crossing the street to the King Cotton Hotel to freshen up. Joan wore a simple white sleeveless dress with an enormous matching hat, as was the style of the day, for a 2:00 press conference announcing Pepsi's newest, most modern bottling plant on Spring Garden near Holden, a 32,000 square foot facility that was being christened that afternoon.
At 4:00, Joan, Alfred, Pepsi executives and the Arnold family departed the King Cotton, escorted west down Spring Garden across Holden by a police motorcade. With sirens blaring, they roared up on a crowd numbering into the hundreds, some waiting for hours for the most elaborate ribbon cutting ceremony Pepsi had ever hosted.
Representatives of the Army, Marines and Navy presented colors then fired rifles into the air while the National Guard manned a line of howitzers that were supposed to be adding to the decibel level but blank mortars failed to arrive in time. Rather than rain munitions down on Summerfield the big guns sat silent but Greensboro High's marching band belted out The Star Spangled Banner until just after 4:30 when Crawford and the president of the company operating the plant, Mrs. Zella Melchor, released a 150 foot ribbon that ringed the front of the building. The crowd flowed into the building for free bottles of Pepsi while Crawford and company returned to the hotel where a private reception was held that evening.
Joan Crawford's travels brought her back to the Cardinal State numerous times since that day in May. Only natural, Pepsi was concocted by a New Bern pharmacist in the 1890s and only gained marketplace traction when the soft drink was marketed to African-Americans down South in the forties. Crawford's circling the globe as Pepsi's goodwill ambassador continued unabated even after the unexpected death of her husband in 1959 but it would be another decade, almost to the day, before the actress returned to our region. By that time Pepsi had grown from a niche soda with little market presence outside of the South to the ubiquitous brand name it is today. So much so Madison Avenue would dub the sixties, "The Pepsi Generation."

ACT TWO

In 1967, an older and more jaded Joan Crawford, now in career free fall, waved to scattered fans from the window of her corporate jet as it taxied down the PTI runway. Alfred Steele had been under the mistaken impression their extravagantly appointed New York penthouse facelift would be paid for by the soft drink company. Consequently, his death a year after the project was completed left the film star with a huge debt load at a time when fewer job offers were coming her way. Crawford had just returned from England filming what would be her penultimate motion picture, Beserk, one of a string preposterous potboilers with budgets so low she had to provide her own wardrobe.
First order of business on the morning of May 5, 1967 was a Burlington press conference for which La Crawford arrived fashionably late (a popular Hollywood euphemism, widely adopted in the South, referring to some undefined moment existing between Bette Davis promptness and 'Miss Garland's not coming out of her dressing room').
Smartly dressed in a silk-lined, cinnamon colored linen jacket and matching shift, her upswept red hair tucked into an oversized fedora, Joan confessed in a drawl straight out of central casting, "Please excuse my appearance. This cool weather made me resort to the dress I traveled in last night." There wasn't just a nip in the air that Friday morning there was a nip in Miss Crawford as well, sipping 100 proof Smirnoff throughout the day was what kept her chipper. That way she didn't disappoint when it came to embodying that increasingly campy, old-school Hollywood stereotype she played to the hilt, "Last week at a housewarming for Donna Reed several people asked me where I was going next and when I said, 'North Carolina,' they said, 'She already packed her Southern accent!'"
Crushing a spent Alpine cigarette under ankle-strapped high heels, the kind Joan Crawford wore so forcefully in the 1940s they became known as 'come f**k me pumps', the Academy-Award winner took great pains to portray herself as Just Plain Joan who entertained guests with home cooked meals of breaded pork chops with fried apple rings then scrubbed the floors of her humble two-story penthouse shanty overlooking Central Park herself. It was Mildred Pierce redux with a side of cornpone, only now her precious Veda was a cold (but refreshing) Pepsi. "Every time you drink a Pepsi, I want you to think of Joan Crawford," she was quoted as saying. "If you drink Coke, you can think of those polar bears."
Afterward, Joan sat down with Lee Kinard for a Good Morning Show segment. When asked about the current crop of stars she remarked, "Overexposure has removed much of the mystique. The public knows too much about them."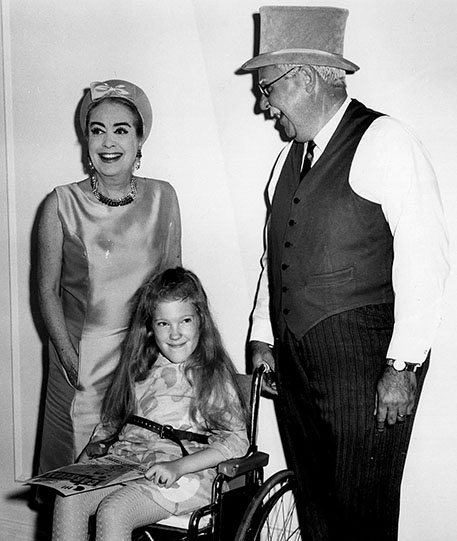 The next year, while attending a May 18, 1968, Pepsi-Cola function in Charlotte, Joan posed for a photo with two Greensboro folks, eleven-year old Teresa Staley and kiddie show star George (Old Rebel) Perry, to promote the Muscular Dystrophy Association's backyard carnival fundraisers. As the Association's poster child, Teresa recalls being escorted into Crawford's hotel suite in the Queen City on that Saturday afternoon, "The Old Rebel was super nervous and super excited about meeting her but I was so young I didn't have a clue. I was just excited about taking a road trip."
"Quite a character," is how Teresa remembers the movie star. "Instead of pronouncing my name 'Teresa' she called me 'Teraaaaasa.' It was very funny to me. We spent a significant amount of time there, everything had to be just right to allow her picture to be taken." Four or five photographs were snapped with George Perry, as instructed, gazing adoringly at the movie icon while Joan's eyes remained fixed on a point somewhere in a galaxy far, far away. "She had just injured her ankle, I think she had sprained it or something. She was wearing an Ace bandage but would not allow any pictures to be taken below her knees. I've worn glasses since I was eight but she wouldn't allow me to wear glasses in the picture because she was afraid it would cause a glare."
The thing that most impressed Teresa was, "Her bedroom door was open and her whole bed was covered with hats. I thought it was pretty cool that she traveled with all of her hats. And she carried her own ice on airplanes because she didn't trust airplane water. Now I really can't blame her for it…"
No seminal Joan Crawford role would be complete without a randomly cruel, no-good-deed-goes-unpunished ending, in this case the motion picture legend was unceremoniously dumped by Veda - er, Pepsi - on her 65th birthday. More recently, in a preposterous publicity attempt, daughter Christina claimed Joan murdered husband Alfred Steele. And it's anyone's guess how Crawford would have greeted last month's hit TV series based on her over-inflated rivalry with Bette Davis.
Whatever her peccadillos and peculiarities, Joan Crawford was a wildly successful, widely admired businesswoman at a time when that was a genuine rarity, one who not only conquered the insidious labyrinth that is show business but also, by sheer force of will, helped establish Pepsi-Cola as a multi-billion dollar global powerhouse. If there's any feudin' goin' on around these parts I'm obliged to take Joan's side, thank you very much.
- - - - - - -
Joan Crawford passed away on May 10, 1977.