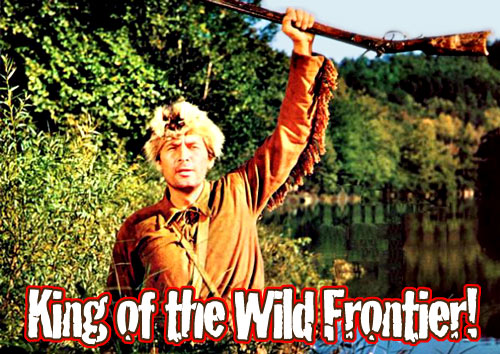 by L. Wayne Hicks
PART TWO / Fess Parker Part One Here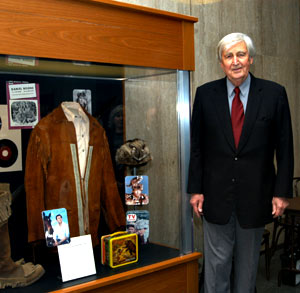 Don Tompkins, a fan who grew up in New York, wrote that he and his two brothers and two sisters all were big fans of "Davy Crockett." But their father didn't like the way they kept leaving their coonskin caps around the house and yard.
Coming home from work one night, their father saw the tail sticking out of a garbage can and kicked it in.
/ / / Classic TV Blog / / / TV Shows on DVD / / / TV Show Reviews / // / TV on BLU-RAY
"Unfortunately, it turned out to be a very alive skunk."
"I watch my Web site and I see those and it really tickles me that people are that interested," Parker says. "Almost without exception I'm always told that, 'I had the cap' and 'I had the jacket' and just a couple of days ago a lady told me something. I thought I'd heard it all. When she was a little girl, she wore her coonskin cap to church."
Parker, now 80 and a grandfather nine times over, still speaks with the distinctive drawl that marked his days on "Davy Crockett" and his Texas birthplace. His own coonskin cap - one of them, anyway - is tucked away for safekeeping in the Smithsonian Institution. He donated it to the D.C. landmark last year. He's not positive that was the same cap he wore on "Davy Crockett."
Parker donned an identical cap on his second frontier series, "Daniel Boone." Parker left acting long ago. He received a slice of the merchandising profits and invested his money in California real estate. His business today is wine. The owner of Fess Parker's Winery & Vineyard north of Santa Barbara, which he runs with son Eli (daughter Ashley handles the public relations), Parker can't escape his past. Nor does he want to. His wine label features a coonskin cap.
Parker, who also owns the Fess Parker Wine Country Inn & Spa in Los Olivos, picked up some of his business acumen from Walt Disney. He learned to rely on consultants if he didn't know how to do something himself, to think on a large scale and to use his name as a trademark.
A Navy veteran and a graduate of the University of Texas, Parker headed off to Hollywood in the summer of 1950. He made the rounds of the studios, talked with some people, and found enough encouragement that he returned a year later for a second try. He received some sound advice from his father.
"When I told my dad I wanted to go back and try to be an actor, he said, 'Do a good job, boy.' He told me later he thought I'd be back in three months." Parker had more luck this time. He appeared in a production of "Mister Roberts" with Henry Fonda. Rance Howard, future father of television star and director Ron Howard, was in the company as well.
"I remember when Rance and his wife were expecting Ronny," Parker says. "I've been around a long time and Ronny is beginning to look a little middle-aged now."
Before "Davy Crockett," Parker's acting credits were slim. Disney spotted the 6-foot-6 actor in a minor role in the 1954 horror film "Them!" He brought Parker in to see if he was right as Crockett. Parker arrived carrying a guitar. He'd been inspired to pick up the instrument a couple of years earlier after seeing Burl Ives perform.
"The only person in my family that sang was my grandmother," Parker recalls. "She was a Methodist and she sang hymns all day while she worked. It must have helped because she had to work unbelievably hard compared to women today: Cooked on a wood stove, and ironed with irons heated on a wood stove. She bathed in a No. 3 washtub and she went to the outhouse."
Parker learned to pick out tunes, and even wrote one called "Lonely," a train song about a man who's lost his love. That's the song Parker sang for Disney when the studio boss asked if he wanted to sing something.
"I did not know he was a train buff," Parker says. "I would have been a genius if I had known that and come in with that little song. But I did it with total naivete, if you will."
Disney signed Parker to a personal contract two weeks later and sent him into the recording studio to record "The Ballad of Davy Crockett." The song famously told the story of Crockett's life:
"Born on a mountain top in Tennessee,
greenest state in the land of the free
raised in the woods so he knew ev'ry tree
kilt him a b'ar when he was only three
Davy, Davy Crockett, kind of the wild frontier!"
When the merchandise craze hit, one entrepreneur sold the mounted head of a stuffed "b'ar" to capitalize on the popularity of the song. Eventually, more than 40 people recorded versions of the ballad, including Tennessee Ernie Ford, Frankie Lane and Burl Ives. The version used to open the hour-long episodes was sung by veteran soap opera actor Bill Hayes.
Walt Disney initially turned away from television. But he needed money to build what would be Disneyland and began looking for investors. ABC agreed to invest, provided Disney produce programming for the network.
The program "Disneyland" was the answer, and the show featured four recurring themes tied in with what the park was going to offer. The three "Davy Crockett" hours were part of the "Frontierland" theme. ABC contributed $100,000 for each show. (Today the Disney company owns ABC.)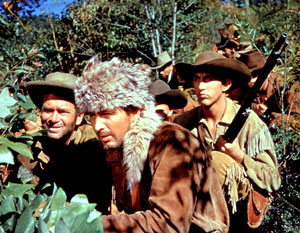 Disney expected to lose money on "Davy Crockett," which cost a total of about $750,000 to make, and recoup his investment only after combining the shows into a feature film for release overseas. But he didn't take into account the demand for merchandise. And no one expected the adventures of "Davy Crockett" to be so enormously popular. By the time the first episode aired, Disney had filmed the third, which killed off the hero at the Alamo.
Buddy Ebsen originally was considered for the role of Davy Crockett. Instead, he wound up with the part of Georgie Russel, Crockett's lifelong friend. In his autobiography, "The Other Side of Oz," Ebsen recalled the hazards of making the show because the Disney studio was accustomed to animation and naive about live-action filming. The stunt man sent to double for Parker and Ebsen was 5-feet-5 inches while the two stars topped six feet. The two men were forced to do their own stunts.
"In the course of filming," Ebsen wrote, "I figure I qualified for four Purple Hearts. The most dangerous incident involved a muzzle-loading musket, which blew up in my face. In the explosion and flash, I lost my eyelashes, my eyebrows, and a good patch of my front hairline." Ebsen and Parker would remain lifelong friends.
Ebsen went on to greater fame on "The Beverly Hillbillies" and "Barnaby Jones" before his death in 2003. As enthusiasm mounted for "Davy Crockett," Disney sent Parker on a 22-city tour and then to 13 foreign countries. He'd stop at department stores in Philadelphia, Dallas, New Orleans, Detroit and "on and on and on" to point out the availability of Crockett merchandise. Parker found his fame daunting.
"I learned it was a heck of a lot of work to be a celebrity," he says. "I couldn't go out and eat in a restaurant."
Overseas, Parker says, "I would appear on the stage with my little guitar and sing two or three little songs in places like Holland and Belgium. I was in costume the whole time. I finally got used to it."
During a black-tie affair in Washington, D.C., Parker found himself again in costume and sharing the dais with admirals, generals and senators all wanting his autograph, ostensibly for their grandchildren. "That was the genius of Walt Disney. He appealed to the whole family."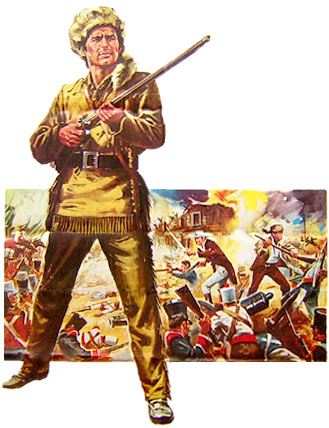 The first three "Davy Crockett" films were based on Crockett's actual exploits, including his stint in Congress and the battle at the Alamo. Disney filmed two additional fictionalized stories and those aired in November and December 1955.
Retailers expecting the craze to continue into Christmas 1955 were disappointed. The Montgomery Ward Christmas Book was filled with "Gifts from Your Davy Crockett Trading Post," including mittens (98 cents), a lunch box ($2.29) and, of course, coonskin cap ($1.79). By then, however, the Crockett craze had passed.
That was fine for Parker. He wanted it to end. "I was hoping it would. I wanted to do feature films."
Still under contract to Disney, Crockett made three other films for the studio, including the 1957 tearjerker "Old Yeller." But he had a falling out with Disney when the executives wouldn't allow him to make "The Searchers" for John Ford or the Marilyn Monroe picture "Bus Stop."
Parker moved over to Paramount and made a few films there, including the 1959 Bob Hope comedy "Alias Jesse James." Parker appeared in a cameo role as Davy Crockett. He also starred in the short-lived TV series "Mr. Smith Goes to Washington," based on the Jimmy Stewart movie; the series only lasted 30 episodes for the 1962-63 season.
In 1964, NBC wanted to revive the Davy Crockett character for a weekly series with Parker again in the lead. Disney didn't own the rights to the character, just to the merchandise and its own "Davy Crockett" films. By then, Disney had moved his weekly series to NBC, renamed it "Disney's Wonderful World of Color" and ruled the ratings. He balked at the idea of reviving the character.
"Walt didn't want me to do anything that would reduce the value of his five hours of Davy Crockett," Parker says, "so somebody said, 'Well, why don't you do Daniel Boone?'"
NBC banked on "Daniel Boone" bringing about a repeat of the "Davy Crockett" merchandise boom. A flood of products, from T-shirts and pajamas to lunchboxes and caps, began arriving in stores the summer of 1964, months before the September debut of "Daniel Boone." An estimated $10 million of products were made, with NBC, producer 20th Century Fox and Parker splitting the profits. Parker was part-owner of the show.
Parker made 165 episodes of "Daniel Boone" between 1964 and 1970. He filmed a new episode every six days.
Parker also directed a handful of episodes. "I felt felt like I was the first actor put into a witness protection program," Parker says. "For 10 years I was Davy Crockett and my wife's name was Polly and I have this little family and 10 years later I'm Daniel Boone and my wife's name is Rebecca and I've got different kids and I'm in a different place - wearing the same cap."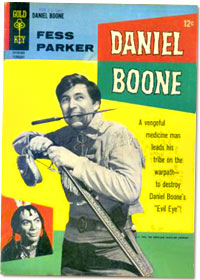 Despite similarities between the two legendary frontiersmen, including another catchy theme song and identical coonskin cap, "Daniel Boone" didn't replicate the Crockett craze. But the show did get people talking, in a fashion. Co-star Ed Ames, who portrayed Boone's Indian friend Mingo, appeared on the "Tonight Show" in April 1965. Ames boasted that he was good enough with a tomahawk to hit a target from across the room. Johnny Carson took him up on the challenge and had brought out a large log with an outline of a human figure. Ames took aim and hit the target squarely in the crotch.
"Everybody in America that had a water cooler had to hear the story if they hadn't seen it," Parker says. "I often give Ed credit for calling the public's attention to our show because they had to see the guy that threw that hatchet."
Parker walked away from acting in the early 1970s after a three-year contract with Warner Bros. didn't amount to anything. He enjoyed his stint as a director on "Daniel Boone" but didn't pursue that because he says he felt out of place in the liberal world of Hollywood. "I am a Republican," he says. "I do not understand people that have different designations." Besides, he recalls, he was more interested in real estate by then. "I had a family and I was very happy being home. So I just thought it was time to leave. You can stay too long at the fair, as the saying goes."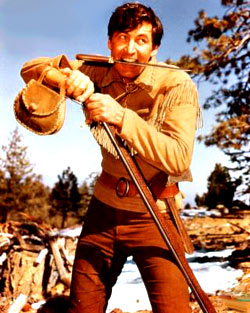 But the past isn't too far behind Parker. He returned to Disneyland in December 2004 for a tribute marking the 50th anniversary of the first "Davy Crockett" episode. Now he would like to see the "Daniel Boone" series find a home on cable television or released on DVD. If that happens, expect demand for coonskin caps to increase again.
"I do know for a fact that when young people are shown 'Davy Crockett' and 'Daniel Boone,'" Parker says, "they want a cap."
FESS PARKER INTERVIEW: Part One Here
SEE ALSO: The Fess Parker Show