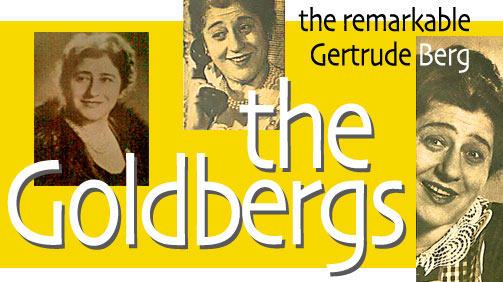 PART TWO / THE GOLDBERGS PART ONE HERE
by Billy Ingram
The part of Molly's husband Jake changed hands again when Robert H. Harris took over the role in the 1953 syndicated version. Phillip Loeb, the struggling performer who finally achieved the success he worked so hard for, then lost it all so harshly, committed suicide in 1955.
When The Goldbergs moved to NBC, the format was changed from a weekly half-hour nighttime show to a three times weekly, fifteen-minute series (7:15–7:30 p.m.). This unusual soap opera / sitcom format lasted six months.
The Goldbergs was brought back for a few weeks in the summer of 1953, this time as a half-hour on NBC. The struggling Dumont network picked up the show in April of 1954 but this run only lasted a few months. In 1955, Gertrude Berg shook things up a bit, syndicating The Goldbergs to individual stations in a new format (later called Molly).
This time the Goldberg family had "moved on up" to the suburbs (Haverville, NY), but the situations remained basically the same. Still written by Gertrude Berg (with her son Cherney), the production refreshingly updated the characters without disturbing the careful chemistry of the easy-going scripts. Possibly out of step with the times, Molly was cancelled after only one year.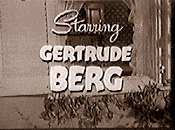 Gertrude Berg triumphed on Broadway in a two-year run with A Majority of One, winning the Tony award for "Best Actress" in 1959. She also turned up as a guest on a number of variety shows and dramatic productions before returning to CBS in 1961 with Mrs. G. Goes to College.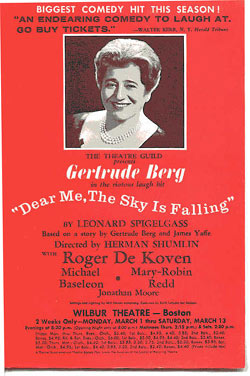 Surrounded by an all-star cast that included Sir Cedric Hardwicke, Leo Penn, Marion Ross, and Mary Wickes, this sitcom about a widow (the same basic Molly Goldberg character) who returns to university life received tepid ratings.
The series was renamed The Gertrude Berg Show mid-season but was ultimately expelled after a freshman year marked with bad reviews. The actress turned her attentions to the theater, starring in several acclaimed productions around the country.
Gertrude Berg died on September 14, 1966 while preparing for another Broadway run.

Film Collector Jeff Valencia tells us - "Talk about lost shows, get this - when Guild Films in NY went bankrupt the negatives to the Goldberg shows (along with others like The Joe Palooka Story) were placed in a bank vault. Time passed and now all the 35mm negatives are lost. The only copies of the last season are with UCLA. Cherney Berg had a complete set in 16mm and I had about 18 shows in 16mm. The first 6 years of the show were live and the network contract stipulated that they destroy the kinescope recordings after 90 days. So there are only a handful of live Goldbergs."
Thanks to Jeff Valencia!