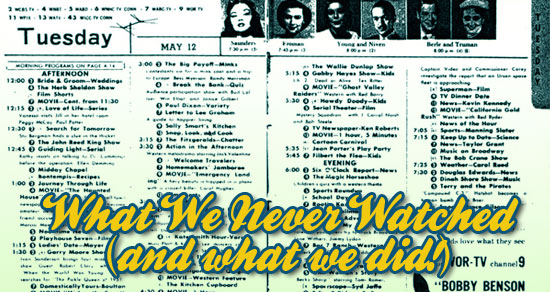 by Cary O'Dell

Often, they are as predictable as they are omnipresent. Whether they are shoe-horned into an Emmy broadcast or stretched into some sort of hour-long special all their own, the edited retrospectives created to sum up the history of television usually all feature the same few well-worn clips: Lucy at the candy factory, Ralph Kramden in his minimalist apartment, George Burns saying "Good night, Gracie," and the Beatles on "Ed Sullivan" tossed in for good measure, if only to appease the Boomers.
But as entertaining (and durable) as these clips are, as far as being an accurate history--a truthful representation--of TV during the medium's first couple of decades, they are wholly inaccurate, bordering on mythology.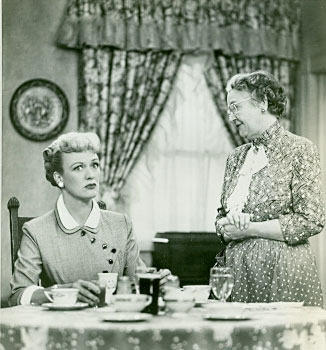 I discovered this innocently enough. As I have a long-standing interest in the fictional images of women on television, I was interested in determining how many working women (women working outside the home) were present on "early" television and if their numbers were on par with real-life women during that same time period. Looking first at the randomly picked year of 1955, while I discovered an ample number of working women in such series as "Meet Millie," "Private Secretary," "Big Town," and "Our Miss Brooks," what I also discovered was the relative paucity of both sitcoms and dramas during that formative year of the TV medium. In fact, of the 127 programs scheduled over network TV in 1955, only 21 were sitcoms, 17 were dramas, and three others were Westerns. Hence, that leaves 89 programs that fall into some other category/genre.
Previous years were equally eye-opening. In 1950, of 145 shows (mostly half-hours, spread over four networks; the now defunct Dumont network then being in business) on the air, only seven (yes, seven) were sitcoms, 13 were dramas and 2 more were Westerns.
In fact, it wasn't until the 1960s that sitcoms and dramas became the majority genres of the medium and even then often just barely.
This, of course, begs the question: if sitcoms and dramas—what we have always considered the basic building blocks (if not the raise d'art) of primetime TV-- weren't that prevalent during the early days of broadcasting, then exactly what were the networks airing and, quid pro quo, what was America actually watching?
I decided to conduct some primary research. Like innumerable other TV researchers, I turned to Tim Brooks's and Earle Marsh's bible of television history "The Complete Directory to Prime-Time Network and Cable TV Shows." One of this tome's handy appendices is a series of grids laying out each network's fall primetime line-ups. Following those, I decided to exam the first twenty years of full network broadcasting (1950 to 1969), breaking down each of the networks's schedules into the following general genres: Sitcoms, Dramas, Westerns; Anthologies; Comedy/Variety (from "Jackie Gleason Show" to "Ed Sullivan"); Music (from "Dinah Shore" to "Perry Como") ; and Quiz/Panel (the "I've Got a Secrets," the "What's My Lines?").
Quickly, surprisingly, however, I soon discovered that huge numbers of programs on the air in the 1950s and '60s didn't fall into any of these genres at all. In order to accommodate news-related programs like "Person to Person," such diverse talkers as "Faye Emerson" and Bishop Fulton Sheen on the religious-themed "Life is Worth Living," resilient, omnipresent Disneyana, sports programming (once an inexpensive primetime filler), and such programs as "This Is Your Life," I had to establish another category: "Other." And, as I was soon to learn, during these two early decades, on TV, Other was everywhere. In fact, in 1951, 1952, and 1953, there was more "Other" on the air than there were sitcoms, serialized dramas and Westerns, a phenomenon one would hardly suspect from the contents of so many modern day "looks back."
Actually, the high-volume of "Other" on the air makes a sort of economic sense for the time. In the early fifties, not only was everyone (the networks, the public) still deciding what TV could and would be but also if it could make any money. And all this "Other" was, by and large, an inexpensive way to fill up the primetime hours. Talk shows, sports, even mini-documentaries required no need for elaborate sets or large casts, not even a weekly purse of prize money. NBC's recent, disastrous attempt to strip Jay Leno five nights a week in primetime harkened back to this formula of maximum programming for minimal (or, at least, lower) cost.
Unfortunately, since then, someone (the culture at large?) has paid a price for all this early economy. Precious few of this "Other" programming (regardless if they were interesting, popular or good) has any stake in our collective memory, and hence that's why they are seldom missed in even the most elaborate retrospectives on broadcasting history. In fact many of these programs seem, today, aggressively obscure: "Marshall Plan in Action"? "Old Fashioned Meeting"? "Georgetown University Forum"? "Keep Posted"? "Hour of Decision"? Huh?
BROADWAY COMES HOME
But even after including "Other," this still doesn't tell the full story of TV at the time. During TV's formative years of 1950 through 1955, there were just about more of everything else on the air BUT sitcoms, dramas and Westerns. Not only were these genres dwarfed by "Other" they were also all outpaced by early anthology programs.
Now completely absent from the airwaves, anthologies were TV's "theatres of the air." They were the weekly, self-contained playlets, offering up completely different stories and casts week after week, telling (or re-telling) stories either original to the medium (like Serling's legendary "Requiem for a Heavyweight") or adapted from a famous book, play or film. Sometimes they were united only by a common theme (like the suspenseful "Alfred Hitchcock Presents" or the newspaper-focused "The Big Story") or a familiar host (like Loretta Young or Robert Montgomery, who would sometimes take a leading role in that week's installment). In 1950, there were 30 regularly scheduled anthologies on the air, more than any other genre. They remained strong in subsequent years: 28 were on the air in 1951; 24 in 1952; 28 in 1953; and 24 again in 1954. In 1955, there were 29 on the air making it that season's most dominate genre. They were dominant the following Fall as well; 25 of that season's 120 programs were anthology programs.
In retrospect, it's rather surprising that anthologies were so dominate for so long. Surely these series, compared to so many of the shows in the "Other" category, were not the most cost-efficient programs to produce, what with having to hire all new actors, build all new sets, and acquire or design new costumes every week. Moreover, sitcoms and serialized dramas were already established, successful genres on radio, ones which could (and often were) easily carried over to the small screen. Regardless, for whatever reason, when television came around, anthologies took precedence.
One theory for anthologies's emergence on the tube has been set forth by broadcasting scholar Mary Ann Watson. She proposes that the emphasis on anthologies was a way to heighten TV's cultural reputation, and, hence, sell more TV sets to higher-income folk. Certainly, at that time, TV did have a highly de classe reputation, one built on its reoccurring images of Uncle Miltie in drag and the kings and queens of the roller derby. Anthologies, in comparison, had the veneer of a classy Broadway opening, the legitimate theatre coming right into your living room. And certainly many of TV's early anthologies did have noble, lofty aspirations. As most TV production at that time was New York-based, all four networks delved deeply into the Broadway theatre scene, bringing to the small screen a wide assortment of young stage-trained actors, writers, and directors.
It's arguable whether this inventive sales pitch worked or not. While TV purchases did increase throughout the 1950s, over all economic strata, was this the result of an attitudinal change regarding TV's product or just a natural occurrence, spurned on by such wide-spread, across-the-board hits as "I Love Lucy"?
In any event, for such a once populace show type it's amazing that so few of TV's most classic anthologies are remembered at all today. "Fireside Theatre," "Philco TV Playhouse," "Kraft Television Theatre," "Soap Box Theatre," "Studio One," "Armstrong Circle Theatre," "Lux Video Theatre," "Tales of Tomorrow," and "Feature Playhouse," among others, are now completely forgotten. Only Rod Serling's timeless "Twilight Zone" still today has any real resonance in popular culture.