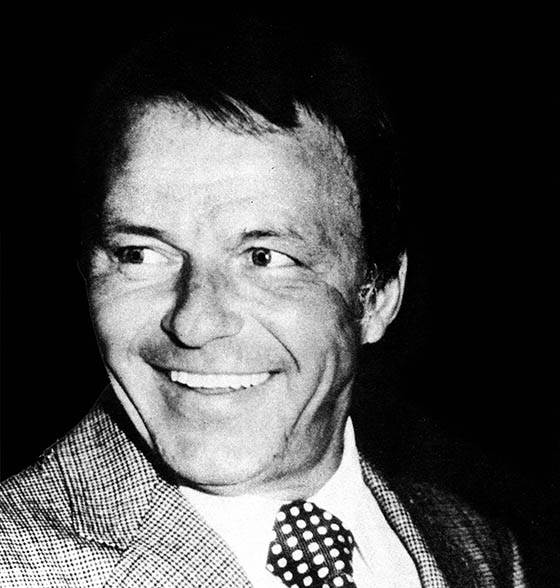 What Was Frank Sinatra Really Like?
by Billy Ingram
Here is a portion of an 2009 interview I did with Helen Costa, wife of Sinatra's musical arranger Don Costa, on what the Chairman of the Board was like offstage, in his personal life. Mrs. Costa had plenty of opportunities to witness Sinatra with his guard down.
Helen Costa: Sinatra's success stemmed from his musicianship. If you were good he hired you, that was it. All the guys who were working for him, Billy May, he had three or four or five top musicians that used to do his arrangements. He was very generous with his appreciation for musicianship, he always gave them credit.
He had a Dr. Jekyll, Mr. Hyde conflict in his personality he could be as generous as he could be nasty. Somebody who stayed on the top that long, you really have to develop an exterior toughness otherwise people take bites out of you all the time. He had a lot of pressure to stay up there.
I saw a little bit of both sides. When Don had his heart attack, at that time he was re-married, Sinatra flew Don, myself and his wife out to Texas to Dr. Debakie who was the best open heart surgeon in the world at that time and Frank paid for everything.
And there were other times he could be very nasty. The popular singer Morgana King told me she knew Frank's mother and she said his mother had the mouth of a sailor and she used to slap him around a lot. He was the only kid, you know?
So I guess he didn't have a deep respect for women, it probably started very young with his mother as his only role model. I don't think he really respected women at all, except for his first wife Nancy was an Italian woman, he did have a respect for her but it didn't last too long.
He was particular, had perfect pitch and a great ears for any kind of mistakes. Sinatra's son was with him and he said, "I want you to sing this song" and Frank Junior said, "But I don't know it dad, I haven't rehearsed it."
Frank told him, "Don't worry, it'll be fine." He pushed him into singing the song and after he was finished Frank took the microphone and said, "Now I'll sing it the way it's supposed to be sung." He could be just as nasty as he could be, it was hard to form any kind of relationship with him. A complicated man, you might say.
There were times Sinatra was verbally abusive but then that was his outlet. He had a piano player Bill Miller and he was very nasty to him, he was like somebody to take it out on.
The reason they called him 'Ol' Blue Eyes,' a lot of people have blue eyes, but he had a tremendous energy coming from his eyes, when he walked into a room it was electrifying.
His eyes were it, I think that's what really endeared him to the audience because they connected through that energy and he made every woman or person feel he was singing to them.
It was more his talent for phrasing that having the greatest voice ever; his voice wasn't that great but it was enough that he had the phrasing and the energy to simulate that intimacy on stage. He had that power, he was very intense all the time.
Frank always had the muscle man, Jilly Rizzo, who was his bodyguard; he was an enormous man and he was always with him to protect him. One night we walked into a restaurant and somebody said something to Frank to try to start a fight, to try to provoke him and he grabbed Don's arm and said to him, "They're trying to beat me up." That was the night Frank met Mia Farrow.
It was very intense, you could kind of understand how he had to be rotten at times because he felt that pressure all the time. And to stay on the top you have to be tough. That's why Don died early, he could never develop that edge to his personality he was always open and honest and straight ahead and they eat you up. The music industry is probably the lowest of all the show business areas as far as rottenness, it's like a sewer when you get into it. Everyone's insecure and trying to hold on to their positions and whatever they have so there's no trust.