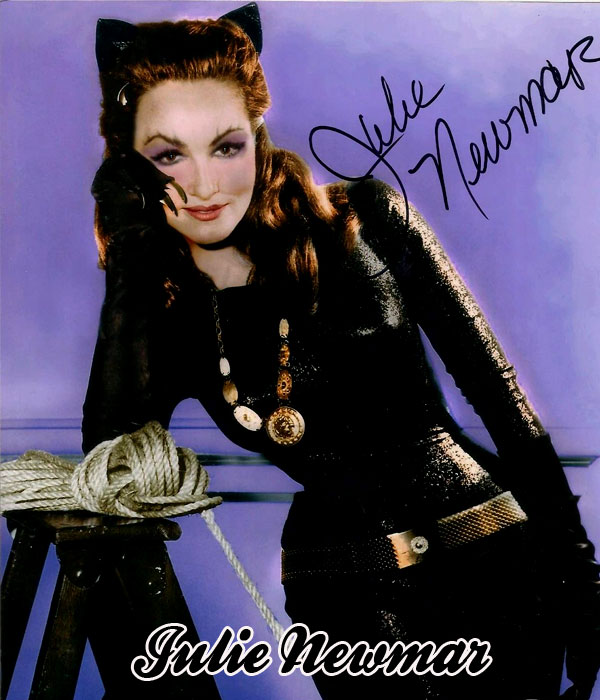 JULIE NEWMAR: A Viewer's History
by Cary O'Dell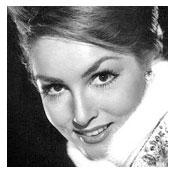 Like most members of my generation (the Gen X-er's), my first exposure to Julie Newmar was in her incomparable performance as Catwoman on reruns of the beloved 1960s TV series "Batman."
And, in some ways, what else does one need to see?
In fact, I thoroughly believe that if Julie Newmar had done nothing else in her long career but that single performance she would still be considered a small-screen legend. To this long-time TV watcher/fan, Newmar's sly villainess on that camp classic is one of the great performances in the history of the television medium. As I've written elsewhere before, her Catwoman is a study in economy and multifaceted-ness. In her Cat-characterization, there is not one wasted word, one wasted syllable or a single wasted gesture. Additionally, her performance operates at all times on a myriad of levels; at once, her Catwoman is funny, sexy, menacing, smart. And though many other extremely talented actresses have brought much to the role of Catwoman—including, of course, Eartha Kitt, Lee Meriwether and Michelle Pfieffer--they all still seem to forever stand in the shadow of Newmar's formable, original creation.
As a viewer, once I was introduced and bowled over by "Batman's" Julie Newmar----not unlike the effect Newmar's character Stupinfying Jones had on the men of Dogpatch in the film musical "Lil' Abner" (1959)—I had to seek her out further on the small screen…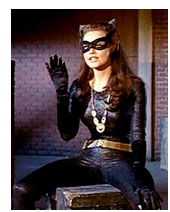 As Catwoman
Of course, I came of age before the dawn of Youtube, Netflicks and other on-demand video services. Back then, one would have to just wait and watch for a Newmar siting, catching snatches of her (all too rarely) in random repeats of various shows. Still, lucky for me, many of the series Newmar made appearances on were still in heavy syndication during my growing-up years. So, devoted I did get the chance to see Newmar work her magic in various guest spots on such series as "The Monkees," "Bewitched," and the original "Star Trek," among other programs.
Throughout her career, due to Newmar's height (5'11") and other (um) uncommon attributes, the actress has often been cast as any variety of "others"—foreign born transplants (for example, on "The Beverly Hillbillies" in 1966); Native Americans (in the big screen Western "McKenna's Gold" in 1969); or even mythical figures (on "Bewitched" and "Twilight Zone").
Ironically, interestingly, as the actress has often played these "outsider" (or even non-human) characters, the roles have often tapped into Newmar's ability to skillfully project a naiveté and innocence.
This was, of course, quite evident in her role as Rhoda on her 1964-1965 sitcom "My Living Doll." On this series (long un-see-able until recent years thanks to MPI home video), Newmar's robot character's literal interpretation of all her commands made her, in many ways, highly child-like. Similarly, her "Star Trek" character, Eleen, on the episode "Friday's Child" (from 1967), has a childish impulsiveness about her.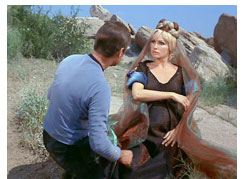 "Star Trek"
Of course, all of this is not to say—as we saw with Catwoman—that Newmar couldn't be tough or even threatening if she chose to be. Certainly the actress's statuesque form and upfront femininity (in women, sexuality is often perceived as simply dangerous) lent itself to certain intimidating characters—born of this planet or not. How thrilling it was for this young viewer to find Julie Newmar on an episode of "Hart to Hart" as a deadly hit woman with, yes, murder on her mind. And it was certainly worth getting up on a Saturday morning to see her guest appearance as a notorious "Space Queen" on two episodes of "Jason of Star Command" in 1978. In a similar vein, two years after "Jason," she was a welcomed guest to the universe of NBC's "Buck Rogers in the 25th Century" where, in 1980, she played the Newmar-esque role of Zarina in the episode "Flight of the War Witch." (Notably, on "Buck," Pamela Hensley's delicious Ardala seemed to owe some of her persona to Newmar's earlier feline influence.)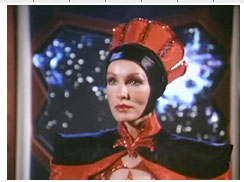 Newmar in "Buck Rogers"
Actually, I would theorize that one of the reasons that Newmar's Catwoman is so seminal is because it so skillfully wove together the various, unique facets of the actress's personality and performative qualities: the exotic-ness, the sexiness, the dangerousness, and her innocence, the latter necessary for this Catwoman/villain character to safely fit within and into the other camp aspects of the series.
As Newmar is a first-rate comedienne, other programs that she has appeared in over the years have dipped more into the actress's comedic abilities. She proved her comedy chops in all-too-fleeting appearances on "The Love Boat" or "Get Smart." On that latter series, widely syndicated during my youth, Newmar played a KAOS agent named Ingrid who posed as Maxwell and 99's newly-hired maid. As Ingrid (who has a secret telephone hidden in her feather duster), Newmar again mixed the comedic with the dangerous in the role as that episode's heavy.
Then it was a meeting of superwomen on a 1976 somewhat tongue-in-cheek episode of "The Bionic Woman" titled "Black Magic," when Newmar shared the screen not only with series star Lindsay Wagner but with a host of other genre-friendly names including Vincent Price and Abe Vigoda!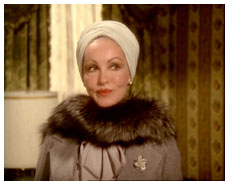 Giving glamour in "The Bionic Woman"
Later, though, Newmar was too often off the screen, big and small. The reasons behind her absence were valid; in real life, the actress was off devoting time to her son. But truly dedicated viewers (like I) could see her in a cameo in Joe Pesci's short-lived PI show "Half Nelson" from 1985 or—finally!--in heavy rotation on MTV, in 1992, stealing the fashion show in George Michael's "Too Funky" music video.
Then, in 1995, Newmar finally got the attention she deserved when she was (justly) rediscovered via the big screen comedy "To Wong Foo…" in 1995.
Recently, it was announced that Newmar would be (again) taking on the role of Catwoman in a new animated "Batman" movie. How cool is that? And further proof that hers is the definitive portrayal of the character.
Newmar's forthcoming new life (her eighth? her ninth?) as Catwoman further assures that she will forever be part of our popular culture and forevermore recognized as at the icon that she is.