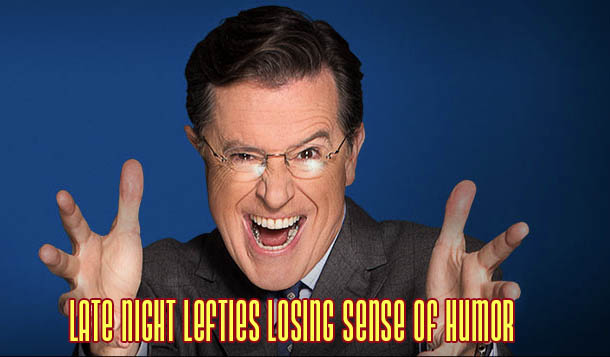 by Jim Longworth
One summer night during the 1984 Presidential campaign, Tonight Show icon Johnny Carson quipped, "I guess both candidates will get some rest this week, Mondale in the Virgin Islands, Reagan in the Cabinet meeting."

It was a good natured poke at his Republican friend Ronald Reagan, who was known for taking daily naps. But Carson's barbs took aim at Democrats too.
And regardless of the intended target, his jokes were funny, and never mean spirited. Unfortunately, the current crop of late night comedians can't seem to grasp or embrace those standards. For example, compare Carson's 1984 joke with Stephen Colbert's attempt at humor on election night 2016. Said Colbert, "If Trump wins, how about screaming 'f*#@' for the next 45 minutes?" Not only was Colbert's remark not funny, it was vulgar, and mean spirited. It's sad to say, but Colbert and other late night lefties have increasingly lost their sense of humor, decorum, objectivity, and fairness.

Johnny Carson and other television hosts of his era also never took sides in political elections, nor did they predict outcomes. Not so today. Just weeks prior to this year's election, Colbert said of Trump, "You're not going to be President!" "The Daily Show's" Trevor Noah said Trump had "the mind of a toddler", and called him a "spoiled brat". Samantha Bee, host of "Full Frontal", joined in the name calling, telling her audience that Trump, "is a f%&#@ing liar."

Today's late night lefties are also poor losers, and just can't seem to accept the fact that Donald Trump defeated Hillary Clinton. Said Trevor Noah, "I cannot understand how America can be this hateful." And Colbert proclaimed, "I can't put a happy face on this, and that's my job." Yes it IS your job Stephen, and you would be able to do your job if you were a true professional.

But as bad as Noah, Bee, and Colbert are, the worst of the late night whiners is Seth Meyers, whose monologues have morphed into rambling commentaries on the evils of Trump. Meyers, you may recall emceed the 2011 National Press Club dinner where he and Obama went after Trump with a vengeance. In fact, Meyers' over-the-top barbs have since been credited with convincing Trump to run for President in 2016. Meyers wasn't funny then, and he isn't funny now, mainly because he's lost sight of his objectivity, and of the Carson standards for late night comedy. George Mason University professor Robert Lichter told the Daily Beast, "One element of a joke is surprise. That's what makes it funny. When you just deliver a diatribe, you may be satisfying yourself, but you're not going to influence many people."

Prior to being given his own show, Meyers was the head writer on "Saturday Night Live", where he also served up jokes as the anchor for "Weekend Update". Then, as now, SNL had a decided left wing bias. In fact, in a 2012 interview with podcaster Bill Simmons, Meyers said of SNL, "Yes, there are more liberal people involved in the show." Meyers was right. According to Downtrend.com, 67% of people who voted in the 2008 Presidential election had watched SNL, and of those, 59% voted for Obama over McCain.

But this year, SNL went off the rails and shot itself in the left foot by allowing co-anchor Michael Che to deliver a series of commentaries rather than jokes. Lichter's theory held true. Che's anti-Trump diatribes didn't convince enough of his liberal millennial viewers to even vote, much less vote for Hillary. Recently, after viewing SNL, Donald Trump tweeted, "watched parts of SNL. It is a totally one-sided, biased show - nothing funny at all." To his credit, Che admitted his approach was biased, telling Esquire, "Oddly I agree with him (Trump)...I think our show should show all views..."

Throughout history there have been stand-up comics who have used hate speech and obscenities to criticize politicians, but traditionally, late night hosts have always exercised a sense of balance and decency in their delivery, if for no other reason than they didn't wish to alienate half of their potential audience. Today's night owl comedians don't seem to care who they alienate, so long as they get a cheap laugh from a mean spirited joke about Donald Trump.

Don't get me wrong, Mr. Trump has said and done plenty of things that warrant comedic barbs, but those barbs should only sting, not stab. They should be funny, not angry. And they should be thought provoking not vulgar. My advice to the President -Elect is to do what I do when I want a late night laugh. Watch re-runs of Carson.
---
Post-Modern Sitcoms / Actors That Wrote Books / Bill Cosby - WTF?!? / Ed Asner Interview / Awful 1990s TV Shows / Emmy Award Multiple Winners / Anthony Zuiker: Mr. CSI / Diana Muldaur: A Viewer's History / When Stars Play Themselves / Small Roles Big Performances / Barbara Hall / Stars Before They Were Famous / Stars Before They Were Famous 2 / Stars Before They Were Famous 3 / A Better Classic TV Network / Bill Paxton / Music Videos / Shirley Jones Interview / What We Lost When We Lost VHS / When Hit TV Shows Return / Shows Nobody Remembers But Me 4 / Shows Nobody Remembers But Me 1 / Bryan Cranston Interview / State of TV Commercials / The Great Cable TV Migration / Sportscaster Woody Durham / Movie Posters and the documentary 24x36 /Chris Robinson /Dallas Reboot /David Letterman /Auditioning For Game Shows in the 80s /Ghosts of Cable TV past / Honey Boo Boo - WTF?!? / Steven Bochco Tribute / Ian Abercrombie / Joe Franklin / John Nettles / Gotham / Jon Cryer / Jon Stewart / Lana Wood / David Letterman / Matt Bomer / Molly Ringwald / Morgan Brittany / Music Rights for TV Shows / Neilsen Ratings / Norman Lloyd / Not Your Dad's TV / TV Series Reunions / Rich Little / Special Bulletin with George Clooney / Top Ten Action Movies / 2013 Emmy Awards / 2010 Celebrity Deaths

Late Night Lefties
Losing Sense of Humor