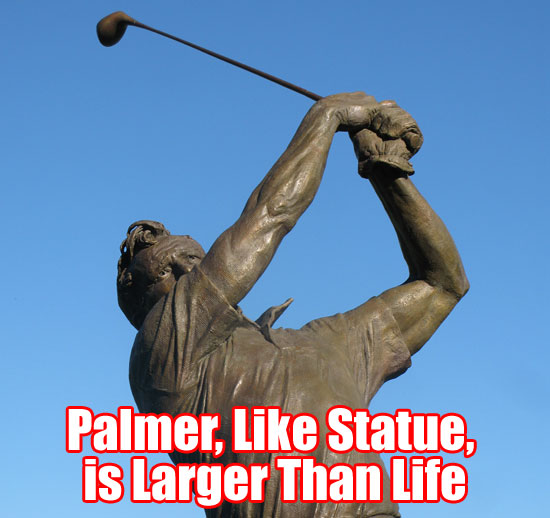 by Jim Longworth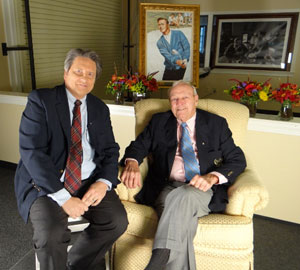 Arnold Palmer must be a descendant of Ponce de Leon, because anyone who comes in contact with him, feels young again. When I met him earlier this month, I went from 60 to 10 in a matter of moments, at least in spirit. Arnie's smile and handshake took me back to 1964, about the time he won his fourth green jacket at Augusta. Imagine, all those years I had been a vicarious member of Arnie's Army, and now I was actually sitting down with the King of Golf for a private interview. It was surreal. Yes, over the past forty years I've interviewed big stars like Bob Hope and Elizabeth Taylor, but this was Arnold Palmer for God's sake.

As my production crew checked camera and microphone levels I confessed to Arnold that I was nervous about meeting one of my boyhood heroes. He reached over and put his right hand on my forearm and smiled as if to say, "Relax son, I'm nobody special". But he IS special.

Palmer is one of those rare celebrities who is the exact same person whether the cameras are rolling or not. And he has always been humble, having grown up as the son of a greens keeper at a country club where he wasn't allowed to use the golf course. Today he owns that club, but you would never know it by talking with him. Arnie's humility was also evident when answering my first question.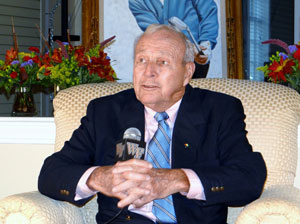 JL: Everyone knows the story of how your father, Deacon Palmer put a golf club in your hand at age three, but at what age were you cocky enough to realize you were a great golfer?

AP: That's a good question because my father was tough, and he kept me from becoming a cocky kid. His mannerisms, his teaching held me down, and at the time I thought, "Well, boy, he's too tough on me". But later on I realized that the things he was doing are the things that let me do what I did. He never got overwhelmed with what I was doing, or how I was playing, and he rarely ever told me how good I was. He would say, 'Just show me, and that's good enough for me'.

JL: I understand, but when did you THINK you were really good?

AP: (it was when) I came to Wake Forest and I was able to compete with the people I was playing against.

That's an understatement. While attending Wake Forest College (then located in the town of Wake Forest), Palmer captured both the Southern Conference crown and NCAA individual title in 1949 and 1950, led the Demon Deacon golf team to three Southern Conference championships, and won the inaugural 1954 ACC championship.

It's no wonder then, that Wake Forest University recently honored Palmer with a beautiful bronze statue. The sculpture stands nine feet in height (thirteen feet if you measure from the tip of the up-stretched golf club) and weighs 1392 pounds. It was created by Bruce Wolfe and forged by Dick Polich's Tallix Foundry. Arnold is depicted in his famous contorted pose after taking a big swing. "The statue looks like it was modeled on Arnold at the '64 masters", I said to Polich. "You're right", he said. Speaking of which, there probably wouldn't be a statue at Wake Forest unless Palmer had also gone on to great success as a pro. He did. Arnie ushered golf into the television age, and won 92 professional tournaments, including seven majors. But he had a little help along the way.

As Palmer's fame grew, so did the crowds at tournaments, thousands of who followed Arnold from hole to hole. They became known as "Arnie's Army", and I wondered what impact they might have had on his game, and that of his competitors.

JL: Today we hear about the crowds at big football stadiums being the 12th man on the field, and affecting the outcome of a game. Did "Arnie's Army" help you play better?, and, conversely, do you feel it might have intimidated the men you played against?

AP: Well I think both are true. And I think it encouraged me because I felt a responsibility to the people, as I did to my father, to perform at the top of my profession.

JL: So did your competitors feel so intimidated that they missed a putt here and there?

AP: (smiling) Well I can only speculate on that and say, 'I hope they felt intimidated'.

The statue honors not just Palmer the golfer, but Palmer the man. In addition to providing numerous scholarships to Wake athletes over the years, Palmer has supported a myriad of charitable causes and organizations. He served as national chairman for the March of Dimes, a women and children's hospital in Florida bears his name, and on the day of his statue unveiling, Arnie delivered lunch to a local shut-in. It was the five millionth delivery for Meals on Wheels in Forsyth County, which began its mission in 1962, the same year Palmer won his third Masters.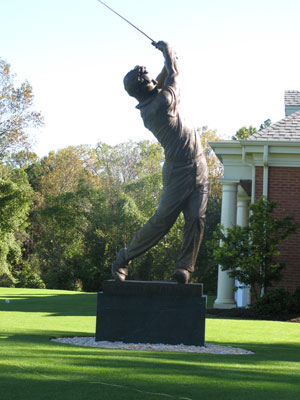 These days, Palmer and his wife Kit spend summer months at their home in Latrobe, and they winter in either Bay Hill or La Quinta. And Arnold continues to design professional golf courses which can be enjoyed by men of lesser skills than his. But then, when it comes to golf, who doesn't have lesser skills than Arnie?

For now, the breathtaking bronze statue of Arnold stands watch over Wake's practice course, but eventually will be moved to the golf complex which bears his name. It is ironically an easily measurable monument to a humble man, who has never known just how tall he stands in our eyes.




Jim Longworth is a columnist for YESWeekly.com, and author of the "TV Creators" series of books. He also serves as judge for the primetime EMMYs, and hosts a weekly TV show for Sinclair stations.

Post-Modern Sitcoms / Actors That Wrote Books / Bill Cosby - WTF?!? / Awful 1990s TV Shows / Emmy Award Multiple Winners / Anthony Zuiker: Mr. CSI / Diana Muldaur: A Viewer's History / Arnold Palmer / Small Roles Big Performances / Barbara Hall / Stars Before They Were Famous / Stars Before They Were Famous 2 / Stars Before They Were Famous 3 / A Better Classic TV Network / Bill Paxton / Shirley Jones Interview / What We Lost When We Lost VHS / Shows Nobody Remembers But Me 4 / Shows Nobody Remembers But Me 1 / Bryan Cranston Interview / State of TV Commercials / The Great Cable TV Migration /Chris Robinson /Dallas Reboot /David Letterman /Auditioning For Game Shows in the 80s /Ghosts of Cable TV past / Honey Boo Boo - WTF?!? / Ian Abercrombie / Joe Franklin / John Nettles / Gotham / Jon Cryer / Jon Stewart / Lana Wood / David Letterman / Matt Bomer / Molly Ringwald / Morgan Brittany / Music Rights for TV Shows / Neilsen Ratings / Norman Lloyd / Not Your Dad's TV / TV Series Reunions / Rich Little / Special Bulletin with George Clooney / Top Ten Action Movies / 2013 Emmy Awards / 2010 Celebrity Deaths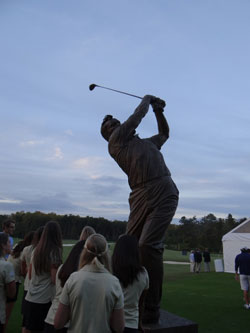 Auto huren makes it possible to compare all car rental companies all over the world!
Compare the top sellers of Instagram followers on Buy instagram followers reviews!
An overwiew of guides and gutscheincode with the best tips and tricks to save money! on Ebookers.