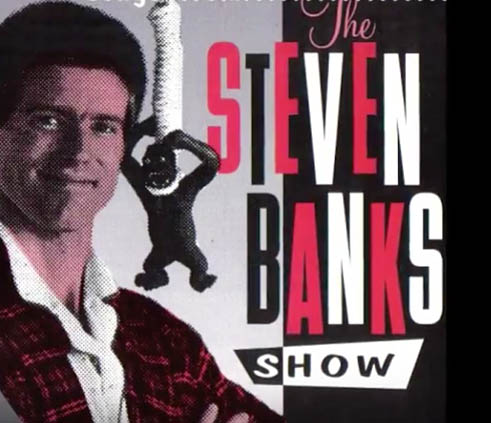 THE STEVEN BANKS SHOW
by Cary O'Dell
In 1994, PBS decided to do something completely different.
That year, for the first--and seemingly last--time in their history, Public Broadcasting produced and aired a situation comedy created strictly for their own air.
The name of that program was "The Steven Banks Show."
Steven Banks was an actor, writer, and former street performer who had honed his craft playing comedy clubs and even high school assemblies. He found his first major success in the Los Angeles theater community, via a one-man show titled "Home Entertainment Center."
The show, first staged in the late 1980s, featured Banks, playing "himself," as lovable slacker and procrastinator who was very easily distracted and a little too preoccupied with popular culture.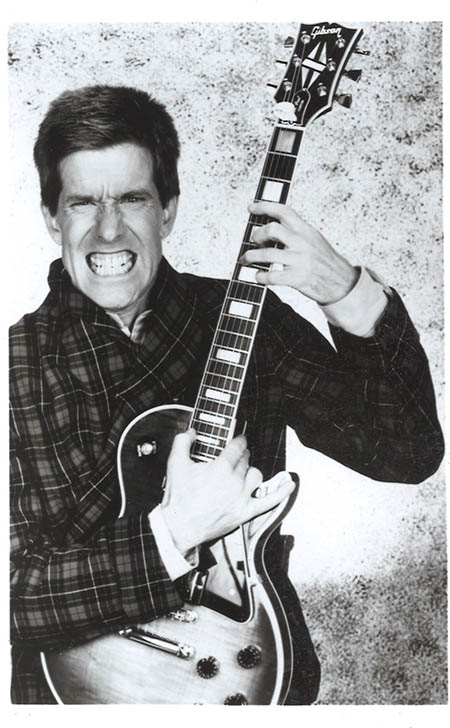 The show was a hit. After 440 performances at various LA stage venues (and a variety of local theater awards being bestowed on it and its creator/star), the piece was filmed for showing on cable's Showtime network. It debuted on the channel in January of 1991. (A bootleg recording of it can now be found on Youtube.)
The success and charm of the Showtime special featuring Banks and his Walter Mitty-like man-child persona attached a host of new fans. One of them was the Disney Corporation who filmed an unaired pilot built around Banks but then, afterwards, failed to do anything with it. Another fan was former NBC chief Brandon Tartikoff, who saw in Banks's off-kilter worldview the makings of a weekly comedy series. Tartikoff's interest dovetailed with that of WYES, New Orleans's public television station, and its then station-manager, Randy Feldman. Feldman drummed up support for a Banks program at PBS; Tartikoff would eventually serve as the show's executive producer.
Once green-lighted, the show was given an eight episode order and an absolutely minuscule budget. The show was allotted $840,000 for the entire season. That's an amount of money that was less than the cost of one episode of a Disney-produced, network pilot at the time. To cut corners, the show centered itself mainly on one set (Banks's studio apartment) and utilized the same actors for multiple roles, even within the same episode. For example, co-star Teresa Parente played Steve's mom, his girlfriend and his neighbor. Another series regular, Michael Kostroff, also performed a similar double or even triple duty.
In crafting the show, Banks and his team built upon many of the same elements as "Home Entertainment." Once again, Steven Banks played "Steven Banks" and resided in a horrendously messy, cluttered apartment. And, once again, he would be afflicted with some extreme ADD and be prone to break into musical interludes at the drop of any hat.
As he did successfully with "Home Entertainment Center," many episodes of Banks's sitcom incorporated the stars's own funny, individualist, self-written novelty songs.
However, referring to Banks's songs as "novelties' is to belie the great craftsmanship and musicality that went into their creation. Lyrically, they are funny and inventive, but Banks also showed the ability to create melodies that are truly top 40 worthy, hummable and enjoyable completely on their own. Moreover, sometimes Banks does the nearly impossible: he's able to incorporate an honest and affecting emotional punch into an otherwise strictly-for-laughs tune. For example, in his "Who Killed the King of Rock and Roll," his list of people NOT responsible for Elvis's demise ultimately becomes a song about how fame itself was the culprit. His lament to a high-school crush, "Carol (Do You Remember Me?)," is part revenge anthem and, ironically, part still sweet, still-longing ballad. And his "I Miss Paul," done in the voice and style of John Lennon, becomes a paean to a lost friendship.
The songs from "The Steven Banks Show" (some carried over straight from "Home Entertainment Center") became so popular that a group of ten of them were eventually issued on CD and cassette and were available for order by way of an 800 number shown at the end of the program. Copies are now highly-prized collector items.
Though "Steven Banks" is now a somewhat obscure title, upon the program's debut, it got a considerable amount of press attention; articles on Banks and the occasional program review appeared in various newspapers coast to coast in 1993 and 1994 as the show was rolled out over various public broadcasting stations across the country.
Review-wise, response to "Steven Banks" was decidedly mixed. Though one critic compared Banks and his iconoclastic show to TV legend/pioneer Ernie Kovacs and another said it was "laugh out loud" funny, another writer called the series "one-joke" and another called it "amateur," stating further, "This show is so empty it makes 'Seinfeld' look like Voltaire."
TV-wise, "The Steven Banks Show" seems to be the definition of an esoteric, acquired taste. Though the show was not afraid to be silly (even surreal), it could also—sometimes—embrace a certain dark side: one episode pivots on a stage musical about Karen Carpenter; another episode has Steven's favorite childhood TV host dropping dead in his apartment; and yet another is about Steven erroneously being delivered a dead person's ashes.
"Banks" seemed to happily embrace a certain "outsider-ness." A list of the show's odd guest star list shows it was not afraid to buck trends. During its run, Peter Lupus, Peter Tork and Billy Mumy all made cameo appearances.
Sadly, though, even though at the time both "Seinfeld" and "It's Garry Shandling Show" were stretching the sitcom genre, "Banks" and company were perhaps a little too quirky, a little too "meta" for even the most adventurous of viewers.
More problematic, however, was the fact that few viewers were used to getting their home-grown humor (as opposed to imported-from-England humor) from public television. And with only ten episodes and a pilot produced and aired, the show's lifespan did not allow it to build the word-of-mouth necessary for its survival. Hence, eleven episodes is all there is.
Still, Banks himself was far too talented to be kept at bay for long. He has gone on to appear in various films and television roles. His alter ego, Billy the Mime, has toured, and nearly stole the show in the 2005 documentary/comedy "The Aristocrats."
But, in the years since the PBS show, it's been as a writer that Banks has had his greatest success, bringing his unique voice and vision to such sophisticated animation programs as "Jimmy Neutron" and, most extensively, "Spongebob Squarepants." Creating the oddball adventures for that undersea organism has proved to an excellent fit for Banks's uniquely funny and media-savvy viewpoint.
Actually, Banks also found an excellent fit for himself in "The Steven Banks Show," too. Though perhaps too eccentric and irreverent for the masses—and for public television—"Banks" nevertheless still retains its charm and an undeniable freshness. In other words, it's the perfect cult show.