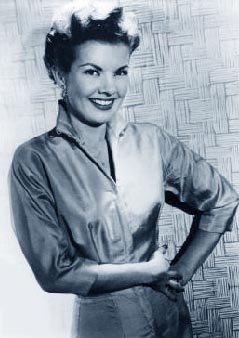 Gale Storm: A Biography and Career Record
by David C. Tucker
David C. Tucker, author of books about Martha Raye, Joan Davis, Eve Arden and Shirley Booth, has a new tome examining the life and times of Gale Storm, one of those wacky TV character actors that 1950's audiences adored. This B-movie actress starred in 2 seminal sitcoms from TV's early days, My Little Margie and Oh! Susanna. She was almost as popular as Lucy was on television. For a time at least.
This is a real page-turner, chronicling the rocky personal life and bumpy career of one of the brightest lights of the big and small screen.
Gale Storm fell out of favor in the 1960s, appearing relative infrequently considering how beloved she was a decade earlier.
Tucker specializes in the kind of exhaustive research that results in compelling storytelling. Not only is this a highly engaging biography of a complex individual but there are summaries of all of her movies and every episode of her TV series' and guest appearances in the 1970s and '80s on shows like The Love Boat and Murder She Wrote.
There's also an overview of Storm's many albums and her first husband Lee Bonnell's movie career.
I had no idea My Little Margie began on TV then became a radio program that ran concurrently with the television series. Tucker makes an attempt to create an episode guide for the radio version, no small feat when you consider how few episodes exist. It's this attention to detail that makes Tucker's latest book so crisp and fascinating.
From the book's description: On December 31, 1939, nationwide radio audiences listened as 17-year-old Josephine Owaissa Cottle, a Texas schoolgirl, won Gateway to Hollywood's new talent competition. Her prize was a movie contract at RKO and a memorable stage name--"Gale Storm'. One of the United States most beloved entertainers, she appeared in 35 films, starred in two hit television series (one was My Little Margie) and earned a gold record for "I Hear You Knockin'".
Drawing on interviews with family, friends and colleagues, this biography provides many unpublished details of her life and career. An annotated filmography encompasses Storm's time at Monogram Pictures, her roles in westerns and her appearances in classics such as It Happened on 5th Avenue. Her TV career is covered, including complete production histories and episode guides.
Hers was a career with extreme highs and lows but most of all this is a story about surviving in the business of show, something Gale Storm excelled at.
Highly recommended!
About the Author:
David C. Tucker is the author of numerous books about classic film and television history. A retired public library administrator, he lives outside Atlanta, Georgia.