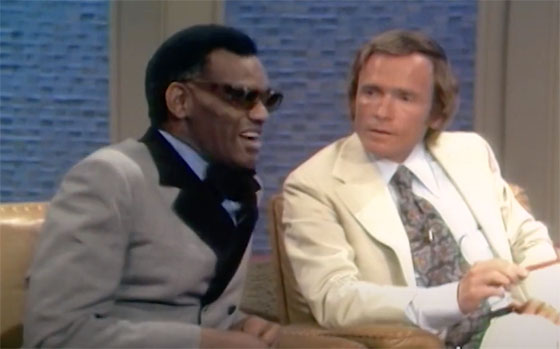 Ray Charles Had a BIG Problem with Television!
by Billy Ingram
On a July 9th 1973 episode of The Dick Cavett Show, legendary cross-genre entertainer Ray Charles expressed his frustration when performing on television. His problem? Television is a visual medium with little attention paid (back then) to what a musical artist sounds like.
"Well, what it is, you have something to lean on," Charles remarked about fronting a band. "See, right away, if you get a good band... and I think you have a good band... you get something to lean on. The only unfortunate thing, which is... Each time I talk to you, I have the same complaint."
Cavett, being on of the medium's greatest interviewers, knows when to let a guest go off on a tangent, it made for fascinating conversations. "The same complaint with television," Charles continued. "And that is the sense that when you do something, everybody says, 'Hey, look. This guy better come out here and he must entertain me.' And this is right. I'm not against that. What I am against is that if you're going to be put on the spot where you must entertain, then I think you must have the facilities for sound. Now, they got the visual. Okay?
"The only thing is, that my gripe is, is that I sell sound. I don't sell sight. What you hear from me... Because the public, when they listen to me or they buy the records, they are listening to sound. And unfortunately I'm still griping. I guess we're both going to be thrown off the air sure after tonight. But I'm still selling sound."
One of the issues concerning sound quality were the lousy, small speakers found in 1970s' TV sets - but it went deeper than that for Ray Charles. And understandably so - his was a world of sound but no sight.
"I think the visual thing is cool," Ray Charles said. "They can do all kind of tricks with you visually, but so far the only problem I have with television is, today, I've got to tell you, is sound. Because really, when I put on a little tuxedo or whatever the hell I got on and I walk out onstage… See, they can make me look good. They have me looking like I'm 33 when I'm 45. You understand? That's all good. But I want... My thing is, I want to sound good.
"You've got the same kind of thing. There's a compromise. And what I'm trying to seek is that I wish that they could get some kind of compromise between looking good and sounding good. Because I think the people who hear an artist on television is really cheated, because you don't really know how good they can really sound because you've got to sacrifice so much for the sake of visuals.
"Well, I tell you, I fight like a dog, man, about this. I really do. I go through all kinds of changes about the sound and every... And the sad part about it, the artist, when he comes off sounding bad, the public walks away and says, 'Wow, I saw Ray Charles or I saw whoever it was on TV, and you know, I buy a lot of his records but he sound bad.' They don't realize the hell you have to go through to do TV. Really."
Of course, today's television sets are equipped with superior, adjustable speaker systems that allow for customization for any type of program, musical or not.
Amazon Prime - unlimited streaming
of your fave TV shows and movies!
Get your FREE 30 Day Trial!
PR4 & PR5 Pages for Advertising