'TVparty is hands down the best site on the Web for classic TV.'
- Discovery Channel
ShoutFactoryStore
Classic TV
shows on DVD

by Cary O'Dell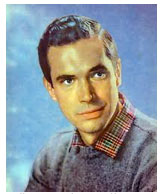 Dillman, near the start of his career
I have many favorite actresses: Bette Davis, Audrey Hepburn, Gale Storm, Anne Francis and, of course, Lucy. But I only have one favorite actor, and that's Bradford Dillman.
Bradford Dillman. You may not know the name, but you know the face. He's one of "those" actors, an exceedingly familiar personage, a dependable presence and performer, one always welcomed in leading or supporting roles on either the big screen or the small one.
Dillman was born in 1930 and educated at Yale (earning a degree in English literature) and, later, at the Actor's Studio. He debuted with bombast in the original 1956 Broadway production of O'Neill's "Long Day's Journey Into Night." Hollywood beckoned soon after and his big screen work over the years has included "Compulsion," "A Rage to Live," "Crack in the Mirror," "The Iceman Cometh," "The Way We Were," "Gold" and numerous other films. Throughout his career, he has augmented his cinematic roles with a staggering assortment of television appearances--in early anthologies, made-for-TV movies, and guest spots on nearly every primetime series you can think of.
I first saw Dillman in action, not surprisingly, on television, and in a made-for-TV product. It was in the 1980s, in a repeat of a 1964 installment of "Alfred Hitchcock Presents" back when the USA Network resurrected them for a new audience of suspense fans. The hour-long episode I saw was titled "Isabel" and co-starred Mr. Dilmman with Barbara Barrie. In the teleplay, Dillman plays a man who is falsely convicted and imprisoned for an assault on Barrie (the Isabel of the title). After being released after serving two years in prison, Dillman's character, Howard Clemens, vows revenge on his accuser.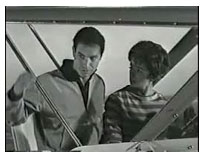 In "Hitchcock's" "Isabel," with Barbara Barrie
In the show, after holding up a bank (to claim money that is "owed" him), Clemens meets up once again with Isabel. He woos her and even proposes marriage. She accepts. To celebrate their engagement, he takes her out on a boat…but not before he tampers with the vessel's fuel line. Later, he jumps overboard leaving Isabel to perish at sea. But though "Isabel's" story nearly concludes with a tremendous explosion on the water, it doesn't actually end there. A sharp-eyed police officer and an unexpected twist in its final moments takes "Isabel" into a new direction, and Clemens's fate into its own uncharted waters.
Though not directed by the Master of Suspense himself (Alf Kjellin did the honors), "Isabel," today, screens like vintage Hitchcock, most especially in the duality of its lead. In many of Hitchcock's biggest big screen efforts his lead characters often seem to be simultaneously on both sides of the law or, perhaps more accurately, they are sympathetic villains. Consider thief turned murder victim Janet Leigh in "Psycho" or Cary Grant as a just-reformed jewel thief in "To Catch a Thief." So, too, is poor (?) Howard, victim turned avenger/cold-blooded killer.
But as interesting as "Isabel's" plot is, it is Dillman's lead performance that anchors the hour and makes it compelling. As Dillman would do throughout his career, he skillfully elevates the material. Morality says we should not be rooting for Howard but somehow Dillman keeps his character human, sympathetic, even understandable. "Isabel" would be good but hardly as memorable if we, as viewers, were not so often so conflicted during it unfurling over our own feelings about the program's protagonist.
Dillman's was a performance that has always stayed with me. In retrospect, it is hardly surprising though that Dillman so skillfully worked the edge between hero and heavy. After all, this was the same actor who, in two earlier film roles, played the Leopold/Loeb-inspired thrill killer in the 1959 film "Compulsion" AND a bon fide saint two years later in 1961's "Francis of Assisi." Similarly, Dillman was also certainly a two-sided coin in the ambitious 1960 film "Crack in the Mirror" in which he and co-stars Orson Welles and Juliette Greco each enacted dual roles; they played a trio of Parisian sophisticates and a threesome of slum dwellers, all intertwined in a thick tale of love and deceit.
After "Isabel," I don't know what I saw Bradford Dillman in next. Perhaps it was his earlier "Hitchcock" appearance in the 1963 episode "To Catch a Butterfly," where he co-starred with Ed Asner and Diana Hyland. In "Butterfly," he was a cardigan-clad suburban husband who is alternately fearful, vengeful and sympathetic to the disturbed little boy living next door.
As a viewer, I know I kept running into Dillman via many of his innumerable primetime TV guest spots. This is, after all, a career that includes appearances on "The Man from UNCLE," "Alias Smith & Jones," "Mission: Impossible," "McLoud," "Medical Center," "Wild Wild West," "Ironside," "Charlie's Angels," "Mary Tyler Moore," "Murder, She Wrote," "Big Valley," "Wonder Woman," "The Bold Ones," "Hotel," "The Mod Squad," and "Cannon," among others.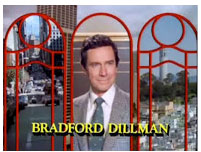 Billing for a guest spot on "Hotel"
Many of his smalll screen performances stand out in my mind. What a thrill (no pun intended) it was to see him pop up in two installments of Brian Clemens's 1970's series "Thriller." (I've written about the wonderful "Thriller" series previously for TVParty.) During the course of "Thriller's" late-night ABC run, Dillman made two appearances in the program. The first I saw was the final episode of the series, "Death in Deep Water," from 1975. Co-starring with Suzanne Farmer, Dillman once again takes on a difficult role. He's an American living quietly on a remote island off the English Coast. But he has a dark past, one that is perhaps not as long ago as he wishes.
Earlier, Dillman had also appeared in an even better "Thriller" episode—"Look Back in Darkness" (a.k.a. "The Next Voice You See"). Co-starring Catherine Schell, Dillman played Stan Kay, a concert pianist, who has been stricken blind in a violent attack that also claimed the life of his wife. Then, one night, years later, at a cocktail party, he thinks he overhears the voice of his long-ago assailant. In an online "Thriller" fansite, its author echoes my sentiments: "Bradford Dillman is excellent as the initially self-assured Kay, who gradually disintegrates as the threat encroaches and he becomes desperate to find his tormentor." Wonderfully directed (by Robert Tronson) and, of course, well-written by Brian Clemens and Terence Feely, by any name, this suspenseful installment is one of the finest among "Thriller's" 43 episodes.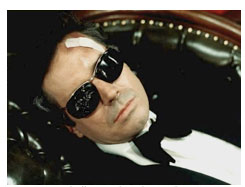 In "Thriller: Look Back in Darkness"
I also watched Dillman during the original run of his 1982-83 role as Darryl Clayton on the best of the primetime sudsers, "Falcon Crest." And between 1985 and 1995, I caught him in some of his semi-frequent "Murder, She Wrote" appearances, usually as that week's local police detective who got Jessica Fletcher's help whether he wanted it or not.
Of course, the rise of "DVD Culture," has brought many once obscure series back again to the fore—and we should be glad for it. Dillman's exceptional 1966-67 network series "Court Martial" has come to the format commercially; I previously wrote about this series for TVParty, as well.
More, recently the rise of various "retro TV" channels like TVLand, Cozi and MeTV has brought me the chance to see more Dillman performances. His role on a 1972 episode of "Columbo" titled "The Greenhouse Jungle," was a special treat. Once again, Dillman, in his role, straddled the good and evil in his role as a bumbling patsy-cum-murderer-cum-murder victim.
Once again, along with a performance that was remarkably fresh and inventively comic, we were left to wrestle with the morality of his character--and our own. Were we supposed to hate him or like him?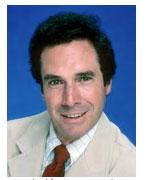 A mid-career portrait
Bradford Dillman has called himself a "safeway actor." And though the term implies his life's journey as an always dependable player and a go-to guest star, it hardly summarizes the diversity of his work or the depth of his talent, whether he was playing a hero, a villain or something smack dab in between.
Bradford Dillman retired from acting in 1995. But the power and beauty of the rerun is that his talent never has to leave us.

---
1950's TV Shows / Fess Parker & Davy Crockett / Jack Benny Program / 1952 Olympics Telethon / Amos 'n' Andy / Little Rascals & Our Gang / Howdy Doody / The Lone Ranger / Kuda Bux / Early Network News Broadcasts / KTLA News / TV's First Working Woman / Abbott & Costello TV Show / The Three Stooges: The Where They Were / The First 'Black' Show - Beulah / Women on TV in the 1950s / The Today Show / Obscure Actress Mary Castle / Serious 1950s TV shows / Remembering David Susskind / TV's First Rerun Series / The Ken Murray Budweiser Show / Saturday Morning Serials / Two Variety Shows of the Fifties / Game Shows of the Fifties /1950's TV Wrestling / Mr. Adams and Eve / TV's First Star / Oh Susanna! the Gale Storm Show / Bob Hastings / TV's First Star / History of the Laugh Track / The First Interactive Video Game / Designing Winky-Dink / Buffalo Bob Smith / The McKimson Brothers & Animation / Interview with a Show Business Legend / The Soundies / Snaders Telescriptions / Steve Allen Interviewed / Racket Squad / December Bride / The Big Show / Beverly Garland & Decoy / Richard Crenna & The Real McCoys / Roger Muir / Noel Coward's 1955 TV Special / Jon Provost Interview / 1950's TV Shows on DVD / Oh Susanna! The Gale Storm Show / 1950's Old Time TV Thanksgiving / Outrageous 1950's Commercial! / The Real Superman? / Mickey Mouse Club's Cheryl / Gale Storm / Captain Allen Swift / NYC's St. Patrick's Day Parade Telecasts / Julie London / The Goldbergs / 1950's Female Singers / The Dead End Kids / Bowery Boys / Fred Allen / Ed Wynn / Mr. Belvedere Movies / Art Linkletter / The Bickersons / Marty & Live TV / George Gobel & Red Buttons / Barbara Billingsley / Billy Gray Interview / Abbott & Costello Show / The Honeymooners / Three Stooges' Joe Besser / Whirlybirds / Burns & Allen Show
David Susskind
Amazon Prime - unlimited streaming
of your fave TV shows and movies!
Get your FREE 30 Day Trial!
PR4 & PR5 Pages for Advertising