PRIMETIME NOTHING
I did something the other night I haven't done in a year or so - watch primetime TV. I was sitting with my mother in the hospital so i had no choice, really, and the number of channels was limited to the big 4 networks, Nic, Discovery, TNT, TBS, Weather Channel, CNN, Univision and a shopping channel. Of all places you would need a maximum number of channels it would be in the hospital but I'm guessing they set up their own pitiful network rather than pay Time-Warner prices for every room in the 'house.'
The evening started with Big Bang Theory which I kinda like, it was pleasant enough with a few chuckles. The cast is so cute I can watch it easily but I couldn't help think how hilarious it would have been if I hadn't seen that shtick a thousand times. I like to call out the punchlines before they're uttered by the characters, these sitcoms are so predictable even if I don't get it exactly correct it's the right rhythm and number of words.
Next was S#*! My Father Says. Look at the word S#*!, it's very specific graphically. The # looks like an H; * like the dot of an i; and it's a small jump from ! to t. If only the show was that well thought out. I mean, it's okay in the sense that it hits the right cadence but, honestly, had Jean Smart not shown up in a guest spot I think I would have jumped from the third floor window.
I'm having a hard time remembering what I watched next. This was night before last! Was it CSI: Crime Scene Investigation which was next on CBS? If so it passed through my cranial canal registering barely a peep. I don't care for those CSI / Law & Order procedural dramas, I know I'm in the minority.
The evening ended with The Mentalist, a series I liked very much for the first couple of years. Again, the cast is so likeable it's a light breeze but can't they find any writers anymore? I don't remember the plot but they mentioned Red John and I thought, "They haven't cleared that up yet?!?"
On a better note I started watching The Good Wife on DVD last night and I didn't want to stop. Good stuff!
Saturday, January 22, 2011 - 1:51pm
WOULD YOU LIKE TO RESPOND?
POLITICAL RANTINGS
Radical anarchist Mark Evanier is calling for burning down the state of California to collect the insurance money as a way to solvency for the troubled Golden State. I think LA County has already tried that. A few times.

Conservative clown car Free Republic is in financial trouble, they only raise around $10,000 a month and that's not enough to meet expenses. If TVparty! made $10,000 a month as FR claims it does - well, it's just inconceivable. Where does the money go?

Arnold Schwarzenegger claims being Governor cost him $200 million. Bull! His last movies were all bombs, I don't think there's any demand for a new Schwarzenegger movie. Did you know in the early-nineties that he was slated to play DC comics WWII hero Sgt. Rock? Really? With that Austrian accent?

Niall O'Dowd asks: "If we hire a gardener or nanny we make background checks. If we hire a new employee we seek references. Should the act of buying a gun, a lethal weapon, be any less open to scrutiny?
Tuesday, January 18, 2011 - 8:17am
WOULD YOU LIKE TO RESPOND?
LOCAL TV LOSS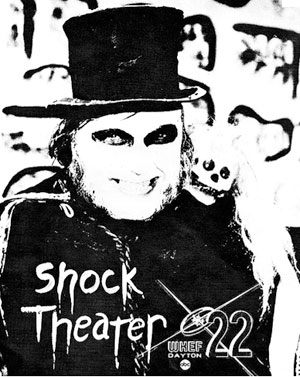 FEreighter writes: It's a sad day in my neck of the woods. Many people from my generation grew up watching Dr. Creep, and he provided hours of entertainment to children and adults everywhere. RIP
From the obit: DAYTON, Ohio -- He introduced the Dayton area to horror films produced by Universal and Hammer. Barry Hobart, also known as "Dr. Creep", died Friday at a hospice facility. He was 68. Hobart hosted "Shock Theatre" and "Clubhouse 22" in the 1970s and 1980s.
He was in a wheel chair when he made appearances as Dr. Creep in October at Foy's Halloween Store in Fairborn,. In November, he was guest of honor at the Horror Hound Weekend in Cincinnati.
He was from Middletown, and started the "Dr. Creep" character while working in master control at Channel 22. He has been ranked as one of the Top Ten Horror Hosts in the country.
Hobart co-founded Project Christmas Smiles with Linda Gabbard in 1970.
Sunday, January 16, 2011 - 7:57am
WOULD YOU LIKE TO RESPOND?
SATURDAY STUFF
I spent the entire week auditioning for commercials. I won't do that again - they always want me to play rednecks.
Trivial Tony pointed me to this: I don't know why Vicki Lawrence thought it would be funny to dress as her "mama" character and make fun of the homeless but she's made a video ridiculing Ted Williams. Lawrence's manager says it's a social satire like Jonathan Swift's essay in which he suggested poor people solve their economic strife by selling children as food to the wealthy. One homeless advocate stated, "So, not only is she old and washed up but she's also out of touch with reality. Wait, that's because of that old part, right? Or was she always? I don't know. And I'm far too young to give a damn."
Here's a nice animated conversation about our current political situation.
Abbie Diaz, Maitre d to the stars, is dishing on what celebrities are jerks. For instance: "Gwyneth Paltrow is a total creepface." On Bob Saget: "Mr. Do-You-Know-Who-I-Am? Tell it to the Olsen twins, Saget. Maybe they'll still remember you."
There's a Green Hornet marathon airing on Me-TV today. Too bad that show wasn't very good I was even disappointed as a 10 year old. I heard the new movie suuuuuuuuuuucks.
Saturday, January 15, 2011 - 7:12am
WOULD YOU LIKE TO RESPOND?
WEDNESDAY TV
Here's a preview of Big Love's fifth and final season opener on HBO starting January 16th. The fourth season was really amazing, better than the third.
The Museum of Broadcast Communications (MBC), will debut a new online exhibit at museum.tv, "We'll be Right Back: 60 years of Television Commercials" on January 12, 2011. The online exhibit has been culled from the MBC's archives of more than 10,000 commercials and nearly 100,000 hours of content.
Wednesday, January 12, 2011 - 9:35am
WOULD YOU LIKE TO RESPOND?
FLASHBACK YOU TUBING
One of my favorite talk shows of the 1970s was Dinah, an afternoon chat fest hosted by Dinah Shore. She had an amazing array of guests on over the years, performers you didn't see often on TV. This first clip from 1975 features David Bowie and Fonzie himself, Henry Winkler, along with Nancy Walker.
Tuesday, January 11, 2011 - 10:26am
WOULD YOU LIKE TO RESPOND?


Read more TV Blog entries here!