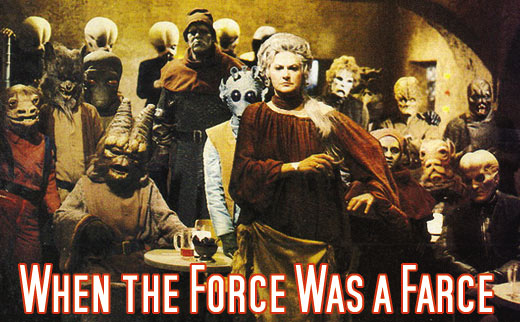 PART TWO : by L. Wayne Hicks
The Internet has helped spread the word of "The Star Wars Holiday Special." In fact, type the name into a search engine and you'll find starwarsholidayspecial.com, a site created by Scott Kirkwood, a fan in Houston. He launched the site in 2003.
"Even though the Holiday Special is pretty well universally hated by just about everyone, there's still a curiosity value to it," Kirkwood says. "For people who haven't seen it, they want to know what was this fuss all about: How can it possibly be as bad as people say it is? They want to see for themselves. Š Sometimes they find out it's worse than people say it is, but occasionally you get someone who actually kind of likes it."

Kirkwood was 8 when the special aired. A big "Star Wars" fan, Kirkwood had read the novelization of the movie, collected the bubble-gum cards, played with the toys but never actually saw "Star Wars." He wouldn't until after it was released on home video in 1982. "This was not an exaggeration. I was the biggest 'Star Wars' fan in my school and I hadn't even seen 'Star Wars,' which was kind of ironic."
So Kirkwood was thrilled to learn a piece of the "Star Wars" universe was coming to TV. But he was disappointed that the stars of the movie were given only cameo roles for the television special. "Still, it was this really neat kind of behind-the-scenes look at 'Star Wars,' what it would be like in the 'Star Wars' world in this family's home. So it was kind of unique," says Kirkwood, who traveled to Germany last year to participate in a panel discussion about the holiday special at a "Star Wars" convention.
Like others, Kirkwood says he eventually began to wonder if he dreamed the special "because I couldn't find any evidence that it ever aired and nobody seemed to recall it. But I always kept my eye open for some kind of copy of it or some way to see it again. One day I found this copy, a bootleg videotape of it, in a record store of all places. So I picked it up and watched it. It was a very exciting moment for me. It was kind of a vindication of all those years of telling people I'd seen this holiday special. They either didn't believe me or they were, at the very least, skeptical that such a thing ever existed."
Lucas' name doesn't appear on the credits of "The Star Wars Holiday Special," although the Internet Movie Database does give him credit for the story. Credit (or blame) belongs to five different writers and two different directors. But Lucas reportedly sketched out the plot, came to a couple of production meetings and then moved on to work on his next movie, "The Return of the Jedi."
20th Century Fox, which distributed "Star Wars," apparently was the force behind "The Star Wars Holiday Special," wanting something to capitalize on the unexpected success of "Star Wars." CBS then expanded the special from one hour to two so the network could sell more commercial time.
Lucas' initial idea of Chewbacca hurrying home to his family became twisted in the process.
Bruce Vilanch was one of the writers involved. He is best known today for writing jokes for the Academy Awards, appearances on "Hollywood Squares" and his starring role in the documentary "Get Bruce!" Vilanch has said the special was tough to write because the Wookies didn't speak English.
"Every line of dialogue is 'oh, ee, ahh.' How do you write that?" Vilanch explained to a fan Web site. "The Wookies can't speak, but the Wookies were the central characters. So I said, 'Well, we have to load this up with stars who sing and dance and do shtick to cover up that the story is about these walking carpets.' It was one nightmare after another, but it's a very funny show." The humor was unintentional, however.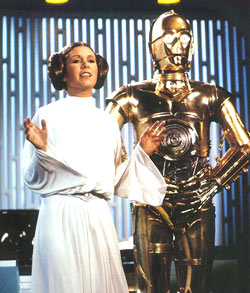 "It's good for laughs," says Dan Madsen of Colorado, who created the official "Star Wars" and "Star Trek" fan clubs. "The fans love to watch it and joke about it. To be honest, it's almost like a very bad parody of 'Star Wars' made with the blessing of the people who made 'Star Wars.'"
Madsen, 43, knows Lucas from his work with the fan club. He appeared as an extra in "The Phantom Menace," the first film in the current trilogy of "Star Wars" movies. He's never asked Lucas about the holiday special, but says people who work with Lucas have told him the director is embarrassed by it. Madsen says Lucas was right to be embarrassed by the special when it first aired. But too many years have passed now, and Madsen says Lucas shouldn't feel that way anymore. He's in favor of Lucas releasing the special on DVD.
"I think eventually maybe some day he'll mellow out and let it happen," says Madsen, who remembers watching the holiday special when it aired.
"I was a manic 'Star Wars' fan," he says. "I was pumped and primed and ready. I was there sitting in front of the TV set ready to watch it. I vaguely remember that I loved it, but I loved anything 'Star Wars.'"
Scott Edelman, editor-in-chief of SciFi magazine, wrote in this month's issue a list of suggestions for Lucas now that the "Star Wars" saga is complete. Among them: lighten up. "Show the world you have a sense of humor," Edelman wrote.
"You can start by allowing the release of 'The Star Wars Holiday Special' ... Don't be so afraid that dancing Wookies and a singing Bea Arthur will damage your reputation."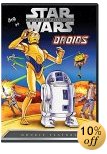 Lucas has had greater success with television since "The Star Wars Holiday Special." He created the series "Young Indiana Jones" and oversaw two made-for-TV movies about the Ewoks, the furry creatures from "Return of the Jedi." Lucas also created an animated series called "Droids" about R2-D2 and C-3PO.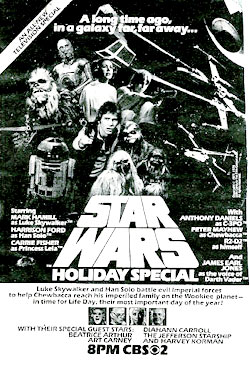 But "The Star Wars Holiday Special" remains Lucas' unwanted child. Lee Demarbre, the Canadian fan who holds screenings of the special, says he's never heard from Lucas about the showings, but he hopes Lucas will try to stop him.
"I kind of wish he would so I could ... ask him to come out and see how much people love it," he says. "Love to hate it, that is, but how much fun it is."