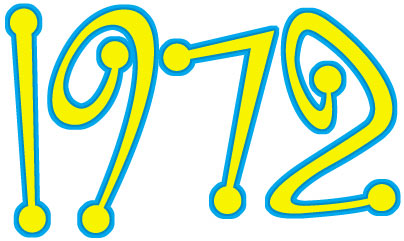 1972-73 Fall TV Season / PART TWO
READ PART ONE HERE
by Billy Ingram
thanks to Anthony J. McWhorter & Michael Thom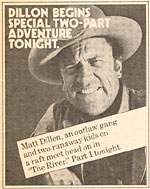 THE WESTERNS:
Gunsmoke
Monday 8:00pm / CBS
Gunsmoke was one of TV's best overall dramas in 1972, a solid top ten program. Matt Dillon kicked off his 18th season with 'The River' guest-starring movie western vets Slim Pickens, Clay O'Brien, Red Morgan and Jack Elam, a highly acclaimed two-parter shot in and around Grants Pass. Oregon.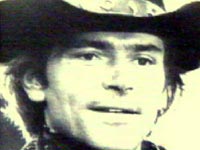 Alias Smith and Jones
Saturdays 8:00pm / ABC
Returned for a third season after having lost one of the lead actors, Pete Duel, to suicide midway through season two. For the fall of 1972, ABC scheduled Alias Smith & Jones on Saturdays at 8:00 opposite All in the Family, the number one show in the nation. Ratings fell precipitously; ABC cancelled the series in January of 1973.
ABC promo for Alias Smith & Jones: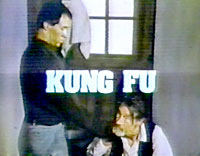 Kung Fu
Saturday 8:00pm / ABC
Reinvented the TV western genre, airing once a month alternating with Alias Smith and Jones in 1972. This was David Carradine's second starring role in a television western - he was Shane on ABC during the 1966-67 season.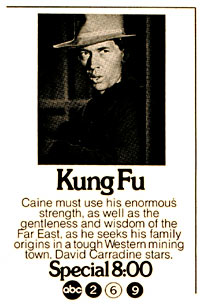 Keye Luke, who played Master Po, was best known for his role as 'Number 1 Son' in the 1930s & '40's era Charlie Chan movies seen frequently on local stations in 1972.
He was also a regular on Anna and the King this season as well as providing voices for Hanna-Barbera's The Amazing Chan and the Chan Clan (this time he played Charlie Chan).
When Alias Smith & Jones was cancelled mid-season, Kung Fu went weekly and ran for three years.
Bonanza
Tuesday 8:00pm / NBC
This long-running oater moved from Sunday nights to Tuesdays in the fall of 1972 but was missing a key cast member - Dan Blocker (Hoss), who died in earlier in the year. Bonanza was gone in January of 1973 after 14 years on NBC.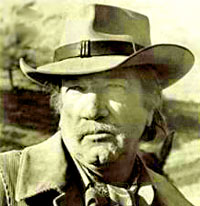 Hec Ramsey
Sunday 8:30pm / NBC
Richard Boone (Have Gun, Will Travel) returned to television as Hec Ramsey, a turn of the century Oklahoma police deputy that favored technology over violence.
Because of his pistol-slinging past, Hec is forever goaded into match ups in the street - but he's a peaceful man who's determined not to draw his gun again. The series lasted only one season. Produced by Jack Webb's Mark VII (Dragnet, Adam-12), it was part of the NBC Sunday Night Mystery Movie lineup that included Columbo, McCloud and McMillian and Wife.

Part 2 of the ABC Fall Preview
DAYTIME
PROGRAMS :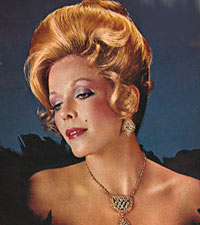 Eileen Fulton (above) in the role of Lisa in the popular soap opera As The World Turns.
Return to Peyton Place
Daytime sequel to the popular primetime soap opera that aired from 1964-1969. James Lipton (Inside the Actor's Studio) was the head writer. Lasted two years.
Dinah's Place
NBC daytime chat show with celebrity guests that joined Dinah in the kitchen - for instance the episode where Anita Loos and Helen Hayes showed Dinah how they mixed their favorite drinks. Also: Lucy makes Irish Coffee, Bill Cosby steams veggies, and Lorne Green tries acupuncture.
Merv Griffin Show
After a 3-year run as CBS's answer to Johnny Carson, Merv Griffin switched to a daytime syndicated 60-minute talk / variety format in 1972. It was a huge hit, spawning a number of imitators and running for 14 years.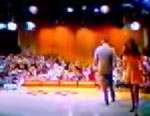 The New Price is Right with Bob Barker debuted in the mornings on CBS (and in the evenings in syndication with Dennis James) to incredible ratings. Price was part of an onslaught of new game shows that included Gambit and The Joker's Wild.
From You Tube, this is from the first episode of The New Price Is Right:
Split Second was a popular ABC game hosted by Tom Kennedy (thanks to Michael Thom for the audio capture). The big finale featured a row of five cars on the stage - every day, one contestant earned a key. If that key fit the ignition in the car they chose, they won it. This show aired from 1972 until 1975 in the 12:30 timeslot, following Password.
Concentration, Sale of the Century, Hollywood Squares and Jeopardy were also popular.
---
ABC Afterschool Specials
Broadcast in the afternoons on an irregular schedule, the Afterschool Specials were an important part of growing up for two generations. The Afterschool Specials debuted in 1972 and ran until 1995, a groundbreaking 60-minute educational anthology series for elementary- and secondary-school kids (and in later years for teens). ABC won a Peabody Award for the series.
IN 1972:
The first in the series was The Last of the Curlews, an animated nature docu-drama from Hanna-Barbera.

Another of the earliest productions was William, a musical look at Shakespeare starring Sir John Gielgud, Sir Ralph Richardson and Lynn Redgrave.

Santiago's Ark, about a 14-year-old boy from Puerto Rico who builds a boat to sail through Central Park.

The Secret Life of T.K. Dearing starring Jodie Foster.
Amazon Prime - unlimited streaming
of your fave TV shows and movies!
Get your FREE 30 Day Trial!
PR4 & PR5 Pages for Advertising

PROGRAM PROFILE:
Search
Wednesday 10:00pm / NBC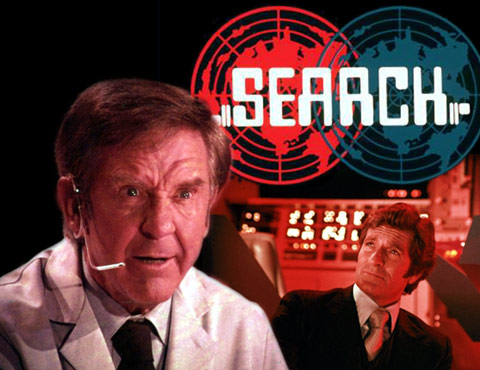 What was sci-fi in 1972 could soon be a reality. Search followed the agents of the World Securities Corporation, a super-secret spy agency that kept tabs on the bad guys with high tech computers, miniature video cameras and cell phones embedded in the agent's skin. Probe control can even read people's brain waves on demand.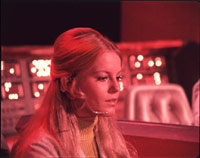 Search starred TV favorites Burgess Meredith (Batman), Hugh O'Brian (The Life and Legend of Wyatt Earp), Doug McClure (The Virginian) and Tony Franciosa (The Name of the Game). Don Harden writes, "Each week, one of three Probe agents would be the star of the episode. This revolving format was successful for The Name of the Game, a previous NBC series produced by the late Leslie Stevens (seen left), the creator and producer of Search."
Typical episode: WSC is infiltrated by a mole that hinders agent Lockwood in his urgent quest to stop a terrorist; think 24 with a sci-fi bent.
Sunday
CBS:
7:30 - 8:00 : Anna and the King
8:00 - 8:30 : M*A*S*H*
8:30 - 9:00 : Sandy Duncan Show
9:00 - 9:30 : New Dick Van Dyke Show
9:30 - 10:30 : Mannix
NBC:
7:30 - 8:30 : Wonderful World of Disney
8:30 - 10:00 : NBC Mystery Movie (McCloud, McMillian & Wife, Columbo and Hec Ramsey)
10:00 - 10:30 : Night Gallery
ABC:
8:00 - 9:00 : The F.B.I.
9:00 - 11:00 : Movie
---
Monday
CBS:
8:00 - 9:00 : Gunsmoke
9:00 - 9:30 : Here's Lucy
9:30 - 10:00 : Doris Day Show
10:00 - 11:00 : New Bill Cosby Show
NBC:
8:00 - 9:00 : Laugh-in
9:00 - 9:30 : Movie
ABC:
8:00 - 9:00 : The Rookies
9:00 - 11:00 : Monday Night Football
---
Tuesday
CBS:
8:00 - 8:30 : Maude
8:80 - 9:30 : Hawaii Five-0
9:30 - 11:00 : Movie
NBC:
8:00 - 9:00 : Bonanza
9:00 - 10:00 : The Bold Ones
10:00 - 11:00 : NBC Reports / America
ABC:
8:00 - 8:30 : Temperature's Rising
8:30 - 10:00 : ABC Tuesday Movie of the Week
10:00 - 11:00 : Marcus Welby, M.D.
---
Wednesday
CBS:
8:00 - 9:00 : The Carol Burnett Show
9:00 - 10:00 : Medical Center
10:00 - 11:00 : Cannon
NBC:
8:00 - 8:30 : Adam-12
8:30 - 10:00 : NBC Wednesday Mystery Movie (Banacek, Madigan, Cool Million)
10:00 - 11:00 : Search
ABC:
8:00 - 8:30 : Paul Lynde Show
8:30 - 11:00 : ABC Wednesday Movie of the Week
10:00 - 11:00 : The Julie Andrews Hour
---
Thursday
CBS:
8:00 - 9:00 : The Waltons
9:00 - 11:00 : Movie
NBC:
8:00 - 9:00 : Flip Wilson Show
9:00 - 10:00 : Ironside
10:00 - 11:00 : Dean Martin Show
ABC:
8:00 - 9:00 : The Mod Squad
9:00 - 10:00 : The Men: Vienna; The Delphi Bureau; Jigsaw
10:00 - 11:00 : Owen Marshall, Attorney at Law
---
Friday
CBS:
8:00 - 9:00 : Sonny and Cher Comedy Hour
9:00 - 11:00 : Movie
NBC:
8:00 - 8:30 : Sanford and Son
8:30 - 9:00 : The Little People
9:00 - 10:00 : Ghost Story
10:00 - 11:00 : Banyon
ABC:
8:00 - 8:30 : Brady Bunch
8:30 - 9:00 : Partridge Family
9:00 - 9:30 : Room 222
9:30 - 10:00 : The Odd Couple
10:00 - 11:00 : Love American Style
---
Saturday
CBS:
8:00 - 8:30 : All In The Family
8:30 - 9:00 : Bridget Loves Bernie
9:00 - 9:30 : Mary Tyler Moore Show
9:30 - 10:00 : Bob Newhart Show
10:00 - 11:00 : Mission Impossible
NBC:
8:00 - 9:00 : Emergency
9:00 - 11:00 : Movie
ABC:
8:00 - 9:00 : Alias Smith & Jones / Kung Fu
9:00 - 10:00 : The Streets of San Francisco
10:00 - 11:00 : The Sixth Sense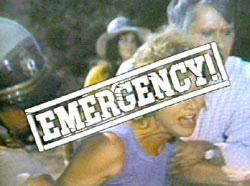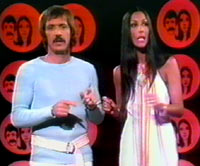 Variety Shows
1972-73:
The Flip Wilson Show, The Carol Burnett Show, The Sonny and Cher Comedy Hour, The New Bill Cosby Show, The Dean Martin Show, Rowan & Martin's Laugh-In, The Julie Andrews Hour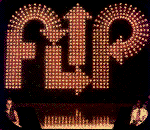 A couple of months after the new fall season debuted, the network variety show format was showing signs of wear. Only The Flip Wilson Show cracked the top ten during the first few weeks, Carol Burnett was down to number 41, Dean Martin to 47th and Sonny and Cher down to 52nd. Laugh-in, once a top-ten staple, was mired at number 27.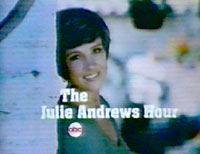 A timeslot change for Sonny and Cher (from Friday nights to Wednesdays) catapulted that show back into the top ten but Bill Cosby (57th) and Julie Andrews (61st) consistently ranked at the bottom of the Neilsens. Only two programs in '72 were less popular than Julie - Banyon and The Sixth Sense.
The New Bill Cosby Show:
---
ABC announced that Jack Paar was returning to late night TV for one week a month. Dick Cavett was also given a week every month to compete with Johnny Carson. Carson prevailed.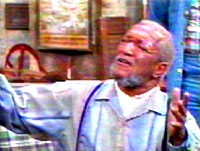 First Year For these
long-running shows:
M*A*S*H*, The Rookies, Maude, Bob Newhart Show, The Streets of San Francisco, The Waltons, Sanford & Son.
The Waltons was the surprise hit of this season, slotted against two of TV's most popular programs - The Mod Squad and Flip Wilson. Ratings rose slowly but steadily as the weeks went along, until The Waltons became the second most popular show in the nation by the fall of 1973 and The Mod Squad was gone.
In danger of cancellation in 1972, M*A*S*H* became a monster hit only when it was paired with All in the Family in the fall of 1973.
The team that launched All in the Family to ratings gold rolled out two new sitcoms in 1972 - Maude for CBS and Sanford & Son for NBC. Both were massive hits, giving Norman Lear three of the top five shows in the nation as the '72-73 season opened, forever securing his place in TV history.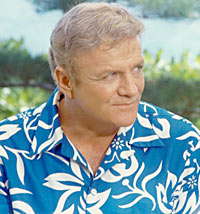 PROGRAM PROFILE:
The Little People
Friday night 8:30 / NBC
Brian Keith came off of the success of Family Affair to star as a widower pediatrician at a free clinic for children in Hawaii. Too many cute kids and not enough humor; Shelley Fabares and Michael Gray (Shazam) co-starred. The show was retitled The Brian Keith Show in year two; Michael Gray was dropped while sitcom stalwarts Nancy Kulp (Beverly Hillbillies) and Roger Bowen (Arnie) were added to the cast but still no one watched.
---
Big Winners at
the Emmy Awards:
The Mary Tyler Moore Show, All in the Family and The Waltons.

Jack Klugman won the Emmy for Best Actor in a Leading Role in a Comedy Series for The Odd Couple this season; it was the next to the last year for the show.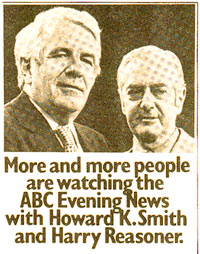 Howard K. Smith and Harry Reasoner anchored the ABC Evening News from 1970-1975. Walter Cronkite (the most trusted man in America) was on CBS with John Chancellor on NBC.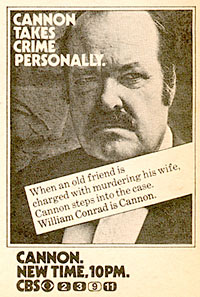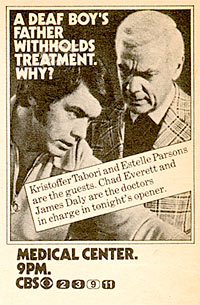 Specials:
Jackson 5 - I Want You Back
Liza With a Z
The Man Who Came To Dinner starring Orson Welles, Lee Remick, Don Knotts, Joan Collins and Marty Feldman.
Connie Stevens, Louis Jourdan, Diahann Carroll and Perry Como starred in Cole Porter in Paris.
16 years after its theatrical release, Giant with James Dean and Natalie Wood made its TV debut on NBC, Nov. 11, 1972.
Duke Ellington... We Love You Madly featured a line-up of Jazz legends like Count Basie, Quincy Jones, Billy Eckstine, Aretha Franklin, Sammy Davis, Jr., Ella Fitzgerald, Tony Bennett, and Joe Williams.
---
Pilots that
didn't make it: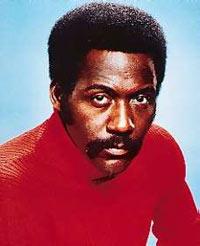 Richard Roundtree (Shaft) and Vince Edwards (Ben Casey) in Firehouse, a drama about NYC firefighters. A TV-movie pilot was aired to high ratings but Roundtree opted instead for a TV version of Shaft in 1973.

Topper Returns updated the popular 1950's sitcom with John Fink and Stephanie Powers as the ghostly couple with Roddy McDowell starring as Cosmo Topper's nephew.

Eddie Albert is a newspaper columnist and the single dad of a 9-year-old girl and Della Reese is the housekeeper in Daddy's Girl, a Courtship of Eddie's Father-type sitcom.

Soupy Sales as a movie star stuck hosting a TV show with a talking bear.
---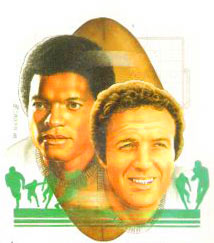 James Caan on his role in Brian's Song (a 1971 TV-movie), which was rerun in the fall of 1972 : "It gave me recognition, yuh know? Wherever I went people knew me, the girls knew me, yuh know what I mean? It's something I never experienced before."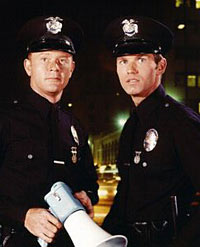 Adam-12 on NBC