FRIDAY TV BLOG
I loved those old afternoon variety shows of the 1970s like Merv, Mike and Dinah. Where else could you get entertainment like this on any random day, William Shatner singing Harry Chapin's 'Taxi' on Dinah Shore's program.
Friday, June 24, 2011 - 8:45am
WOULD YOU LIKE TO RESPOND?
ONE OF THE GREATS
Kevin Butler writes: Veteran producer and director Bob Banner lost his battle with End Stage Parkinson's Disease, he was 89 years old and spent his last years living at The Motion Picture & TV Living Facility (formerly The Motion Picture & TV Home) in Woodland Hills, Ca.
Born in Ennis, Tx. on August 15, 1921 Mr. Banner studied at Southern Methodist University, he left college to serve in the US Navy during WWII.
Upon his return to the states he enrolled at North Western University in Ill. where he majored in theater arts.
After receiving his degree he became a speech and drama teacher but left his teaching career in the late 1940s for a chance to work in TV.
Mr. Banner began his career as a production assistant on "Kukla,Fran & Ollie" when that series based in Chicago in 1948. From there, he went to direct the popular musical/comedy variety show "Garroway At Large" for NBC TV. Banner would moved to NYC where he would produce and direct "Omnibus" and direct "The Fred Waring Show" and reunited with Dave Garroway for "The Dave Garroway Show" and "Wide Wide World".
He also produced and directed "The Dinah Shore Show" but he didn't come into prominence until joining forces with Radio/TV personality Garry Moore for "The Garry Moore Show" in 1958.
One of the all-time greatest openings of a TV show ever:
Banner helped to develop the comedy skits and musical numbers that were performed by the Moore show's regulars including TV's second lady clown Carol Burnett.
After she left "The Gary Moore Show" Ms. Burnett and Mr. Banner would work on two TV comedy specials "Carol+2" and "Carol & Julie At Carnegie Hall" (a live concert performance by the two famous entertainers that was staged and produced in front of a live audience at NYC's most prestigious mecca of the arts in 1962) and "The Carol Burnett Show".
He would also work on the tv variety series"Solid Gold", "Showtime At The Apollo", "The Jimmy Dean Show" and the TV talent show "Star Search" hosted by Ed McMahon.
Mr. Banner also produced the controversial TV movies "My Sweet Charlie" (based upon the Broadway stage drama) starring Patty Duke and Al Freeman ,Jr. and "Bud & Lou" (the forgettable dramatized bio of Abbott & Costello) starring Harvey Korman and Buddy Hackett.
He also served as executive producer of the game shows "Almost Anything Goes" hosted by Regis Philbin, "Junior Almost Anything Goes" hosted by my dear friend and fellow performer Soupy Sales and the forgettable "All New Candid Camera" hosted by clown Dom Deluise.
Banner also produced the TV concert "That's What Friends Are For" to benefit Aids research in 1988.
Saturday, June 18, 2011 - 9:15am
WOULD YOU LIKE TO RESPOND?
JACK BENNY AND RADIO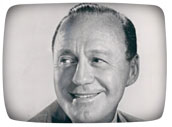 Some of my favorite TV shows are radio programs - that is, some of the best performers of TV's early days migrated from the AM dial. Unhindered by the need for visuals, the best radio sitcoms and variety shows could concentrate on entertaining. Jack Benny, Burns & Allen, and Amos 'n' Andy all hold up marvelously today and I often listen to old broadcasts, there's an app for that (OldTimeRadio).
Let's travel back to February of 1944 when Jack Benny hosted comedian Groucho Marx, two performers at their comedic zenith. Groucho was never one to stick to a script and Jack Benny seems to really enjoy the unpredictability.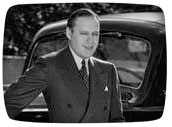 Jack Benny's program aired from 1932 until 1955 with reruns continuing on for another couple of years, his was one of the last remaining network radio comedies and his transition to the new medium was fairly seamless although he wasn't on TV every week until 1960.
By contrast Burns & Allen ended on radio in 1950, Fibber McGee and Molly lasted until 1959, while Amos 'n' Andy came to a close in 1955 (switching to a nightly DJ music format lasting until 1960). Bob Hope's long-running radio half hour ended when Benny's did. Audience numbers, which were in freefall since 1952 when millions migrated from radio for television en masse, could no longer justify the program's budgets.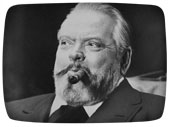 As an interesting side note: in March and April 1943 Jack Benny was stricken with a serious case of pneumonia so Burns & Allen took over for an episode followed by Orson Welles who stepped in for 4 weeks as host of the show. It was explained that Jack had a bad cold and was staying in Chicago - in the mid-forties pneumonia could be a death sentence. Listen for Frank Nelson as Welles' butler, series regular Andy Devine, and a pretty decent version of 'Danny Boy'.
Thursday, June 16, 2011 - 6:35am
WOULD YOU LIKE TO RESPOND?
NEW!
I've got a new book coming on August 1; more than two years in the making I think it might actually be good. You never know. No question it's the project I'm most proud of. I'll have a preview for you soon but for now here's the back cover. If you like the Rat Pack, 1970's Las Vegas, and pictures of beautiful young women you're in for a treat.
Thursday, June 16, 2011 - 5:45am
WOULD YOU LIKE TO RESPOND?
1981 NEW WAVE BREAK
I arrived in LA in 1979 so I'm going back 30 years for some retro fun. Radio was red hot in the city at the time, the FM explosion had become a business phenomenon with AM and FM stations battling for dominance in their demographic. TV in the eighties in Los Angeles was filled with cheesy radio commercials, stations put a lot of money in them and saturated the market. Here's a particularly good example, one I remember well. It's rare to see something this cutting edge from as early as 1981 and odd that it's for an oldies station KRTH (K-EARTH 101) but I think they may have been moving in a different musical direction during that time.
Here's a New Wave rarity - across the dial at 107.5 KROQ you could have heard this song in rotation during 1981, Klondike Karl with 'Time is a Ticky Tock.' Play this video for your kids so they'll know for an absolute fact that you are not cool!
Also from 1981 a smoking instrumental from Simple Minds, 'Theme For Great Cities.'
And finally a jaunty little ditty - that's what New Wave was all about - Industry, 'State of the Nation.' Most of the best New Wave bands scored a regional hit and were never heard of again. These guys are dressed in the hottest fashions of 1984, looks like Guess and Ton Sur Ton. Me, I was more the ripped jeans and white T type - and my fashion sense hasn't matured much.
For my money the greatest New Wave band of all time was The Plimsouls fronted by Peter Case, a fantastic bar band that could whip an audience around so many ways during their hour on the stage. I was lucky enough to see them a couple of times, in a small club in 1981 and then again years later at Knott's Berry Farm when they opened for a New Wave band I was hanging out with, Missing Persons.
The Plimsouls are best known for 'A Million Miles away,' a rocking tune from Valley Girl but they had so many other ripe jams. To give you an idea, here's the band performing live in the early-1980s at a club I frequented, The Central on Sunset, now known as the Viper Room. If there was ever a better bar band I never saw them.
Sunday, June 12, 2011 - 11:58am
WOULD YOU LIKE TO RESPOND?
3 SHOCKING SITCOM MOMENTS OF THE 1970s
Norman Lear practically invented the shocking sitcom 40 years ago with All In The Family; for the next decade every new comedy had to have some controversial aspect to it - single moms, gays, poor, you get the idea.
CBS had little faith in All In The Family, it had been rejected by ABC and NBC after all, so they stuck the comedy what they thought would be a death slot, Tuesdays at 9:30, where it quickly shot up in the ratings thanks to Archie Bunker's (Carroll O'Connor) outrageous rantings. Unsuspecting viewers on January 12, 1971 were, no doubt, astonished to hear a subject like the existence of God explored in a sitcom. Throw in rampant misogynism, anti-semitism tinged with racial intolerance, and the era of the Bewitched-style sitcom was over and done.

Nine months later, in the fall of 1971, Lear scored a second smash hit with Sanford & Son over at NBC. Once again the shock quotient is what sent the show into ratings overdrive.
Here's the money scene from the first episode, the funniest line was repeated over and over in promos for the series ("Ain't nothing in the world..."). What was so shocking for the time about Sanford & Son was that there hadn't been a black man on weekly television that dissed white people before. In fact, blacks hadn't had a leading role in a sitcom since the early-fifties until just prior to Sanford debuting (Julia, The Bill Cosby Show, & Room 222).
These two Norman Lear comedies came fully loaded with catchphrases that entered the vernacular - "Stifle" and "Meathead" from Family; "You big dummy" and "One across your lips" on Sanford.

Saturday, June 11, 2011 - 11:50am
WOULD YOU LIKE TO RESPOND?

Read more CLASSIC TV Blog entries here!