DAMAGES
I think my favorite TV drama currently running has to be Damages starring Glenn Close and a slew of amazing supporting actors. Of course, it's the writing that brings me back each episode but the casting is nothing short of phenomenal - especially when they cast against type, as they often do. Ted Danson deserved an Emmy for season 2 alone. The good news is that Damages has been renewed for two terms and the even better news is that the show has moved from FX (commercials) to DirecTV (no commercials). It's the breaks that kept me from watching the show on TV, I waited for the DVDs. No need to do that this season! Here's a video tease for the new season that starts tonight.
Wednesday, July 13, 2011 - 11:29am
WOULD YOU LIKE TO RESPOND?
RETURN TO CLASSIC TV
Dallas is returning as a weekly series on TNT - 10 episodes have been ordered starring Larry Hagman, Patrick Duffy and Linda Gray and a whole new crop of Ewing family offspring. That show's one of my guilty pleasures so I'll be interested in how they fuck it up again. Great idea tho.
CBS Interactive is launching an official STAR TREK PADD app for the iPhone featuring an authentic reproduction of the LCARS interface as well as an interactive database of STAR TREK information, images and an episode guide. The STAR TREK PADD app costs $4.99.
Thought you would like this - here's Dean Martin's Recipe For a Hamburger.

TV creator Sherwood Schwartz has died, he was 94 and left an indelible mark on our culture. Whether you enjoyed his brand of humor or not, it was upbeat entertainment.
Tuesday, July 12, 2011 - 11:53am
WOULD YOU LIKE TO RESPOND?
LET'S HAVE (SATURDAY) FUN
Kevin Butler writes that he and Craig Marin started a page honoring Chuck McCann's local NYC kid program "Let's Have Fun" on Facebook. And Chuck McCann and he has some clips from "Let's Have Fun" and a new segment featuring some of the puppets from the show on his site. If you haven't yet by all means check out Chuck McCann's new show Bits & Pieces.
If you're a fan of The Rat Pack you should 'like' the Facebook page for my new book, Beyond Our Wildest Dreams coming in August (made & printed in America, baby!). On that Facebook page you'll get rare video, photos and stories about Dean, Frank & Sammy.
Speaking of which, this is a spectacular site dedicated to Dean Martin, ilovedeanmartin.com.
Now that the Green Lantern movie has tanked let's go back to 1967, almost 45 years ago (!) for this Filmation cartoon from Saturday mornings. For some reason they replaced Hal Jordan's insulting sidekick Pieface with a look-a-like pointy eared alien named Cairo. And apparently yellow isn't an issue for GL but then these crude cartoons were miles behind the comic book storylines in terms of complexity and character development. They were just so pointless.
Saturday, July 9, 2011 - 8:23am
WOULD YOU LIKE TO RESPOND?
HOPE, BATGIRL, AND SOAPS
Bob Hope writer Bob Mills has been putting on a multi-media salute to the grand old days of show business called 'Bob Hope Backstage' and has posted some clips from Bob Hope Specials on You Tube that you're sure to enjoy. Especially this gem, that I remember so well, starring Liz Taylor & Richard Burton. As you may recall, Bob's specials tended to have a theme, this one was soap operas. I should ask Bob Mills - did Hope request that he get to kiss Liz Taylor or was that just a given?
Here's another - Bob Hope's salute to the Palace Theater complete with bloopers. After listening to some radio programs I can see where Bob Hope didn't change much from radio to TV, just slowed everything down a bit.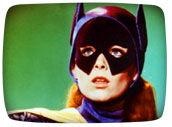 Here's something you ladies will want to own - Yvonne Craig's original Batgirl costume is for sale!

All My Children and One Life to Live are set to end on ABC but the network will continue to produce the hour long soaps - but you'll be able to watch them online through whatever device you use to watch TV sans cable
Speaking of which - Netflix is now enabled for your Android phone and it's amazing. For just the price of one DVD at a time ($8.00?) you get unlimited watching. They're adding lots of titles every day, it looks like, but right now you can have the entire run of The Andy Griffith Show, Alfred Hitchcock Presents, The Twilight Zone, all the Star Trek series and movies galore. Awesome!
Friday, July 8, 2011 - 7:35am
WOULD YOU LIKE TO RESPOND?
BACK FROM THE BREAK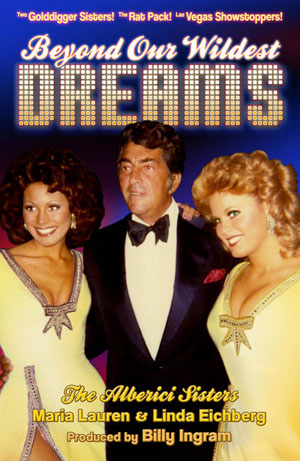 I've told you about the new book I have coming out in a few weeks - I've set up a Facebook page so you can get to know the girls the book is about, watch rare videos, and get updates about Beyond Our Wildest Dreams.

I also hinted at a film I made last weekend - here it is, made for the 48 Hour Film Festival where folks all over the country have 48 hours to write, film and edit a film that competes against the others for a prize or two.
The way it works - everyone reaches into a bowl and blindly picks a genre (Western, musical, we got Dark Comedy), is given a character name (Don Hastert) and that person has to be a plumber. Other than that it's up to the team to create something interesting. I actually like this one better than most of the others I've done - for one it's a comedy! Reminds me of one of those Night Gallery vignettes. The Brownward Spiral:

Photographer Lucas Butchart has a new photography website: www.jlbphotograph.com It's a place where he sells photos as well as my photography services, which are right now located in France.
Monday, July 4, 2011 - 7:05am
WOULD YOU LIKE TO RESPOND?

Read more CLASSIC TV Blog entries here!