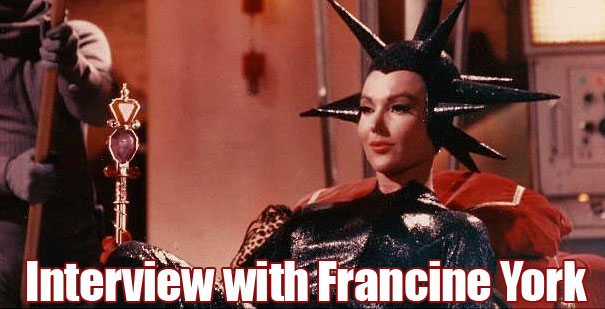 Part Two / / Part One Here
by Billy Ingram

BI: You did so many of my favorite TV shows we couldn't even scratch the surface. Like 'Batman.'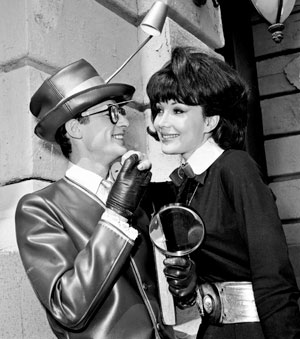 FY: To be able to work with Roddy McDowell, who I used to see in movies as a kid... this was Roddy McDowell, he was a doll. They asked him [in a documentary] "What did you like most about doing Batman?" And he said, "Working with my partner Francine York." Awww, that was so nice. He was so clever playing Bookworm... all the little things he did he made up himself. I think that was one of the only episodes that had only one girl, it didn't have a whole crew of girls
When they take me into the Batcave and they give me Bat-gas, oh my God, we just laughed and laughed, we couldn't stop laughing. And then, of course, being in the Batmobile with my little lorgnettes. That was my idea. I said, "Well, can't we do something with this character, how about some lorgnettes or something?" because she's trying to be smart.
A lot of people criticized Burt Ward, in fact he got chafing because of the tights. Everybody laughed about it because they thought it was funny, I guess. For some reason the crew didn't like him. I see him at autograph shows and I give him a big hug. I adored both of them, I thought they were both terrific. It was really a great experience.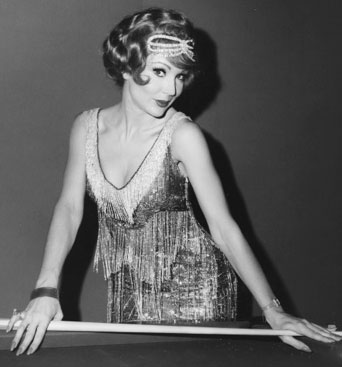 BI: There was a show that only lasted thirteen weeks that I absolutely loved, 'The Chicago Teddy Bears'.
FY: I played Altuna Annie, I was a pool shark. I went to a billiard place around the corner here and had them show me how to do it. I wore one of those 20's dresses, my idea was that every time I did a shot I would do a shimmy.
And of course working with Dean Jones and Art Metrano was so much fun. Art Metrano had a funny comedy act. I used to see him at the Academy but he fell off a ladder or something. Oh my God, I felt so bad for him. I haven't seen him in years; if I do see him again I'll give him the biggest hug.
You know, it's amazing I have managed to keep a wonderful relationship with most of the people I worked with that I see later. It's like it was yesterday, I come over and we hug each other. It's kind of what show business is all about, I guess, is that kind of comradery that you have. You're so close when you're working with them and you say goodbye and it's over.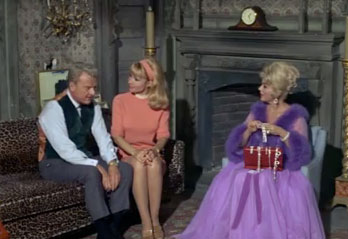 Another show I liked very much was 'Green Acres' ("The Agricultural Student"). Working with Eddie Albert... he was just a very strange man. And, of course, Eva [Gabor] was very jealous of me. She had a cold that particular week and wasn't looking her best but she still looked pretty. She took one look at me and it was like, "Oh my God." She was really quite taken aback. They asked me if she was giving me trouble and I said, "No, she wasn't." Evidently she had talked behind the scenes about being a little bit upset that they put another blond on the show. And of course all the men on the show fell in love with me in the show... and they fell in love with me off the show.

Then of course we have 'Bewitched', one of my all time favorites. Tina Louise and Julie Newmar were both up for that part, they thought the three of us were comparable but they hired me and I did it with an Italian accent.
I played a lot of Italian parts, I did 'The Double Life of Henry Fife' with Red Buttons. 'To Rome With Love' with John Forsyth; I was Francesca, that was another Italian. I kind of knocked off every Italian part in those days.
I have quite an incredible story, it's going to be in my book, about all the things they put me through at the Warner Bros. Television department. They took pretty good care of the actors once they were there, we had our dressing rooms and all.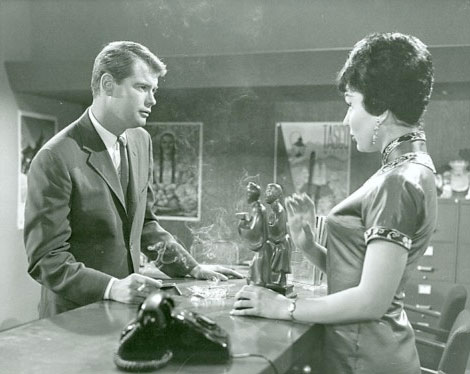 I did '77 Sunset Strip,' 'Hawaiian Eye,' and I did 'Surfside Six' with Troy Donahue... my gosh, you have no idea what a thrill that was. He was so nice, he drove me home from the studio periodically when we were first shooting together. I went to his memorial, I felt so bad for him. I see Kookie Burns at the Academy, he's always nice to me, we do autograph shows together a lot. They were the exciting kids at the time, the up-and-coming. Now the up-and-coming, we don't know who's who anymore, all these new TV shows here and there... they get their moment in the sun then they disappear some place.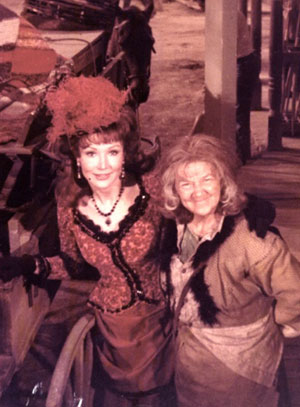 BI: Let me ask you about another short-lived show that I really loved, 'Dirty Sally' [Episode 3, "The Old Soldier"].
FY: Oh my gosh to work with Jeanette Nolan, wow, this woman goes so far back. Again I'm in costume and I just adored it. And Dack Rambo, I didn't know he was gay, which I guess is why he wasn't paying attention to me. And Gene Evans who played the old man with the red beard, he was such a wonderful character actor. That was a really, really fun show to do. In fact, I had the producers John Mantley, and Leonard Katzman and the director Irving Moore over for dinner one night after that.
The director Irving Moore, we became very good friends, I worked for him again on 'Petrocelli.' I played a hypnotist in one and then I played the wife of a gangster. The hypnotist was very, very real, I went to watch Pat Collins who was known as the 'Hip Hypnotist.' I researched that. The scene in the nightclub where I take Albert Salmi and I hypnotize him, you would have sworn I was a real hypnotist, the way I handled the microphone, the way I handled the whole thing. Even now I look at it, I think "How the hell did I do that?" It just blows me away.

Oh yes, 'Mannix.' Oh how I adored Mike Connors, he was just such a sweet guy. I did two shows, "Whatever Happened to Sunday" and "Wine From These Grapes." Tony Caruso played my husband in "Wine From These Grapes." Ivan Goff was the producer, they just loved me.
'Streets of San Francisco,' I did three of those. Quinn Martin, who I never met by the way, he kept hiring me. I even played a Jewish Yenta for him. Working with Karl Malden, I mean, my God. And going San Francisco... one part was really exciting for me was we went back to Bimbos where I was a showgirl for $85.00 a week. I went over and talked to old man Bimbo and he said, "Oh, I always a-know you would go to Hollywood become a big-a star."

BI: How did you end up doing so many pilots for Irwin Allen?
FY: I did 'City Beneath the Sea'... it still ticks me off to this day how they ended up using Rosemary Forsyth in my place, I mean really. [The pilot was shot in 1969 then made as a TV Movie with a different cast in 1971.] She cost them a lot of money because she was drinking all during the thing. It was a big mistake and I knew it was going to be a big mistake. And then Stuart Whitman instead Glenn Corbett. And they didn't even use James Brolin which was a shame, James Brolin went on to do big things.
Then we did the 'Time Travelers' pilot, I personally think the two boys that were cast in those roles [Sam Groom and Tom Hallick] were freakin' boring, really boring.
A lot of mistakes were made on that show. Booth Coleman, he and I were the scientists who sent them back in time. It was about to go and then, all of a sudden, they just decided not to do it.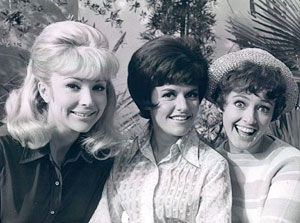 I've done so many pilots, I did 'Pioneer Spirit' for Filmways [1969] with Marcia Rodd and Roy Clark. In fact, I just saw Dick Bare who directed me in 'Green Acres' and he directed me in this. They were looking for a Desi Arnaz type to play my husband, they even got a bartender from La Scalia, but you couldn't duplicate Desi Arnaz, that was just impossible. That pilot was about to go and we were really excited and then the network decided they didn't want any more of that type of show, the Petticoat Junctions and the Green Acres.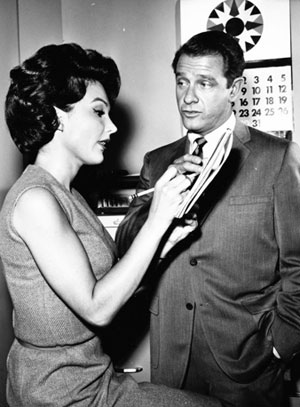 In 1965 I did 'Slattery's People.' For the second season they brought Alejandro Rey, Kathie Brown and myself in to spice up the show. Kathie was the girlfriend and I was the secretary, which should have been the other way around but... I loved Kathie, she was great. I was set for 11 out of 13 episodes but then the show was cancelled. My parents were on the set at the time, Richard Crenna felt so badly. You get so many disappointments but you gotta be tough in this business, you have to have a thick skin.
BI: Let me ask about some people you worked with like Frank Sutton...
FY: It was interesting. I worked with him on 'The Untouchables' and he was really very nice and on 'Gomer Pyle' - now that was an incredible show for me, because I was like the star of the whole show. Working with Jim Nabors, this guy was the sweetest guy in the whole world but Frank got a little testy at times on that show. I really didn't like him after that.
BI: Tony Randall?
FY: What a bastard that man was, he was so nasty to me. I think he was intimidating me because he liked me so he was using that old intimidation thing. He would be singing opera and say, "Don't you know this opera?" and I'd say, "No," and he'd say "That was from 'Aida', the third act, da da da...," putting me down because I didn't know, he was just terrible. Jack Klugman was just fine, he was great but I'll never forget how terrible I felt on that show. And I'm sure other people must have known that about him, he was a real snob. I didn't like working on that show at all. That was one of the few people I didn't like.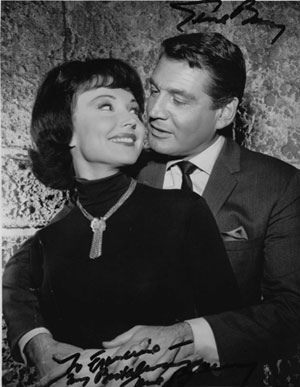 I did 'Burke's Law,' I loved working with Gene Barry, I did about 4 or 5 of those. I did the last version he did too [1994], he was already kind of losing it. I noticed the lines weren't coming as well. We were very good friends, I adored him. I saw him at an autograph show and I said, "Hi Gene," and he looked at me and looked at me and it didn't click in. And I said, "Francine York" and he said, "Oh, Francine, oh Francine, Francine..." he was so sweet. He had really bad Alzheimers, it's very sad to see these people going down like this.
BI: And you got to work with Shirley Booth on 'Hazel.'
FY: That was really something, she was a woman full of fire. I did two 'Hazels' with her. Very very nice, like an ordinary person, she didn't have that kind of, you know, nastiness like you would think she would, with the background that she had. That reminds me of 'Bringing Up Buddy', that was with Frank Aletter, David Butler directed that. David was quite a guy, I did a movie with him, 'The Right Approach' at Fox.

I did two shows with Bob Hope, [one was] 'School for Bachelors' with Eva Marie Saint. When I went to the interview... Bob was actually on the interview, that was really something, usually the stars don't come in to the initial interview. There were like 500 girls. I thought, "I'll never get that" but I did. I played the head bunny at this club and Eva Marie Saint was there spying or something. Bob was kind of a interesting guy, he was kind of a crazy Gemini he had many sides to him, I think.
BI: Arthur Marx, in his biography of Bob Hope, tells of Bob talking nightly walks around his neighborhood in Toluca Lake where he had several women stashed away in homes he bought for them.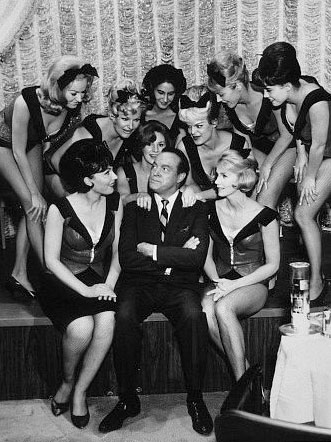 FY: Oh yeah, I think Dolores knew. I knew one of the girls, her name was Joy Monroe, I'm going to write about her in my book. I met her when I did the second 'Bob Hope Chrysler Theater' with Rhonda Fleming and Marilyn Maxwell and Jill St. John. Joy was put on the show as one of the dancehall girls. I remember we had a scene, we were under a table, somebody was shooting or something.
I don't know, she latched on to me so she invited me to her house, she showed me all the things he bought her. Of course, she had a Chrysler and he bought her the house and jewels. He called while I was there. Oh yeah. That's very true, without a doubt, I saw it first hand.
He never made any overtures to me. I was in a dressing room with him, he liked to play Packy East, which was a boxing character from Cleveland. It was at a thing for charity at his house. I was his nurse spraying bug spray before he'd be walking on, getting ready to go into the ring.
I have a lot of photos of us together. The two of us were sitting in a trailer all this time, he barely spoke. I think he had a dual personality, being a Gemini, I think he had quite a bit of duality in him... maybe he had a tri-ality, I don't know.
BI: What about television today?
FY: I watch 'Boardwalk' and 'Homeland'. I love 'Homeland,' those kind of shows, but I don't watch regular every day TV, I don't like it.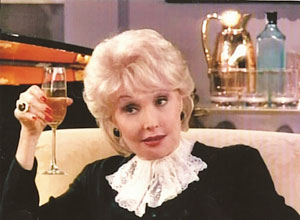 I just did 'Hot in Cleveland' [Season 3, episode 24, "What's Behind the Door"]. I had a nice little dressing room on the set. Of course, they have all the food, all the nibbles of which I don't eat. Cybil Shepherd was on my episode. I played a British soap opera star and supposedly my character goes off and does something else and Betty White takes over my role, trying to emulate me. I was kind of playing Maggie Smith. I was excited to get it, Lee Ann Meriwether, several other girls came in [for the part]. 'Hot in Cleveland' is filmed before a live audience; I had a recurring role on 'King of Queens,' that was done before a live audience which was really fun.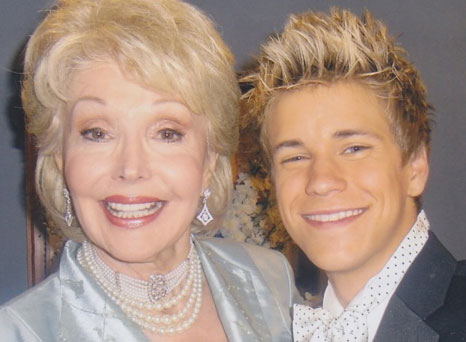 I did a show, 'Bucket and Skinner's Epic Adventures,' for Nickelodeon. I played Aunt Bitsy, kind of a wealthy country club type lady. I can phone in those kind of parts, you know? But trying to play the grandmother or the girl next door, that's kind of difficult for me.
---
Hit Shows of the Seventies: Hitchhiker's Guide to the Galaxy / Gene Roddenberry in the 1970s / 1977-1978 Superhero & Science Fiction TV Shows / Funniest SNL Skit Ever! / Prisoner: Cell Block H / Why John Amos Left Good Times / Reviving Match Game / How Betty White's 'Happy Hommaker' Came About / Remembering Cindy-Williams / Creating The Rockford Files / TV Dads Talk Sex & Fatherhood / Angie Dickinson Blows Off This Is Your Life / Rare Audio of Bette Davis' Broadway Bound Flop 'Miss Moffat' / Orson Welles' Last Interview / Remembering Ed Asner / Bruce Vilanch on Writing for Donny & Marie / Writing For Fernwood 2 Night / Kris Kristofferson vs Barbra Streisand on A Star Is Born? Kinda... / Remembering Gavin MacLeod / Cher Reviews Her Iconic Outfits Since 1965 / Best Columbo Episodes / Star Maidens Sci-Fi Series / Interview with Cindy Williams (Lavern & Shirley) / One of the Most Controversial Episodes of All In The Family / Outside Chance / The Night Johnny Carson Broke Down / Gavin MacLeod on His MTM Castmates / Norman Mailer & Muhammad Ali / Charles Nelson Reilly Flops on Broadway / Chuck Norris vs Eva Gabor / Dear Detective / Dirty Sally / The Protectors / Chevy Chase Talks Hollywood Cocaine Parties / 1977 Season Show Openings / Love Boat's Oscar Winning Guest Stars / Henry Fonda's 4 Favorite Films / Tom Snyder Interviews Star Trek Cast & Harlan Ellison / The Corner Bar / Tim Conway's 'The Dentist' Sketch / Henry Winkler on His Happy Days Audition / Patrick Duffy of Dallas Interview / Time Express / Wonder Woman Leaves Paradise Island / 1972-73 TV Season / George Burns on the Carson Tonight Show in 1989 / Best Season of Dallas Ever? / Cloris Leachman Remembered / Ken Berry Interview / Why Barney Miller Ended / Vivian Vance Almost Joined the Cast of Rhoda / Marilu Henner Talks About Andy Kaufman / Cher on Mike Douglas 1979 / TV Show Book Tie-Ins / 1972 Jackie Robinson Interview / Dr. Strange 1978 TV Movie / Kathy Garver Interview / Space: 1999 / Paint Along with Nancy Kominsky / Mary Kay Place Albums of the 1970s / The Supremes - Mary Wilson vs Diana Ross / When Bruce Dern Killed John Wayne / 1974 Tom Snyder Our Gang Special / Remembering Ken Berry / Bruce / Caitllyn Jenner? / Billy Crash Craddock Interview / Melissa McCarthy Almost Quit Acting Days Before Landing Gilmore Girls / Bar Rescue's Wildest Customers! / TV HITS - By the Numbers / Alex Baldwin On His TV and Film Roles / Ray Charles' BIG Problem With TV / Top Ten Sitcoms of the 1970s / James Cameron Made No Money for Titanic / Growing Up In The Playboy Mansion / Ed McMahon Drunk on the Air! / Lucy Interviewed by Barbara Walters / Valerie Harper Cancer / Jeff Bridges Breaks Down His Iconic Roles / Dallas vs Eight is Enough / 1974 MAD Magazine TV Special - Never Aired! / Iconic M*A*S*H Restaurant Coming To Kroger? / When Lucy Got Fired / Partridge Family and Brady Bunch at Kings Island theme park 1972-73 / Awkward Talk Show Moments / Allan Blye Interview / Jack Benny's Last Tonight Show 1974 / Patricia Heaton's Audition for Everybody Loves Raymond / Ed Asner Interview / Norm Macdonald vs OJ Simpson / Tony Kornheiser Interview / Freddy's Nightmares TV Series / Emmy Award Multiple Winners / Nathaniel Taylor aka Rollo Lawson / Mary Kay Place Albums of the 1970s / That Girl & TV's Single Working Women / Can You Identify These Stars? / Betty White vs Joan Rivers / Paul Lynde's Greatest Hollywood Squares Zingers / Sonny Comedy Revue / Star Trek Animated / Dark Shadows / Hal Linden Interview / Dark Shadows Movies / Dark Shadows Novels / The Night Stalker / One of the Funniest Carol Burnett Show Skits Ever / Fred 'The Hammer' Williamson / Johnny Carson interviews Lucille Ball / Dawn Wells / Betty White : An Appreciation / Bette Davis' 2 Best Interviews 1971 / Barbara Eden Interview / Gavin McLeod / Spider-Man 77 / The Next Step Beyond / The Music Dark Shadows / 1970 TV Shows / Mike Connors Remembered / Mike Wallace, Virginia Graham & Jim Longworth / Dick Clark / Woody Allen Hosts Tonight Show 1971 / Carson Tonight Show / Alan Alda Interview / Jackie Gleason Show / 1973 TV Shows / Thriller / Post Modern Sitcoms / Elvis in Greensboro / Remembering Dick Van Patten / TV Dating Shows / The Jacksons TV Show / Fall Previews of the 70s / Lance Link, Secret Chimp / Star Wars Holiday Special / Alias Smith and Jones / 1977 Year in Review / Top Ten 1970-76 / The Rockford Files / All in the Family / Sam Hall (Dark Shadows) Interview / Actor Ed Nelson / Death of Archie / Battlestar Galactica / Wonder Woman / Network Jingles / Class of '74 / Happy Days / Good Times / Mr. Bill / Dinah! / Maude / Doris Day Show / Pamelyn Ferdin Interview / The Bicentennial Minute / Jingles & Catch Phrases of the 1970s / Early Cable TV 1970s / TV commercials for Women / TV Moms / Red Skelton / George Lindsay / Country Music TV Shows of the 1960s & 1970s / Betty White Show / Shirley Jones Interview / Tom Bosley / Rodney Dangerfield / How Sanford & Son Ended / Sanford & Son Spin-Off Grady / Great Memoirs / Virginia Graham Show / The "N" Word on TV / 10 Classic Comedy Routines You Have To Laugh At Before You Die / Hollywood Squares / 1970's Teen Idols & The Hudson Brothers / TV Stars with 3 Hit Shows / The Rookies / Unsold Pilots / Jackie Cooper / The Good Guys / Match Game / Make Room For Granddaddy / Mannix & Gail Fisher / Bette Midler in the 1970s / Bonus 1970's Stuff: Silent Star Marion Mack / Biff Burger / 1970s Fast Food Chains / Latin Casino / Beverly Hills Supper Club Fire / 1970's Daytime Talk Shows / The Fess Parker Show / Brady Bunch Sex Dungeon? / Love, Loss & What I Watched