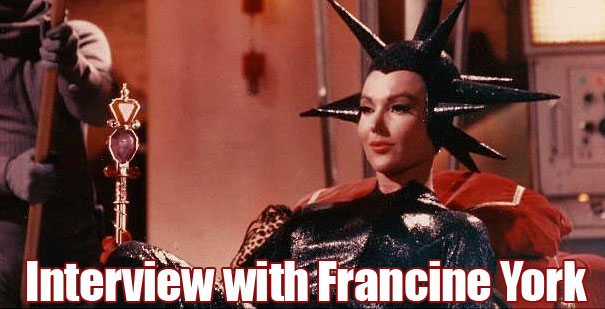 by Billy Ingram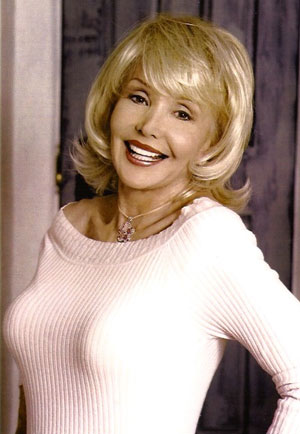 It was my pleasure on October 25, 2012 to speak with the legendary actress Francine York.
If you grew up on a steady diet of classic TV shows like I did (and generations afterward grew up on these shows too) you'll recognize Francine York from roles on 'Bewitched' (where she played Venus come to life), 'I Dream of Jeannie', 'Slattery's People', 'The Streets of San Francisco', 'Columbo', 'Love American Style', 'Mannix', 'The Courtship of Eddie's Father', 'The FBI', 'Gomer Pyle USMC', and so many more.
Tall, statuesque, well-endowed brunette (later blonde) Francine York also played villains on 'Batman', 'Wild Wild West' and 'Lost in Space' where she went toe to toe with master scene stealer Jonathan Harris in a second season episode entitled "The Colonist" where, as Dr. Smith, he literally chewed the scenery. More recently she played a British Soap Opera star on 'Hot in Cleveland' (in 'real life' Francine was a regular on 'Days of our Lives' and 'General Hospital') and 'Bucket and Skinner's Epic Adventures' as Aunt Bitsy.
I asked Francine York how she got her start in acting.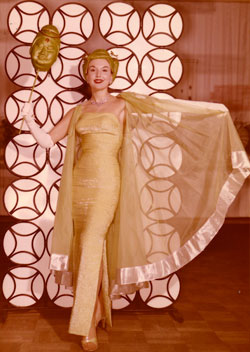 Francine York: After I graduated High School I went to an airline school, I thought maybe being an airline stewardess I could get out of Minnesota. After I got out of school I went to work for Northwest Airlines, and all I did was erase. One day the boss came and said, "I think you'd be happier without this job." I was crying so much, but out of the darkness comes the dawn. I think my whole life has been like that.
I had moved in with a lady friend who lived with my cousin. We saw an ad for modeling for a company call Jane Richards Sportswear. We both auditioned and I got the job so I started traveling all over the United States and ended up in San Francisco and I decided I was going to stay there. I did some modeling, I did some plays, I was a showgirl for six months at Bimbos which was a big club there.
I met a gal, we became friends, and she said, "Do you want to come to Hollywood?" So I came down to Hollywood. I was a showgirl at Moulin Rouge at first. One of the fellows who was protecting me from what they called the 'Backstage Johnnies' told me, you know, not to get involved with those people.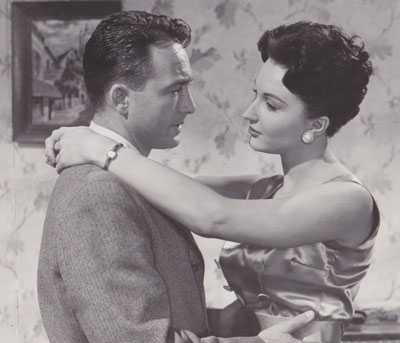 He introduced me to a lot of the people in the business. So I went to an acting school, there was a German man there who thought I would be very good for a movie he was preparing with a fellow named Ralph Cushman.
I had never been in front of a camera in acting mode before... but I got the part. The film was called, the great epic of all time, 'Secret File: Hollywood' with Robert Clarke. It's not just a B picture, it's probably a Z, but never-the-less I played a woman who was working for a man who was running a Confidential scandal-type magazine.
We premiered that film in my hometown - Aurora, Minnesota - and they had banners in the streets, "Welcome Home Francine," I got a tour of the school from the principal who gave me a hard time when I was in the school. The teachers who were always hitting my hands with the rulers because I wasn't a great typist... "Oh Francine, you're so wonderful!"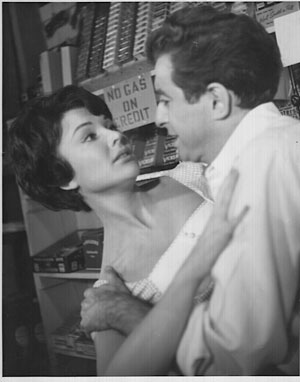 After that I did another one for Ralph Cushman, which was called 'Wild Ones on Wheels' which was quite a different character. I was married to a man who was incarcerated and we owned this greasy spoon out in the middle of nowhere. My husband comes out of prison and this gang comes in their cars and all. They know he's buried the money some place so they follow us out in the desert and they kill my husband and the leader of the gang tries to rape me at one point out there. He says, "Well, if I don't get the money I better be getting something!" It's a pretty good acting performance I must say.
Every movie that I've done, no matter if they're low budget... I have been told and I know for a fact that I can say this because I eeeeeeearned this statement... I make the picture better than the picture is.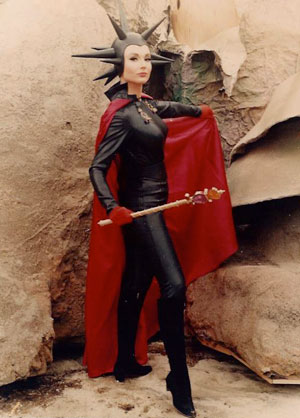 BI: I thought I'd start out talking about the TV show I first saw you in, 'Lost in Space,' where you played "noble Neolani" who was preparing the Robinson's planet for an invasion of women warriors. To this day I think it's one of the funniest and most entertaining episodes of the series' run.
FY: It was 1966, I had done so many TV shows, but 'Lost in Space' was my first guest star role where it said on the screen "Guest Star Francine York," just me. Boy was that something. When I went in for the interview there were all these girls, I thought, "I'll never get this." I still don't know to this day why Irwin (Allen) picked me. Well, in essence, he said I had the character, the stature.
He sent the director Ezra Stone home with me to work with me. Ezra said, "She doesn't need any coaching, she's perfect." He brought his umbrella to use as a scepter. Dear little Ezra, what a sweetheart he was, what an incredible career he had. When I was a child I was always playing the queen and all my friends were my servants. So playing that role was quite easy for me, it just fit, I had no problem with the pacing of it, the emotions of it, I just fell into that part.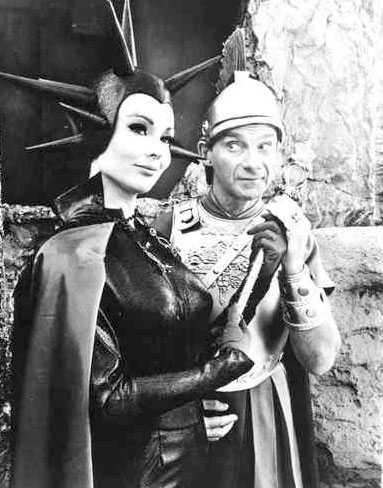 The big thing was the wonderful headgear that Paul Zastupnevich made for me. That piece has become classic. I think you'll agree that was the strongest female role ever on that show. There just hadn't been anything quite like that.
And of course Jonathan (Harris), God bless him. I adored him. He added to the show, he gave it a high camp quality. We worked out all the scenes we had together, he could have been a problem had he not liked me as much as he did. The problems came with Junie (Lockhart) at first but then she calmed down a little bit.
BI: Well, you had more lines in that one episode than she had for practically the whole season.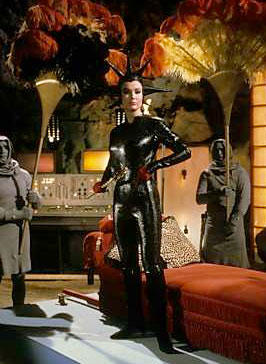 FY: Oh really? I have a nephew who told me, "Do you know how popular you are with that show?" I had no idea I was such a cult figure.
You know how in the end when they blow up the arch and the couch flies up in the air? I could have been killed by that. They all came over after and asked me, "What happened? Are you okay?" "What do you mean? What do you mean?" The thing blew up and it just missed me, they said the spiked headgear saved my life. I look at it now and say "Oh my God, that was really quite an explosion." Irwin loved to blow up things anyway.
I had to sign all my rights away when I did the show because if the decided to make some toys, we wouldn't have to be paid. We all signed our rights away, Irwin was very smart that way.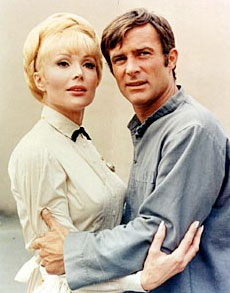 On 'Wild Wild West', Alex Nicol was the director, it was really fun because you didn't have to go through all this nonsense with the casting directors and the callbacks. I was set to play the doctor of the infirmary that James West gets thrown into so he can find out what the bad guy's plan is. The episode was 'Night of the Pelican,' Charles Aidman who took over from Ross Martin was playing opposite me..
I went in to meet Alex Nicols and he said, "We're trying to protect our star." I knew what he meant by that because Robert Conrad wasn't very tall. They needed somebody really strong who could talk back to the men and the guards, if they'd have gotten a tiny little girl with a tiny little voice it would never have worked. The next day I get a callback to see the director and his first words were, "I've read forty girls and you've just become the shortest girl in town."
So when I got the part Robert Conrad asked me, "Why haven't you done the show before?" I just did his radio show not long ago. We shot it right here on Radford at CBS studios, they had a little lake out there at the time. The costumes were done by Western Costuming, which I guess no longer exists. It was really fun, at one point we went before a firing squad.
Robert would go and work out in between shots, he had a boxing ring there. It was such fun to And Alex Nicol could not have been nicer to me he thought everything I did was just super. When a director loves you, oh my gosh....
NEXT: Part Two of the Francine York Interview!
Batman, Bewitched, Green Acres, Bob Hope and more!
---
Hit Shows of the Seventies: Hitchhiker's Guide to the Galaxy / Gene Roddenberry in the 1970s / 1977-1978 Superhero & Science Fiction TV Shows / Funniest SNL Skit Ever! / Patrick Duffy of Dallas Interview / Wonder Woman Leaves Paradise Island / Best Season of Dallas Ever? / Ken Berry Interview / TV Show Book Tie-Ins / 1972 Jackie Robinson Interview / Dr. Strange 1978 TV Movie / Kathy Garver Interview / Space: 1999 / Mary Kay Place Albums of the 1970s / The Supremes - Mary Wilson vs Diana Ross / Remembering Ken Berry / Bruce / Caitllyn Jenner? / Billy Crash Craddock Interview / Bill Cosby - WTF?!? / Top Ten Sitcoms of the 1970s / Dallas vs Eight is Enough / 1974 MAD Magazine TV Special - Never Aired! / Partridge Family and Brady Bunch at Kings Island theme park 1972-73 / Jack Benny's Last Tonight Show 1974 / Luke Perry's Last Role / Ed Asner Interview / Tony Kornheiser Interview / Freddy's Nightmares TV Series / Emmy Award Multiple Winners / Nathaniel Taylor aka Rollo Lawson / Mary Kay Place Albums of the 1970s / That Girl & TV's Single Working Women / Can You Identify These Stars? / Betty White vs Joan Rivers / Paul Lynde's Greatest Hollywood Squares Zingers / Sonny Comedy Revue / Star Trek Animated / Dark Shadows / Hal Linden Interview / Dark Shadows Movies / Dark Shadows Novels / The Night Stalker / One of the Funniest Carol Burnett Show Skits Ever / Fred 'The Hammer' Williamson / Johnny Carson interviews Lucille Ball / Dawn Wells / Betty White : An Appreciation / Bette Davis' 2 Best Interviews 1971 / Barbara Eden Interview / Gavin McLeod / Spider-Man 77 / The Next Step Beyond / The Music Dark Shadows / 1970 TV Shows / Mike Connors Remembered / Mike Wallace, Virginia Graham & Jim Longworth / Dick Clark / Woody Allen Hosts Tonight Show 1971 / Carson Tonight Show / Alan Alda Interview / Jackie Gleason Show / 1973 TV Shows / Thriller / Post Modern Sitcoms / Elvis in Greensboro / Remembering Dick Van Patten / TV Dating Shows / The Jacksons TV Show / Fall Previews of the 70s / Lance Link, Secret Chimp / Star Wars Holiday Special / Alias Smith and Jones / 1977 Year in Review / Top Ten 1970-76 / The Rockford Files / All in the Family / Sam Hall (Dark Shadows) Interview / Actor Ed Nelson / Death of Archie / Battlestar Galactica / Wonder Woman / Network Jingles / Class of '74 / Happy Days / Good Times / Mr. Bill / Dinah! / Maude / Doris Day Show / Pamelyn Ferdin Interview / The Bicentennial Minute / Jingles & Catch Phrases of the 1970s / Early Cable TV 1970s / TV commercials for Women / TV Moms / Red Skelton / George Lindsay / Country Music TV Shows of the 1960s & 1970s / Betty White Show / Shirley Jones Interview / Tom Bosley / Rodney Dangerfield / How Sanford & Son Ended / Sanford & Son Spin-Off Grady / Great Memoirs / Virginia Graham Show / The "N" Word on TV / 10 Classic Comedy Routines You Have To Laugh At Before You Die / Hollywood Squares / 1970's Teen Idols & The Hudson Brothers / TV Stars with 3 Hit Shows / The Rookies / Unsold Pilots / Jackie Cooper / The Good Guys / Match Game / Make Room For Granddaddy / Mannix & Gail Fisher / Bette Midler in the 1970s / Bonus 1970's Stuff: Silent Star Marion Mack / Biff Burger / 1970s Fast Food Chains / Latin Casino / Beverly Hills Supper Club Fire / 1970's Daytime Talk Shows / The Fess Parker Show / Brady Bunch Sex Dungeon? / Love, Loss & What I Watched