LOVE, LOSS AND
WHAT I WATCHED
By Cary O'Dell

In 1995, author and illustrator Ilene Beckerman published a slim but intriguing book, "Love, Loss and What I Wore." It retraces the most important episodes of her life via the clothes she had on at the time. The work is charming and surprisingly resonating.
<![if !vml]><![endif]> <![if !vml]>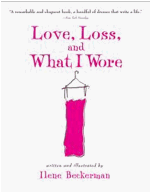 <![endif]>
It's also thought-provoking. What do I equate with the important events in my life?
I'm not sure that most guys recall their apparel so well, or so meaningfully. Maybe they, instead, remember what they were driving or who they were dating at the time.
For me, a devoted TV-holic, I find what I remember was what I was watching.
There are certain shows, serials, and specials—within my memory at least—that are forever intertwined with the times, the people and the happenings around me. They do not so much amplify the time as compliment it. They form a time capsule, one that often re-opens whenever I turn on the tube.
<![if !vml]>

<![endif]>
--I think I knew "I Love Lucy" before I knew anything. I never liked "Sesame Street." And if other kids were watching "Captain Kangaroo" that was fine but nearly as fun as Lucy.
<![if !vml]>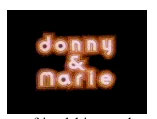 <![endif]>
--The first friend I ever had was Charlie. He lived directly across the street from us. I think our friendship was based more on proximity than anything we had in common. He was much more of a ragamuffin than me. While I was happy with my G.I. Joe dolls, he wanted to play G.I. Joe for real. Still, interestingly, Charlie was obsessed with the "Donny and Marie" show. We could never play together on Friday nights until before 7pm or after 8, once the Osmonds were over.
<![if !vml]>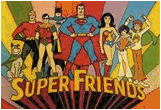 <![endif]>
--Long before I knew the days of the week, I knew that "Saturday" equaled morning cartoons. For years my brother and I used to get up and buttress our pillow against each other, head to head, and then lie down on the floor right in front of the TV and watch.
My brother quickly grew out of the toons; I didn't. Faithfully, while everyone else slept, I pulled my pillow and blanket out of bed and hunkered down in front of the family's sole TV in the living room.
In the Midwest, where I grew up, the cartoons started at 7am. "Superfriends" and "Scooby Doo" were my favorites.
<![if !vml]>
<![endif]>
--I don't think, as kids, any thing thrilled us as much as reruns of "Batman." We didn't know it was supposed to be funny; we took it totally seriously. Sometimes, WFLD, a station out of Chicago, that we could pick up downstate, would run two episodes of the show back to back in a one-hour block—you'd get the super villain introduced, Batman and Robin captured, freed and the crooks caught all in the same day! That was the best.
I liked all the bad guys but Julie Newmar's Catwoman and Burgess Meredith's Penguin were my favorites--for different reasons.

<![if !vml]>

<![endif]>
--When we got a little older, like all other members of Gen X, my brother and I fell in love with "The Brady Bunch." Still, some things about the show confused us. Why did the kids always where shoes in the house? Even after we had seen all the episodes, we still watched the reruns. Before each episode would start, my brother and I would sometimes guess whose problem the upcoming episode would focus on—would Jan forget her glasses? Would Peter be having a self-esteem crises?
<![if !vml]>

<![endif]>
--For a time, in the late 1970s, "Howdy Doody" came back to the airwaves as "The New Howdy Doody Show." It still featured Howdy and Buffalo Bob. It ran every weekday morning at 8am on superstation WGN. I loved it. I think the only person who must have like it more than me was my mom. Always eager to watch the show, I always got ready for school in record time so I could sit down and watch "Howdy" before we had to leave.
<![if !vml]>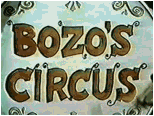 <![endif]>
--During the summer we'd watch "Bozo's Circus," also over WGN. The end of the episode always had the same running gag: would Cookie get to lead the kids out of the studio that day? He never got to as Bozo would always trick him at that last minute and lead the parade himself.
I always felt sorry for Cookie.
<![if !vml]>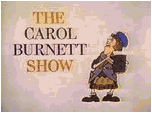 <![endif]>
--Saturday nights were a ritual. At least as far as we always watched "The Carol Burnett Show." We all loved her and couldn't wait to see Tim Conway and Harvey Korman break each other up or "get tickled," as my mom used to put it.
After "Carol," we always turned over to "The Lawrence Welk Show." I think I originally expected "Welk" to be an extension of Burnett and company. It took months before I realize that he just wasn't as funny as the lady on the air right before him.
<![if !vml]>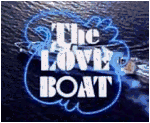 <![endif]>
--After "Carol" came to an end in 1978, Saturday shifted. The comedy/variety block on CBS gave way to the parade of guest stars on "Love Boat" and "Fantasy Island" on ABC. We had largely stopped watching TV as a family by that time.
<![if !vml]>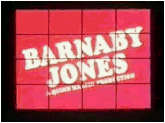 <![endif]>
--During the week, Dad and I would sometime watch the detective dramas that my mom thought too "violent." My dad and I both liked "Barnaby Jones." "Jones" always had great guest stars.
<![if !vml]>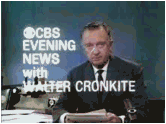 <![endif]>
--Ever night during dinner we would watch the "CBS Evening News" on the little TV in the kitchen. My dad never called it the "CBS News" or "The News." He always called it "Walter," because of Walter Cronkite.
<![if !vml]>
<![endif]>
--In the '70s and early '80s, Fridays at our house we always watched "Dallas." I remember my mom and I watching it one night. She in the easy chair and me splayed out on the sofa. My dad wasn't home. My grandmother, who lived in a nursing home in the southern part of the state and suffered from Alzheimer's, was very, very ill. An episode was just winding down and "Falcon Crest" was starting when my dad called to say grandma had passed way.
<![if !vml]>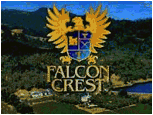 <![endif]>
--Even after the rest of the family gave up on "Dallas," I kept watching. Mainly though, I was just biding time with "Dallas" getting ready for "Falcon Crest" that came on after it. I loved "Falcon Crest" and resented it when "Miami Vice" came on against it and so many of my friends switched to it.
The best season of "Crest" was 1982-83. A whodunit, the murder of Carlo Agretti (father of Ana-Alicia's character) dominated most of the storylines building up to the big reveal on the season ender. By this time I knew enough about TV to know that the culprit would probably be some minor character who'd only been around a few episodes.
But then, in the last episode of the year, the writers revealed Abby Dalton's character to be the killer! Dalton had been on the show since episode one, season one. I couldn't believe it! I went to bed that night still in denial—did I see what I saw? These were before the days of online chatrooms; there was no one to verify this shocking twist.
<![if !vml]>

<![endif]>
--Well into the early 1980s, like every other house on the block, we had a TV antenna sprouting from our rooftop. Among the reception we got in the house, the antenna post served as a handy ladder to roof, good for retrieving a lost Frisbee or tennis ball.
Later, we got cable and the channels were much clearer. Sometime in the 1980s, we got a new TV. For some reason, when that TV was set up, we started getting cable channels we never got before. After school one day I remember discovering MTV. So this is what everyone is talking about.
I think the music first video I ever saw was Pat Benatar's "We Belong."
<![if !vml]>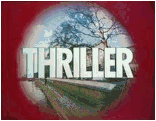 <![endif]>
--Sometime when I was in high school a local station began re-running the British-produced, Brian Clemens-authored "Thriller" installments of the early 1970s. Each was 90-minutes in length and each was a tale of suspense and murder usually anchored by some American star. (Gary Collins! Bradford Dillman! Barbara Feldon! Carroll Baker!) They came on on channel 8 out of the Quad Cities, late, late at night and I often had to fight off sleep to make it to the big twist ending.
I got hooked on these. I thought it was interesting that many "Thrillers," though written and produced for television, could easily be done as stage plays. I like the format so much that I even wrote a play inspired by them that I hoped my high school drama club would produce.
They didn't.
<![if !vml]>

<![endif]>
--I guess I was obsessed. And a bit of a snob. I didn't go to my senior prom. I thought a lot of those high school rituals were rather antiquated. Besides, the prom was on a Friday night and I didn't want to miss "Falcon Crest." What if they pulled another Abby Dalton twist on me?
<![if !vml]>

<![endif]>
--My mom started watching "As the World Turns" the day it premiered in 1956. She would watch it for the next 30 years. She always called it "her story." When I was in high school, she got especially excited about one storyline that was happening on the program and couldn't help filling me in when I came home in the afternoon. During the summer, I began to watch the show too and got totally hooked. For the next several years, my mom and I did a lot of bonding over the pretend lives of the Hughes clan and their circle who were featured on the show.
That was in the 1980s. I would watch the show for next 20 years. I finally cut the cord in 2001. Still, when the show was cancelled in 2010, I felt a great sense of loss. I taped the last episode and watched it later that day just to have some closure.
<![if !vml]>

<![endif]>
--When I went off to college in the southern part of the state, I was most thrilled when I found out that local station in town was showing repeats of "Stat Trek: The Next Generation." Though the show had been on for several years, no station near my home town had ever showed it. This local station was airing episodes every night, including the weekends, at 10pm. What I remember most from living alone for the first time was watching "The Next Generation" every night before going to bed.
<![if !vml]>

<![endif]>
--In grad school, I would work on my thesis in long, marathon sessions every Saturday. I worked from my desk in my one-bedroom apartment on a borrowed laptop. I'd start early in the morning and work, without stop, all day. I would wind down at about sunset. I always spellchecked at 6:30pm while watching "Siskel & Ebert." After that I would finally log off and get ready to watch "The Golden Girls."
<![if !vml]>

<![endif]>
--After college, I went to work in Chicago for an under-funded and poorly run not-for-profit. The staff consisted of me and about 10 other people. Frustrated by their low salaries and other issues, the staff often took it out on each other. My first year there was the second year of "The Real World" on MTV. It was the season they were in California with Tami, Cowboy Jon and five others strangers. They fought all the time. I remember thinking, This is just like my life at work.
<![if !vml]>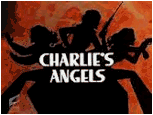 <![endif]>
--When "Charlie's Angels" first aired in the 1970's I was too young to stay up and watch it.
Though I later caught the post-Farrah episodes, for years I had never seen the season one episodes.
Over a decade later, after high school, after college and after I had my life in the Chicago area, a local Windy City station began to re-air the reruns in the late afternoon. If I caught the train just right, I could get home just in time to watch season one repeats of "Angels."
<![if !vml]>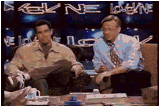 <![endif]>
--After living all my life in Illinois, in 1997, I moved to Maryland. I knew no one there but I still uprooted myself and went. Adjusting to a new state, new home, and new job was tough. I had become attached to MTV's "Loveline" before heading east. I liked it that no matter how hard I thought my life was, these people's problems put me and mine very much into perspective.
"Loveline" became a lifeline for me for a while. I even watched the reruns.
One Saturday night, I was watching a rerun of "Loveline." I started flipping channels at the commercial break. CNN had a crawl at the bottom of the screen about an accident in Paris that Princess Diana had been in. I read it and went back to "Loveline."
At the next break, I turned back over. By that time, the crawl had been updated—Princess Diana was dead. I didn't switch back. I watched CNN for two more hours that night, finally getting to bed at about 3am.
<![if !vml]>

<![endif]>
--In shades of another "Charlie's Angels" happenstance, on day I discovered a local station that was showing reruns of "The Lucy Show," "Private Secretary" with Ann Sothern and "The Mothers-in-Law" with Eve Arden and Kaye Ballard every day right after I got home from work.
Who had died and gone to heaven? Me.
<![if !vml]>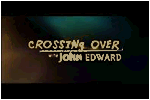 <![endif]>
--When medium John Edward had his own show, "Crossing Over," on late-night TV in the early 2000s, I, for some reason, became immediately hooked to it even though I've never had a great interest in the so-called "after-life." Still, it was interesting. And, for a show about the dead, surprisingly life-affirming.
Not too much visually ever happened on the show; you could get by just listening to it. Since that was the case, I often saved up small, putzy jobs (balancing my checkbook, cleaning out my magazine rack) for doing during the show. This went on so much that I eventually began to call these tasks "John Jobs."
<![if !vml]>

<![endif]>
--"Crossing Over" aired on the Sci-Fi channel. I always watched it right before going to bed. I watched it the night of September 10, 2001. The next morning, when I happened to turn on the TV and saw the planes crash into the World Train Center, for a fleeting second, I thought it was part of one of the network's movies.
<![if !vml]>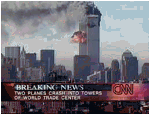 <![endif]>
--For day after the 9/11 attacks, every network and station had full, total coverage of the tragedies. Every channel, broadcast or cable, were turned over to news feeds from CBS, ABC, NBC or CNN. How odd it was to flip channels and see the same thing on every one. Only Nickelodeon continued with their regular programming: the kids could watch it in the den, while the adults stayed in the other room, starring disbelievingly at the images coming out of New York, Washington and Pennsylvania.
<![if !vml]>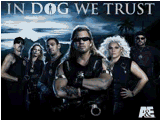 <![endif]>
--After I moved to the east coast, I always tried to make it home at least twice a year—for Christmas and once more during the summer. It seemed like every time I was home, my dad and I would end up watching repeats of "Dog the Bounty Hunter" together.
Mom thought the show was dumb.
Dad and I watched "Dog" the next to last time that I saw him. The last time I would see him he was a few months later. He was in the hospital. He died in June of 2010.
<![if !vml]>

<![endif]>
--From its first season I've been a fan of "Big Brother." A big fan. Every summer I get consumed with the goings-on in that studio-cum-"house" on the CBS backlot. I was watching the annual season in the summer of 2010 when my mother suffered a stroke. My aunt called me from Illinois with the news. It was August of 2010. It had only been two months since the death of my father.
I purchased a one-way ticket home.
In the hospital, my mom was awake and aware, if not quite herself. Still, in the first few days, everything was uncertain: would she talk again? Walk again? Would she be able to go back home?
At first, susceptible to seizures, she was heavily medicated. I talked to her when she was awake and sometimes when she was asleep. Sometimes, bereft of topics, I described to her what was happening in the "Big Brother" house.
For the next two weeks, my mom made steady but slow progress. I sat by her bed everyday from 8 in the morning until, sometimes, 9 at night. When she started being more herself, she'd admonish me for spending so many hours at the hospital. "Go back to the house, watch your show."
And that summer, "Big Brother," that silly reality show, was a welcome reprieve from the long, worrisome days.
<![if !vml]>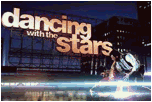 <![endif]>
--After two weeks in the hospital, my mother was transferred to a local care facility for physical and occupational therapy. Meanwhile, I returned home to the east coast.
In early November 2010, she got to go home. I returned to Illinois for a week to keep an eye on her and get her settled once again. Together, we watched that week's episodes of "Dancing with the Stars." She thought Derek Hough was particularly good.
<![if !vml]>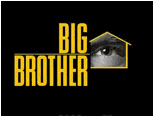 <![endif]>
--Only a few weeks after my mom got to come back home, a major seizure, quickly followed by a fall and a broken hip, landed her back in the hospital. By this time, she had been diagnosed by an inoperable brain tumor. I returned home once more.
I spent my days at her bedside again. She was heavily medicated again to ward of more seizures; my mom was only awake a few hours a day. It was around Christmas. She didn't know that "Big Brother" only aired during the summer months.
"Don't you want to go home and watch 'Big Brother'?" she asked me one time.
"No," I'd say, "I'll stay here with you."