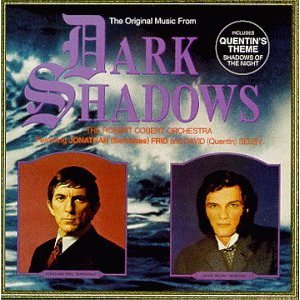 SPEAKING OF DARK SHADOWS
Yeah, I was one of those kids that ran home from the bus stop to try to catch the last 10 minutes of Dark Shadows. Fortunately, all the best stuff happened in the last 10 minutes but it led to some confusing Mondays when I'd miss the resolution of the Friday cliffhanger. I sampled the Dark Shadows comic book from Gold Key but it sucked, so did the board game, but the Viewmaster set was super groovy.

I bought the soundtrack album and it was awesome. Bought it the same day I got the soundtrack for the Broadway show It's a Bird, It's a Plane, It's Superman and both remain in my collection, two of my favorites of all time.
The Dark Shadows soundtrack album spawned a minor hit single in 1969, 'Quentin's Theme,' perhaps you remember it. The instrumental single (Billboard #13 pop chart, #3 easy listening) didn't come directly from the album but was recorded by the Charles Randolph Grean Sound. That single was backed by another album cut, '#1 at the Blue Whale,' named for the sleazy and exceedingly smokey waterfront bar in Collinwood. It's a lame attempt at contemporary juke joint music.
There were lyrics on the album version of 'Quentin's Theme' spoken by the actor who played Quentin Collins, David Selby.

The Robert Cobert Orchestra / David Selby version of the song was also released as a single, the flip side was probably the weakest cut on the album, 'I'll Be With You Always' with spoken word by Jonathan Frid as Barnabas Collins. 'Quentin's Theme' was covered by several crooners at the time including Andy Williams.
Other singles were released from the soundtrack album but none struck a cord. The Charles Randolph Grean Sound followed up their success with 'Josette's Music Box' backed by 'Back at the Blue Whale' both cribbed from the soundtrack but the 45 rpm disc failed to chart.
Meanwhile the Robert Cobert Orchestra released a syrupy 'I Wanna Dance with You' with vocals by Selby and co-star Nancy Barrett in 1969 backed with the 'Theme from Dark Shadows'; 'Ode To Angelique' with 'Missy' on the flip side followed in 1970.
The hauntingly lovely 'Ode To Angelique' was heard on the show though none of these follow up singles were found on the soundtrack album except the 'Theme' and none made a mark. Thus ended the brief run of Dark Shadows music releases - for a while anyway.

Back to the original soundtrack, there were some choice cuts on that album, especially the recitations by Jonathan Frid set to that creepy music by Robert Cobert. Those ominous poetic readings stand as some of Frid's finest work. This cut is 'I Barnabas.'
Pretty cool, huh? Another standout was 'When I Am Dead,' written by dead English? poet Christina Georgina Rossetti (1830-1894) set to the romantic theme from the series.

Here's a Jonathan Frid piece, 'Meditations,' set against one of the lighter themes. I don't know the source of this poetry.
I was a budding actor as a youngster so those recitations really reverberated with me - like 'Epitaph' set to one of the show's eerie signature themes. If this doesn't put you in the Halloween spirit I don't know what will! This is another Rossetti poem.
There were cuts that weren't spoken over like 'A Darkness at Collinwood,' if you watched the show you'll surely recognize this music. It was updated slightly for House of Dark Shadows. When a character was being stalked this is the music that would rise up behind the scene.
In 1986 some enterprising small record company came out with a Dark Shadows soundtrack Volume 2. It contained the music beds that Jonathan Frid spoke over without the overdubs in addition to other seminal music sepulchers from the show. Two more volumes followed, I bought the first and it's the best soundtrack for a Halloween party ever. Just music from the series unadorned, magnificent. All of the various soundtracks were collected in DVD form.
Friday, October 28, 2011 - 10:50am
WOULD YOU LIKE TO RESPOND?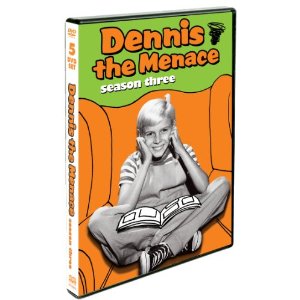 GEE MR. WILSON
I'm enjoying Dennis the Menace season 3 on DVD, it's the latest from SHOUT! Factory. I'm cool to this series, I watched it as a kid but never really liked it all that much. Then, as now, we watched dumb stuff just because it was on.
But watching season 3 is a particular treat for a tragic reason. Joseph Kearns, who played Mr. Wilson, passed away before the season ended. This shifted the focus to other supporting players, fortunately the supporting cast was filled with radio & TV personalities of long standing.
For instance in one storyline radio erstwhile Willard Waterman (The Great Gildersleeve) takes the part that would have been Mr. Wilson's. The addition of Gale Gordon to the cast for the last 6 episodes as the new Mr. Wilson was also a welcome switch. Always liked that guy on the Lucy shows. Although Kearns is equally entertaining the repetition of the proceedings is what mucks Dennis the Menace up for me. Sadly Kearns' demise meant Mrs. Wilson, played by the wonderful Sylvia Field, had to go at the end of this season. She wasn't replaced until season 5, the last.
It's fun to luxuriate in something so archaic, this DVD collection stands in stark contrast to what's out there today. If you were considering a season of Dennis the Menace this would be the one to get, a bargain for $20.00 on Amazon when you consider there are 38 episodes to enjoy.
Wednesday, October 26, 2011 - 9:56am
WOULD YOU LIKE TO RESPOND?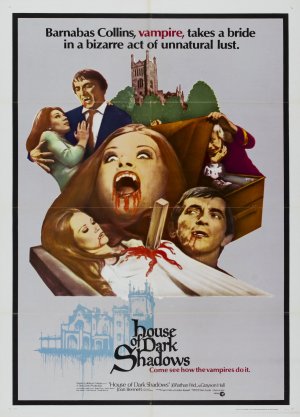 DARK SHADOWS
I'm watching House of Dark Shadows from 1970 on You Tube. That motion picture and the sequel Night of Dark Shadows have never appeared on DVD - until next year that is. Interest in the Johnny Depp version of Dark Shadows has made the show super hot again. Who would have thought? You can read my article on the Dark Shadows films here.
You may think this commercial from 1988 is a joke. But it's not. General Hospital hearthtrob (hard to believe isn't it?) Tony Geary shows you exactly why I thought those Member's Only jackets were such an abomination and avoided at all costs anyone wearing one or even being in a place where someone was wearing one. I'm not kidding.
Sunday, October 23, 2011 - 9:36am
WOULD YOU LIKE TO RESPOND?
YOU KNOW JACK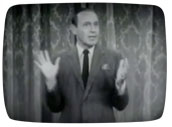 The first episode of The Jack Benny Program, the TV version, is on You Tube. In fact the first 4 episodes and entire radio shows are easy to access. That's great because few TV shows were as funny and just plain pleasing to watch as the Benny program. More than any other entertainer Jack Benny epitomizes old school entertainment, the kind my grandparents' enjoyed. His easy-going, gentry lifestyle was something that generation aspired to, his living room set a reflection of early-1950's moderne. The show's pace was low key, especially compared to other sitcoms like I Love Lucy or Our Miss Brooks.
I always got the feeling that black characters were treated with respect, though Rochester was problematic - but Eddie Anderson was a wonderfully talented performer.
Benny's humor is timeless - at least I think it is. Because his best TV productions are pre-color it may be difficult for moderns to come across the shows. And will anyone under the age of 30 even listen to an old time radio program? Oddly enough, with ubiquitous earbuds and a world of podcasts perhaps the radio shows could catch fire again. Wouldn't that be cool? Especially when you consider the Old Time Radio Convention is no more.

There's a really interesting book by Jack Benny's daughter Joan called Sunday Nights at Seven: The Jack Benny Story that combined an autobiography that the comedian 'wrote' alongside Joan's remembrances. It's a frustrating book in that the father's contribution is one of those celebrity hagiographies that were popular until the late 1960s when Benny's book was rejected by the publisher. You get almost no sense of who the man was from his writings - and Joan's memories seem tempered by the need to keep the star's image intact. But what she does reveal is fascinating and a bit touching, I've read the book several times. Guess that means I liked it.
Here's an interesting tidbit - America's Disappearing Restaurant Chains. Shoneys and Black Angus are high on the list. We still have a Shoneys (or Big boy depending on where you live), I think I'll go out there one day for lunch. For a while in the nineties they had a pretty decent hot food and salad bar that was very popular.

Friday, October 21, 2011 - 8:33am
WOULD YOU LIKE TO RESPOND?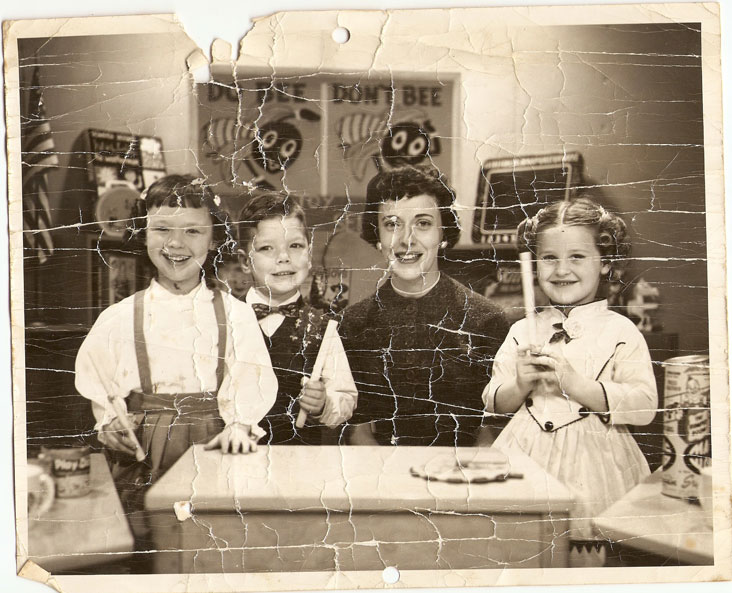 ROMPER STOMPER BOMPER BOO!
Stardancer1012 contributes this delightful artifact from Portland Maine circa 1956: I've no idea who the teacher was but I'm on the left. Sorry the picture isn't in great shape. My mother recently passed away and I've just discovered the photo.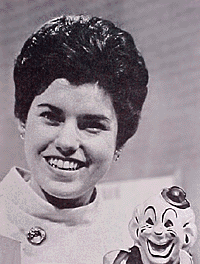 Steve writes: I came across your story about meeting Miss Louise as a child. I took the liberty of forwarding the story to her. Miss Louise, or as she is known to me and many others Reddi Ford, was one of my High School teachers and my therapist. She is a wonderful woman and is enjoying her retirement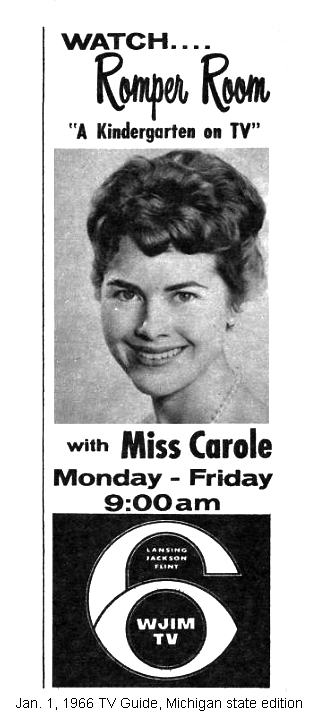 (as of summer 2010). I hope she gets a kick out of your story. Thanks for posting memories of her as she deserves to be remembered.
Kaptain Kidshow shares this terrific photo of the Romper Room (Lansing, MI) lady in 1966, Miss Carole. Thanks guys!
Wednesday, October 19, 2011 - 9:16am
WOULD YOU LIKE TO RESPOND?

Read more CLASSIC TV Blog entries here!