THIS 'N' THAT
I Love Lucy turned 60 yesterday - my favorite episode has to be this one, 'The Operetta', where Lucy & Ethel put on a musical funded with a check that bounced.
Speaking of which, here's Vivian Vance roasting Lucy on one of the Dean Martin specials.
"Rush Hour" star Chris Tucker's $6 million Florida mansion is in foreclosure, with more than $4.4 million owed to the bank, reports the Orlando Sentinel. Gee, the guy made $20 million for Rush Hour 2 alone! How do you burn through that much... oh, never mind.
Sunday, October 16, 2011 - 8:56am
WOULD YOU LIKE TO RESPOND?
ATTICA!
Yesterday we had an Occupy demonstration in my city (Greensboro, NC) and I participated. That's not so unusual, I live downtown so any event there is just a few blocks away and yesterday was a near perfect day. Haven't had many of those lately!
I also briefly attended the Tea Party event a couple of years ago. It was quite a contrast. For one thing, what struck me most about the Tea Party gathering was the four or so massive Greyhound tour buses that brought the crowds downtown. I've never seen that at a 'grass roots' protest and I've been to a few here and in LA. Everyone at the Occupy event drove or walked themselves, around 600 folks.
Another big difference was the diversity of the Occupy crowd. I don't just mean skin color, I'm talking people from all walks of life. The Tea Party was made up of white folks were under the thrall of the media, unaware of the puppet masters pulling their strings. (If television 'news' networks are sponsoring and promoting your events you know you've been had.) The Occupy crowd literally ranged from kids in strollers to 80 year olds with walkers, veterans of all wars, crazy liberal nutters, people in their twenties, jocks, Ron Paul supporters, church ladies, on and on. Judging from the diverse group I saw yesterday the message is resonating across a broad spectrum.

The march through downtown was fun, great day for a walk, and we stopped in front of the old Woolworths, now the site of the International Civil Rights Museum (don't even get me started on that!). I stood in front of the entrance, a place I walked into a thousand times at least as a kid to buy record albums and comic books, knowing the history of what went on in 1961- as the speaker asked for a moment of silence (and got it from that boisterous bunch) I couldn't help but tear up. I'm a sentimental fool anyway, I start to cry when I see WWII veterans march in the July 4th parade or when a puppy rescues a baby on TV but still.
I drove by this the park morning and there are a dozen or so people camped out downtown, not in the city park where the demonstration ended but adjacent, on the old YWCA property - owned by one of the 1%, Hagan Properties.
I'm not quite old enough to remember seeing Viet Nam era protests except as items from the newscasts and articles written at the time. But I do remember the results of those protests. Nothing gets changed in our modern American society until violence comes about. Civil Rights, Viet Nam - it took Act Up and violent street protests before the government got serious about the AIDS crisis.
As I marched yesterday I couldn't help but think that the crowd should be waving handguns and semi-automatics, the kind I saw on the right wing side of the war protest a few years earlier. I wonder how differently the police would react, how the press would cover it, if minorities were marching with weapons.
The police watching the crowd I'm sure enjoyed the time and a half for cooling their heels on a lovely autumn day, glad that they had the day shift and not the night. That's because there was plenty of mayhem and violence after night fell, the police and ambulance sirens sang loudly almost continuously throughout the early morning hours. And no wonder, here are the top stories on the Greensboro Whatever They Call It this morning:
# Man dead after early morning shooting (7:44 am)
# Two men shot at Greensboro nightclub (7:42 am)
# Man walking down the street shot in robbery (7:37 am)
# Two people robbed in gas station parking lot (7:31 am)
But that would be A&T University's homecoming. We'll have that again next year. After the Occupy movement either dries up and blows away (like the Tea Party, cancelled due to poor ratings) or the crowds are so large they can't be ignored.
Sunday, October 16, 2011 - 8:34am
WOULD YOU LIKE TO RESPOND?
READ THIS SOMEWHERE...
Life of Brian 'couldn't be made today' because of political correctness and religious extremism, says Monty Python star Terry Jones

Las Vegas legend Wayne Newton is turning his home in Sin City into a tourist attraction. Should earn him a lot of cash - and some seriously angry neighbors!


Remember Dr. Irwin Corey? He was a very popular guest on variety shows of the 60s and could be seen frequently on the Tonight show. Look what he's doing now - begging for change in the streets of New York. But there's a twist!
If you live in the Las Vegas area the Rat Pat Golddiggers will be appearing on the Fox 5 morning show MORE on Monday, October 24, 9:00am. I'll remind you and provide a live link when the time comes.
Thursday, October 13, 2011 - 10:59am
WOULD YOU LIKE TO RESPOND?
STUFF
It's been a while since I pimped my new book - but here's a page with more info on it.
The Las Vegas Hollywood Show debuts on November 19th, you'll get to see some amazing stars of stage and screen there, including Joan Collins who will be doing her only American book signing there. Susan Anton, Ernest Borgnine, The Village People(really?), Tippi Hedren, Barbara Eden, Loni Anderson, so many more. Reserve your room now and you'll get a great discount (either $79.00 or $59.00 a night!), free admission and an original animation cell worth $100. What a deal!

You have to read this article by Ken Levine about being on the writing staff of a show that's tanking. I've been in a similar situation, working with an art director the boss wanted to quit so he was making his - and by extension my - life miserable.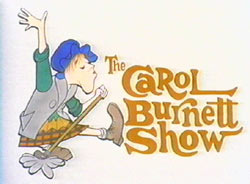 Have a few yucks as Carol Burnett's Eunice entices the family to play charades. Not as funny as the 'Sorry' episode but by the end of this skit I always bust out laughing. I wish they'd give Carol Burnett another one-hour special that isn't a clip fest. Why not a Christmas special, what is it about the networks abandoning the idea of musical holiday celebrations? The talent still exists to do it the old-school way - but won't for long.
Speaking of which, I scoured You Tube recently for some classic TV moments from Christmas' past and you can enjoy them here.
Wednesday, October 12, 2011 - 7:19am
WOULD YOU LIKE TO RESPOND?
HEAD(ACHE)LINES
Here's some weirdness going on it the world today;
As the website Newser reported, the researchers "pitted a group of stockbrokers against a group of actual psychopaths in various computer simulations and intelligence tests and found that the money men were significantly more reckless, competitive, and manipulative." Even more striking, the researchers note that achieving overall success was less important to the stock speculators than the sadistic drive "to damage their opponents."
Sad: "A conservative journalist has admitted to infiltrating the group of protesters who clashed with security at the Smithsonian's National Air and Space Museum on Saturday — and he openly claims to have instigated the events that prompted the museum to close."
Mitt Romney is in high dudgeon over Obama's "massive defense cuts." The military budget grew under Obama.
Topeka Kansas is planning to decrimnalize spouse and child beating - they don't want to have to raise revenues to pay for the prosecutions. Topeka is poised to become phycho central.
"County In Georgia Mulls Putting Inmates To Work As Firefighters." Inmates will be taking more of our jobs, no doubt. So there's a great financial incentive to get more skilled
people into out growing prison population. How can we do that? Step up marijuana arrests!
Koch Brothers To Spend At Least $200 Million On 2012 Election.
Phoenix Jones, the self-described Guardian of Seattle and "Real Life Superhero," was arrested last weekend for allegedly pepper-spraying four people outside of a nightclub.
Man Assaults Wife for Not "Liking" His Facebook Update.
Tuesday, October 11, 2011 - 6:56am
WOULD YOU LIKE TO RESPOND?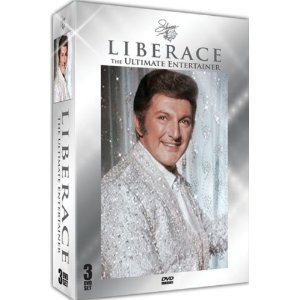 LIBERACE
Driving home from work down Beverly Boulevard I would pass by Liberace's penthouse condo at the top of one of the nondescript brick buildings, about 6 stories up maybe? It was kinda odd because his far east window on Beverly was always open and you could see the top row of the enormous bulbs on his makeup mirror, the kind you see backstage. And they were always on. Don't know why I found that interesting but it was a bit sad when the entertainer passed way and some time later the curtain was pulled on that window.
They've released the Ultimate Liberace, a 3 DVD set with his TV specials. I wasn't a fan, I never understood what his appeal was, a clearly gay man holding on to the fantasy that he was straight, failing spectacularly at bonding with his guests. I was always left with no understanding of who this person was - but he could play the hell out of those 88s.
Here's a camp teaming of Liberace and country comic Minnie Pearl from his 1969 special.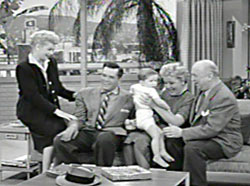 Here's something on Saturday for those in the San Francisco Bay Area: 60 Years of Lucy on October 8th, 1pm, at the Academy of Art University, 79 New Montgomery, San Francisco. The host will be Celeste Perry along with TV historian William French. Guests include Gregg Oppenheimer & Family and Bob Sarlatte (TV and radio comedian).
Russia's leading independent media company announced that CTC Media's Channel 31 in Kazakhstan has recorded an all-time record monthly audience share in September 2011. Hey, you never know when you'll need information like that!
Friday, October 7, 2011 - 6:06am
WOULD YOU LIKE TO RESPOND?

Read more CLASSIC TV Blog entries here!