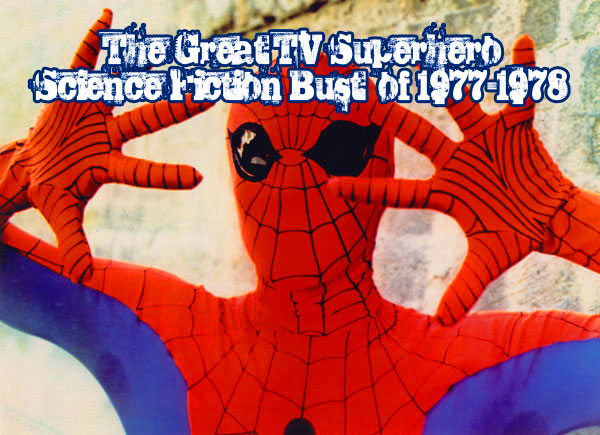 by Billy Ingram PART TWO / SEE PART ONE - 1977 - HERE

1978 SUPERHERO & SCIENCE FICTION TV SHOWS

QUARK
The year started out sci-fi friendly when Quark landed on NBC Friday (!) nights in February of 1978. Rather than risk a huge investment on a hour-long serious science-fiction project (like CBS's flop Logan's Run), NBC went with a half-hour comedy set in outer space, the perfect vehicle to replace the under-performing 'Sanford Arms' that was killing their winning Friday night line-up of Chico and the Man, Rockford Files, and Quincy M.E.
Richard Benjamin starred as Adam Quark, commander of the garbage scow for the United Galaxy Sanitation Patrol space station 'Perma One'. His assistants were: Fichus (Richard Kelton), the plant organism science officer, Otto Palidrome (Conrad Janis from 'Mork and Mindy'), the ships persnickety architect, Betty I and Betty II (Trisha and Cyb Barnstable), identical gorgeous cloned twin sisters, and Andy (Bobby Porter), a malfunctioning, cowardly robot that was more trouble than he was worth.
First mate Gene/Jean (Timothy Thomerson) was a half-man half woman person that was constantly fighting with him/herself. Orders for the missions would come from a disembodied head known as 'The Head' (Alan Cailou), appearing on the ship's video screen. Well-liked but little watched program.
THE NEW AVENGERS
Based on the cult favorite from the 1960s, The New Avengers once again starred Patrick MacNee as John Steed, this time with two high kicking assistants - Mike Gambit (Gareth Hunt) and Purdey (Joanna Lumley). The original series producers Brian Clemens and Albert Fennell developed the new concept and two year's worth of episodes were shot at Pinewood Studios in England in 1976.
The first episode got off with a bang when a nest of Nazis tried to revive the body of Hitler. Attempts to get Diana Rigg to appear as Emma Peel were unsuccessful and Variety called it, "a poorly drawn and motivated comic strip" but the show had many fans. 26 episodes were filmed,
CBS picked up The New Avengers for broadcast Friday nights (again!) at 11:30 starting in 1978. This prompted the BBC to attempt another revival of the series, a pilot entitled Escapade was written by Brian Clemens for Quinn Martin Productions. It starred Granville Van Dusen and Morgan Fairchild.
ABC COMEDY SATURDAY SPECIAL: ARCHIE /
THE ARCHIE SITUATION COMEDY VARIETY SHOW
ABC ordered a 60 minute pilot based on the popular comic book cutups from Riverdale High who had already proved massively popular on Saturday mornings and on the pop charts at the start of the decade. David Caruso was originally cast as Archie but he was replaced at the last minute by Dennis Bowen.
Now that those cartoon viewers from 1970 were a few years older, were they ready for a live action primetime Archie? ABC hate the pilot so they ordered a second TV movie with largely the same cast, this time produced by James Komack (Welcome Back Kotter). It failed to make the grade as well.

PROJECT UFO
If anyone could make UFOs boring it was Jack Webb (Dragnet) who based the plots on Air Force 'Project Blue Book' cases. Lasted two half seasons.

DR. STRANGE
Universal sold Dr. Strange as a telefilm to CBS in 1978, about a psychiatrist (Peter Hooten) chosen by the dying Ancient One to take on his mystical powers. Directed and written by Philip DeGuere; this time Marvel Comic's Stan Lee was brought on as a consultant and the result at least had the flavor of the comic book character. In fact, so many people have commented, after the release of the big budget motion picture, that they liked this film a lot, I may have to give it another look. A series was not picked up.
Marvel also helped develop a five episode series 'bible' for Lady Lightning, a Wonder Woman type program that never made it into production.

CAPTAIN AMERICA
CBS ordered a pilot film for possible mid-season replacement (hey, it worked for Batman in 1966). Oh boy, was this awful from start to finish! I mean, what a pathetic stinker the pilot was, just watch as that light-weight, plastic shield knocks out the bad guy.
LEGENDS OF THE SUPERHEROES
Hannah-Barbera produced two God-awful 1 hour 'comedy' specials featuring three principals from the cast of ABC's Batman (Adam West, Burt Ward & Frank Gorshin back in their tights) along with a multitude of other DC characters. The first special was a Challenge between the Justice League and their colorful adversaries, the second was similar to the Dean Martin Roasts where the heroes and villains insulted one another from a dais.
RETURN OF CAPTAIN NEMO
Irwin Allen (Voyage to the Bottom of the Sea) was set to return to primetime with another undersea adventure. The dreadfully bad two-hour pilot, even by Irwin Allen standards, aired on CBS starring Jose Ferrer as the famous seafarer.
The convoluted plot involved the discovery of the Nautilus, imprisoned by President Ulysses S Grant a century earlier, with Captain Nemo inside held in suspended animation. (Historically, Grant was a very powerful President you see!)
After defeating a super villain played by Burgess Meredith in the pilot, the series would have followed Nemo's adventures searching for the lost city of Atlantis. The show was originally scheduled to open Wednesday nights in the fall, followed by Spiderman, but ultimately Nemo never found his way to primetime.
I ROBOT
Harlan Ellison penned a script for this proposed TV movie but after Star Wars blew up the studio pressed the writer to make the robots more like R2D2. I'm sure that didn't go over very well with Ellison!
THE SHAPE OF THINGS TO COME
H. G. Well's classic was not only a video effects laden TV-movie starring Jack Palance and Carol Lynley but a weekly series was proposed as well.
STAR WORLDS
ABC and Universal announced production on a new series called Star Worlds (wonder where they got the idea for that title?) but the name was changed to Galactica, then Battlestar Galactica. That name change was prompted by a plagiarism lawsuit brought by 20th Century Fox, the studio that distributed Star Wars. The suit was dropped after George Lucas got a look at the early Battlestar Galactica footage, he was mainly concerned that the characters in the TV show not be similar to his creations - and that the title not be so close to his.
THE HUMANOID
Richard Kiel starred in this cheezy telefilm; the score for this film was by Ennio Morricone.
THE CLONE MASTER
The Clone Master was a pilot for a Universal anthology series produced and written by John D. F. Black (Star Trek) and starring Mel Ferrer as a man with 13 clones that he can inhabit at will, all spread out around the world. It was a blatant ripoff of the Wally Wood Thunder Agents character Nomad to me.
TIME TRAIN
Like the Time Tunnel except anyone can buy a ticket to the past. Never got past a script, if that.
---
OTHER 1978 PROJECTS:
William F. Nolan's Space For Hire was optioned as a sci-fi TV comedy.
War of the Worlds was announced as a possible series in 1978.
Universal announced a Mandrake the Magician pilot was in pre-production; it was broadcast in 1979.
Dr. Frankenstein was someone's idea for a good TV series.
The Reluctant Vampire about the obvious.
The Martian Chronicles was announced as a possible telefilm, it got made as a mini-series in 1980.
...and that takes us until the beginning of 1979 which gave us Flash Gordon on Saturday mornings and Battlestar Galactica on Sunday nights, among others.
---
Hit Shows of the Seventies: Hitchhiker's Guide to the Galaxy / Gene Roddenberry in the 1970s / 1977-1978 Superhero & Science Fiction TV Shows / Funniest SNL Skit Ever! / Prisoner: Cell Block H / Why John Amos Left Good Times / Reviving Match Game / How Betty White's 'Happy Hommaker' Came About / TV Dads Talk Sex & Fatherhood / Angie Dickinson Blows Off This Is Your Life / Rare Audio of Bette Davis' Broadway Bound Flop 'Miss Moffat' / Orson Welles' Last Interview / Remembering Ed Asner / Bruce Vilanch on Writing for Donny & Marie / Writing For Fernwood 2 Night / Kris Kristofferson vs Barbra Streisand on A Star Is Born? Kinda... / Remembering Gavin MacLeod / Cher Reviews Her Iconic Outfits Since 1965 / Best Columbo Episodes / Star Maidens Sci-Fi Series / Interview with Cindy Williams (Lavern & Shirley) / One of the Most Controversial Episodes of All In The Family / Outside Chance / Norman Mailer & Muhammad Ali / Charles Nelson Reilly Flops on Broadway / Chuck Norris vs Eva Gabor / Dear Detective / Dirty Sally / The Protectors / Chevy Chase Talks Hollywood Cocaine Parties / 1977 Season Show Openings / Love Boat's Oscar Winning Guest Stars / Henry Fonda's 4 Favorite Films / Tom Snyder Interviews Star Trek Cast & Harlan Ellison / Tim Conway's 'The Dentist' Sketch / Henry Winkler on His Happy Days Audition / Patrick Duffy of Dallas Interview / Time Express / Wonder Woman Leaves Paradise Island / 1972-73 TV Season / George Burns on the Carson Tonight Show in 1989 / Best Season of Dallas Ever? / Cloris Leachman Remembered / Ken Berry Interview / Why Barney Miller Ended / Vivian Vance Almost Joined the Cast of Rhoda / Marilu Henner Talks About Andy Kaufman / Cher on Mike Douglas 1979 / TV Show Book Tie-Ins / 1972 Jackie Robinson Interview / Dr. Strange 1978 TV Movie / Kathy Garver Interview / Space: 1999 / Paint Along with Nancy Kominsky / Mary Kay Place Albums of the 1970s / The Supremes - Mary Wilson vs Diana Ross / When Bruce Dern Killed John Wayne / 1974 Tom Snyder Our Gang Special / Remembering Ken Berry / Bruce / Caitllyn Jenner? / Billy Crash Craddock Interview / Melissa McCarthy Almost Quit Acting Days Before Landing Gilmore Girls / Bar Rescue's Wildest Customers! / How The Golden Girls and Elvis Got Tarantino's Reservoir Dogs Made / TV HITS - By the Numbers / Alex Baldwin On His TV and Film Roles / Ray Charles' BIG Problem With TV / Top Ten Sitcoms of the 1970s / Fashion on TV / James Cameron Made No Money for Titanic / John Goodman Breaks Down His Iconic Roles / Growing Up In The Playboy Mansion / Ed McMahon Drunk on the Air! / Lucy Interviewed by Barbara Walters / Valerie Harper Cancer / Jeff Bridges Breaks Down His Iconic Roles / Dog Fight! The KCNC Scandal / Dallas vs Eight is Enough / 1974 MAD Magazine TV Special - Never Aired! / Iconic M*A*S*H Restaurant Coming To Kroger? / When Lucy Got Fired / Partridge Family and Brady Bunch at Kings Island theme park 1972-73 / Awkward Talk Show Moments / Allan Blye Interview / Jack Benny's Last Tonight Show 1974 / Patricia Heaton's Audition for Everybody Loves Raymond / Luke Perry's Last Role / Johnny Cash's Last Interview / Judy Garland's Last Film / Who Was Bob Gordon? / Richard Dreyfuss vs Bill Murray / Jeff Ross vs Everybody / Tennessee Williams 1972 Interview / Ed Asner Interview / Norm Macdonald vs OJ Simpson / Tony Kornheiser Interview / Freddy's Nightmares TV Series / Emmy Award Multiple Winners / Nathaniel Taylor aka Rollo Lawson / Mary Kay Place Albums of the 1970s / That Girl & TV's Single Working Women / Can You Identify These Stars? / Betty White vs Joan Rivers / Paul Lynde's Greatest Hollywood Squares Zingers / Sonny Comedy Revue / Star Trek Animated / Dark Shadows / Hal Linden Interview / Dark Shadows Movies / Dark Shadows Novels / The Night Stalker / One of the Funniest Carol Burnett Show Skits Ever / Fred 'The Hammer' Williamson / Johnny Carson interviews Lucille Ball / Dawn Wells / Betty White : An Appreciation / Bette Davis' 2 Best Interviews 1971 / Barbara Eden Interview / Gavin McLeod / Spider-Man 77 / The Next Step Beyond / The Music Dark Shadows / 1970 TV Shows / Mike Connors Remembered / Mike Wallace, Virginia Graham & Jim Longworth / Dick Clark / Woody Allen Hosts Tonight Show 1971 / Carson Tonight Show / Alan Alda Interview / Jackie Gleason Show / 1973 TV Shows / Thriller / Post Modern Sitcoms / Elvis in Greensboro / Remembering Dick Van Patten / TV Dating Shows / The Jacksons TV Show / Fall Previews of the 70s / Lance Link, Secret Chimp / Star Wars Holiday Special / Alias Smith and Jones / 1977 Year in Review / Top Ten 1970-76 / The Rockford Files / All in the Family / Sam Hall (Dark Shadows) Interview / Actor Ed Nelson / Death of Archie / Battlestar Galactica / Wonder Woman / Network Jingles / Class of '74 / Happy Days / Good Times / Mr. Bill / Dinah! / Maude / Doris Day Show / Pamelyn Ferdin Interview / The Bicentennial Minute / Jingles & Catch Phrases of the 1970s / Early Cable TV 1970s / TV commercials for Women / TV Moms / Country Music TV Shows of the 1960s & 1970s / Betty White Show / Ron Palillo / Shirley Jones Interview / Tom Bosley / Rodney Dangerfield / How Sanford & Son Ended / Sanford & Son Spin-Off Grady / Great Memoirs / Virginia Graham Show / The "N" Word on TV / 10 Classic Comedy Routines You Have To Laugh At Before You Die / Hollywood Squares / 1970's Teen Idols & The Hudson Brothers / TV Stars with 3 Hit Shows / The Rookies / Unsold Pilots / Jackie Cooper / The Good Guys / Match Game / Make Room For Granddaddy / Mannix & Gail Fisher / Bette Midler in the 1970s / Bonus 1970's Stuff: Silent Star Marion Mack / Biff Burger / 1970s Fast Food Chains / Latin Casino / Beverly Hills Supper Club Fire / 1970's Daytime Talk Shows / The Fess Parker Show / Brady Bunch Sex Dungeon? / Love, Loss & What I Watched