'TVparty is hands down the best site on the Web for classic TV.'
- Discovery Channel
Past TV Blog Entries: RESCUE KITTY GOES NUTS! /Filthy Rich / Police Squad / Christmas Blog / Lost Christmas Specials of the 50s & 60s / 1970 TV Shows / Strother Martin / Joya Sherrill / Super Circus / 1950's The Big Show / Saturday Morning TV Memories / Hilarious Outtakes / The Smothers Brothers Revisited/Thanksgiving TV Shows / Thanksgiving Day Parade TV History / Thanksgiving TV Cartoon Specials of the 1970s /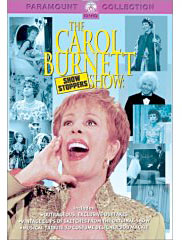 ShoutFactoryStore
Classic TV
shows on DVD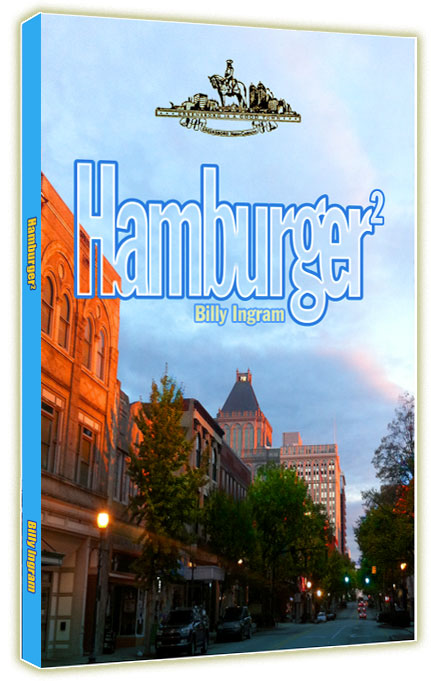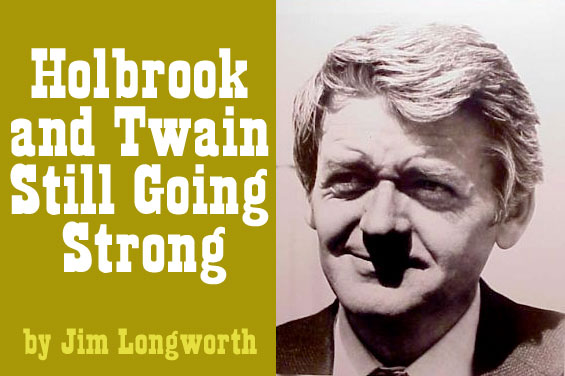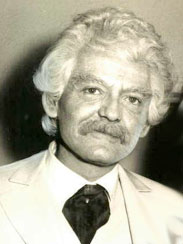 I usually devote my weekly columns to complaining about social injustice, and poking fun at greedy industrialists and demagogic politicians. This week, however, my column is about two men who do a much better job of it than I. Hal Holbrook and Mark Twain.

I called Hal a few days ago to talk about his iconic, Tony and EMMY award winning, one man show "Mark Twain Tonight", in advance of his appearance at the Carolina Theatre in Greensboro on September 28. I had met Hal's late wife Dixie Carter (Designing Women) back in November of 2000 when I produced and moderated an event for the Academy of Television Arts & Sciences. She was a delight to work with and a great conversationalist. I recall her telling me how important reading was to her growing up, so I asked Hal if he read any Twain as a boy.

"I didn't know anything about Mark Twain at all. He was a total stranger to me. But I do remember reading the Rover Boy books. You could call them corny, but they must have implanted something in me that gave me the kind of drive and work ethic that I began to develop through my life because I had no family, and I had to develop stuff on my own. I think reading those books gave me a sense of purpose".

Holbrook's parents abandoned him at age 2, and he lived with his Grandfather until age 12, then spent time in boarding schools. That sense of purpose would serve him well in those years and beyond, including during his early acting career.

Hal and his first wife Ruby had developed a two person stage show in their senior year at college. Then, one day their drama teacher and biggest supporter, Ed Wright, had a fortuitous meeting with the couple's future employer.

"He ran into this man from the Southern School Assemblies company, who was looking for actors to perform educational plays. Ed told the guy that Ruby and I did scenes from Shakespeare, Hamlet, and Mark Twain"

The Holbrooks got the job, and soon found themselves touring a variety of venues.

"The first time we performed a Twain number was in the suicide ward of the Chillicothe insane asylum, and the next time we did it was for the Kiwanis in Newark, Ohio".

Jim: What was the difference between the Kiwanis and the asylum patients?
Hal: Well, we didn't know which ones were nuts.

Before long, Ruby became pregnant, and it was up to Rover Boy Hal to find a way to support his family.

"We had $200 dollars in the bank, and I had to earn a living. I walked miles and miles throughout New York looking for work, but nobody would speak to me. We had no family who could help us out, and I was desperate".

Eventually Holbrook got a meeting with an agent named Jim Pond who suggested that the young thespian do a solo act.

"You mean do Twain?" Hal asked Pond. "Yeah", replied the agent, "I think you could get bookings".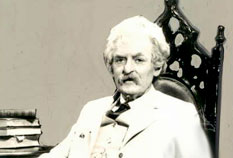 The rest is history. Hal took "Mark Twain Tonight" on the road, and later he recorded an LP version. Then, in 1967, CBS broadcast the one man show, and millions of Americans became enamored with Holbrook's take on the famous author and humorist. In January, Hal will celebrate 60 years of doing Twain, so I asked him if he was better at it now than 60 years ago.

"Yes I am, for a number of reasons. The material that I have in my show now is much truer to the heart of Mark Twain and the intellectual development of the man, because as he got older, he got wiser".

I also wanted to know if Hal ever changed the material from one performance to the next, or from town to town.

"I change it all the time. I've just developed two new numbers. One I introduced this past week in Nashville, and it's on the Bible...there's a great deal of hypocrisy going on in religious circles today, no matter whether it's Christian or anything else. The other new number I might debut in Greensboro, is about the rich and the poor in our country".

And while the new topic will no doubt contain a humorous slant, Holbrook, like the man he portrays, is concerned about the condition of man.

"What's more important in this democracy, that somebody should become a billionaire at the expense of others? or, that people who run things should make sure that the people of the United States have work and can feed their families? Anybody who tells me that sending two or three million jobs abroad is not crippling the common folk, then I can't credit them with a fair intelligence."

Those words sound like Twain's, but they are vintage Holbrook. Speaking of which, I asked the 88 year old actor if he thinks he might actually be Mark Twain reincarnated.

"Oh for God's sakes no! That's a lot of movie magazine nonsense. I'm an actor, I'm not Mark Twain. I mean, if an actor starts thinking he's Lincoln, he's dead"

Jim: Literally.
Hal: Well, yeah ! You can't live like the character you play, or else you turn into a nut.

Even so, I'm glad that Hal occupies Twain's character on stage because his performances are always memorable. My favorite line ever? It has to be the one about cold remedies. Says Hal as Twain, "I arrived in San Francisco with a very bad cold. A lady at the hotel advised me to drink a quart of whiskey every 24 hours. And another friend recommended exactly the same thing. That made a half a gallon".


Tickets are still available for "Mark Twain Tonight" by calling (336) 333-2605, or online at www.carolinatheatre.com

---
Jim Longworth is a television talk show host, columnist for YESWeekly, and author of the TV Creators series of books for Syracuse University Press
Hit Shows of the Seventies: Hitchhiker's Guide to the Galaxy / Gene Roddenberry in the 1970s / 1977-1978 Superhero & Science Fiction TV Shows / Patrick Duffy of Dallas Interview / Best Season of Dallas Ever? / Ken Berry Interview / TV Show Book Tie-Ins / Kathy Garver Interview / Mary Kay Place Albums of the 1970s / Bruce / Caitllyn Jenner? / Bill Cosby - WTF?!? / Ed Asner Interview / Emmy Award Multiple Winners / Mary Kay Place Albums of the 1970s / That Girl & TV's Single Working Women / Star Trek Animated / Dark Shadows / Dark Shadows Movies / Dark Shadows Novels / Fred 'The Hammer' Williamson / Dawn Wells / Betty White : An Appreciation / Gavin McLeod / The Next Step Beyond / The Music Dark Shadows / 1970 TV Shows / Mike Connors Remembered / Mike Wallace, Virginia Graham & Jim Longworth / Dick Clark / Carson Tonight Show / Jackie Gleason Show / 1973 TV Shows / Thriller / Post Modern Sitcoms / Elvis in Greensboro / Remembering Dick Van Patten / TV Dating Shows / The Jacksons TV Show / Fall Previews of the 70s / Lance Link, Secret Chimp / Star Wars Holiday Special / Alias Smith and Jones / 1977 Year in Review / Top Ten 1970-76 / The Rockford Files / All in the Family / Sam Hall (Dark Shadows) Interview / Actor Ed Nelson / Death of Archie / Battlestar Galactica / Wonder Woman / Network Jingles / Class of '74 / Happy Days / Good Times / Mr. Bill / Dinah! / Maude / Doris Day Show / Pamelyn Ferdin Interview / The Bicentennial Minute / Jingles & Catch Phrases of the 1970s / Early Cable TV 1970s / TV commercials for Women / TV Moms / Red Skelton / George Lindsay / Country Music TV Shows of the 1960s & 1970s / Betty White Show / / Tom Bosley / Rodney Dangerfield / How Sanford & Son Ended / Sanford & Son Spin-Off Grady / Great Memoirs / Virginia Graham Show / The "N" Word on TV / 10 Classic Comedy Routines You Have To Laugh At Before You Die / Hollywood Squares / 1970's Teen Idols & The Hudson Brothers / TV Stars with 3 Hit Shows / The Rookies / Unsold Pilots / Jackie Cooper / The Good Guys / Match Game / Make Room For Granddaddy / Mannix & Gail Fisher / Bette Midler in the 1970s / Bonus 1970's Stuff: Silent Star Marion Mack / Biff Burger / 1970s Fast Food Chains / Latin Casino / Beverly Hills Supper Club Fire / 1970's Daytime Talk Shows / The Fess Parker Show / Love, Loss & What I Watched
Amazon Prime - unlimited streaming
of your fave TV shows and movies!
Get your FREE 30 Day Trial!
PR4 & PR5 Pages for Advertising