QUICK HITS
Here's a fantastic destination for classic TV lovers - The Museum of Classic Chicago Television at www.FuzzyMemories.TV has clips from the rarest broadcasts. Lots of network bumpers, which I really love, and you can access some nostagic Christmas bumpers like excerpts from the 1975 broadcast of A Charlie Brown Christmas. Sublime!

2011 marks the 45th anniversary of The Yule Log, it debuted on WPIX in 1966.

Boy was I disappointed in The Walking Dead this season. Having the budget cut in half really made a difference.
Frivolous suit of the month - an anonymous actress is suing the IMDB movie website for revealing her age as 40. Hey, it's not the website's fault Hollywood is the worst player when it comes to age discrimination.
Wednesday, November 30, 2011 - 11:20am
WOULD YOU LIKE TO RESPOND?
SOON IT WILL BE...
I posted this a couple of years ago, it's sweet, sick and funny - Steve Martin & Paul Simon performing 'Silver Bells ' in rehearsal for a 1970's Saturday Night Live sketch.
Gosh I miss the 1970s (I never thought I'd say that!) during the Holidays. I guess because that was the last time my older relatives, Grandmother and aunts, were alive.
Remember the Norelco Santa? I can't remember a time growing up when these commercials didn't air, I especially remember seeing them on Sunday afternoons in the 1960s & 1970s.
Tuesday, November 29, 2011 - 11:29am
WOULD YOU LIKE TO RESPOND?
CHRISTMAS REMINDS ME OF...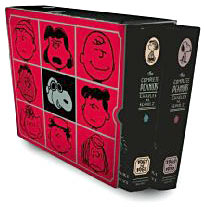 One of my favorite Christmas gifts was a hardback book reprinting a wide range of Peanuts strips from different eras. I still have it, it's practically memorized, I was about 10 I guess.
In that spirit this is a great gift for someone - this wonderful book reprints all of the Peanuts strips from 1967-1970, some consider these to be Schultz' best years. This award-wining series of books is top quality in every way, a very handsome volume, something you can pick up every once in a while and enjoy.
From the product description: With intros by John Waters and Mo Willems! The Complete Peanuts 1967-1968 is a particularly Snoopy-heavy collection. In addition to seeing the beagle adopt multiple personas, this volume also sees the appearance of what would be Schultz' most controversial major character: Franklin. In Charles Schultz' The Complete Peanuts 1969-1970, Woodstock makes his first appearance, Snoopy is left in the Van Pelt family's care as the Browns vacation... and the Little Red-Haired Girl moves away.
And it's only $31.50 with free shipping if you order now from Amazon. Think of the gas money alone you'll save by not having to go to the bookstore (that won't have it in stock anyway). If you have any unique gift suggestions that have worked for you, let me know - and I'll try to find some other nifty gift ideas before the big day.
Sunday, November 27, 2011 - 11:33am
WOULD YOU LIKE TO RESPOND?
HOLIDAY MARATHON
The Me-TV network - which I wish I got - is running a slate of classic Christmas cartoons Thursday and Friday sure to spark your holiday spirit.
Me-TV Merry-Thon schedule listing:
Thursday, November 24
5AM / 4C: Casper's Haunted Christmas
7AM / 6C: The Legend of Frosty
8:30AM / 7:30C: The First Snow of Winter
9AM / 8C: A Snow White Christmas
Friday, November 25
5AM / 4C: He-Man and She-Ra: A Christmas Special
6AM / 5C: Second Star to the Left
6:30AM / 5:30C: Poky Little Puppy's First Christmas
7AM / 6C: The Forgotten Toys
7:30AM / 6:30C: Santa's Last Christmas
8AM / 7C: Cricket on the Hearth
9AM / 8C: The Little Drummer Boy
9:30AM / 8:30C: The Fat Albert Christmas Special
10AM / 9C: Mister Magoo's Christmas Carol
All times Eastern http://www.metvnetwork.com/metvmerrython.php
Wednesday, November 23, 2011 - 11:03am
WOULD YOU LIKE TO RESPOND?
THIS 'N' THAT
Arrested Development is back in production for new episodes that will go direct to Netflix.
Former Charlotte mayor and future NC governor Pat McCrory: "You can't allow the people to take over."
Super2sister sends this video link with this description: Prior to embarking on an ongoing hiatis in the summer of 2010, acclaimed Lounge/Ambient/Alternative band, The Shangs were working up material for a 3rd long-form CD release entitled, "Whatever Happened to Carol Wayne?". This title track survives only as a demo but despite some sonic shortcomings stands as one of the band's crowning achievements both as songwriters and stylistic innovators. The song written by principal singer David Byers (a founding member of Canada's cult Proto-Punk/Psych heros, Simply Saucer) and inspired by a comment by fellow "Shang", Pat O'Neill, it explores the long forgotten, yet tragic death of beloved 60's and 70's actress and comedian, Carol Wayne, who's untimely demise off a Mexician resort shoreline is still rife with speculation as alluded in this beautiful, haunting song. This video is dedicated to the memory of a performer who made millions smile and, if briefly, made the darkness of the world ebb through her performances, Miss Carol Wayne...
So true: This incident holds an important lesson for anyone who loves our freedoms: When something public is made private, our liberties are privatized too. And privatized liberty isn't liberty at all. Just another reminder that the revolution will not be live streamed.

Here's the guest list for The Steel City Con Toy Comic & Pop Culture Convention running DEC 2-4, 2011 at THE MONROEVILLE CONVENTION CENTER in Pittsburgh. Sounds like fun! HENRY WINKLER, MARGOT KIDDER, LINDA BLAIR, DOUG JONES, ERIKA ELENIAK, BONNIE PIESSE, MARK DODSON and "HACKSAW" JIM DUGGAN.
This is funny: 11 Sounds That Your Kids Have Probably Never Heard.
Saturday, November 19, 2011 - 8:03am
WOULD YOU LIKE TO RESPOND?
THE NATALIE WOOD MYSTERY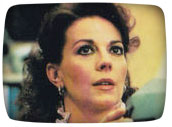 I heard people talking about Natalie Wood's death today - of course I wasn't there and don't know for sure but I was working in the motion picture business in Beverly Hills when she was killed- the rumor that made it's way around town, very quickly, was that Natalie and Christopher Walken were having an affair, that this had become common knowledge on the set of the movie they were filming at the time in North Carolina, Brainstorm.
The film moved on to Los Angeles where Robert Wagner was filming Hart To Hart. Wagner or Wood invited Walken over for dinner & drinks in Catalina on their yacht. They were all drinking heavily and on drugs when the affair came out in the open. A shouting match or fight broke out. Natalie, in an attempt to get into a dingy and flee the confrontation, slipped and fell to her death.
Brainstorm could have been a strong sci-fi thriller but Natalie Wood died before all of her key scenes were filmed. The Insurance company forced the producers to finish the film without her and the result was messy.
Friday, November 18, 2011 - 11:32am
WOULD YOU LIKE TO RESPOND?
WHAT ELSE I'M WATCHING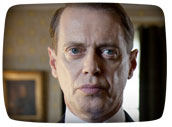 I recently wrote up the shows I'm enjoying this year, just in case we might have similar tastes. I left out Boardwalk Empire from Martin Scorsese and The Soprano's Terrence Winters. This series is deeply compelling, the attention to detail in recreating Prohibition era Atlantic City is astonishing. Did you know the first episode, directed by Martin Scorsese for $18 million, was the most expensive pilot episode produced in television history? This show starring Steve Buscemi will return next year for a third term. Overall I would say Boardwalk Empire is not quite as entertaining as The Sopranos, it lacks that show's comic edge, but it's immersive with the top directors and one of the best casts working, many vets of that aforementioned series.

Nurse Jackie is another winner, I would say this show IS as entertaining as The Sopranos with the wittiest scripts you'll find anywhere, twist and turns that keep the characters forever mired in escalating intrigue. And The Soprano's Father Intentolla (Paul Schulze) plays star Edie Falco's illicit love interest. If you'll recall Carmela Soprano almost had an affair with the good father. Another perfect cast.

Shameless is a remake of an acclaimed British series that I haven't seen but if it's better than the American version I don't see how. This jaw dropping comedy drama stars William H. Macy as Frank the Plank, drunken loutish father to a house full of unsupervised kids of all ages. If you haven't seen what an outrageous mess Macy's character is, you're missing out. It's the proverbial car crash. A new season of Shameless begins January 8 on Showtime.
Started watching season 4 of Sons of Anarchy this weekend and it's awesome. Looks like I gave up too soon on that one. Who knew Katey Segal would be such an incredible actress? When people talk about actors being typecast think of this lady - she was as cartoon as you could get for a decade as Peg Bundy but she moved into drama without a hitch. Did you know she started out her career as one of Bette Midler's Harlettes?
Watched the first outing of Homeland and I can't wait to see the rest. I'm starting to watch USA's Covert Affairs since I like Burn Notice a lot. Louie with Louis C.K. is my absolute favorite, I've touched on that before.
Tuesday, November 15, 2011 - 8:16am
WOULD YOU LIKE TO RESPOND?
BACK TO THE 60s
I'm crazy about the Smothers Brothers, a way under-appreciated, innovative musical comedy duo. Their variety series in the 1960s was loads of fun, as were the other programs they hosted in the 1970s and late-1980s. Let's look at some highlights.
Liberace was hilarious as a guest on the 1960's series - paired here with Bob Einstein as Officer Judy. Einstein is a regular on Curb Your Enthusiasm these days and is famous as well as comic stuntman Super Dave Osborne.
Ventriloquist Jay Johnson relates a very funny story of Shari Lewis' appearance on the Smothers' program.
Monday, November 14, 2011 - 11:06am
WOULD YOU LIKE TO RESPOND?
BORN EVERY MINUTE
Have you ever gone to one of those Liquidation sales that come to town a couple of times a year, usually around Christmas? I was just at lunch and a guy the next table over started talking to me, he had just come from one of the events and was disgusted at what he saw. A room full of broken, cheap garbage.
For weeks these sleazeballs blanket the airwaves with what spectacular deals you'll be privy to if you attend their sale held in some enormous venue. They advertise $5 iPods, $15 cameras, and $10 iPhones - rock, rock bottom prices on all manner of cool stuff. When you get there you see table after table of junk, no deals on anything you would want. Old car stereos, CD players, junk, not a single thing that was advertised. Not one.
They aren't there to make money, at least not on sales, they're making their cash by fleecing the rubes who pay $10 at the door to get in. And $5.00 parking. It's not a sale, it's a show where the only lines the vendors need to know is, "We're sold out." Sold out of everything anyone would want or need. And then next weekend they venture on to the next town, thousands of dollars richer. I attended one of these in LA twenty years ago and another in Greensboro, that convinced me this is a scam. The only question I have is - how do they get away with it? I mention this in case you didn't know.
Saturday, November 12, 2011 - 11:56am
WOULD YOU LIKE TO RESPOND?
WHAT I'M WATCHING THIS SEASON
I love watching Kitchen Nightmares, the last being a two-parter centering on Burger Kitchen which operates in a space I'm vaguely familiar with, on 3rd Street & Crescent Heights in West LA. I worked not far from that space for years, it was a different business then (I forget what). I know they do the occasional revisit but I always wonder overall how successful the businesses are after Chef Ramsay leaves. I imagine there is an initial boost as locals come to see the people they saw on TV last week. Some of those makeovers look cheap and shoddy, just good enough to photograph well. Here's a link to a story about Burger Kitchen, apparently they used the buzz from 2 weeks of TV shows to merge with an established LA eatery.

Another show I'm enjoying this year is Two and a Half Men, largely because Ashton Kutcher is so darn likable. They managed to create a character that slid into that runaway train, effortlessly steering it to the right track. Angus T. Jones really steps up to the plate this year although Conchata Ferrell as Berta seems a bit lost with the shuffle. The writers managed to keep the show as good or better than it was last season, a bit off from the peak years but still delivering the laughs.

Speaking of funny, season 2 of Hot in Cleveland is out on DVD and it's really wonderful. This sitcom is the closest thing to the old school comedies I loved growing up. There are so many reasons to love this show, not the least of which is that it's clever.
The casting is one of stellar aspects of the production with classic TV stars turning up in guest starring roles. Mary Tyler Moore shows up on the season opener, Bonnie Franklin (Valerie Bertinelli's former co-star), Carl Reiner as Betty White's boyfriend, Gregory Harrison, George Wendt, John Schneider, Steve Lawrence, - it's so much fun to see these stars in action again. Doris Roberts, Amy Sedaris, Jennifer Love Hewitt, Cedric The Entertainer, John Mahoney and Susan Lucci (in a very funny two-parter) also appear this season. Buck Henry joins the cast toward the end of the season as Betty White's fiancee, how exciting to watch Buck and Carl Reiner together. The season finale had a plethora of familiar faces including Don Rickles as Elka's dead husband. Sublime, as is regular Wayne Knight who's just as fresh here as he was on Seinfeld and 3rd Rock.
This DVD collection from TV Land contains 20 hilarious episodes along with a behind-the-scenes documentary, interviews and a visit to Cleveland by the cast.

I recently discovered Leverage starring Timothy Hutton, it's a gripping, action drama along the lines of The A-Team. That show will be starting a fifth season on TNT November 27th. Great cast, ingenious storylines and always a kick-ass fight scene. Not a weak link in this chain.
After devouring that series I started watching Kidnapped, Hutton's 12 episode series before Leverage. It's like the movie Taken stretched to absurd lengths but it's dark and very effective, at least in the first 5 episodes I've seen.

The Walking Dead is on my viewing list, it continues to surprise but I worry about it's staying power. New episodes end this month before the series returns to AMC in February.
Tosh.0 gets me every time, I wanted to hate that show because I never cared for Daniel Tosh's standup but he's really grown on me. Good thing because the clips are getting harder to acquire judging from the number of skits every week.
As far as I can recall that's the extent of my modern TV watching. Gave up on The Closer, The Mentalist, Sons of Anarchy, and Dexter but I'm thinking about dipping back in after hearing (some) good things.
Saturday, November 12, 2011 - 10:06am
WOULD YOU LIKE TO RESPOND?

Read more CLASSIC TV Blog entries here!