TV NEWS
The pilot for the new Dallas coming next summer has been shot and production is underway for the remaining 9 episodes ordered by TNT. I'm looking forward to seeing it, knowing full well of course that retreads almost never work. I'm trying right now to think of a TV show remake that was as good or better than the original. Battlestar Galactica comes to mind but that's it. Even when a British show is remade here usually the original is best.
Speaking of remakes, CBS wants a reboot of The Rifleman starring Chris Columbus in the role made famous by Chuck Connors. At least the producers of Justified essentially remade The Rifleman but made it original. C'mon guys!
Andy Williams has cancer but he hopes for a full recovery to be back with his Christmas show in Branson next year. Let's hope so. Williams is one of the last of that generation of entertainers and he's one of the best pop crooners of all time. As original and as popular for a time as Dean Martin & Frank Sinatra.
The Closer is wrapping up but most of the supporting cast will be back next year with a new drama Major Crimes, picking up where they leave off after Kyra Sedgwick and Corey Reynolds leave for other projects. I like that cast so I'll give it a try even though I've mostly lost interest in The Closer.
House may be evicted after this term, we'll know soon.
Wednesday, November 9, 2011 - 11:56am
WOULD YOU LIKE TO RESPOND?
HE'S DONE IT AGAIN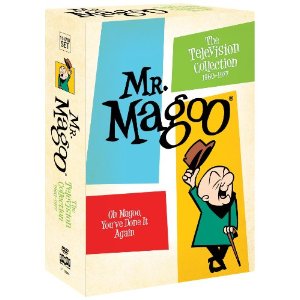 SHOUT! Factory has just released Mr. Magoo The Television Collection 1960-1977 which collects all of Magoo's various animated series starting with the first in 1960. There are many extras, a featurette and commentaries from noted cartoon historians. It doesn't contain the Christmas special which has been available for some time, that being one of the tastiest holiday treats television ever offered.
Saturday, November 5, 2011 - 11:10am
WOULD YOU LIKE TO RESPOND?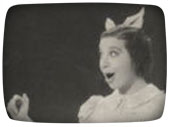 FANNY
Funny Girl is returning to Broadway. I wonder how well it will do, if Fanny Brice can be seen as relevant.
That old gal Fanny Brice had a hell of a career on the Vaudeville stage and later with two decades on radio as Baby Snooks. I never thought the Snooks show was very funny but then I've only sampled an episode or two. Most of the old radio programs are hopelessly dated - although Amos 'n' Andy, Jack Benny, Burns & Allen and a handful of others stand the test of time.
Fanny had hit records as well, 'My Man' and 'Second Hand Rose' being the first of many. She died in 1951 before she could conquer TV. She appeared on the very small screen only once, as Baby Snooks. She came to realize that Snooks wouldn't translare well into the new medium. A kinescope exists.
Here are Fanny Brice (doing her exagerated Yiddish accent) and Jack Benny in a 1938 radio skit that goes off the rails very quickly.
Saturday, November 5, 2011 - 10:00am
WOULD YOU LIKE TO RESPOND?
LITTLE RASCALS
Here's my favorite silent Our Gang comedy, 'Sundown Limited,' it's also one of the first. It's a joy to watch with the superb 1924 cast that included a very young Joe Cobb, Mary Kornman, Mickey Daniels, Ernie "Sunshine Sammy" Morrison, and Allen "Farina" Hoskins. These phenomenal child actors continued on in the early sound shorts starting in 1928 but were gone by 1931 when three year old Spanky made his debut.
Dig the Los Angeles area as it whizzes by, bucolic and so spread out. It wouldn't be long before the region exploded in growth. Someone has posted a video tribute to Baby Spanky with photos and choice clips from many of the best shorts.
Wednesday, November 2, 2011 - 10:15am
WOULD YOU LIKE TO RESPOND?
SEEN IN THE NEWS
Hug-A-Gator Business Opens In Florida
Justices to decide if warrant needed to attach a GPS device to a person's car.
Jerry Seinfeld to Guest Co-Host 'Live! With Kelly'
Nazi Reenactor Throws Weight Behind Boehner
Fox And Friends Call Protester Mom 'Filth' For Joining #OWS
I'd link to the stories but what more do you need to know?
Wednesday, November 2, 2011 - 9:55am
WOULD YOU LIKE TO RESPOND?
THE ALVIN SHOW
Kevin S. Butler writes: Tuesday October 4, 1961 marked the 50th anniversary of the debut of "The Alvin Show" on the CBS TV Network. Every wednesday night "David Seville"(The voice of singer/musician/actor /songwriter and mimic Ross Bagdasarian) would try to get his act Alvin & The Chipmunks to perform a song in concert or for a new recording. More often than not Alvin would create a scheme that would create problems for everyone.
Along with the Alvin stories the series would feature a sing a long segment where Alvin and his brothers Simon & Theodore would perform a tune and ask the viewers to join in with them and.
Then there was an extra story that showcased the inventions and mishaps caused by eccentric scientist/inventor Clyde Crashcup (voiced by character actor Shepard Menken) and his assistant Leonardo.
"The Alvin Show" only lasted one season on CBS. It went off the air on Wednesday September 12, 1962 but it remained popular in syndicated reruns into the 1970s.
Nelson Riddle recorded a version of the Alvin Show theme and it's really swinging!
Tuesday, November 1, 2011 - 11:58am
WOULD YOU LIKE TO RESPOND?
FORTY YEARS AGO FUNNY
Let's laugh at some classic game show moments from the 1970s starting with a contestant who has a shocking answer on The Match Game - for the time anyway.
My fave game from the 70s was The New Treasure Hunt, a syndicated nighttime show where contestants could win massive amounts of money and prizes after going through a fakeout and stunts from host Geoff Edwards, possibly the wittiest guy to work in the genre.
Tuesday, November 1, 2011 - 9:20am
WOULD YOU LIKE TO RESPOND?
NEW ON DVD

Jim Benson of TV Time Machine Productions has the scoop on a new DVD release that sounds fantastic, people have been wanting to see this series again for a looooooong time:

The I'm Dickens…He's Fenster Golden Anniversary three-disc set features the first 16 episodes of 32 from the show's only season, and includes the following:

· Sixteen hilarious digitally remastered I'm Dickens…He's Fenster episodes, many of which haven't been seen in 50 years!
· Video features with all-new interviews including stars John Astin (The Addams Family) and Marty Ingels (The Dick Van Dyke Show), Directors Arthur Hiller (The In-Laws, Silver Streak), Norman Abbott (The Munsters), and Creator/Producer Leonard Stern (Get Smart)
· Audio commentaries featuring John Astin and Marty Ingels, Yvonne Craig (Batman), Lee Meriwether (The Time Tunnel), series regular Dave Ketchum (who played "Mel Warshaw"), Chris Korman, son of Harvey Korman (Blazing Saddles, The Carol Burnett Show), and creator/producer Leonard Stern
· I'm Dickens…He's Fenster Get Physical featurette
· Video tribute to the late Leonard Stern, Creator/Producer of I'm Dickens…He's Fenster
· The Joke featurette
· Love Me, Love My Dog featurette
· How Not to Succeed in Business featurette
· I'm Dickens…He's Fenster Commercial Bumpers
· Rare I'm Dickens…He's Fenster ABC TV Network Promo
· Rare I'm Dickens…He's Fenster Cast Commercial
· Thank You slide show video featuring the dozens of people who helped make the 50th Anniversary Collector's Edition a reality
· I'm Dickens…He's Fenster six-page Collector's Booklet
· Three discs in a Collector's Edition Digipak with Slipcase

And for those who purchase the I'm Dickens…He's Fenster Golden Anniversary DVD set through the website at http://dickensandfensterdvd.com, collectors will receive:

· A limited-edition autographed collector's postcard personally signed by one of the stars of I'm Dickens...He's Fenster (John Astin, Marty Ingels, Yvonne Craig, Lee Meriwether, or Dave Ketchum) – limited number available
· Your full name featured in the credits on Volume 2! As a "co-architect" of the I'm Dickens…He's Fenster project, anyone purchasing the I'm Dickens…He's Fenster Volume One DVD set will receive a name credit in a special feature on Volume 2!
· Exclusive members-only online access to rare I'm Dickens …He's Fenster video and audio, interviews, scripts, photos and much, much, more!

I'm Dickens… He's Fenster followed the comic exploits of two construction workers and bosom buddies (played by John Astin and Marty Ingels). The two achieved a rare comic chemistry. "We were like Laurel and Hardy," says Mr.Ingels in one of his interviews on the DVD. John Astin recalls the pratfalls he took during filming. "It was like paying football every week on a losing team," he chuckles.

After producing thirty-two side-splittingly hilarious episodes, and despite critics' raves in The New York Times, The Hollywood Reporter and Time Magazine, the show was prematurely canceled in its first season. By the time its final ratings came in, showing it having beaten Sing Along with Mitch and Route 66 for its time slot, it was too late to reassemble the cast, who had moved on to other projects. The successful and beloved show had become a casualty of timid programming and unlucky timing.
Although short-lived, I'm Dickens… He's Fenster featured an extraordinary roster of guest stars, many of whom made their television debuts on the show including: Yvonne Craig ("Batgirl" from Batman), Harvey Korman (The Carol Burnett Show), Sally Kellerman (M*A*S*H), Peter Lupus (Mission: Impossible), Lee Meriwether (The Time Tunnel), Ellen Burstyn (The Exorcist), Edy Williams (Beyond the Valley of the Dolls), and Jim Nabors (The Andy Griffith Show, Gomer Pyle USMC). The series also featured such directing talent as Arthur Hiller (Love Story, The In-Laws), Jay Sandrich (The Mary Tyler Moore Show, The Golden Girls) , Norman Abbott, (The Munsters), Claudio Guzman (I Dream of Jeannie) and writers Mel Tolkin (Your Show of Shows, All in the Family), Don Hinkley (The Steve Allen Show, The Muppet Show) and Jay Sommers (Green Acres, Ozzie & Harriet).
In addition to being creator, writer, director and producer on I'm Dickens…He's Fenster, Leonard Stern's remarkable career included writing for the Abbott and Costello and Ma and Pa Kettle movies, and the classic TV shows The Honeymooners, Sergeant Bilko and The Steve Allen Show. From 1965-1970, Mr. Stern was executive producer, writer and director on the classic spy spoof Get Smart (starring Don Adams and Barbara Feldon). He also created, produced and directed the TV series He & She (co-starring Richard Benjamin and Paula Prentiss) and McMillan & Wife (starring Rock Hudson and Susan St. James). He also co-created the immensely popular series of children's game books, Mad Libs.
Visit imdickenshesfenster.com for more!
Sunday, October 30, 2011 - 9:20am
WOULD YOU LIKE TO RESPOND?

Read more CLASSIC TV Blog entries here!