HOLIDAY HAPS
Have you heard about the tradition of watching King Kong on Thanksgiving Day? James H. Burns has the story of this weird holiday happening.
James also has a tribute to his old pal, Chris Steinbrunner, the fella who PROGRAMMED WOR's movie shows for years (and was responsible for airing many of the great B-movies and European horror films that they'd screen), authored one of the first histories of fantasy and science fiction movies, produced many shows at Channel 9, was a vice-president with the Mystery Writers of America, won an Edgar-award, wrote jokes for Zacherley (!), contributed to THE JOE FRANKLIN SHOW for decades, helped run conventions (!) and did much, much more!

In Part Three of his Kong tribute there's some lovely material on Fay Wray and the Empire State building today.
There's family time coming up and I can't help but think of The Carol Burnett Show skit where Eunice and her family play Sorry!
Me-TV will have a New Year's Day That Girl marathon starting at 11am to 5 pm EST. That should be fun, That Girl is one of those sitcoms from back in the day that I can still enjoy.
The Burr Tillstrom Copyright Trust released Kukla, Fran and Ollie : The First Episodes Volume Two on Friday, December 16. It is once again being sold through Amazon.com. The last DVD was made from video copies of the kinescopes that Burr had produced before he died. This volume was created directly from the kinescopes. The majority of the shows are from 1949-1954, but the "extras" include some of the 5 minute "Kukla and Ollie" shows Burr did for NBC back in the early 60s. I love love loved the first edition!
I just watched just about every episode of Frazier over Netflix streaming during the last couple of weeks and was thoroughly entertained and laughing out loud all day while I worked.
Friday, December 23, 2011 - 7:36am
WOULD YOU LIKE TO RESPOND?

BONUS RARE PARADE VIDEO
Thanks to Kevin Butler for this - "The Santa Claus Lane Parade" from November, 1960 with appearances by Los Angeles local TV stars Skipper Frank Herman, Chucko The Clown, Sheriff John Rovick, Don Defore, Patty McCormick, "Bozo" (Vance Colvig), Francis X. Bushman and Soupy Sales.
Wednesday, December 21, 2011 - 11:59am
WOULD YOU LIKE TO RESPOND?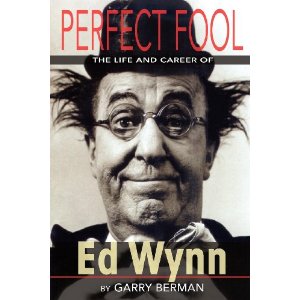 NEW BIOGRAPHY
Woe be it to the biographer that writes about the forgotten genius - and that's just what Garry Berman has done with his new biography, The Perfect Fool: The Life and Career of Ed Wynn.
Light on pretension, long on facts and anecdotes, Berman provides a sweeping look at one of Hollywood's most respected, most talented but least remembered superstars.

In case you don't know this legendary performer, Ed Wynn became known in the radio days as the Texaco Fire Chief, the star of one of radio's most popular variety shows. This after a successful career in Vaudeville. He was as big a star as Bob Hope or Jack Benny during the glory days of audio entertainment but his persona was a lot more loquacious and frenetically bizarre.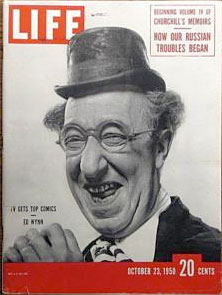 Hence the 'Fool' appellation as opposed to being categorized as a comedian or a clown. They're different things, as evidenced by this LIFE magazine cover from 1950, shot when Ed Wynn was making the transition to the new medium of television. It wasn't until Jim Carey came along decades later that the public embraced such an extreme Fool again.

Wynn had limited success on the small screen at first but quickly and unexpectedly made an unlikely transition to a second career as a dramatic actor. A brilliant one at that, if you ever saw the Twilight Zone episode 'One for the Angels' where a small time salesman is visited by Death and has to get his priorities in order - that was Ed Wynn. In fact, Serling wrote that first season episode especially for the actor. He was also cast as the old man who thinks he'll die if his grandfather clock stops ticking in another Twilight Zone storyline, 'Years Without Slumbering.'

Illustrated with plenty of lively pictures, The Perfect Fool: The Life and Career of Ed Wynn shines a light into the musty forgotten crevices of the entertainment business and the result is a solid, entertaining, and detailed biography of a seminal American entertainer. A time capsule of an earlier form of entertainment, classic TV lovers will enjoy Berman's coverage of Wynn's innovative television productions and will appreciate the breezy tone that makes this book such a satisfying read.
Order here from Amazon! / BearManorMedia.com
Monday, December 19, 2011 - 6:56am
WOULD YOU LIKE TO RESPOND?
HOLIDAY MUSICAL NUMBERS
Bob Hope writer Bob Mills shares this Holiday greeting, a clip from one of Hope's specials featuring The Muppets. The original Muppets!



There were few better Christmas TV variety shows than those starring Johnny Cash. Is there a better version of 'Pretty Paper' than this one by Roy Orbison on Johnny's 1970 Christmas show? (Yeah, there is -- an earlier live version by Roy Orbison.) This isn't on DVD but Johnny's 1978 & 1979 Christmas specials are.
Friday, December 16, 2011 - 6:15am
WOULD YOU LIKE TO RESPOND?
FUNNY SHOW
CBS has aquired the syndication rights to Hot in Cleveland. Let's see, Viacom owns CBS and TV Land... the negotiations must have been brutal! By the way, Betty White scored a Screen Actors Guild Award nomination for Outstanding Performance By A Female Actor in a Comedy Series for her role on Hot in Cleveland. I've been kinda cool to the show this season but this episode, which you can watch free at TVland.com, where the ladies go on a gay cruise with guest stars Laura San Giacomo and Sandra Bernhard was very funny.
I caught an episode of The Exes which follows Cleveland on TV Land and it's clear that lightning is not going to strike twice for the network. They've launched 3 sitcoms to follow Cleveland (that I remember) and they all tanked, all with good reason. It's clear from the pilot for The Exes that the everyone is trying way too hard, the actors and the laugh track are pushing way into the red.
Friday, December 16, 2011 - 6:03am
WOULD YOU LIKE TO RESPOND?
PAST BLAST
Here's a real Holiday oldie - 'Christmas Night in Harlem' by the Paul Whiteman & His Orchestra with the great Johnny Mercer on vocals from the 1920s.
Thursday, December 15, 2011 - 9:23am
WOULD YOU LIKE TO RESPOND?
TV NEWS

Here's a first look at The Dark Knight Rises.
Ed Asner's career is hot again, he's been upgraded to series regular on Hawaii Five-0 and will reunite with former co-stars Betty White and Mary Tyler Moore on Hot in Cleveland. The storyline will run next summer when TV Land will roll out some new episodes. Stunt casting is actually routine on this show, it's one of the perks of watching. Jane Leeves got together with Frasier co-star John Mahoney, Valerie Bertinelli reunited with her One Day at a Time co-star Bonnie Franklin and Wendie Malick does the same with Just Shoot Me! co-star Laura San Giacomo in the December 14 episode.
ION Television has acquired all seven seasons (156 episodes) of the hit crime drama "Cold Case."

AFI has released a list of its top TV series of 2011 and they are: Breaking Bad, Boardwalk Empire, Curb Your Enthusiasm, Game of Thrones, The Good Wife, Homeland, Justified, Louie, Modern Family, and Parks and Recreation.
Tuesday, December 13, 2011 - 10:18am
WOULD YOU LIKE TO RESPOND?
GREAT CONVERSATION ABOUT SHOW BUSINESS IN THE 1970s
The Alberici Sisters, also known as The Rat Pack Golddiggers, had a rousing conversation with Ed Robertson of TV Confidential the other week, here's the audio for you to enjoy.
The interview starts with a portion of the sisters singing in concert and they get a chance to tell some of the amazing stories from the book Beyond Our Wildest Dreams. Stories about the last glory days of Las Vegas and working with show business legends like Dean Martin, Frank Sinatra and Louis Prima to name a few. Ed is a fantastic interviewer and extremely knowledgeable, it's rare to have a show where show business folks get to talk at length.
Monday, December 12, 2011 - 8:08am
WOULD YOU LIKE TO RESPOND?

Read more CLASSIC TV Blog entries here!