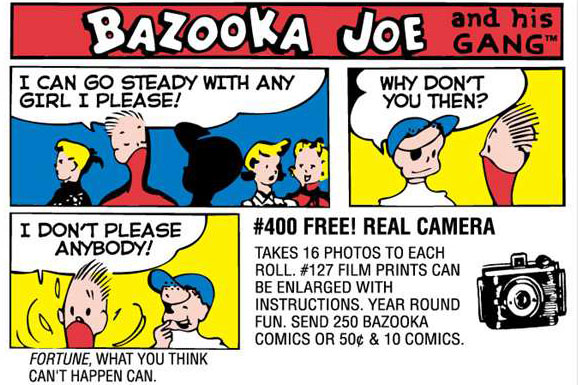 Say It Ain't, Bazooka Joe...
by James H. Burns

At any moment now, and maybe already in some markets, the "new" Bazooka
Bubblegum--or rather, its altered packaging--will debut.
Last November, Bazooka Candy Brands--a division of Topps (the company
behind so many sports, and other trading cards)--announced that they
would no longer include Bazooka Joe comic strip inserts with their
iconic bubblegum, citing decreasing sales.
Although the company stated that the characters might still appear on
some of their candies' imaging and other marketing efforts--
Joe and the gang were, it seems, being put out to pasture, where they
might as well be blowing smoke, perhaps, as bubbles...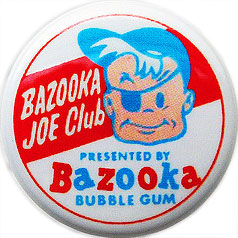 I've been chewing this one over, for a while....
I can remember the first shock, growing up in Long Island, when Bazooka jumped from a penny, to two... Back in the late '70s?
The whole thing about bubble gum was that it cost you almost nothing. And, in all seriousness, as a little kid, might even help give you your first sense of fiscal empowerment, being able to walk into a candy store, and make your own purchase. (That, and 12 to 20 cents for a comic book, of course!)
Back in the 1960s, Bazooka often shared shelf space, here on the Island, anyway, with Double Bubble and Swell. Swell was--and still is--kind of
that circular gum. And Double Bubble--or was it Fleer or some other some such--had a whitish wrapper, and also offered some kind of comic strip (perhaps on the wrapper's inside)?
This was still in the day of CANDY STORES virtually, seemingly everywhere. You'd walk in, and often there'd be a lunch counter as well.
(My next door neighbor, Sam Picker, used to walk two blocks up almost
every night, to Dutch Broadway in Valley Stream, to have his ice cream
soda for desert!)
I can remember it being a big deal when Bazooka introduced new FLAVORS:
Grape and Cherry, as I recall.
But that might have been after 1973, when it felt like almost all the
candy stores mysteriously transformed into "stationary stores."
Had some odd, dark magician canvassed the greater Tri-State area,
convincing shop owners that the generic fixtures of the new format would
increase their sales?
A slice of Americana disappeared forever.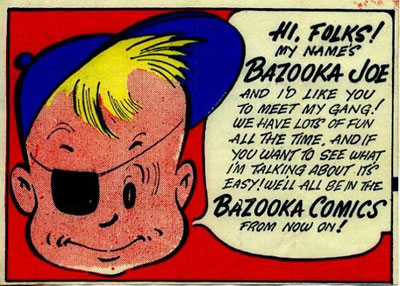 (Although... In the late '90s I tipped off the Eastern Indian fella I had become "Hello"-friendly with who owned the local stationary store, that another shop, about a mile away in Elmont, was available for sale.
We toured the basement, and there, like some strange limitless closet out of time, was a panoply of artifacts from the last twenty-five years: plastic Easter Bunnies, Snoopy greeting cards, cigarette banners, lotto
signage, Vincent Price's Hangman game, PLANET OF THE APES Spin 'N
Color... And along one sub-strata wall, the lunch counter that hadn't
seen a burger or fries since Nixon was in office.)
I always loved the Bazooka Joe characters. I was a little horrified some
years ago--was it in the 1990s?--when I unwrapped a piece and the
cartoons had CHANGED. Gone were the familiar designs, replaced by some
odd nouveau version of the Gang.
Why, I thought, if Bazooka had finally gone to the fun extent of
creating some new adventures, had they not hired an artist who could
draw in the classic style?
(Bazooka Joe may not be Norman Rockwell, but its place in pop culture I
thought might have been pretty well secured.)
I was embarassed some time later,when airing my criticism in a phone
chat with Howard Cruse, the often terrific comics artist/writer , to
discover that he had been the recidivist perpetrator!
(Cruse was first famous for his "underground" work, and his talents have
also been featured in children's books, graphic novels, and PLAYBOY. I
knew Howard from his days as an art director; and you can find out just
how good Cruse's art can be today, at his website, www.howardcruse.com)
Cruse, among his many aptitudes, can replicate other illustrators, so I
asked him why he hadn't created the new strips in the classic fashion? I
believe he answered that the company actually wanted a new take...
Howard recently elaborated: "I was indeed charged by Topps with creating teenaged (and therefore, by definition, heretically altered) versions of the Bazooka crowd. I doubt
that I could have mimicked the drawing style of the ones you grew up
with if that had been what Topps wanted; it's really hard to pull off
cartooning jujitsu with anything that has to be drawn at that
ridiculously small size! In other words, at that scale I was barely able
to render my OWN style, much less anyone else's!
"If, however, it was indeed in the 1990s when you re-encountered your
childhood gum icons, then you may have seen the products of an outside
consultant hired by Topps with whom I was forced to gracefully part
company over creative incompatibilities before drawing anything that
would fulfill her wishes.
"The comics that were wrapped around the gum produced by the Topps
competitor, Fleer's Double Bubble, featured a chubby kid named Pud, who
was later parodied very nicely by R. Crumb in an underground comic book.
You may be interested to know (if you don't already) that a
retrospective book covering the whole of Bazooka Joe's run has been
published by Abrams. The book's editor was in touch with me about a few
details of my own participation."

As the book details, Topps itself is something of an American success
story, the 1937 branchild of the brothers Shorin: Abram, Ira, Phillip
and Joseph. Bazooka Bubblegum was launched in 1947, and they began
experimenting with comic strip inserts within a couple of years
(including the exploits of "Bazooka The Atom-Bubble Boy").
But the first attempts evidently didn't catch on.
Bazooka Joe was created some time between 1952 and 1954 (the character's
debut is variably listed as 1953 and 1954), by Woody Gelman, the head of
Topps Product Development Department, and the artist he turned to,
Wesley Morse.
Gelman was a long time resident of Malverne, who passed in 1978.
"Woody was the nicest, most creative and gentlest man I ever met," says
Len Brown, a Brooklyn-born writer/editor, retired from Topps. "I owe my
career to Woody, who I met by chance when I was not quite fourteen years
of age. And when I hit 18, I walked into 254-36th St. in Brooklyn,
because of him, and maintained a desk at Topps for the next 40 years.
He was the father to me that I had lost at the age of five. ...Do
you get the idea that I have a real fondness for this man? I can
still dream about him occasionally and I am always grateful for such an
event."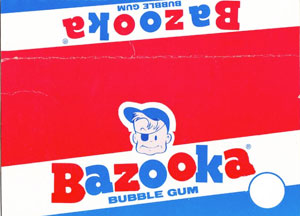 Remarkably, Gelman should also have the gratitude of pop culture mavens
for a multitude of credits, including his work on such card lines as "Mars Attacks" (created with Brown), "Foldees," "Creature Features"
("Monster Laffs") "Wacky Packs," and movie and TV tie-ins (including THE
GREEN HORNET, PLANET OF THE APES and 1966's classic sets of ILLUSTRATED Batman adventures, written by Brown, and painted by Norman Saunders), as well as, of course, a generation of baseball cards.
(Gelman also was among the very first in the United States to reprint
classic comic strips, using his independently owned Nostalgia Press
imprint--with a Franklin Square "post office box" as its business
addresss!--to publish book collections of such famed continuities as
Flash Gordon, Little Nemo, and Mandrake.)
Gelman and Brown often employed comics
artists for their various projects. Bazooka Joe's principal writer
between 1967 and 1990, was Jay Lynch, another underground luminary.
(Other noted illustrators who contributed to Topps' legacy include Jack
Davis, Mort Drucker, John Severin, Tom Sutton, and Wally Wood.)

(Perhaps it's only fitting that so many of these cherished Topps totems
of our childhood were fostered by a partnership based on such love and
respect...)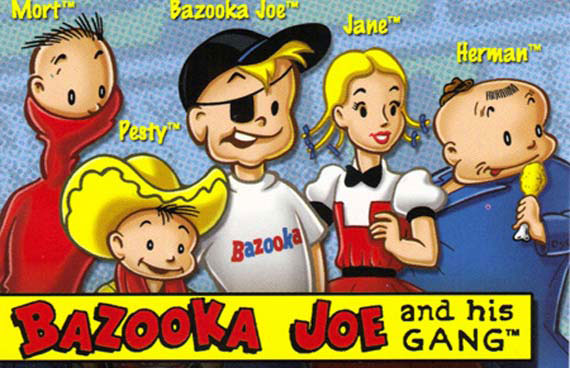 If I'm surprised at Bazooka's ending of the comic strips, it's for a few
reasons:
One, it's their branding trademark!
In 2007, Topps was purchased by Michael Eisner's The Tornante Company,
with Madison Dearborn Partners. Eisner, of course, had once been the
phenomenally successful head of Disney, and he eventually announced that
he was going to try to turn Bazooka Joe into a movie franchise...
Also, much of the gum's sales over the last decade or more, I would
think, come from the small BOXES of Bazooka sold in the candy aisle of
supermarkets.
How much could the inserts have added to that overall cost?
(And, since Topps' Autumn announcement explained that Bazooka's
packaging would now feature puzzles and games (as well as codes one can
use to retrieve website material), did it really make much sense to
remove Joe from ANY of the revised picture(s)?)
A Bazooka representative says that "the product began rolling out" at
the end of January, and another candy industry veteran confirms that it
can take a new item several months to hit the stores.
But perhaps most significantly, last week, when I spoke with several
retailers in Nassau County--not a conclusive survey, clearly, but
certainly curious--they told me that they couldn't remember the last
time their distributor had asked them about, or recommended Bazooka.
One Cigarette/Lotto shop owner in Lynbrook used to have that famous
clear plastic bowl of Bazooka right on his counter near the cash
register, and would be glad to do so again, but he had simply forgotten
about it--
And no one from Topps, or an affliliate, had reminded him, for YEARS.
It's difficult to judge, of course, how any such gaps in the vendors'
pipeline can possibly be the fault of our old pals.
Nor might it do a willing Bazooka fan any good to dial Topps' consumer
hotline:
Two such phone calls resulted in my being put on hold for over thirty
minutes. When I finally got through, and asked when the new Bazooka
might be available in stores, neither representative --even after one
checked with a supervisor--knew, although the other did happily point
out that there was a related photo on the compay's website...
(Two emails to customer support resulted in no answers. Another, sent to
the web address used to assist store owners, came with an immediate
reply that the new Bazooka would be in shops, but that it would not be
sold online.)
The NEW slips are indeed an odd mix: black and white word games,
including "Fee Gear Writ Out" ("Say these words out loud to figure out
the phrase they sound like: Bun, Ann, Asp, Lit"); "Bubble Rap" ("Make
a rap using these words: Unrefined, Mind, Bind, Assigned"); odd trivia
tests entitled "Am Not" ("Which is not a type of car? Dart, Panda, Yeti,
Hunchback, Gremlin"); and garishly colored vampire fangs (as well as
diamond studded silver "caps") that you are encouraged to "fold on the
dashed lines and put over your teeth for some deranged dentistry".
(This last series is called "Chomper Change.")
Again, it's difficult to perceive Topps' logic, or why they wouldn't at
least include a Bazooka Joe "icon" to introduce the gags--his face, and
perhaps that of the other characters, alternatively, appearing on the
roughly two-by-two-and-a-half inch "pages." As some pop culture
historians have pointed out, BAZOOKA JOE AND HIS GANG, up til now, could
arguably be considered one of the longest running comic strips in the
world.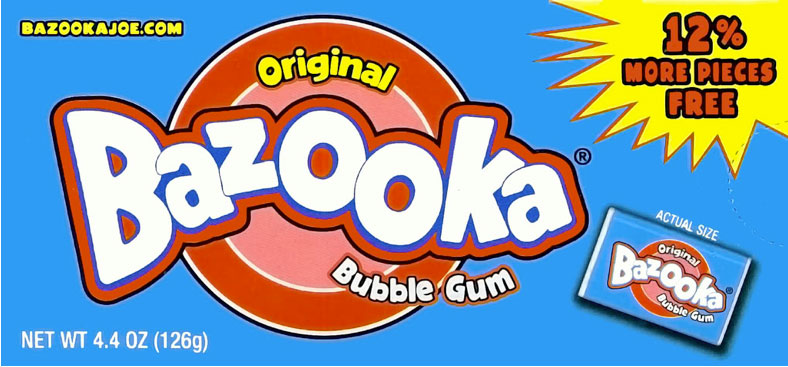 Brown, who now lives in Texas (where he continues to write, and indulge
another passion: classic country music, with a weekly radio show,
streaming on www.koop.org), comments:
"You see marketing folks make the decisions at Topps these days as
opposed to the creative New Product Development department, which has
been laid to rest."

#

So, say it ain't so, Bazooka Joe...
And if there are any among you who never pulled a t-shirt or turtleneck over your nose and didn't think of Joe and his pals...
I'll treat you to a Wetson's burger, a Black Cow candy pop, and a whole month of Sundays...
James H. Burns
(An earlier version of this article appeared in THE LONG ISLAND PRESS.)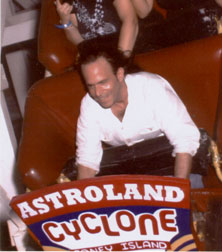 (James H. (Jim) Burns, a writer/actor living in Long Island, has written for such magazines as GENTLEMAN'S QUARTERLY, ESQUIRE, TWILIGHT ZONE and HEAVY METAL. More recently, Jim has made several contributions to
Broadway and Off-Broadway productions, and written Op-Eds or features for NEWSDAY, THE SPORTING NEWS, CBS-NY.COM,THE VILLAGE VOICE, and THE NEW YORK TIMES.) You can read more of Jim's articles at The Thunderchild:
Hit Shows of the Seventies: Hitchhiker's Guide to the Galaxy / Gene Roddenberry in the 1970s / 1977-1978 Superhero & Science Fiction TV Shows / Funniest SNL Skit Ever! / Prisoner: Cell Block H / Why John Amos Left Good Times / Reviving Match Game / How Betty White's 'Happy Hommaker' Came About / TV Dads Talk Sex & Fatherhood / Angie Dickinson Blows Off This Is Your Life / Rare Audio of Bette Davis' Broadway Bound Flop 'Miss Moffat' / Orson Welles' Last Interview / Remembering Ed Asner / Bruce Vilanch on Writing for Donny & Marie / Writing For Fernwood 2 Night / Kris Kristofferson vs Barbra Streisand on A Star Is Born? Kinda... / Remembering Gavin MacLeod / Cher Reviews Her Iconic Outfits Since 1965 / Best Columbo Episodes / Star Maidens Sci-Fi Series / Interview with Cindy Williams (Lavern & Shirley) / One of the Most Controversial Episodes of All In The Family / Outside Chance / Norman Mailer & Muhammad Ali / Charles Nelson Reilly Flops on Broadway / Chuck Norris vs Eva Gabor / Dear Detective / Dirty Sally / The Protectors / Chevy Chase Talks Hollywood Cocaine Parties / 1977 Season Show Openings / Love Boat's Oscar Winning Guest Stars / Henry Fonda's 4 Favorite Films / Tom Snyder Interviews Star Trek Cast & Harlan Ellison / Tim Conway's 'The Dentist' Sketch / Henry Winkler on His Happy Days Audition / Patrick Duffy of Dallas Interview / Time Express / Wonder Woman Leaves Paradise Island / 1972-73 TV Season / George Burns on the Carson Tonight Show in 1989 / Best Season of Dallas Ever? / Cloris Leachman Remembered / Ken Berry Interview / Why Barney Miller Ended / Vivian Vance Almost Joined the Cast of Rhoda / Marilu Henner Talks About Andy Kaufman / Cher on Mike Douglas 1979 / TV Show Book Tie-Ins / 1972 Jackie Robinson Interview / Dr. Strange 1978 TV Movie / Kathy Garver Interview / Space: 1999 / Paint Along with Nancy Kominsky / Mary Kay Place Albums of the 1970s / The Supremes - Mary Wilson vs Diana Ross / When Bruce Dern Killed John Wayne / 1974 Tom Snyder Our Gang Special / Remembering Ken Berry / Bruce / Caitllyn Jenner? / Billy Crash Craddock Interview / Melissa McCarthy Almost Quit Acting Days Before Landing Gilmore Girls / Bar Rescue's Wildest Customers! / How The Golden Girls and Elvis Got Tarantino's Reservoir Dogs Made / TV HITS - By the Numbers / Alex Baldwin On His TV and Film Roles / Ray Charles' BIG Problem With TV / Top Ten Sitcoms of the 1970s / Fashion on TV / James Cameron Made No Money for Titanic / John Goodman Breaks Down His Iconic Roles / Growing Up In The Playboy Mansion / Ed McMahon Drunk on the Air! / Lucy Interviewed by Barbara Walters / Valerie Harper Cancer / Jeff Bridges Breaks Down His Iconic Roles / Dallas vs Eight is Enough / 1974 MAD Magazine TV Special - Never Aired! / Iconic M*A*S*H Restaurant Coming To Kroger? / When Lucy Got Fired / Partridge Family and Brady Bunch at Kings Island theme park 1972-73 / Awkward Talk Show Moments / Allan Blye Interview / Jack Benny's Last Tonight Show 1974 / Patricia Heaton's Audition for Everybody Loves Raymond / Luke Perry's Last Role / Johnny Cash's Last Interview / Judy Garland's Last Film / Who Was Bob Gordon? / Richard Dreyfuss vs Bill Murray / Jeff Ross vs Everybody / Tennessee Williams 1972 Interview / Ed Asner Interview / Norm Macdonald vs OJ Simpson / Tony Kornheiser Interview / Freddy's Nightmares TV Series / Emmy Award Multiple Winners / Nathaniel Taylor aka Rollo Lawson / Mary Kay Place Albums of the 1970s / That Girl & TV's Single Working Women / Can You Identify These Stars? / Betty White vs Joan Rivers / Paul Lynde's Greatest Hollywood Squares Zingers / Sonny Comedy Revue / Star Trek Animated / Dark Shadows / Hal Linden Interview / Dark Shadows Movies / Dark Shadows Novels / The Night Stalker / One of the Funniest Carol Burnett Show Skits Ever / Fred 'The Hammer' Williamson / Johnny Carson interviews Lucille Ball / Dawn Wells / Betty White : An Appreciation / Bette Davis' 2 Best Interviews 1971 / Barbara Eden Interview / Gavin McLeod / Spider-Man 77 / The Next Step Beyond / The Music Dark Shadows / 1970 TV Shows / Mike Connors Remembered / Mike Wallace, Virginia Graham & Jim Longworth / Dick Clark / Woody Allen Hosts Tonight Show 1971 / Carson Tonight Show / Alan Alda Interview / Jackie Gleason Show / 1973 TV Shows / Thriller / Post Modern Sitcoms / Elvis in Greensboro / Remembering Dick Van Patten / TV Dating Shows / The Jacksons TV Show / Fall Previews of the 70s / Lance Link, Secret Chimp / Star Wars Holiday Special / Alias Smith and Jones / 1977 Year in Review / Top Ten 1970-76 / The Rockford Files / All in the Family / Sam Hall (Dark Shadows) Interview / Actor Ed Nelson / Death of Archie / Battlestar Galactica / Wonder Woman / Network Jingles / Class of '74 / Happy Days / Good Times / Mr. Bill / Dinah! / Maude / Doris Day Show / Pamelyn Ferdin Interview / The Bicentennial Minute / Jingles & Catch Phrases of the 1970s / Early Cable TV 1970s / TV commercials for Women / TV Moms / Red Skelton / George Lindsay / Country Music TV Shows of the 1960s & 1970s / Betty White Show / / Tom Bosley / Rodney Dangerfield / How Sanford & Son Ended / Sanford & Son Spin-Off Grady / Great Memoirs / Virginia Graham Show / The "N" Word on TV / 10 Classic Comedy Routines You Have To Laugh At Before You Die / Hollywood Squares / 1970's Teen Idols & The Hudson Brothers / TV Stars with 3 Hit Shows / The Rookies / Unsold Pilots / Jackie Cooper / The Good Guys / Match Game / Make Room For Granddaddy / Mannix & Gail Fisher / Bette Midler in the 1970s / Bonus 1970's Stuff: Silent Star Marion Mack / Biff Burger / 1970s Fast Food Chains / Latin Casino / Beverly Hills Supper Club Fire / 1970's Daytime Talk Shows / The Fess Parker Show / Brady Bunch Sex Dungeon? / Love, Loss & What I Watched