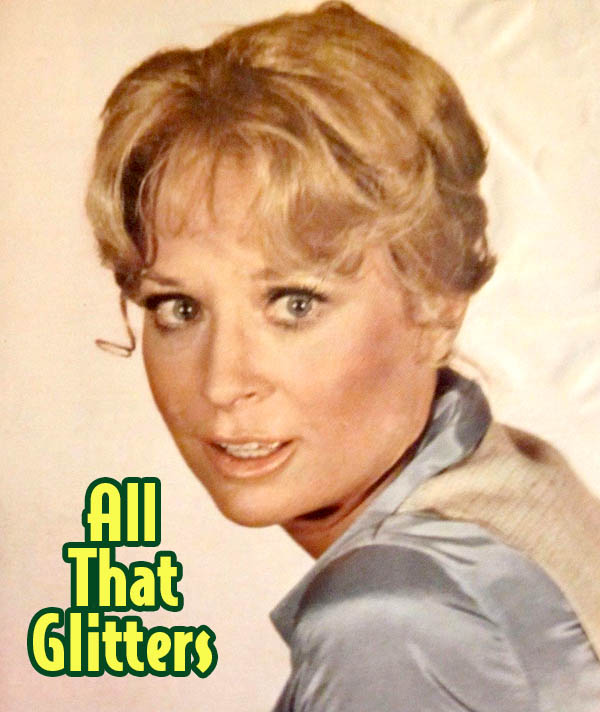 by Cary O'Dell
"ALL THAT GLITTERS"
Nearly every aspect of the 1970's TV series "All That Glitters" makes it a curio.
First, that it was one of mega-producer Norman Lear's few failed offerings during the 1970s. Second, that it existed, not on network TV, but in first-run syndication. And, third, that it was "stripped," meaning it aired daily: a new half-hour episode airing each and every day, a TV production pace usually reserved only for daytime dramas, not situation comedies. (Other brave—and short-lived—shows that have attempted this include "Isabel's Honeymoon Hotel" and "My Talk Show," from the late '80's and early '90's, respectively).
Other oddities about "Glitter": it was a comedy without a hint of a laugh track and it was serialized in its comedy storytelling, a format that despite the best efforts of Susan Harris (the creator of "Soap" also in 1977) and a few others, has never caught on with the American viewing public.
Finally, what stands out about the series is its unique, ambitious, and highly satirical concept.
"All That Glitters" is set in a world, much like our own, except for the fact that all the gender roles and gender norms have been completely reversed. It is the women (though they remain depicted in a "feminine" manner) who dominate politics, business, and their households. Meanwhile, men in the show (though they remain stereotypically "masculine" in appearance and behavior) are the seen as the "second sex" and portrayed in subservient roles, usually as either stay-at-home husbands or office underlings.
The series is a satire and, as in the theatre, satire has not always (read: almost never) been hugely successful. The short on-air life span of "All That Glitters" (it ran only from April to July of 1977), its universally bad reviews at the time, and its overall sheer oddness evidences why it wasn't successful at that time. (When watched today, it's also evident that it has not necessarily improved with time, either.)
Which is not to say that the series is not interesting.
Copies of episodes from the very beginning and very end of "Glitter's" run are stored at the Library of Congress; they arrived to the archive as copyright deposits in the late 1970s. Today, they are, pretty much, the only place episodes can be seen since they've never been seen in rerun or released on DVD.
The series is set, primarily, within the confines of a large, slightly sinister corporation (whose office dynamics bear more than a little resemblance to the much later "Mad Men" series) named Globatron. There, a cut-throat, all-female board of directors (lead by the vile L.W. Carruthers, played coldly by Barbara Baxley) meet regularly to scheme against their competitors and ogle their young male secretary played by a pre-"WKRP" Gary Sandy.
When the women are not wheeling and dealing in their offices, they are seen placating their bored and frustrated husbands. Chuck McCann and former big league baseball player Wes Parker play two of the male house-fraus in the series. They spend their days cooking, cleaning, feeling unfulfilled and waiting for their wives to come home.
Even during the show's short run, there were subplots aplenty in the series. One of them focused on a kidnapping, while another, was built around the character Linda Murkland. Linda Murkland had once been Lenny Murkland; she was TV's first reoccurring transgendered character and was played by actress Linda Gray (later of "Dallas" fame).
Obviously, per his norm, Norman Lear was not afraid to take on many controversial topics via his series. Nor was he afraid of attempting to make a big social statement.
Regardless of how well the series played out in actuality, one has to admire it for so fully committing to the idea of role reversal. In the series, God is referred with the pronoun "she" and women described themselves as either "leg women" or "pecs women." The "male gaze" is replaced with a female one when the camera zooms in on the posterior of actor Sandy or his co-star David Haskell. In one episode, the women gather in a seedy bar to watch a man dance and prance on stage, slowly removing his clothes. This episode aired in 1977, two years before the birth of the famous male strip-tease emporium Chippendales. In another episode, a wife asks her husband if he has remembered to take his birth control pill.
The debut of "All That Glitters" was ennobled by the success of "Mary Hartman, Mary Hartman" which debuted, also in daily, first-run syndication, in January, 1976.
That campy show, a send-up of daytime soap operas and played with a deathly, deadpan seriousness, was a surprise hit, quickly developing a cult following. Yet, like many sudden TV phenoms ("Twin Peaks," "Batman," etc.), "Hartman" didn't endure very long; it was gone after only a year and a half on the air.
"All That Glitters," of course, wouldn't even last that long. It was gone only a few months after it debuted.
Perhaps its failure was because "Mary Hartman" had already filled the quota for that type of TV send-up. Perhaps it failed because the show was, essentially, a one-joke program: once one got over the basic spectacle of the show's role-reversal premise, there was little left to laugh at.
Also not helping matters, as Hal Erickson points out in his highly useful book "Syndicated Television," among the program's core characters, there were precious few likeable ones to care about or root for. This despite a cast of game veterans that included Jessica Walter, Anita Gillette, Lois Nettleton, Eileen Brennan, Tim Thomerson and even Vanessa Brown (a onetime "Quiz Kid" and later the star of the TV version of "My Favorite Husband" in the 1950s).
Certainly the show had (and has) a very peculiar feel to it.
The series feels dark, what with its storylines about kidnapping and institutionalized sexual harassment. The overall tone of the series is not aided, believe it or not, by its lack of a laugh-track. As a viewer, coming to this very overt social commentary, we don't quite know exactly how seriously we are supposed to take all this. Where exactly are the jokes? What are we allowed to laugh at? Are we even supposed to laugh at all? The absence of a laugh-track from "Mary Hartman" made sense, it fit in with the genre that that program was parodying. But, in "All That Glitters," this (alleged) sitcom, it makes the finished show feel off-putting and adds a veneer of sombernesss that the series cannot surmount.
So, if what remains about "All That Glitters" is not gold, it is nevertheless a fascinating artifact, a relic of television testing its own limits and of attempting to strike deathly blows within the gender wars.