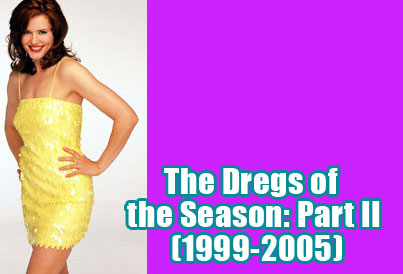 by Cary O'Dell
As I noted before, it seems like every new fall TV season always ushers in at least one show (or, if we are really "lucky," two) that make us want to kill our televisions. These are those shows that the TV critics seem to love to hate--and who is to say that they are wrong?—and which they designate as the absolute worst of the new batch. And more often than not, the critics are right, as these shows usually die a quick and resounding death.
But… let's take a moment to remember the few, the lame, the universally hated, and the until-now forgotten….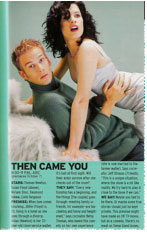 1999-00: "Then Came You"
Even I barely remember this one. It was very short-lived sitcom and supposedly made ABC's fall schedule only because it was a fave of the network's then programming head, Jamie Tarses. It was about a 32 year-old divorcing woman who falls in lust with her younger (age 22) room service waiter. Hilarity ensues. Or so it was meant too. Only six episodes of the series ever aired.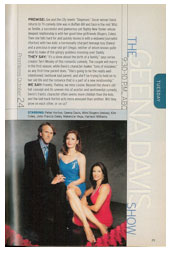 2000-01: "The Geena Davis Show"
Sometime after "Thelma & Louise" but before TV's "Commander-in-Chief," we all collectively decided we hated Geena Davis for some reason. This happens from time to time in the culture, most recently when we all turned on the evil Anne Hathaway a few years ago. After following up "Thelma" with a group of flop films, Davis brought herself to TV in this tepid sitcom where she was a newly married stepmom. Former "thirtysomething" co-star Peter Horton played her new husband, future "Bones" star John Frances Daley was her stepson, and Mimi Rogers was her randy best friend. This series was about as successful as Davis's big screen opus "Cutthroat Island."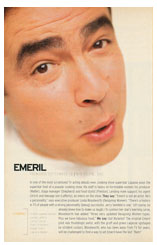 2001-02 "Emeril"
Talk about a half-baked idea. TV chef Emeril Lagasse had a successful cooking show over on Food Network so someone decided that he needed his own sitcom. I guess we should consider ourselves luck that, back in the day, Julia Child never got cast as "Medea." Despite a good team behind the scenes (Linda Bloodworth was one of the show's producers) and a fine cast (which included Robert Urich), "Emeril" could never overcome its odd pedigree and, so, BAM!, it was gone.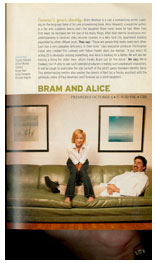 2002-03: "Bram and Alice"
God bless Alfred Molina. He's a very talented actor who has had success overseas and in some iconic character roles on the big screen. (He was Dr. Octopus in one of the "Spider-Man" movies.) He has also tried time and again to have a hit American TV series but "Ladies Man" didn't make it and, then, "Bram and Alice" was creepy and quickly forgotten too. In this one, Molina was a cad (Bram) of a man who finds out late in life he actually has a grown daughter (Alice). In the show's first episode, dad, not knowing the woman next to him is his offspring, makes a play for her! Critics were rightly creeped out. The show never recovered from this most awkward beginning. Thankfully, Molina recovered quickly as did co-star Traylor Howard, she went on to appear in "Monk."

2002-03: "girls club"
Even a super producer like David E. Kelley can have an off day. Consider "girls club" (yes, always written for some reason in lower-case). This legal drama was like a trio of "Ally McBeals" who had been roomies in law school and now all worked for the same legal firm. The threesome were idealistic, cutesy, sexually empowered and ready to take on the "old boys' club." Unfortunately, all the situations rang a little false and, frankly, no one watched it and the critics hated it. So, soon, this "club" was disbanded. One time movie "It" girl Gretchen Mol was one of the show's stars.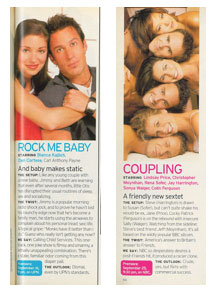 2003-04: "Rock Me Baby" / "Coupling"
We got two this season—
First, Dan Cortese, formerly of MTV and Burger King commercials, starred as Jimmy on "Rock Me Baby." He was a radio shock jock. Bianca Kajlich starred as his wife, Beth, a reformed party girl. Now they have a baby! How do these two former wildcats deal with parenthood? Apparently not well, according to the critics. "TV Guide," as seen here, was very blunt: "Dismal, even by UPN standards" was their assessment.
Meanwhile, that same season, over on NBC: Taking a British-born hit and making it American sometimes works out—"All in the Family," anyone? But sometimes, it's a disaster. Consider the US version of "Coupling." The UK version was, apparently, a saucy, naughty treat but something got lost in translation. Instead, smarm was the order of the day on this series that couldn't even be a hit on the network's then powerhouse Thursday night lineup. Of the cast, Colin Ferguson (his head is on the bottom in the photo above) is probably best known today thanks to his role on "Eureka."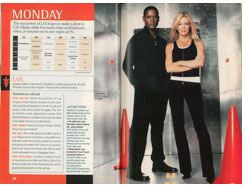 2004-05: "LAX"
The (non-comic) image of Heather Locklear standing on a airport runway with her hands up attempting to stop a jet plane from taking off is a memory I wish I could erase—but I can't. Ms. Locklear probably wishes she erase this whole series from her memory. It was an hour-long drama where Locklear's runway chief frequently clashed with Blair Underwood's terminal boss. (No, I'm not kidding, that was the gist of the series.) Critics seemed to consider this show the worst of the season and that's saying something as 2004-05 was also the season of "Joey"!
The Dregs of the Season: Part II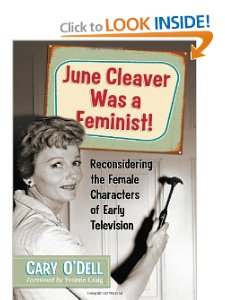 Buy this book!
Amazon Prime - unlimited streaming
of your fave TV shows and movies!
Get your FREE 30 Day Trial!
PR4 & PR5 Pages for Advertising