STUNT CASTING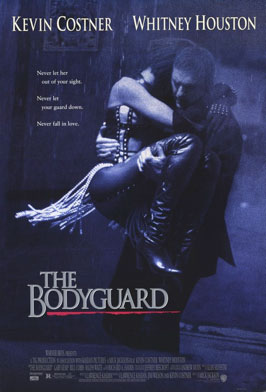 I still remember vividly working on this final art for the The Bodyguard movie poster while 'I Will Always Love you' played on the radio. Whitney reminded me of Carol Burnett's Tarzan yell so I'd sing along with the song and go, "Ah ee ya Ah ee ya Ah ee ya... will always love you!" That's my only Whitney story but Kevin Costner loved that poster design.

One of the most anticipated movies this summer is Dark Shadows from Tim Burton and Johnny Depp. I remember seeing the original 2 Dark Shadows movies at the Carolina Theater back in '71 & 72, Night was rated GP (GP predated PG). Jonathan Frid (Barnabas Collins), Kathryn Leigh Scott (Josette DuPrés), Frid (Barnabas Collins), Lara Parker (Angelique Bouchard) and David Selby (Quentin Collins) from the original series will all appear in cameo roles in the new picture (thanks for that!). Dark Shadows opens in May.
Oh snap! Mark Evanier: "According to this article, the Arby's Roast Beef Sandwich chain is planning a complete makeover of the company with a new logo, a new restaurant design and a new menu. I wonder if they've considered adding roast beef to the concept."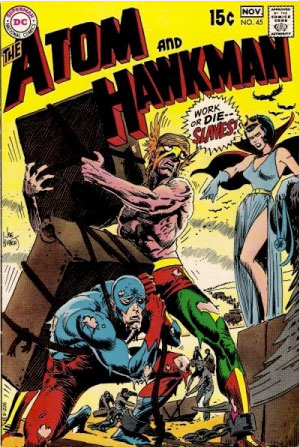 Don't know why but I've been writing a lot about classic comic books of one type or another recently, the latest is a look at Joe Kubert's DC comics superhero covers. If you're still in a 4-color mood there's a look at 1970s Romance Comics and other 1960s DC Comic Books. Now that's obscure.
I'm really looking forward to Life's Too Short from Ricky Gervais and Stephen Merchant premiering this Sunday Feb. 19th at 10:30pm, on HBO. The new series follows the third-season debut of Eastbound and Down. Life's Too Short is a faux documentary starring Warwick Davis ("Willow," the "Harry Potter" and "Star Wars" films) as a fictionalized version of himself: a little person who?s down on his luck, desperately trying to hustle and connive his way back into the spotlight.
Regis Philbin, Joan Rivers, Rhea Perlman, Andy Richter, Kevin Nealon, Georgia Engel and more are slated to appear on upcoming episodes of TV Land's "Hot In Cleveland."
Wednesday, February 15, 2012 - 12:39am
WOULD YOU LIKE TO RESPOND?
INTERESTING NEW SERIES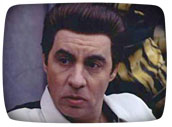 Netflix has unveiled a new 6 episode original comedy / drama series starring Steven Van Zant called Lilyhammer.
Van Zant's character, a Mafia consigliere that is witness-relocated to the former Olympic village in Norway, possesses the mob superpowers we've come to expect - like the ability to physically overpower any man no matter how large and excel at any endeavor no matter how improbable. The modern idea of mobsters - cuddly, murderous Teddy Bears.
Lilyhammer is not bad, Van Zant plays "Frankie the Fixer" in the same exact manner as Silvio Dante on The Sopranos, the supporting players are wonderful. Still, the series sparks but rarely lights.
Half the show is subtitled so it's not something you can halfway watch and, quite frankly, it's not all that engrossing. If the concept is The Sopranos meets Flight of the Concords I'm not sure they got the balance quite right.
Still, who doesn't enjoy watching Steven Van Zant chew the scenery, whether it's beside the freeway in Jersey or out on the ice with the kids? Lilyhammer is available now on Netflix streaming.
Saturday, February 11, 2012 - 3:27am
WOULD YOU LIKE TO RESPOND?
HMMMM...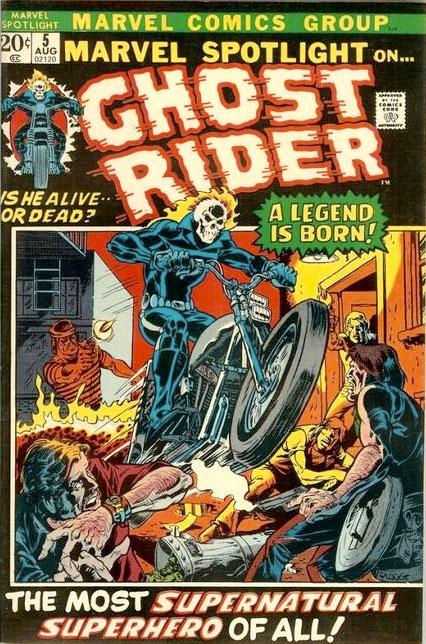 Gary Friedrich created Ghost Rider for Marvel but the publisher is grinding him into the ground. I really, really don't appreciate Marvel for taking this stance. I am royally pissed! All the Marvel comics I bought over the years and the money I spent watching their mediocre movies and they attack one of their writers, the creator of a silly comic character that morphed into a lousy but highly profitable film franchise? I hope this blows up like the Komen fiasco.
Read what other comic book creators from the 1970s & 1980s are saying about Marvel's crap treatment of the guys responsible for their success. Trust me, it's a consistent and disturbing pattern.

Speaking of the Komen controversy I have a look at that media blowup from a PR point of view.
On Radio Rashy Paul Dini, Misty Lee and Mark Evanier are talking about classic TV and movie stars, comic books and lots of other topics I'm sure. Should be fascinating, they all have a DEEP knowledge of pop culture touchtones and the conversation goes on each week this month. They start out talking about Soupy Sales.

From the press release: On April 17 Shout! Factory will release a DVD featuring most of the prime time ABC Specials that helped cement Ernie Kovacs' legacy as a comic artist who broke the rules of television before they were made. Produced and distributed by Shout! Factory in association with Ediad Productions, Inc., The ABC Specials is a single-disc DVD broken out from the critically acclaimed 6-DVD box set Ernie Kovacs Collection, released by Shout! Factory in 2011. The new DVD is designed to appeal to a broader audience not already familiar with Kovacs' work. Additionally, the renaissance of Kovacs makes its first foray into the digital realm today with the exclusive iTunes release Best of The Ernie Kovacs Collection, featuring 10 episodes from the Ernie Kovacs Collection. Before his untimely death at the age of 42, television pioneer Ernie Kovacs left us with a sublime body of comedy work whose influence can be seen on everything from Monty Python to SNL and David Letterman. He made eight TV specials for ABC in 1961, the final year of his life, and these show Kovacs at the peak of his creative experimentation with the medium, featuring many of his comic masterpieces and iconic set pieces. Five of these programs are presented here in complete uncut form, along with many of his celebrated — and delightfully offbeat — commercials for Dutch Masters cigars. With a gift for inventive comedy that was alternately cerebral, goofy and just plain absurd, Ernie Kovacs transformed television's early era into his own personal playground---and invited viewers to enjoy every sight gag and loony character. Kovacs, whose offbeat humor graced the airwaves for just a decade in the 1950s and 60s, served healthy portions of the offbeat to his audiences, who had never seen anything quite like this cigar-wielding charmer. Wickedly funny but not offensive, Kovacs' unique humor and flair for improvisation would ripple across generations, influencing TV funnymen from Johnny Carson to Pee Wee Herman.

Amazon Prime is a service of Amazon.com that offers priority shipping all year 'round for the low cost of $79.00 a year. If you order a fair amount of stuff from Amazon it works out nicely. And now Amazon Prime includes thousands of hours of streaming content over your computer or TV. That makes Amazon Prime the deal of the year!
Friday, February 10, 2012 - 3:50am
WOULD YOU LIKE TO RESPOND?
FACES FROM THE PAST
Bob Bell was nice enough to share these rare items from retro-TV kiddie shows.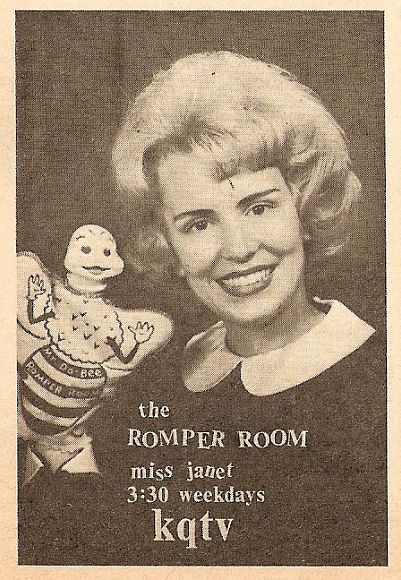 Miss Janet was the hostess for Romper Room on KQTV in Fort Dodge, Iowa when this postcard was created around 1966. Some of you may be saying, "Wait, I'm watching KQTV right now and I'm in St. Joseph, Missouri not Iowa." Sorry, I can't help you.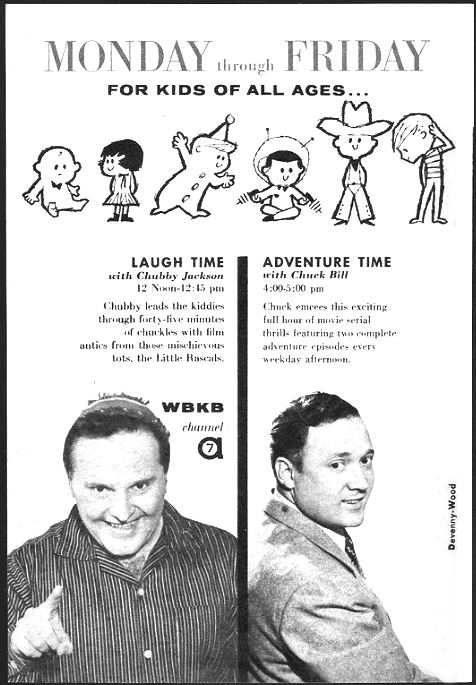 Two popular kid show entertainers appearing on WBKB in Chicago circa 1957. "Wait," you may be saying, "I'm watching WKBK right now and I'm in Alpena. Michigan not Chicago." Funny how that happens. (Wikipedia: The WBKB call letters originally belonged (from 1946 until 1953) to channel 4 in Chicago. That station was owned by the Balaban and Katz Broadcasting subsidiary of Paramount Pictures and is now CBS owned-and-operated affiliate WBBM-TV. WBKB then transferred to Chicago's ABC owned-and-operated station on channel 7 from 1953 to 1968 until it was renamed WLS-TV.)
Monday, February 6, 2012 - 10:37am
WOULD YOU LIKE TO RESPOND?
STUFF
I recently wrote 2 articles that have something to do with classic comic books - one on the TV shows that might have been from 1977-78 and another on the comic books I grew up with that disturbed me in some way.
Just recently we lost three classic TV stars. Kevin S. Butler notes: Radio / TV announcer Dick Tufeld was the announcer on "Voyage To The Bottom Of the Sea" (ABC TV series) and "The Hollywood Palace", he died at his home in Southern California. Mr. Tufeld was best remembered as the voice of "The Robot" on Lost in Space. We also lost actor Robert Hegyes at his home in Metchuchen, New Jersey, he succumbed to a heart attack. Mr. Hegyes was know for his portrayals as Sweathog Juan Epstein on "Welcome Back Kotter" and one of the police detectives on "Cagey & Lacey". Mr. Hegyes made his last TV appearance with Gabe Kaplan and most of the cast members of "Welcome Back Kotter" on "The TV Land Awards" last year which was pre-taped in NYC and broadcast in April, 2011.
A day later it was announced that James Farentino had passed as well, he was one of TV's most prolific supporting players and had many starring roles as well.
Lovers of 1950s TV shows that were popular in syndication in the 1960s - Hulu has the first seasons online free of Highway Patrol, Sea Hunt, The Cisco Kid, Roy Rogers Show, The Buccaneers, and more.
The Mid-Atlantic Nostalgia Convention has their confirmed (so far) guest list posted at MidAtlanticNostalgiaConvention.com
Friday, February 3, 2012 - 8:37am
WOULD YOU LIKE TO RESPOND?
FUN!
I did an interview on The State of Things yesterday with host Frank Stasio on WUNC, North Carolina Public Radio. I had a blast talking about the book and everyone there at WUNC was so nice to us.
Here's the interview:
I brought along my friend Susan Grant, she told me Frank Stasio made her the best cup of coffee she's ever had. He is really cool, knowledgeable and prepared. Prepared is unusual these days, Maria & Linda, the Alberici Sisters, did a TV interview in Las Vegas and I swear the bobblehead that interviewed them had never heard of Dean Martin and maybe barely heard of Frank Sinatra! This was Las Vegas!

Neville A Ross has some thoughts on General Hospital's inevitable demise: Mostly because the American soaps are shit-they tell the same unreal stories with the same unreal characters every fracking year, and then some. I believe that if American companies were to make soaps like Coronation Street, Emmerdale, and EastEnders, they would flourish, but the producers, writers, and directors seem to be trapped in the past, and can only deal with people that are super pretty and rich (The Young & The Restless, the Bold & The Beautiful) or with pretty people as real persons (General Hospital and a ton of others). There's no attempt to deal with the real world except in a superficial way on these programs, and I think that because of that, people are starting to tune out and not watch (in Canada where I am, most people I know watch Coronation Street, which airs on CBC each weekday night with a super-repeat on Sunday morning) not only because people work all of the time and nobody's in the house, but because, but because people are aging out of soaps and the soaps that are on are as I've said above.
If the American soap producers are to get the genre on its feet again, they have to start doing soaps like these (and I don't mean pseudo-realistic swill like Ryan's Hope either.) That will have to be the minimum if at all.
Thanks so much for the comments Neville – so true! I loved watching EastEnders when I was living in London. It seemed like the entire country watched those shows and I was genuinely surprised how much I missed it. Our local PBS station was running two episodes on Saturday nights but they were years behind the then-current storyline.
Thursday, January 26, 2012 - 8:37am
WOULD YOU LIKE TO RESPOND?

Read more CLASSIC TV Blog entries here!