QUICK HITS
Oprah Winfrey's OWN network cancelled "The Rosie Show" after five months on the air, the production lost about half their audience within days of its debut. Her ego is out of control, she has no idea what's entertaining.
Wow just wow - this woman can't figure out how long it takes to drive 80 miles if you're going 80 miles an hour.
The season finale of Walking Dead was a series high, ratings wise.
Michael Bay is bringing the Teenage Mutant Ninja Turtles back to the big screen.
Tuesday, March 20, 2012 - 11:01am
WOULD YOU LIKE TO RESPOND?
LOOKING BACKWARD AND FORWARD
The Dark Shadows trailer is out and clearly Burton & Depp are going for highly stylized comedy and a superhero-ish slant which should be fun if nothing else.
Actresses who got botched plastic surgery speak out.

The King Family from the golden age of variety shows can now be found on the Web.

Fabulous documentary on the Disco great Sylvester.

Immortal NYC kid show host Chuck McCann has re-opened his Let's Have Fun clubhouse, go and join the retro TV fun!
Friday, March 16, 2012 - 9:35am
WOULD YOU LIKE TO RESPOND?
SONNY & CHER
The Sonny & Cher Comedy Hour debuted in August of 1971 and was an immediate hit. Here's part of the opening to one of the first four shows, you can easily see why the program was so hot, by far the most exciting - and funny - variety series to hit the airwaves since Laugh-In. The formula was created by another duo, The Smothers Brothers, but Sonny & Cher's added emphasis on music attracted the bubble gum crowd.
Tuesday, March 13, 2012 - 11:05am
WOULD YOU LIKE TO RESPOND?
One of my very fave performers Louis CK tweeted some offensive remarks the other day, apparently drunk on a flight. And it is pretty ugly stuff, but who the hell hasn't done something dumb like that? (My next book will be a testament to that.) One of the problems with the entertainment industry is the near constant fear performers live under, the near constant scrutiny that makes their every move a huge big deal. That in turn makes them exponentially more emotionally invested in what we would consider routine day to day interactions. Every decision becomes monumental in their minds, every move could be a potential career killer. How do you reconcile all of that? If you're smart occasionally you go off the rails like Louis did.
I was watching the documentary on the Angry RV Guy and I thought, "He reminds me of somebody." This was a really tricky scene, I wanted to rehearse it out before the shoot.
Sigourney Weaver will star in the USA series Political Animals that has the lamest premise I've heard in a long time, she's portraying a divorced former first lady, failed presidential contender, who's now Secretary of State.
Red Wedding's Michael Ely has a blog, won't you check it out? We need more sites to enjoy on the internet!
Monday, March 12, 2012 - 9:02am
WOULD YOU LIKE TO RESPOND?
SAD
Hawaii Five-O's Alex O'Loughlin, who plays Steve McGarrett, will out at least one episode for prescription drug abuse treatment. It must have been REALLY bad!
Daniel von Bargen, Elaine's boss Mr. Kruger on Seinfeld, shot himself in the head in a suicide attempt, he's been hospitalized.
Tuesday, March 6, 2012 - 8:08am
WOULD YOU LIKE TO RESPOND?
THE LATE GREATS
Me-Too will air a special tribute to Davy Jones on Friday, March 2, 2012 with 'The Monkees' marathon beginning at 7 PM C. 'The Monkees' TV show was groundbreaking television in the '60's and Davy Jones was a heartthrob to a generation! His teen idol status helped 'The Monkees' become one of the most popular shows of its time and propelled the group to the top of the music charts. Me-Too celebrates his career and memory this Friday evening with seven episodes of 'The Monkees.'
12:30 PM The Brady Bunch "Getting Davy Jones"
1:00 PM Love, American Style "Love and The Elopement"
1:30 PM Love, American Style "Love and The Model Apartment"
Like you, I saw all of those and loved them!
Talk about your old timers - TV writer Jerome Ross passed away the other day, he was 101 years old. Ross wrote for the great TV anthologies of the 1950s and 1960s including Philco/Goodyear Television Playhouse, Studio One, Robert Montgomery Presents, The Alcoa Hour, Armstrong Circle Theater, Matinee Theater, and for live sitcoms Mama, Jamie, and Mister Peepers. Thanks to Jay Blotcher for that tip.
Did you see the DVD set for Mr. Peepers? I thoroughly enjoyed the episodes, especially the very first ones. Not only well written but the direction was marvelously inventive.
Friday, March 2, 2012 - 7:28am
WOULD YOU LIKE TO RESPOND?
RESEARCH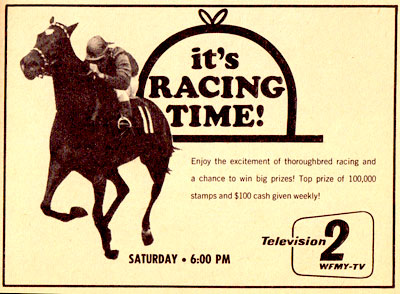 I've written a piece on interactive 1960s TV shows so obscure I couldn't find any info on them outside of my memory and some TV Guide listings. All Star Bingo and Off to the Races and the like were some of my favorite shows as a kid - because you could win money! I wasn't 18 when these shows aired, you had to be of age to win the cash, so I would gather up cards from everyone in the family to let them know if they won. If one of my cards won, a real long shot, I'd have to get someone older to cash it in for me.
Ever wonder if there is gas price manipulation around the Presidential Elections? I was curious so I did some digging into the numbers - you may find them surprising. Then again, it could be a wild coincidence...
Wednesday, February 22, 2012 - 8:08am
WOULD YOU LIKE TO RESPOND?
HMMMM
If you're keeping up with the Gary Friedrich / Marvel kerfluffle the top dogs at Marvel gave an interview where they expressed frustration at being in the middle of something they have no control over. That's true. Once the lawyers got involved the situation was out of Marvel's hands (they're owned by Disney now).
In the PR world this interview is the initial tamp down a corporation does to try and stomp out a brushfire. Push the faces to the front and start the charm offensive. The thinking is that this is all that's needed.
But if the public backlash continues the perception grows that their money is being threatened. At that point the corporate structure above Marvel starts to ask, "How can we make this go away?"
Truth is, if the Ghost Rider movie was a month away Marvel would be more worried. However, if Ghost Rider bombs and the Friedrich controversy gains steam Marvel will get nervous about the hundreds of millions of dollars they have invested in The Avengers movie and anything could happen, including a big payday for Gary.
An appeal actually went out to Ghost Rider star Nic Cage to do something about Marvel's treatment of destitute Ghost Rider creator Gary Friedrich. I doubt it will be successful, the actor has had massive money problems himself lately. Still, Cage did recently sell one of his comic books for a cool $2 million! Still, I expect SOMEONE will step up and help with Friedrich's $17,000 judgment against him.

Some fun from one of my favorites - Fernwood 2Night with guest Tony Rolletti.
LIFE'S TOO SHORT from Ricky Gervais and Stephen Merchant will be premiering this Sunday Feb. 19th at 10:30pm, only on HBO (following the third-season debut of EASTBOUND & DOWN).
LIFE'S TOO SHORT is a faux documentary starring Warwick Davis ("Willow," the "Harry Potter" and "Star Wars" films) as a fictionalized version of himself: a little person who?s down on his luck, desperately trying to hustle and connive his way back into the spotlight.
According to a poll, Roseanne Barr would attract 6% of the vote as a Green Party candidate running against Barack Obama and Mitt Romney.

If your argument is, "Don't you know who I write for?" you've lost the battle and the war. And it's the record label not the artist that decides who will remix the artist's songs? That defies credulity.
Saturday, February 18, 2012 - 7:40am
WOULD YOU LIKE TO RESPOND?

Read more CLASSIC TV Blog entries here!