UPDATES
Comedians Cedric "The Entertainer" and Niecy Nash star in the TV Land's newest original series, The Soul Man (formerly known as "Have Faith"), which begins production this week for a total of 12 episodes,
Car 54 Where Are You? season 2 is on DVD now, while I don't think this season quite comes up to the hilarity quotient of the first it's still a joy to watch. I'll tell you more soon.
Overseas The Avengers has already made $178 million - in one weekend.

Star Trek: The Next Generation is coming soon to Blu-Ray.
Due to a multi-million dollar scam 300,000+ people could lose their internet access this summer. Is your computer infected with this new virus? This page will tell you if you are - there is nothing to download, the page just detects whether you are looking up IP addresses correctly.
Tuesday, May 1, 2012 - 9:33am
WOULD YOU LIKE TO RESPOND?
Kevin Butler has a comprehensive obit on Dick Clark here.
The Fox network got underway 25 years ago with one night of programming.
I've been out of play the last week finishing my book Punk which goes to the editor this week. I also auditioned for a major role in a new TV drama I can't tell you about. Something else to be rejected for. Fun times.
Greg Allman's autobiography is coming soon - it promises to be a real page turner.
Just recieved Shout! Factory's latest release - Route 66 the complete series. I'll tell you more later but it's awesome.
Wednesday, April 25, 2012 - 11:43am
WOULD YOU LIKE TO RESPOND?
COMINGS AND GOINGS
Dame Maggie Smith is leaving Downton Abbey after season three and the Christmas special following the third season.
Neville Ross contacted Warner Archive Collection about whether Hank, a one season wonder from 1965, will ever get a DVD release. "There are no video masters, and there is no way for us to even see this series. So there's a mastering cost appended to a series that is virtually unknown, and we haven't even researched the music. Unlike something akin to SEARCH which has an ardent following despite only a one-season run, putting serious bucks behind this series is a bit of a challenge. But we never say never, and if we find the music is clear, and there is more interest apparent than just the few inquiries we've received, it isn't impossible to conceieve we'd pursue this. One of us on team WAC remembers staying up past his bedtme to watch this show as a young child...and liking it a lot! There's the answer for you, and fans of this show. Thanks Neville!

Former child star Mara Wilson (Mrs. Doubtfire) speaks out about why she quit the business. "Here is something no real celebrity will ever tell you: film acting is not very fun," she wrote. "Doing the same thing over and over again until, in the director's eyes, you "get it right" does not allow for very much creative freedom ... In terms of sheer adrenaline, film has absolutely nothing on theater."

Former rocker Ted Nugent stated that he would be "dead or in jail by this time next year" if President Barack Obama is re-elected. That not-so-veiled threat got the attention of the Secret Service.

New pics from the next Batman movie are online. You just have to look dontcha!
Meanwhile the second Avengers trailer is awesome, the trailer is not always indicative as to whether it's a good film but it's a good start. On the other hand they're giving a lot away and that's usually a bad sign.
Wednesday, April 18, 2012 - 10:23am
WOULD YOU LIKE TO RESPOND?
FRIDAY FUN
Someone mentioned Tiny Tim on Facebook today, what an unusual but consummate performer he was. A font of wisdom when it came to archaic musical styles, he apparently knew every song from the Jazzbo age. Musical director Tim Fowlar told me Tiny could barely cross the street by himself but had whatever the musical version of photographic memory is.
Here's Tiny Tim performing 'Living In the Sunlight.'
This You Tube video details the Last Days of Tiny Tim, sad and ignominious. I'd be interested to see that theatrical production on Tiny that the author talks about.
The Alberici Sisters talking about our book Beyond Our Wildest Dreams at TVConfidential.net.

Eastbound and Down is coming to an end after 3 seasons.
Friday, April 13, 2012 - 5:04am
WOULD YOU LIKE TO RESPOND?
BACK!
Once again I'm apologizing for being out for the last week, I'm working furiously to finish my next book, a story no one who reads this column will care about! That said, I've never been happier with anything I've written.
The Mid-Atlantic Nostalgia Convention will be held in Hunt Valley, MD on Aug. 9-11. Scheduled guests include: Shirley Jones, Jay North, Jeanne Russell, Van Williams, Ron Ely, Sherry Jackson and others.
Speaking of conventions, some poor Trekkies got pulled over by a rough cop and the video is appalling.
Wednesday, April 11, 2012 - 11:44am
WOULD YOU LIKE TO RESPOND?
GREAT NEWS FOR CLASSIC TV LOVERS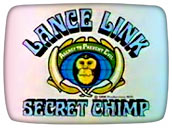 Ever wonder what happened to Lancelot Chimp Secret Chimp? Not the character, the real chimp? He's still alive and well, living at the ldlife Waystation in CA. Why bring it up? Well dear friends, Lancelot Link Secret Chimp is finally coming to DVD! From the press release: Film Chest and Allan Sandler have put an incredible amount of work into a special features disc with interviews from the original producers and creators (also the documentary, "I Created Lancelot Link"), slideshow, music videos, and an interview with Lance, himself!
Not only that, 10% of all proceeds from the 3 disc collector's edition will be donated to Lance's "retirement fund" and the Wildlife Waystation. How cool is that? (Did you know 'Lance' was also Judy the Chimp on Lost in Space?)
More from the press release: We will be releasing an official version of Lancelot Link: Secret Chimp May 29th, working closely with Allan Sandler and SBM Productions, the original producer/creators of the show. ABC has allowed us to use their original elements from the show; therefore, this version of the series will be the best quality in the market. Personally, I can't wait to see the show again, it was one of the few genuinely funny shows from the Saturday morning genre, written and produced by vets of The Carol Burnett Show. And the documentary I Created Lance Link is fantastic!
Speaking of fun from the past Kevin Butler tells us: Chuck McCann's book "The Let's Have Fun Scrapbook: My Life In The Wacky World Of Television" will be coming out soon. The book will be sold first thru Chuck's website "The Let's Have Fun Store" and later at comic book stores and at Barnes & Noble. From the look of it this promises to be a real page turner.
Wednesday, April 4, 2012 - 8:54am
WOULD YOU LIKE TO RESPOND?
REBOOTS
Chuck McCann's web store is open with lots of goodies, check it out. And check out his Let's Have Fun Club site for rare video treats!

Chevy Chase is feuding with the showrunner / writer of Community. He walked off the set of the last episode then showed up for the wrap party that night. The guy is impossible to work with, you'd have to be crazy to give this insane drug addict a job. In truth, he was forced on the producers by the network. Listen to the profanity laced phone message Chase left. We had to work with Chevy on the poster for his multi-million dollar bomb 'Whatever Whatever Invisible Man' whatever it was movie. He was insufferable. He was lucky to be working at all now I doubt if he'll ever be seen in movies or on TV again. The best he can hope for is a cameo when they reboot the National Lampoon's Vacation series - and you just know they will.
A remake of The Munsters is still underway even as a new pilot was rejected by the network. They think there's still a way to do it.
Word on the street is that James Bond will parachute into the British Olympics opening ceremony. Which one? I guess Connery is too old to do it but it would be cool if ALL the Bonds parachuted in.
Doris Day did a very rare interview with Terri Gross on Fresh Air, listen.
Tuesday, April 3, 2012 - 8:07am
WOULD YOU LIKE TO RESPOND?
DID YOU KNOW?
Dallas is returning in June on TNT and early reports are good. Series reboots are tricky things but after Battlestar Galactica turned out so nicely I won't trash the concept. And they are bringing back enough of the original cast to make it interesting. It's all up to the writers and producers who are relatively new to TV.

Here's a first look at the new Man of Steel logo and costume. Well, the costume was sneaked a few months ago...
Disney is resolved to a $200 million loss on John Carter.
This is a bizarre idea - dial-a-star.com lets you talk to a C level star for $20 a minute or less, some as low as $3.00 a minute. I don't recognize most of these people, porn stars I suspect but you can talk to a cast member of The Sopranos for $10 a minute. Not sure why. (I'll talk to you for 50 cents an hour. Heck, I'll pay you!)

Give a listen to the eerie music from Dark Shadows composed by Robert Cobert.
Friday, March 30, 2012 - 8:54am
WOULD YOU LIKE TO RESPOND?

Read more CLASSIC TV Blog entries here!