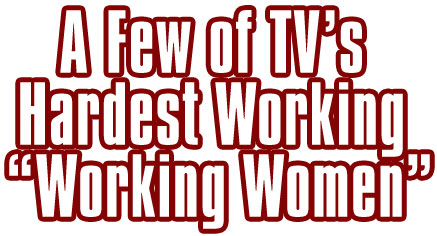 by Cary O'Dell
To read many TV histories one could easily be lead to believe that the women that existed on TV, in comedy and drama, in the 1950s and '60s were only housewives. In fact, in 1995 article on the subject of working women on TV, "Working Woman" magazine stated, "In the '50s and '60s working women [on TV] were housewives."

WRONG!

Since nearly the day that TV began we've seen image of women working outside the home, and often in non-stereotypically female jobs. Consider: Beverly Garland as a female police officer in "Decoy"; Anne Francis as a private eye in "Honey West"; "The Nurses"; rancher Barbara Stanwyck on "The Big Valley"; and cruise director Gale Storm on "The Gale Storm Show," to name just a few.

And here are a few others, some you may not remember, some you may not know. And they all existed before Mary decamped to Minneapolis.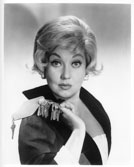 THE ANN SOTHERN SHOW (1958-1961)
Before she had her name in the title, Ann Sothern had already earned her place as one of the small screen's most formable working women via her earlier sitcom "Private Secretary." On it, she was the most savvy working woman this side of Eve Arden on "Our Miss Brooks." But, if as a secretary to a male boss Sothern's somehow weakened the power of her feminine mystique, she vanquished that criticism in her subsequent series. Straight-forwardly titled "The Ann Sothern Show," this second series starred the actress as Katy O'Connor, the assistant MANAGER of a residential hotel. Notably, in this series, Sothern had her own office and her own personal/private secretary, Olive Smith, played by Ann Tyrrell. As her character, Katy O'Connor, Sothern had to help out her guests and, more often than not, the owner of the hotel.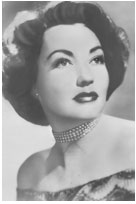 BOSS LADY (1952)
If Sothern, on her famous series, ultimately still answered to a man (as Mary Tyler Moore did on her show), such was not the case with the series "Boss Lady." "Boss" starred former film star Lynn Bari as Gwen F. Allen, the head of her own construction firm, Hillsdale Homes. The series was a production of Wrather Television and aired over NBC in the summer of 1952. As the very feminine woman executive in a very masculine field, Allen (Bari) often found confusion afoot. Also not helping the situation was her often-troublesome father who Gwen was always having to bail out of trouble.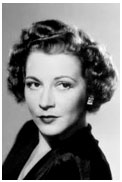 MY HERO (1952-1953)
Before Bob Cummings found TV fame as the randy lead in his long-running "Love That Bob" series, the former matinee star starred in this single-season series. Cummings played the "hero" of the title but the term was deeply ironic. In actual fact, Cummings, as lead character Robert S. Beanblossom, was a rather incompetent real estate broker working for the equally scattered-brained Willis Thackery (played by John Litel). Thankfully for both of them, Julie Bishop co-starred on the show as their super competent secretary Julie Marshall. In one episode, disaster (and some laughs) ensues when Julie takes a short vacation and the guys who are left behind prove hopeless with their own accounts and even their own office machines. Thankfully, Julie arrives back at the office just in the nick of time. Not particularly successful during its original airing, episodes of "My Hero" are now plentiful on home video.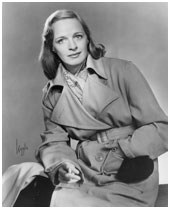 FOREIGN INTRIGUE (1951-1955)
TV has often believed in the power of the press—even for its early female characters. Betty Furness starred as a female reporter on the series "Byline" in 1951; various actress starred as crack reporter Lorelei Kilbourne on the series "Big Town" from 1950 to 1956; and, of course, there was always Lois Lane over on "The Adventures of Superman" from 1952-1958. In this sorority we must also include actresses Synda Scott and Anne Preville who starred, at different times, in the syndicated series "Foreign Intrigue." Shot mainly overseas, the series also starred Jerome Thor, James Daly and Gerald Mohr and was the weekly hard-hitting story of some globe-trotting reporters unafraid to pursue even the most dangerous story or interject themselves into the story they were covering. And, in their respective seasons, Scott and Preville were fearless in going toe-to-toe with "the boys." In one episode, Scott's character, Helen Davis, admonishes a male colleague, "That's what you get for trying to beat me to a story."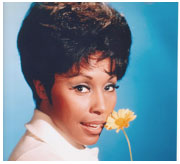 JULIA (1968-1971)
The great Diahann Carroll made history with this soft-hearted sitcom of 1968 by being the first TV series to focus on an African-American character not in a stereotypical role. But often forgotten in discussion of Carroll's and the series's pioneering look at race and single motherhood (Julia was a widow with a young son) was the matter of Julia's occupation: she was a nurse. Sharply attired in her well-starched nurses's uniform, Julia worked for Dr. Morton Chegley (played by Lloyd Nolan) at the medical offices of Astrospace Industries. Dr. Chegley once described Julia as "the best nurse he'd ever had" work for him. And, in an interesting addendum to the series, when the show began, Mattel brought out a TV tie-in posable fashion doll in Carroll's likeness. But unlike many dolls of the era that usually arrived in stories dressed in bathing suits or ball gowns, this "Julia" came attired in her professional uniform, ready to go to work.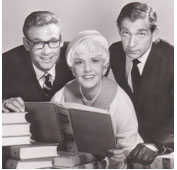 THE JEAN ARTHUR SHOW (1966)
Jean Arthur had been one of the biggest and most beloved stars of 1930s and '40s cinema. Though her big screen heyday might have been behind her, in 1966, she came to television in this self-starring sitcom. Arthur still had as much style and charm as she did in the movies. This time out she played a female attorney. (In that regard, she followed in the footsteps of June Havoc who had played a lady lawyer earlier on TV in the 1954-55 series "Willy.") On "The Jean Arthur Show," Arthur was the glamourous and well-regarded esquire Patricia Marshall. Marshall had a thriving practice, an extensive wardrobe and her own chauffer. Since this was a sitcom, Marshall's cases were hardly "Inherit the Wind" but they did provide a weekly chance for Marshall to exhibit her savvy understanding of the law and of human nature.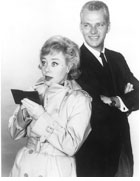 GLYNIS (1963)
With her saucer-size eyes and one-of-a-kind voice, Glynis Johns is hard to miss and hard to forget whether she's in a leading role ("Miranda") or a supporting one ("Mary Poppins," "The Court Jester"). An early fan of hers, Lucille Ball, brought her to TV in 1963 for her own unique hybrid series. In "Glynis," Johns starred as Glynis Granville, the writer of mystery novels, who, wouldn't you know it!, often—like a latter-day Jessica Fletcher—got involved with real-life crimes that she just had to solve. Granville's constant access to crime was a little easier to understand than Ms. Fletcher's though as Glynis was married to a criminal attorney played by Keith Andes. Equal parts comedy and mystery, "Glynis" was an unusual series and a tough one to pull off, but its leading lady always proved herself both an insightful detective and a brave crimestopper.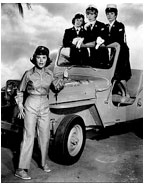 BROADSIDE (1964-1965)
Despite this program's rather suspect title, "Broadside" was a pretty positive and pro-woman series. This sitcom—in the grand tradition of "Phil Silvers"--told the story of a small group of US Navy WAVES stationed in the South Pacific during World War II. Kathy Nolan, Lois Roberts and Shelia James (formerly of "Dobie Gillis") starred as the women soldiers while gangly Jimmy Boyd starred as a male recruit with a unisexual name who was mistakenly assigned to their unit. Also featured were Edward Andrews and Dick Sergeant (pre-"Bewitched") as two male officers who made no secret of their dislike for women in the armed services. Frequently plots revolved around the male officers attempting to get rid of or demote the female recruits. In one episode, Kathy Nolan as Lt. Anne Morgan tells her superior, "We joined the WAVES to fight the war, not sit in some back area…."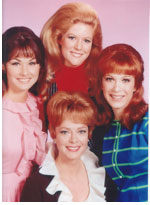 PETTICOAT JUNCTION (1963-1970)
This beloved addition to Paul Henning's rural universe of sitcoms (which also included "The Beverly Hillbillies" and "Green Acres") is usually recalled in terms of its three young pretty leading ladies, slow-moving Uncle Joe, the equally slow-moving Cannonball train engine or the lovely work of lead Bea Bernaderet as small town hotel owner Kate Bradley. But, what is often forgotten is actress June Lockhart's late entry into the series in 1968. After Bernaderet's untimely death in October 1968, TV veteran Lockhart was brought onto the series to, more or less, fill the matriarchal role. What is also often forgotten is that the character Lockhart played, Janet Craig, was also a physician. Though female doctors had been seen off and on on TV since the days of "City Hospital" in 1952, Lockhart's Dr. Craig brought to the screen its most high-profile lady MD up to that time. Lockhart, on the series, dispensed medical care and mother advice and stayed with the series until it was cancelled in 1970.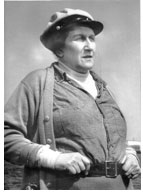 TUGBOAT ANNIE (1957-1958)
On the big screen she had been played by no less of a name than Maria Dressler, when the world's most famous female sea captain came to TV, she was played by long-time character actress Minerva Urecal. This TV "Tugboat Annie" sailed her boat, the Narcissus, in first-run syndication for 39 black-and-white episodes. The comedy in each half-hour was broad but, in her weekly adventures on the water, Captain Annie was never depicted as anything but a skilled sailor. Not only was Annie (i.e. Annie Brennan) a working woman on early TV, she was also working in a field not normally associated with women and she was clearly over 40 years of age. And: a widow, she showed no interest in getting hitched again; this lady was married to the sea.
Shows Nobody Remembers but Me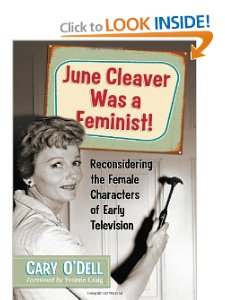 Get this fantastic book!
Amazon Prime - unlimited streaming
of your fave TV shows and movies!
Get your FREE 30 Day Trial!
PR4 & PR5 Pages for Advertising