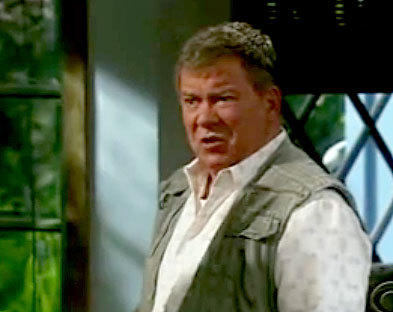 The Dregs of the Season 3
(2007-2014)
by Cary O'Dell
And the disasters don't stop! Once again, in every new fall TV season there always seems to that one show that the critics unofficially single out as the worst that the new slate has to offer. I guess someone has to be the sacrificial lamb. But, believe it or not, usually the critics are right. So, let's recall a few shows from recent memory that have the "distinction" of being the nadir of the fall and the worst that TV (supposedly) has to offer….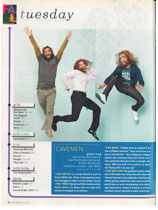 2007-2008 "Cavemen"
I've spoken of this sad misfire before. One would have thought that a TV show based on a set of one-joke commercials for car insurance had hit written all over it! Alas, "Cavemen" quickly became extinct as the show not only drew scathing reviews but also accusations of racism.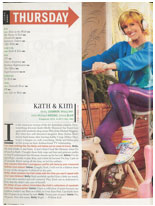 2008-2009 "Kath & Kim"
Molly Shannon, formerly of "Saturday Night Live," teamed with Selma Blair as a proudly tacky mother and daughter duo. "Kath & Kim" was very much cut from the same cloth as "Raising Hope" and "My Name is Earl" where working class equals funny. But, unlike those shows, this one was not a multi-season hit. Nor was it very well remotely liked by viewers or critics.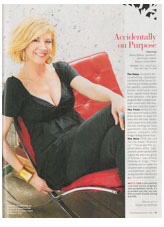 2009-2010 "Accidently on Purpose"
Even amid a season that brought Jay Leno to primetime TV almost every night of the week, the sitcom "Accidently on Purpose" seemed to stand out. And not in a good way. Another attempt to bring Jenna Elfman back to sitcoms, the show was about a woman and a man whose unprotected one night stand put them in a "family way." Rather than go their separate ways, though, the duo tried to forge a relationship. Unfortunately, they didn't have much luck forging a love bond with critics or audiences and "Accidently" was later cancelled on purpose.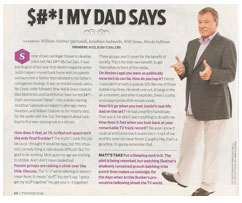 2010-2011 "$#*! My Dad Says"
In retrospect, a popular Twitter feed might not be the best source for a weekly sitcom. Still, CBS tried with this William Shatner sitcom. I'm still not sure the ex-Captain Kirk is totally in on the joke that his persona has become in recent years but that point is moot. This "Sh—" wasn't liked nor did it last on CBS's Thursday night.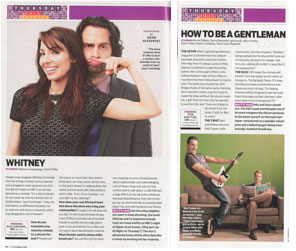 2011-2012 "Whitney" / "How to Be a Gentleman"
Ladies and gentlemen, we have a tie! The fall of 2011 brought us two shows that seemed to compete for contempt. "Whitney" was a sitcom built around the humor of Whitney Cummings and co-starred fellow stand-up Chris D'Elia as Whitney's live-in boyfriend of three years.
Meanwhile, "How to Be a Gentleman" (no, I didn't think you'd remember it) tried to find laughs in the juxtaposition of Kevin Dillon's crass personal trainer (think "Entourage," in fact, think Kevin Dillon) and his former school friend, now an uptight columnist played by David Hornsby. (Hornsby also created the series.) CBS yanked this show after airing two episodes.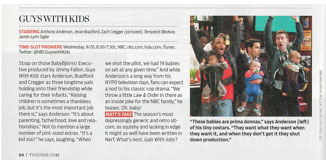 2012-2013 "Emily Owens, MD" / "Guys with Kids" / "Neighbors"
If sometimes there's a lot of love to spread around, sometimes there's a lot of hate too. Certainly that was the case with the 2012 fall season that brought us this trio of deeply disliked shows. First, you would think being the daughter of Meryl Streep would get you somewhere but it did little for Mamie Gummer in her hour-long series "Emily Owens, MD." This comedy-drama was on the CW and followed a new doc during her internship—she was good a medicine but (you guessed it) not so good a relationships. NBC's "Guys with Kids" (pictured above) was yet another take on the supposedly inherent comedy of men trying to raise kids. Besides Anthony Anderson (pre–"Black-ish"), the show brought nothing new to primetime and the critics were happy to point that out…. But sometimes critics can sort of jump the gun. Consider "The Neighbors." When it first debuted, critics hated this sitcom about a group of alien visitors moving into the suburbs next to Jami Gertz and her family. Most critics viewed it as a sad redux of "My Favorite Martian." But, with time, the show found its own wonderful unique, self-reflexive vibe and found enough of an audience to survive its first season and come back for a second.

2013-2014 "Dads"
Seldom has a show been as hated as "Dads." Part of FOX's 2013 fall line-up, this sitcom starred Seth Green, Giovanni Ribisi, Martin Mull, and Peter Riegert. They were two sets of father and sons and—get this!--they didn't always see eye to eye. Critics didn't see eye to eye to the show's crassness or exploitation of racial stereotypes.

2014-2015 "Mulaney"
John Mulaney is a very funny stand-up comic and a former writer for "Saturday Night Live." Often this translates well to sitcom success—note "Roseanne," "Seinfeld," etc. But something got very lost in translation and Mulaney's self-starring sitcom was universally panned at the start of the 2014-2015 season. Even co-star Martin Short couldn't save this sad sack of a sitcom. Mulaney has since returned to the stand-up stage with a critically well-received cable special.