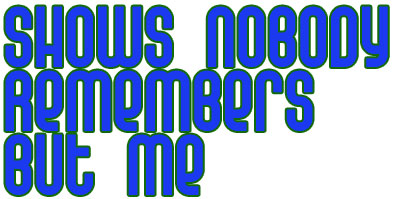 PART TWO / by Cary O'Dell
Surely I'm not the only one, am I? A little while ago, Billy was kind enough to post some of my more obscure TV memories. Well, there are PLENTY more where those came from! Does anyone else remember any of these?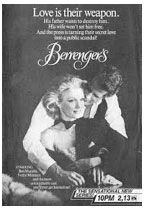 "Berrenger's" (1985)
In the mid-1980s, during their big-shouldered heyday, ABC and CBS dominated the ratings with their primetime soaps, specifically "Dynasty" and "Dallas." NBC had only middling success with their evening serialized dramas. "Flamingo Road" never truly took off. And even "Bare Essence," despite a successful mini-series lead-in, couldn't catch on when it became a weekly series in 1983. Still, the Peacock didn't stop trying. "Berrenger's" was their next try. It was set in a glamorous New York City department store, perhaps one along the lines of Bergdorf-Goodman's. Sam Wanamaker played the store's stern owner and family patriarch.
His sons were played by Ben Murphy and Robin Strand. Yvette Mimieux, Anita Morris, Jeff Conway, Andrea Marcovicci and Donna Dixon made up the rest of the well-heeled (and well-dressed) cast. With Murphy's likable character carrying on an extramarital affair with Mimieux and Strand's suffering from the usual plight of a Poor Little Rich Boy (overspending, drinking, et.al.), "Berrenger's" wasn't a bad show. But launching a new soap is tough and being saddled by its network with a then kamikaze timeslot on Saturday night didn't help; this store was open for only three months.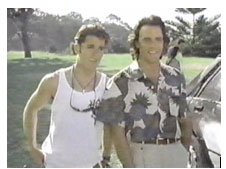 "High Tide" (1994-1997)
From the once fertile ground of first-run syndication (that part of the TV spectrum that once gave us "Baywatch," "Star Trek: TNG" and "Xena") came this hour-long detective and adventure yarn. "High Tide" was pretty high concept. Rick Springfield (he of "General Hospital" and "Jesse's Girl" fame) starred in the series as one of two brothers who spent most of their days surfing the waves of Southern California. But Springfield's character, Mick Barrett, was a former cop, and as always happens (at least on TV), he had a habit of often finding himself embroiled in trouble.
Mick's eager younger brother was played by Canadian actor Yannick Bison. Springfield and Bison had an easy charm, as did the show that never took itself too seriously.
"High Tide," which also originally featured George Segal, aired for three seasons. After its conclusion, Springfield returned to guest spots, the recording studio and even, briefly, "General Hospital." The likable Bison, returned to Canada, and has enjoyed a long career north of the border.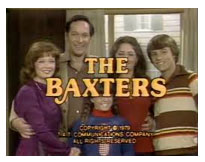 "The Baxters" (1979-1981)
"Baxters" was one of Norman Lear's lesser-known efforts and, perhaps, rightly so. "Baxters" was actually more of an experiment than sitcom--an attempt to blend Lear's characteristically topic-driven comedy (think "All in the Family") with audience-participation talk (think "Donahue"). "The Baxters" was a standard family sitcom (a mom and dad and three kids; Anita Gillette originally played the mom). Each of their weekly stories took about 15 minutes and usually took on some sort of social or political issue—school busing, the energy crisis. The Baxters had many discussions in their living room but never really came to any conclusions. Because, you see, was the job of YOUR friends and neighbors. After the first half of "The Baxters," the show would cut from their fictional stories and lives to a local TV studio and a regional host and a small audience who would then discuss the topic of the episode.
"The Baxters" was syndicated and local stations carrying it were charged with putting on their own local discussions. Larger affiliates would even air the local segments live and encourage viewers to call in with their opinions.
"Baxters" might have been democracy in action but the "sitcom" segments weren't very entertaining and the local production needed to make the second half of the show work could be costly to small stations. Hence, "The Baxters" didn't last very long and, today, it is considered just a noble experiment.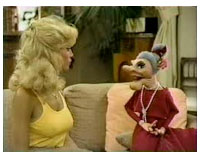 "Madame's Place" (1982)
Yes, Waylon Flower's famous puppet once had her own show. As if the irrepressible "Madame" wasn't camp enough, the series also featured famous starlet Judy Landers and then child actor Corey Feldman in supporting roles. Nothing was subtle in this 30-minute free-for-all sitcom that aired in an unusual Monday through Friday strip, a tough undertaking from a creative and production standpoint and one that has seldom been successful. Still, Madame, the great diva that she was, gave it her all and delivered many a cutting remark in the way that only a fake persona made of cloth and plastic and yarn can. And you thought Jeff Dunham got away with a lot. He had nothing on Madame!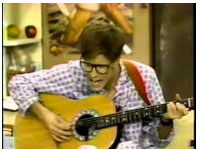 "The Steven Banks Show" (1994)
This one-season sitcom has a particular place in TV history: it was the first situation comedy ever produced by and for PBS. Its namesake star was also its creator, Steven Banks. Banks was and is a musician, actor, mime, writer and comic. He first came to fame as the star of his own one-man show, "Steven Banks: Home Entertainment Center," that eventually was taped and shown over Showtime in 1989.
Banks's likable persona as an at-home slacker with a perchance for parody songs proved popular enough for the cable channel to try to spin him off into his own series. "The Steven Banks Show" pilot was aired by Showtime in January of 1991. But, for whatever reason, the cable service failed to pick up any additional episodes.
Banks eventually took his act to PBS, via New Orleans public station WYES. Thirteen episodes were produced for public television in 1994. The show was eccentric and esoteric and, not surprisingly, has since developed a cult following. A cassette of some of the show's/Banks's very catchy original songs is still sought after and/or treasured by fans.
Banks would have far, far more success with some of his next projects including working as a writer for "SpongeBob SquarePants" and "Jimmy Neutron."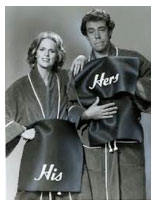 "Turnabout" (1979)
The always wonderful Sharon Gless—after her time on "Switch" but before her career-making role on "Cagney & Lacey"—had the female lead in this unfortunately short-lived sitcom. The show was a like a twist of "Freaky Friday." A married couple (played by Gless and well-known character actor John Schuck), one night, made a wish on a magic statue. Each wished to switch places with the other. And, the next morning—wouldn't you know it?!—his soul was suddenly in her body and her soul was in his body!
Rather than being just a gender rip-off of "Freaky Friday" though the series was actually based upon a 1940 film of the same name that starred John Hubbard and Carole Landis. The film was based upon a novel, also titled "Turnabout," that had been published in 1931.
Despite a concept that might have been a clumsy excuse for slapstick and sexual stereotypes, in the hands of Schuck and Gless, the show was, instead, a fun send-up on gender roles and expectations. Sadly, the show ran for only three months.