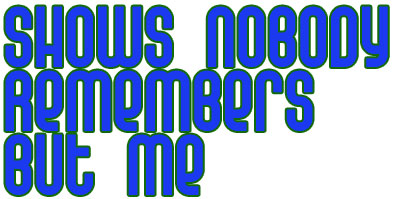 PART THREE / by Cary O'Dell
Told you there were more….
You know, sometimes I think I've watched too much TV in my lifetime…. Nah! After all, if I had watched less, then I would have missed out on these absolutely real programs, programs that no one else seems to have ever seen nor heard of but me….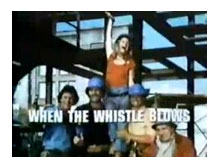 When the Whistle Blows (1980)
Some occupations, of course, lend themselves easily to fictionalized hour-long programming—doctors, lawyers, and, of course, cops. Well, for a few months in 1980, ABC tried to add the occupation of construction worker to that list with this program that followed the serio-comic antics, on the job and off, of a group of very good-looking builders, welders and foremen. Doug Barr (before "The Fall Guy") was featured as the unofficial leader of this ragtag group. Also featured was Dolph Sweet (pre –"Gimme a Break"), Phillip Brown, Susan Buckner, and Tim Rossovich. These guys (and token girl) worked hard and played harder, often getting embroiled in car chases and trying to right some wrong while sticking up for the little guy. Nothing ever affected their job or prevented them from grabbing a few brewskies at the end of the episode.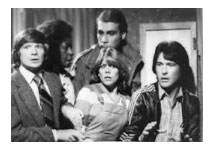 Detective School (1979)
Also known under the title "Detective School—One Flight Up," this ABC sitcom starred Dick Gregory as Nick Hannigan, an aging gumshoe who opened a storefront to train other would-be dicks. If "When the Whistle…" had a motely crue making up its cast, it had nothing on "Detective School." Randolph Mantooth (post-"Emergency") starred as one student as did the late Taylor Negron, LaWanda Page, Pat Proft, and Melinda Naud. Though the show was supposed to be about only people learning to be detectives, Hannigan and his students often found themselves caught up in real-life cases. Sometimes, they even had to go undercover, once as a group of caterers in order to infiltrate a foreign embassy. The show debuted in July of 1979, but was gone by the end of the year.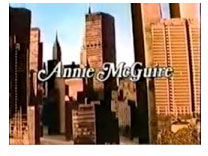 Annie McGuire (1988)
It was one of Mary Tyler Moore's post-"Mary Tyler Moore" attempts to return to series television. Previously, Moore had tried with two variety show efforts and also a traditional sitcom, titled simply "Mary," in 1985. (That show co-starred James Farentino and a pre-"Married…With Children" Katey Segal.) "Annie McGuire," from the fall of '88, was her attempt at "dramedy," a genre then briefly in vogue at the networks after the buzz generated by "The Days and Nights of Molly Dodd" on NBC one season earlier. In "Annie," Moore played the title role, a professional woman and recent newlywed. Dennis Arndt played Nick, Annie's new husband and the series revolved around the merging of his kids (a young Adrien Brody played one of the offspring) with hers and, more problematically, his ultra-conservative father with her very liberal mother (the latter played by Eileen Heckart). Though the "dramedy" elements never quite gelled in the show, "Annie" did, during its short lifespan, have a least one inspired plotline. In one episode, Annie is held up by handicapped mugger. When Annie manages to knock him down, her family and authorities lambaste her for abusing the disabled.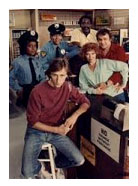 Open All Night (1981-1982)
Set in a 7-11-like chain store, the sitcom "Open All Night" has developed something of a cult following over the years thanks to its eccentricities and quality cast. Go-to character actor George Dzundza starred as the owner of fictional 354 Store (open every day but Christmas). He managed it with the help of his wife, Gretchen, played by beloved "B" actress Susan Tyrell and former footballer Bubba Smith who played Robin, the newly-hired night manager. The store was often visited at odd hours by equally odd customers. David Letterman appeared (as himself?) in one episode as did Cassandra Peterson (of "Elvira" fame") and a very young Corey Feldman. The star of the show however was the late Sam Whipple, who co-starred as Gretchen's determinedly weird son. He stole every scene he was in. Many episodes of this series have since been uploaded, in full, to Youtube.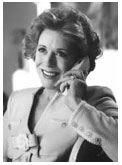 Me and Mom (1985)
The mid-1980s were the era of the unlikely detective team, played for equal parts laughs and thrills. While "Moonlighting" (also from 1985) was the highpoint of this subgenre it shared broadcast space with numerous others--"Riptide," "Remington Steele," "Simon & Simon," "Eye to Eye" and "Partners in Crime." Weird weekly crimes were surpassed only with oddball pairings as every type of duo was attempted at one time or another—from dissimilar brothers to dueling ex-wives to mysterious partners. In this milieu, of course, we had to add a mother-daughter pairing and "Me and Mom" was it. Lisa Eilbacher (who had just had a big screen success with "An Officer & A Gentleman" not long before) starred as a criminologist turned PI who often got "help" (wanted or not) from her wealthy and glamorous mom played Holland Taylor. Taylor, as she was on "Bosom Buddies" earlier and later on "Two and a Half Men," was a joy, but this trope/type of a show was already played out and "Me and Mom" lasted only two months.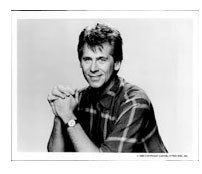 Dads (1986-1987)
This "Dads" is not to be confused with the equally short-lived sitcom that aired on FOX last season. No, this "Dads" was more like an equal time "Kate & Allie." In this ABC sitcom, two fathers, each with full custody of their children, move in together to split living expenses and share parental responsibilities. Barry Bostwick played a Yuppie news reporter with a teen daughter and Carl Weintraub played his blue-collar pal who had two young sons. I don't recall if the men were both divorced or played widowers or what. In fact, I don't remember too much else about the series other than, after a wide assortment of sitcoms from that era that always portrayed father figures as either incompetent or absent, "Dads" was a nice—and positive—change of pace.
Shows Nobody Remembers but Me
Read Part One Here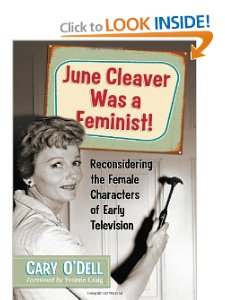 Buy this fantastic book!
Amazon Prime - unlimited streaming
of your fave TV shows and movies!
Get your FREE 30 Day Trial!
PR4 & PR5 Pages for Advertising