Family Feud host Richard Dawson is dead. When I was living in LA I was at the ABC studios in Silver Lake. As I passed a stage the door popped open and I could see they were filming Family Feud except taping had stopped because Richard Dawson was having a screaming fit over something or the other. I stopped and watched for a minute while he ranted, then went on my way. Of course, there was a studio audience watching all of this, I'm sure it was much more interesting than the game. I've worked for screamers so I'm not that impressed by that kind of behavior as long as the screaming isn't aimed at me - and it never was.
Sunday, June 3, 2012 - 11:09am
WOULD YOU LIKE TO RESPOND?
INTERESTING TIMES
Clara Sayre writes with interesting news if you're a fan of TV Kid Shows as we are here: I am part of a small team of people who are working to bring back the Captain Kangaroo show. Pat Cashin, a renowned Ringling Bros. clown, has acquired the Captain Kangaroo trademark and is putting together a pilot episode to shop around in order to get a weekly CK show going again. We have a Captain Kangaroo Facebook page, and I'm maintaining a children's blog for the Captain. And the official site (for now).
You may remember that there was an updated version of Captain Kangaroo in the 1990s that flopped because the producers didn't really understand the original show or Keeshan's approach. Here's what Wikipedia had to say on that remake: In 1997–1998, a sequel revival series tentatively titled The All New Captain Kangaroo was attempted by Saban Entertainment. John McDonough played the Captain on this version, which was shot in Tampa, Florida. Keeshan was invited to appear as a special guest called "The Admiral," but after seeing sample episodes, he declined to appear or have any association with the new incarnation. It ran for one season and inspired a spin-off show, Mister Moose's Fun Time. I'm always skeptical of TV remakes but any attempt to educate children through television has my support! Besides, Pat Cashin is a stellar performer (ClownAlley.net) and may have more insight into the character than that other guy had. He's got the look down!
Speaking of revivals there's a new version of The Care Bears coming soon.
Game of Thrones and Blackwater have both seen ratings drop.
I may have posted this before - but it's still funny! The hilarious Rodney Dangerfield's stand-up act in the 1970s.
Friday, June 1, 2012 - 9:08am
WOULD YOU LIKE TO RESPOND?
AUNT BEE AND MORE
A very rare interview with Frances Bavier, TV's Aunt Bee after she moved from LA to a small town in in North Carolina, Siler City. I used to pass that house on the way to the beach and wondered why she would, seemingly, move to a place that is as close to Mayberry as you could get. Siler City has all the old Southern charm, the small downtown area still does.
Now that I'm finished writing PUNK (the editor has it now) I can get back to TVparty!

Coming soon: Kevin Butler has a retro-review of Chuck McCann's Let's Have Fun show from New York.
And Jim Longworth will have a talk with Patrick Duffy coming this week, they'll discuss the new Dallas series on TNT starting June 15th. I'm really looking forward to it - the series and the article! And Jim brought up an interview he wants to do with television LEGEND who's been out of the public eye for some time. Intrigued?
What was the local children's show you grew up with? Assuming you're old enough to remember such a thing! My local hero was The Old Rebel.
Thursday, May 31, 2012 - 9:00am
WOULD YOU LIKE TO RESPOND?
Here's a very entertaining blog authored by L.A. Post-Punk performer Michael Ely that will be of particular interest to those lucky enough to live in Tuscon.
John Mayer talks about life now that he can no longer sing.
History Channel's 'Swamp People' star Mitchell Guist died after boat fall. History and Original Media, producers of Swamp People, offered this statement: "We are extremely saddened to report that our friend and beloved member of the Swamp People family, Mitchell Guist, has passed away earlier today. Mitchell passed on the swamp, doing what he loved. We appreciate your respect for the Guist family's privacy and hope you join us in sending our thoughts and prayers to his brother, Glenn, and the rest of the Guist family.

Simon Cowell almost sounds like he wishes Britney Spears will fall apart during a live episode of 'X Factor.'
Remember the blow to the head that nearly killed Bret Michaels? His lawsuit against the producers of the Tony Awards and CBS is over - the settlement is confidential.

ABC has ordered 10 - count 'em 10 - new series for this fall.
Here's the Facebook page for my new book coming in June - PUNK. And here's a preview...
Harry's Law was cancelled - here were my two questions with Kathy Bates recorded before the show debuted two years ago.

This guy wants to built a working, real life replica of the starship Enterprise. Yes, as in fly the thing to Saturn, real life working.
Tuesday, May 15, 2012 - 9:32am
WOULD YOU LIKE TO RESPOND?
As I predicted Dark Shadows is a stiff, so-so reviews, only $28 million at the box office (Dark Shadows was predicted to earn a minimum of $35M). It looks like the movies based on TV shows curse is alive and well. I'll see it and offer my take - is it better than House of Dark Shadows? I am looking forward to the laughs and show references. The Avengers - over $100 million this weekend.
This is a must-read article on Jack Kirby's influence on the movies.
Jim Longworth will have an interview with Mad Man creator Matt weiner. He's in North Carolina shooting a feature length comedy that's loaded with stars.
Sunday, May 13, 2012 - 3:35pm
WOULD YOU LIKE TO RESPOND?
Kaptain Kidshow sends over these wonderful pictures of past Romper Room ladies from around the USA.

Sunday, May 13, 2012 - 11:45am
WOULD YOU LIKE TO RESPOND?
ANOTHER PASSING
Kevin Butler writes: Mort Lindsey, who composed musical scores for the films "I Could Go On Singing", "40 Pounds Of Trouble", and the musical director for "The Merv Griffin Show" died at his Malibu, Cal. home after a fall on May 4, 2012. Mr. Lindsey was 89 years old.
Born in Newark, N.J. on March 21, 1923, Lindsey had received his formal education at Newark Arts H.S. and he later studied musical composition at Columbia University in NYC where he earned his doctorate in music education.
He created scores for the movies "Gay Purr-ee" (an animated feature film for UPA and Warner Brothers which starred the voices of Judy Garland, Robert Goulet, Paul Frees and Hermonie Gingold), "The Best Man" and "Stolen Hours".
He also served as Ms. Garland's musical director for her CBS TV musical/variety series and for her 1961 concert at NYC's Carnegie Hall (which was recorded and sold as an Grammy winning LP disc). Mr. Lindsey also appeared on camera as Ms. Garland's conductor for her last movie "I Could Go On Singing" in 1963.
He also arranged and performed the music for Pat Boone and for Barbra Streisand's CBS TV concert "A Happening In Central Park" (this televised concert was also produced, cut and released as a successful recording).
But Mort Lindsey will always be remembered for his work on "The Merv Griffin Show" which aired in national syndication (and briefly on CBS TV) during the 1960's, '70s and '80s and was taped first at NYC's "Little Theater" (now known as The New Helen Hayes Theater) and later in Los Angeles-first at The Hollywood Palace TV Theater and then at "The TAV Celebrity TV Theater". His work on Mr. Griffin's series earned him Emmy nominations and he won an Emmy for his work on Ms. Streisand's TV concert. He is survived by his wife Judy,three sons and three daughters.
We've lost so many great television talents lately.
Here is Merv Griffin in a duet with the great Jack Sheldon backed by Mort Lindsey and his orchestra.

Wednesday, May 9, 2012 - 5:34am
WOULD YOU LIKE TO RESPOND?
Me-Too is airing a tribute to George Lindsey all this week at 12 p.m. and 10:30 p.m. with episodes of 'The Andy Griffith Show' that feature stories around 'Goober.'
Viewers can watch Me-Too on WCIU-TV 26.4, Xfinity 247/358, RCN 22, WOW 171 and AT&T U-verse 48.

Mr. Lindsey was best-known as the grinning gas station employee in 'The Andy Griffith Show' from 1964 to 1968, as well as in 'Gomer Pyle, U.S.M.C.' as the title character's cousin in the Andy Griffith spin-off TV series.

Below are titles of the episodes featured in this week's tribute to George Lindsey during the regularly scheduled broadcast times and dates of 'The Andy Griffith Show' on Me-Too.

Monday, May 7
12:00 p.m. "Eat Your Heart Out"
10:30 p.m. "Fun Girls"

Tuesday, May 8
12:00 p.m. "Goober's Replacement"
10:30 p.m. "Goober Takes a Car Apart"

Wednesday, May 9
12:00 p.m. "Mind Over Matter"
10:30 p.m. "Andy & Helen Have Their Day"

Thursday, May 10
12:00 p.m. "Goober Makes History"
10:30 p.m. "Goober & The Art of Love"

Friday, May 11
12:00 p.m. "Goober the Executive"
10:30 p.m. "The Lucky Letter"
Oh that Fun Girls episode is so funny!
Speaking of which Kevin Butler has an obit for George Lindsay, he was such a great character.
Tuesday, May 8, 2012 - 7:29am
WOULD YOU LIKE TO RESPOND?
WHERE I HAD LUNCH
Anyone remember Biff Burger? When I was a kid there were several around - in the pecking order of burger chains in the 1960s/'70s there was McDonald's at the top, Burger King just below, Hardees, then Biff Burger taking up the rear. Like the other chains Biff Burger (stands for "Best in Fast Food") was different from the rest, they had their own tangy sauce that the burger was dipped in after cooking in a special rotating broiler. I hardly ever ate at one but Biff Burger was always less expensive than the other chains which led to the impression (in my mind, anyway) that their burgers weren't as good.
The chain went under in the mid-1970s and the restaurants disappeared almost completely by the mid-1980s but two still survive using the same recipes with the same basic look to the places. One is in St. Petersburg, Florida the other I just ate in, the renamed Beef Burger (the owner changed the name in the 1980s in case the franchise was revived and he got hit with back fees).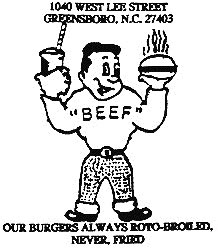 Beef Burger is a 50+ year institution in Greensboro, NC, it's like going back in time with the 1970's chairs and tables (yellow and attached as one unit, naturally) and the 1980's arcade games. They still use the classic "Biff" character, one of the worst designed mascots in history!
And the food - grease-liscious. Best steak sandwich I've had in a while. UNC-G students have long flocked to this place to down cheap eats that really soak up the alcohol - although they have a sign on the door that says, "If you're drunk eat somewhere else."
You can find the history of Biff Burger at this wonderful site. Enjoy!
Wednesday, May 2, 2012 - 11:03am
WOULD YOU LIKE TO RESPOND?

Read more CLASSIC TV Blog entries here!