A sequel to Anchorman is in production.
Netflix is getting aggressive - Queen Latifah's production company, Flavor Unit Entertainment, has signed multiyear deal that gives the streaming media company first look at titles from her production company. Word on the street is Netflix's new original series starring Kevin Spacey, House of Cards, is a hit with the critics. Should be, the production cost $50 million for the first season alone.
There may be a Yoda movie coming from Disney / Star Wars. Just the kind of thinking I would expect.
Here's the pilot for the 1966 Batman TV show, originally filmed as an hour then split into two half hours for a dynamic duo of nights. Watch both episodes. Oddly, not once did they tell the origin story of Batman, too violent for 1960s TV.
Tuesday, February 5, 2013
WOULD YOU LIKE TO RESPOND?
Look at the amazing array of superstars on this episode of Hollywood Squares:
Monday, February 4, 2013
WOULD YOU LIKE TO RESPOND?
Commercial blast from the 1970s Superbowl past:
Sunday, February 3, 2013
WOULD YOU LIKE TO RESPOND?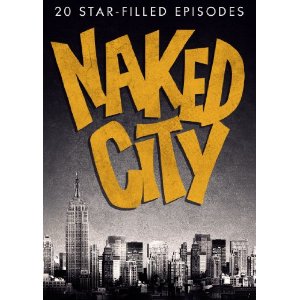 Naked City: 20 Star-Filled Episodes
There are 8 million stories in the Naked City... these are 20 of them.
20 of the best episodes of the early 1960s drama The Naked City arrived on DVD and it's very nicely put together, with pristine picture and sound.
This is a slow moving police hour set in New York City, native New Yorkers will be thrilled to see the city in all of it's pristine post-1950s vertical beauty. Many episodes, like 'Lady Bug Lady Bug', was filmed entirely on location and every storyline features the city prominently.
The allure of the show were the guest stars and they include William Shatner, Robert Redford, Dustin Hoffman, Telly Savalas, Martin Sheen and many other notables.
Viewers of modern day dramas will likely find these shows preachy and dialogue heavy but that's what TV dramas were in the 1960s.
Fans of this series have waited a long time for a release like this one from Image Entertainment and they won't be disappointed. There is also a 40 episode 'Best of Naked City' collection available.
Saturday, February 2, 2013
WOULD YOU LIKE TO RESPOND?
Here's your video of the day, a look back at Saturday morning TV shows from the past.
Saturday, February 2, 2013
WOULD YOU LIKE TO RESPOND?
A great night of television - Friday nights on ABC in 1970.
Friday, February 1, 2013
WOULD YOU LIKE TO RESPOND?
Bowling with Candid Camera.
Thursday, January 31, 2013
WOULD YOU LIKE TO RESPOND?
ABC's new show sounds revolting - "Bet On Your Baby," a new primetime game show in which parents try to predict their child's next move in an effort to win money towards their child's future education, hosted by actress and comedienne Melissa Peterman.
Barbra Streisand will perform at the Oscar ceremony, her first time singing on the show in 36 years.
Roseanne Barr is guesting on The Office.
Jim Nabors married his longtime partner and has publicly come out as gay. He says he's been open about being gay professionally.
Wednesday, January 30, 2013
WOULD YOU LIKE TO RESPOND?
Watch an episode of The Newlywed Game from 1966:
Tuesday, January 29, 2013
WOULD YOU LIKE TO RESPOND?
Outakes from 2 and a Half Men:
Monday, January 28, 2013
WOULD YOU LIKE TO RESPOND?
Kevin Butler looks at the life of a local NYC kid show performer, the legendary Herb Sheldon who would have been 100 years old this month.
You won't BELIEVE the weirdo stories I culled from news sites all over the Net! Updated often!
I'm going to start posting a 'You Tube Clip of the Day' here every day. Watch today's: Curb Your Enthusiasm Season 6 outakes. It'll whet your whistle for the upcoming DVD set of ABC's Saturday Night Live clone Fridays. I wonder how many of the musical guests will be included? That was the best part of the show for me, all of those big hair New Wave groups on parade.
J. J. Abrams will direct the next Star Wars movie.
Saturday, January 26, 2013
WOULD YOU LIKE TO RESPOND?

Read more CLASSIC TV Blog entries here!