VIDEO VILLAGE
Sid & Marty Krofft present Fol-de-Rol (1971) With Cyd Charisse, Howard Cosell, Totie Fields, Milt Kamen, Guy Marks, Ricky Nelson, Mickey Rooney, Ann Sothern, Yma Sumac, Billy Barty, Monte Landis, Robert Shields and Lynn Thigpen.

My memory of working with 1980's porn star Johnny Harden. Gene Carrier aka Johnny Harden made news in 2011 when he claimed to be the biological father of Ashton Kutcher, Josh Harnett, Robbie Williams and porn star Brent Corrigan. He told Corrigan (who's mother denied the story), "I did do a DNA test with Ashton and it checked out." He also announced a planned return to gay porn movies this year.
Tuesday, July 31, 2012 - 10:48am
WOULD YOU LIKE TO RESPOND?
RANDOMNESS
Whoever Nicki Minaj is, one of her fans jumped up on the stage during her Miami concert and got his ass kicked right there on the stage. The singer? Unfazed.
The story behind 'Minnie's Boys', the flop musical based on The Marx Brothers.

Drew Friedman discusses Old Jewish comedians.
Is it too soon to joke about the Colorada massacre? Dane Cook doesn't think so (I don't either) "So I heard that the guy came into the theater about 25 minutes into the movie. And I don't know if you've seen the movie, but the movie is pretty much a piece of crap… Yeah, spoiler alert. And I know that if none of that would have happened, I'm pretty sure that somebody in that theater, about 25 minutes in, realizing it was a piece of crap, probably was like, 'Ugh f—king shoot me.'"

ABC is worried that their hit show Modern Family won't have the original cast when it returns for year four. September is coming soon and everyone is holding out for more money. I suspect they get it but some cast members are suing to get out of their contracts. Nice tactic!
Sunday, July 29, 2012 - 11:45am
WOULD YOU LIKE TO RESPOND?
Mitchell Hadley: Wanted to put in a couple of shameless plugs for It's About TV!, my new all-TV blog. I've been doing a feature each Saturday, called "This Week in TV Guide," where I take an issue from my modest collection, anywhere from the late 50s to the mid 70s, and look at what was in the issue for this week. It might concentrate on the listings themselves - what was on back then that we might be interested in - or it could focus on one (or more) of the feature articles, looking at a developing cultural trend. Here's the link to this past week's piece as an example.

Also, you might have seen that survey conducted by Nielsen and Sony that purports to show the 20 most memorable moments on TV from the last 50 years. Let's say I wasn't too impressed by it. I wrote about it here, along with a suggestion of my own top 10. I'd love if you could put in a plug for this, and encourage everyone to go over to the post and put their own top 10 (or so) in the comments section.

Weigel Broadcasting Co. and Hearst Television announced today an affiliation agreement in which five additional Hearst markets will carry Me-TV. Those local stations will be WCVB, Boston; KCRA, Sacramento; WBAL, Baltimore; KOCO, Oklahoma City and WXII, Greensboro. This brings the total of Hearst's Me-TV affiliates to 13. In addition, Hearst has extended its commitment to the network with the renewal of its existing Me-TV affiliate agreements to 2015.

Stumbled on to this the other day, it's really cool - Rick Saphire and His Celebrity Friends:


Weird but fun star filled hour special for (I think) Saturday morning - Sid & Marty Krofft present Fol-de-Rol (1971) with Cyd Charisse, Howard Cosell, Totie Fields, Milt Kamen, Guy Marks, Ricky Nelson, Mickey Rooney, Ann Sothern, Yma Sumac, Billy Barty, Monte Landis, Robert Shields and Lynn Thigpen.
Thursday, July 26, 2012 - 9:33am
WOULD YOU LIKE TO RESPOND?
WHAT?!?
You don't cross Barbara Walters as George Zimmerman knows now, when she hits she strikes like an angry leopard and she has the TV chops to take anyone down: That is, until Zimmerman's lawyer called the show, interrupting the last ten minutes, telling Barbara that Zimmerman was willing to do the interview. From her perch on the couch Barbara shut them down, saying pointedly "We will now continue with our program, and with the people who agreed to interviews and [came] here" before throwing it to a medley of 70s classics written and sung by Paul Williams.
Aaron Sorkin is replacing the writing staff for season 2 of The Newsroom.

Rita Moreno is one of my favorite actresses, she reflects on her career here. She looks fantastic!
Friday, July 20, 2012 - 6:23am
WOULD YOU LIKE TO RESPOND?
PAST & FUTURE
Bob Deveau writes: TV Party is a fantastic site and I love all the stuff you've accumulated about local TV shows. A major find has been posted on the Major Mudd Facebook page: Tracy Harrington Kiddie, a former employee of the long defunct WNAC-TV Ch. 7 in Boston has rescued a number of video clips of "The Major Mudd Show" from the 1970s! These videos were initially saved by Tracy when she cajoled an older director at the station into allowing her to make copies, then they were actually rescued again from her house when it recently burned down!
The first clip / The second clip

The Hobbit preview at Comic Con was a huge smash hit.
Jackson shot "The Hobbit" in 3-D and at 48 frames a second, twice the speed that has been the standard since the 1920s. The higher frame rate allows for greater visual clarity, though it requires costly upgrades to digital projectors for cinemas showing films at that speed.
It's only a matter of time before Marvel implodes, and I suspect that moment is coming soon if they proceed with Antman and Gaurdians of the Galaxy movies, odd choices sure to be a flop. Personally a Jim Steranko inspired Nick Fury Agent of SHEILD set in the 1960s would be a better idea.
HEY! If you don't follow my facebook page for PUNK you're missing out on retro LA fun!
Sunday, July 15, 2012 - 11:58am
WOULD YOU LIKE TO RESPOND?
PEARL BAILEY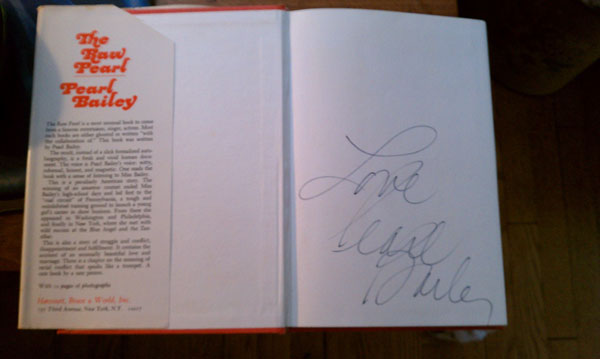 A couple of years ago in a second hand bookstore I bought Pearl Bailey's book 'The Raw Pearl' published in 1968 when she was on Broadway with Hello Dolly. When I got it home I noticed it was autographed and a flyer from the play was inside, apparently you could buy autographed copies in the lobby, I'm guessing, and this was one of those books. The small flyer read: At this performance the role of Ambrose Kemper is played by Donald Coleman.
Pearl recorded some amazing albums, here she performs 'Don't Like Goodbyes' from House of Flowers.
Whenever Pearl was given an hour long variety special you could be assured of a blast with stellar guest stars. This is from 1971 with Bing Crosby, Louis Armstrong and Andy Williams.
Here's Pearlie Mae and husband / orchestra leader Louis Bellson in concert from the seventies.
Andy Williams is one of the smoothest singers and his variety series in the 1960s brought out the best in his guests and that's certainly true of Pearl Bailey. A very refreshing version of 'The Simple Life.'
Saturday, July 14, 2012 - 11:38am
WOULD YOU LIKE TO RESPOND?
THE ONE THE ONLY
Thank goodness for television and Groucho Marx. The guy was so funny, naturally he was amazingly successful on TV, leaving behind hundreds of hours of laughs. So let's laugh along with Groucho.
This is one of Groucho's later appearances, at the Friars roast of Johnny Carson in 1968, note John Wayne is on the dais. The Friars Roasts have been collected on DVD at classicfriarsroasts.com, I would love to have those (it's a subscription thing). The Friars Roasts were more pure than the Dean Martin shows, more authentic and you have the great comedians all at the top of their games, as opposed to the Martin Roasts where you had aging stars like Jack Benny on their last legs.
This is weird and wonderful - Groucho and Truman Capote on The Dick Cavett Show. Bring back The Dick Cavett Show!
Here's a sample chapter from my new book PUNK. This section is all about the New Wave group Missing Persons and how they became the first MTV superstars. I have some edgy music from the eighties, book excerpts and other mind-numbing entertainment on my PUNK Facebook page.

Ernest Borgnine has died. What a massive talent he was.
Monday, July 9, 2012 - 5:38am
WOULD YOU LIKE TO RESPOND?

Read more CLASSIC TV Blog entries here!