TV NEWS
Steve Martin is one of the most beloved and iconic talents in American comedy. Until now, however, his body of work on television has been largely unavailable on DVD. That all changes on September 18, 2012, with the release of Steve Martin: The Television Stuff from Shout! Factory and SOFA Entertainment. From the stand-up act that made him a comedy rock star (of which only two complete performances were ever recorded, both included in this set) to his four joyfully twisted NBC sketch comedy specials, his Oscar®-nominated short film and a jewel box of additional comic bits, The Television Stuff finally delivers one of the most unique and treasured eras in Steve Martin's celebrated career. The set was made in collaboration with the celebrated actor, comedian, author, playwright, producer and musician, and will feature never-before seen videos.

Shout! Factory has announced an exclusive offer for The Television Stuff. The first 100 copies ordered from ShoutFactory.com will be autographed by Steve Martin! Pre-orders can be placed here.
Now that Netflix is reviving Arrested Development The Street has a list of 10 shows they think are ripe for a redo. Some are foolish, like Freaks & Geeks. Those kids are grown now so if you start over what's the point? But I agree with Veronica Mars. At the top of my list would be The Andy Griffith Show, there are still Mayberry cast members alive and a younger generation can take the lead. But it would have to fall in line with today's times.

Last week's series debut of Anger Management was the most-watched scripted comedy primetime series premiere in cable history in delivery of Adults 18-49 (2.65 million), and Total Viewers (5.47 million, excluding children's programming). It also ranks as the most-watched series premiere in FX history in Total Viewers. Episode 2 of Anger Management (9:30P) grew to 5.74 million Total Viewers, and the demo also grew in the second half hour to 2.89 million A18-49.

The Season 2 premiere of Wilfred and Season 3 premiere of Louie posted significant growth over their prior season averages – (Wilfred +71% and Louie +55% in Total Viewers). Last night's season premieres for both of those series were the second highest-rated episodes in their history and will likely be their highest-rated episodes ever when Live+7 data is available in three weeks.

And the series premiere of FX's new late night comedy BrandX with Russell Brand got off to a good start in the 11P time slot with 1.1 million Total Viewers and 687,000 Adults 18-49, which marked respective increases of +32% and +38% vs. FX time-period average.
Sunday, July 1, 2012 - 5:55am
WOULD YOU LIKE TO RESPOND?
DICK BEALS
I did a short interview for The James Rana Show on WFDU in New York state. He will be broadcasting a tribute to the wonderful Dick Beals who passed away recently. He was the voice off Speedy Alka-Seltzer, Davey from Davey & Goliath, Gumby, Bob's Big Boy and so many other iconic characters. The Dick Beals tribute will air Sunday July 1st at 8am on 89.1fm WFDU and on-line at www.wfdu.fm
Don't miss it, not for me, but for the other fascinating guest he has collected for the tribute. Did you know Mr. Bubble is 50 years old?!? That was another of Dick Beals' lucrative advertising accounts in the sixties.
Tuesday, June 27, 2012 - 8:55am
WOULD YOU LIKE TO RESPOND?
THERE'S MORE!
The release date for Universal's The Bourne Legacy has been moved back a week, from Aug. 3 to Aug. 10. I really hope they've made a good movie I love the Bourne series.

The long hyped Charlie Sheen vehicle Anger Management and the return of Louis CK's Louie happens Thursday, June 28 ofn FX. EW says Louie is better than ever, topping season 2 will be something to see!

What would it be like to be in the restaurant when Chef Ramsey has done his makeover and it's the first night of service being filmed for the show? A New York writer, Lanford Beard was seated for the season 6 opener and it's an interesting story. The series returns September 28 on FOX.
Did you know one of Chef Ramsay's Kitchen Nightmares hosts committed suicide? 39-year-old Joseph Cerniglia (the chef at New Jersey restaurant Campania) jumped to his death off the George Washington Bridge in NYC. And Rachel Brown, 41, shot herself in her family's Dallas home a year after appearing on Hell's Kitchen in 2006. Both of those deaths happened in 2010.
The Black Keys are suing Pizza Hut and Home Depot, they say music was used without permission. You'd think companies that big would know better....
Tuesday, June 27, 2012 - 8:55am
WOULD YOU LIKE TO RESPOND?
CAROL!
Here's Carol Burnett on the creation of The Family sketches.
Here's one of (if not the) last Family sketch on The Carol Burnett Show, from season 11. I hadn't seen this one before. Burnett's show was a bit long in the tooth by that point, not terribly funny, but you gotta love Carol and Betty White (Harvey Korman had left the production).
Speaking of, there's a Carol Burnett Specials collection coming soon with the shows leading
up to her solo series.
Friday, June 22, 2012 - 8:00am
WOULD YOU LIKE TO RESPOND?
BACK IN TIME
Funny how a one season wonder like Time Tunnel still has a legion of fans, including myself. I mean, to be honest, there are only a handful of watchable episodes. But the pilot was so fantastic it carried the entire series. Mid Atlantic Nostalgia Convention updates us: Fans of The Time Tunnel will enjoy this up-coming weekend with James Darren and Robert Colbert as our weekend guests. We'll be screening James Darren's first movie, Robert Colbert's introduction to Maverick and Robert Colbert's guest appearance on Surfside 6, among other highlights. Be sure to check out the website to see a complete list of all the celebrities attending in August!
Shirley Jones will be there too, sounds like fun!
Neville Ross writes about the upcoming DVD release of Shazam!: ...Count me out of this; I used to watch the original show, and while I may have loved it as a kid, as an adult, I can see how silly and stupid it is now. I'd rather be reading Shazam/Captain Marvel instead, or watching a new animated series based on the direct to DVD movie that came out. The show doesn't work now.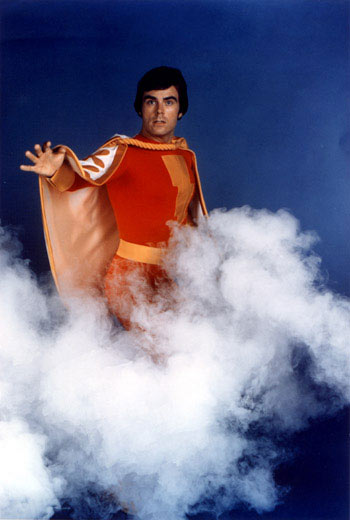 Well, I actually am looking forward to it—mostly because it was shot outdoors! I'm going to enjoy seeing Chatsworth before it was paved over with condos. In the meantime here's a short interview I did with Shazam! star Jackson Bostwick wherein he talks about the surprising reason he was fired from the role.
Didja ever see the magazine article I scanned from 1945 (Spot magazine #1) that showed how Captain Marvel comics were created?
Tuesday, June 19, 2012 - 8:00am
WOULD YOU LIKE TO RESPOND?
TALES OUT OF SCHOOL
It was 21 years ago when my boss Tony Seiniger walked into the bullpen at 6:00pm on a Friday and asked if I would stay and storyboard the opening titles for Robin Hood, Prince of Thieves. He had a beautiful antique weaving that he found to use for the background and specified white titles. The type didn't pop enough against the variegated background so I airbrushed some yellowish-orange tint (not on the fabric on the storyboard) to flatten the colors just enough for the 'pop-ability' Tony insisted on.
When I showed him the finished art and explained the change he said, "No problem. We'll shoot it by candlelight." I was out of there by 7:30 and here's what Tony shot:
Uh Oh. Someone asked High School-ers some basic questions from the citizenship test! That never goes well. The clueless boy is so cute he doesn't need to be smart! (Did you know you can use your headphones for a microphone?!?)
Ken Tucker, one of my fave TV reviewers, sets his sights on the new Dallas.
The National Enquirer had a snippy article about Happy Days star Erin Moran living in a trailer park and states how awful she looks. Not fair! Look at the photo for yourself I think she looks great for her age. Hey, look, just because someone isn't a TV star any longer is no reason to denigrate them.
Best of TV Blog is another television related blog where I link to stories about new and old TV shows along with other entertainment news.
So if you don't find me here I might be there!
Thursday, June 14, 2012 - 10:00am
WOULD YOU LIKE TO RESPOND?
QUICK HITS
Frank Cady, Sam Drucker from Green Acres, has passed away at the age of 96.
Kevin Butler writes: "This month former NYC based kids TV host/performer Chuck McCann will be selling his new book The Let's Have Fun Scrapbook: My Life In The Wacky World Of Live Television. To help promote this new manuscript I'm reprinting my article from The NYC Kids Shows Round Up section that looks back at Let's Have Fun's history and to give some extra insight into it's success as one of NYC's most popular and enduring kid's comedy variety programs."

Donald Trump is suing one of his Miss USA contestants for saying the contest is rigged. Of course it is, it's a TV show!

What a fantastic DVD collection this is - Route 66 The Complete Series. Not only do most of the episodes look and sound crystal clear there's a filmed symposium with the show's star George Maharis and producers and writers. (In all fairness some of the earlier episodes look like syndication prints.)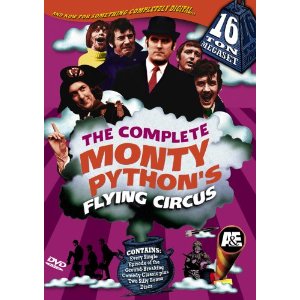 Another boffo complete set has been released by A&E Home Video - The Complete Monty Python's Flying Circus 16 Ton Megaset packed with every episode of the hit comedy series that turned television on its ear.
It's inconceivable to me that someone hasn't experienced the Python troop, they exploded in the USA during their run on PBS in the 1970s, followed by the cult hit movies into the eighties - And Now For Something Different, Life of Brian and others. The motion pictures are not included in this set but they aren't missed, it's in the television and live shows where the group really shines.
A particular joy for me in the extras was the inclusion of Live at the Hollywood Bowl. I had that soundtrack as a kid in the seventies and thought it was a blast. Getting to see the actual concert again (I think it ran on HBO in the '80s) reminds me just how funny these raucous lads were improvising.
It's not at all likely there will be another reunion so this 14-volume mega-set serves as a testament to the timeless hilarity that is Monty Python's Flying Circus.
Monday, June 11, 2012 - 6:40am
WOULD YOU LIKE TO RESPOND?
PROGRESS?
Every time I think I'm going to be back to work I get pulled away - this time I had to run to Atlanta for a callback audition for a new TV series, a drama. I can't tell you about it of course but the show has an amazing pedigree and the role I read for is a dream part for me. Not that I expect to get it, my luck hasn't been running in that direction lately!
Also got my new book back from the editor, making last minute changes and it should be available in less than 2 weeks. Famous last words. I can tell you though, this is by far the best thing I've ever done. I hope.
Jim Longworth has a great interview with Dallas star Patrick Duffy ahead of the TNT reboot of the show.

Susan Walker writes: On hearing that "The Munsters" is being reworked as a drama, I have only one thought. It didn't work for The Bradys. At least we haven't been subjected to a Munster Variety Hour.
Actually I would watch The Munsters Variety Hour - if it had the original cast!
Someone Auto-Tuned Mr. Rogers and it's become a viral hit.
'Thor 2' is in the works - but without Josh Dallas as Fandral. He's committed to ABC's 'Once Upon A Time,' whatever that is. (Honestly, I don't want to know.) They made the feature stars sign five picture deals, so they're locked in for sequels and Avengers films.
Speaking of, 'Madagascar 3' will be tops at the box office this weekend, not 'Prometheus.' Oops!
Sunday, June 10, 2012 - 11:10am
WOULD YOU LIKE TO RESPOND?
COMING ATTRACTIONS
Two shows I've been wanting to see on DVD are coming soon - The Carol Burnett Show and Shazam!
Shazam! is coming from Warner Archives, no date yet but here's a Facebook page to 'Like.'
Time-Life is releasing a 22 DVD mega-set of The Carol Burnett Show
contains 50 episodes from the award-winning and influential TV series with each episode hand-picked By Carol Burnett. From the press release: Everybody wanted to be a guest on The Carol Burnett Show, and featured on the Ultimate Collection DVD set are the funniest and most talented people in the business, including: Betty White, Carl Reiner, Steve Martin, Lily Tomlin, Joan Rivers, Bernadette Peters, Sammy Davis Jr., Alan Alda, Dick Van Dyke, Shirley MacLaine, Rock Hudson, Vincent Price, Phil Silvers, Joel Grey, The Smothers Brothers, Stiller & Meara, Tony Randall and many others.

In addition to the classic sketch the Ultimate Collection also boasts over 400 musical performances, including many tributes to the musical theatre and movies Carol grew up with.

The Carol Burnett Show: The Ultimate Collection is host to over twelve robust hours of exclusive bonus features, including:

Three episodes from The Garry Moore Show where Carol got her start, including the "Supergirl" episode, where Carol did her Tarzan yell, for the first time on television.

Rare sketches from the first five seasons of The Carol Burnett Show, not seen anywhere in over 40 years. Included are guest appearances by Lucille Ball, Jerry Lewis, Bing Crosby and Bob Hope, plus one of the most beloved sketches in the history of the show-- "The Dentist," with Harvey Korman and Tim Conway.
A raucous 100-minute Cast Reunion with Carol, Vicki Lawrence, Tim Conway and Lyle Waggoner.

Exclusive featurettes on The Ultimate Collection include:



"I Want to Push That Button..."—The History of The Carol Burnett Show
"Bring Up the Lights" – Carol's Q&As

Focus on "The Family"

"Ahhhh, Mrs. Ha-Wiggins?"—As in "Tudball and Wiggins"

Starlet, Mildred, and More – A Celebration of the Movie Parodies

Next Stop, Broadway – About the "Mini-musicals"

Breaking Up Is Hard…Not to Do---The Ensemble Chemistry and Famous "break-ups" on The Carol Burnett Show

"Where Do You Get Your Ideas?"---A Tribute to the Writers on The Carol Burnett Show

Gags and Gowns---A Tribute to Designer Bob Mackie
All together, Time Life interviewed over twenty people as part of the Bonus Feature production—including guests from the show (Betty White, Carl Reiner, Jerry Lewis, Ken Berry, Rita Moreno, Steve Lawrence, Lainie Kazan and Joel Grey); writers (Kenny Solms, Gail Parent, Ken and Mitzi Welch); designer Bob Mackie; and current performers influenced by Carol (Ellen DeGeneres, Jane Lynch and Amy Poehler). Complete interviews of all cast-members, crew, guests and fans will be included in the bonus features of The Ultimate Collection.
THE CAROL BURNETT SHOW: THE ULTIMATE COLLECTION is now available for pre-order at www.CarolOnDVD.com
Tuesday, June 5, 2012 - 11:59am
WOULD YOU LIKE TO RESPOND?

Read more CLASSIC TV Blog entries here!