LINKS!
Check out my article on the Hottest Christmas Toys as Seen on TV from 1950-1983 - with the original commercials! Here's one of the commercials you'll see...
I've been transcribing an interview with legendary actress Francine York. In our talk we discussed The Chicago Teddy Bears (she guest starred) and how fun it was to work with Art Metrano. Here's the guy's comedy act, very funny!


Think your boss might be a pchychopath? Here are the signs to look for.
Friday, November 16, 2012 11:59am
WOULD YOU LIKE TO RESPOND?
THE LATEST
There's going to be a Transformers 4 - why? - and Markie Mark is starring.
'Burn Notice' has been renewed but for a shorter seventh season.
'Skyfall' made over $30 million the first DAY.
There are few show I enjoyed more than The Merv Griffin Show, although I stopped watched years before this clip featuring Shatner & Nimoy talking about 'Star Trek II.'
Poor Erin Moran from Happy Days and Joannie Love Chachi should be living in comfortable retirement. After all Happy Days was a top rated sitcom in America for over a decade. But instead she's broke and was evicted from the Trailer Park she was living in. She's reportedly writing a book.

Kevin S. Butler writes: Sadly the world of local kid's TV and cartoons has suffered another los, comic/ character actress/ mimic and former San Francisco TV host and performer Ms. Lucille Bliss. She died on Thursday, November 8, 2012, she was 96 years old.
Born in New York City on March 31, 1916, Ms. Bliss did the voice of one of the mean stepsisters in Walt Disney's animated feature film "Cinderella". She also did the voices of The Sunflower and Turnip in Disney's "Alice In Wonderland" and provided voices for numerous Hanna/Barbera characters like "Droopy Leprechaun", "The Flintstones" and she was the voice of "Smurfette".
She hosted her local kid's TV series "The Happy Birthday To You Show" for ABC TV's San Francisco from 1950 to 1957. But she is best remembered by animation fans as the first performer to do the voice of television's very first cartoon character Crusader Rabbit. Crusader was produced and released in national syndication in 1949 and, despite the limitations of the animated scenes, became a hit due to it's brilliantly written scripts and witty dialogue.
Ms. Bliss worked on the series with fellow VO actors Vern Loudin, Russ Coughlin and Roy Whaley. She found the time to be interviewed for The TV Hall Of Fame's "Living Archives" series and she appeared on a tribute to KRON TV. She continued to do voice overs until just recently, her last acting endeavor was "Unwrap An Expletive" which has not yet been released.
Sunday, November 11, 2012 11:59am
WOULD YOU LIKE TO RESPOND?
SUNDAY RUNDOWN
Kevin Butler notes a milestone: Saturday and Sunday September 1 and 2, 2012 marked the 40th anniversary of the debut of Ms. Carol Corbett's last NYC based kid's TV show "The Patchwork Family." Debuting on WCBS TV Ch. 2 in NYC as a weekend afternoon children's news magazine, Carol and her puppet pal "Raggs" (manipulated by former country singer turned puppeteer Mordicai Carey Antebi) would perform songs and comedy skits, engage their viewers in puzzles as they introduced segments about animals presented by Ed Riccutti, exercise segments with Suzy Pruden and Larry Traddup, craftmaking by Prof. Lebobo ("Uncle Bo") along with songs, stories and cartooning lessons by animator/entertainer and animation historian John Canemaker.
Speaking of Mr. Butler he has has two tributes to TV greats - one a look at William Windom's TV work and another look at Ron Paillo, both of whom passed away recently.
Here's the Frasier cast on Star Trek Voyager in a funny skit from a UPN Star Trek TV special.

Chevy Chase had a tantrum on the set of community, halting filming because he was offended by something his racist character was supposed to say. In the tirade he used the word "nigger." The guy is nuts!
COMEDY CENTRAL has ordered "Triptank," a weekly, half-hour series showcasing a wide range of fast-paced, hard-hitting animated shorts delivered in a variety of animation styles, it was announced today by Kent Alterman, Head of Original Programming and Production, COMEDY CENTRAL. Executive produced by ShadowMachine's Alex Bulkley and Corey Campodonico ("Robot Chicken," "Moral Orel"), "Triptank" is slated to premiere eight episodes next fall. "When we did the pilot, they assured me it would be literally animated...and it was," said Alterman. "We will do the same for the series."

My favorite comic Louis CK has been signed to host SNL. Maybe it'll be funny for a change!
Rush Limbaugh, Sean Hannity, Glenn Beck (secretly) sell endorsements to conservative groups: In search of donations and influence, three prominent conservative groups (Americans for Prosperity, FreedomWorks, the Heritage Foundation) are paying hefty sponsorship fees to the popular talk show hosts. Those fees buy them a variety of promotional tie-ins, as well as regular on-air plugs – praising or sometimes defending the groups, while urging listeners to donate – often woven seamlessly into programming in ways that do not seem like paid advertising.
If you're a fan of Las Vegas Legends Like Dean, Frank, Totie Feilds and Johnny Carson check out my other site devoted to the greatest entertainers on the Strip!
Speaking of Totie Feilds:
Sunday, October 21, 2012 10:55am
WOULD YOU LIKE TO RESPOND?
STUFF
Kevin Butler has a quick tribute to a TV icon that passed away recently, Welcome Back Kotter's Ron Palillo.
Garry Shandling had a Larry Sanders Show cast reunion recently. "People always talk about the cast of a series being like family—that isn't what this group is like," says Shandling, who was reunited with co-stars Rip Torn, Jeffrey Tambor, Sarah Silverman, Penny Johnson Jerald, Wallace Langham, and Mary Lynn Rajskub. "We're somehow even closer than that. This was more like a group therapy reunion."
Now here's a classic episode of Match Game '76!
Friday, October 12, 2012 - 9:25am
WOULD YOU LIKE TO RESPOND?
SAD PASSING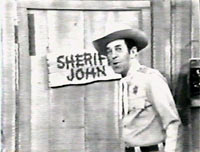 Kevin S. Butler writes: Radio/TV host and singer and popular kids MC "Sheriff John" Rovick died October 6, 2012 at a nursing home in Bosie, Id. at the age of 93. Mr. Rovick began his career in radio in his hometown of Toledo, Oh.
He would later move to Southern California in 1949 when he joined up with local TV station KTTV Ch. 11 as the station first went on the air.
In 1952, Mr. Rovick made his TV debut on the show for which he will always be remembered. The station execs at Ch. 11 had acquired a collection of cartoons and they needed someone to MC the new series. Rovick volunteered to host the program and he came up with the idea of hosting the show as a law enforcer. Basing the character of "Sheriff John" on his friend, Los Angeles County Sheriff Gene Biscailuz.
Sporting a khaki uniform, badge and a white hat Sheriff John's Lunchtime Birthday Brigade was seen weekday afternoons; he would engage the visitors to his office (the viewers) in songs, stories, games, informational segments and interviews with performers and personalities between reruns of "Crusader Rabbit" and other popular films. He also did live segments on location showing his viewers how cars were built and how bread was baked. He also received visits from such performers as TV's "Superman" George Reeves.
(The show was originally titled Cartoon Time when it debuted in 1949. Later on in the series' run the show, originally begun as a weekday evening program, moved to a weekday afternoon time slot at lunchtime and was retitled Sheriff John's Lunchtime Birthday Brigade.)
The show became a hit with L.A. kids, they would flock to see their hero at many personal appearances. They also sent in letters, drawings and photos to the sheriff's office. One letter in particular was one that had great poignancy. A terminally ill little boy was being treated by his father one night and the parent was crying but the boy encouraged his father to sing Sheriff John's theme song "Laugh & Be Happy." Rovick received a letter from the boy's parents telling him that their son had died; at the service the pastor at the church recalled the boy's request that his father sing Sheriff John's song.
Sheriff John won the first local Emmy award for "Best Children's TV Host" during the 1949 Emmy awards and his series would remain on the air until it was cancelled in 1970.
Rovick made few TV appearances following his show's cancellation but remained on as staff announcer. He made a guest appearance on Tom Hatten's "Popeye Show" in the late 1970's with fellow L.A. kids TV hosts "Skipper Frank" Herman, Jimmy Weldon and Vance Colvig. He made his last TV appearance at the 1999 Prime Time Emmys.
Sunday, October 7, 2012 - 11:45am
WOULD YOU LIKE TO RESPOND?
STUFF
Vana Phill sends this: Think children's television in the 1960s, and you'll probably remember TV legend Sonny Fox, who is best known as the host of the long-running children's TV Sunday-morning marathon "Wonderama." The title of his memoir, But You Made The Front Page!: War, Wonderama And A Whole Bunch Of Life, is a line from his Mother, which illustrates how to flip a negative into a positive. "To understand the title, you gotta either buy the book or come to the event," he said when asked about the unusual title. Sonny was also host for many other programs and an executive and broadcasting consultant, and later formed his own television production company, which produced numerous TV series, including PBS' "Golden Age of Live TV Dramas" and "Great Performances." Copies of the book, not yet available in stores, will be sold at the talk with signing afterwards.
J.R. Bowen writes: I am writing about a local kid's show that aired in the 1970s, possible into the 80s. The show was locally produced in Lincoln NE by KOLN/KGIN-TV, and was called For Children Only, or F.C.O. It was Christian-themed, and aired Sunday mornings. The host was a man whom I believe was a minister called "Dale", and a mouse puppet named Morty Mouse. They showed Terrytoon cartoons like Woody Woodpecker, Chilly Willy and Heckl and Jekyl (forgive my spelling, this is an old memory), as well at the stop-motion Davey and Goliath films. And just to date the show, the theme music was "The Hustle". Can't get much more 70s than that! I have written to KOLN/KGIN to find any information about the show, but haven't yet received a reply. Even internet searches have found absolutely nothing. I would love to at least see some pictures from this show...maybe some clips still exist?
Tuesday, October 2, 2012 - 9:46am
WOULD YOU LIKE TO RESPOND?
THE BEAR
Kevin Butler writes: I've seen your website's tribute to Mr. Andy Williams... it mentions a recurring comedic character "The Bear" who would constantly show up at Mr. Williams' front door to pester him for cookies. The actor who played "The Bear" on this series and TV shows including "The Hudson Brothers Razzle Dazzle Show" was Mr. Janos Prohaska. Mr. Prohaska also played Apes on series like "The Red Skelton Comedy Hour" and "Gilligan's Island." He also did a pilot for a TV fantasy sitcom with my dear friend and fellow performer Soupy Sales, "The Bear & I" in 1973. Sadly Mr. Prohaska would perish in a plane crash years later.
I remember being shocked by his death, shooting a PBS series on early man if I recall. I guess I felt a connection having received the package from "The Bear" - funny how those types of correspondence aren't done anymore because there are so many crazy people out there. By the way, Kevin has a tribute to the late William Windom you may want to check out.
Thursday, September 27, 2012 - 11:39am
WOULD YOU LIKE TO RESPOND?
ANDY WILLIAMS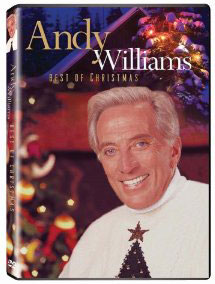 One of my favorite television stars has passed away, Andy Williams. His variety show in the 1960s was something our family watched together each week. I was especially fond of the series when it returned in 1969 after a couple of years being off the NBC schedule. The new format was executed by Laugh-In alumni Allan Blye & Chris Bearde who went on to produce the Sonny & Cher Comedy Hour. I liked the show so much I wrote to Mr. Williams, somewhere around here I have the signed 8x10 glossy he sent. Under separate envelope I received a letter from The Bear and an autographed picture of him. (The Bear was a recurring character that was crazy about cookies, pre-dating the Cookie Monster.)
Andy Williams' Christmas specials were a favorite as well. When I was filming 100 Great Things About the Holidays for Bravo I asked why they weren't planning to cover the Andy Williams' shows, but they knew nothing about them. Thankfully they added a segment.
I never understood why the networks didn't turn to Andy for more holiday specials after the eighties, leaving just us older guys to remember the great joy he brought via television to the holidays each year.
Wednesday, September 26, 2012 - 10:31am
WOULD YOU LIKE TO RESPOND?
QUESTIONS ABOUT CHRISTMAS SPECIALS
Debbie writes: There was a show that I think I saw in the late 80's/early 90's called something like "A Wish for Christmas" about a little girl who wants a grandma for Christmas and she leaves the orphanage or school where she stays and gets on a bus and gets off at a town where she doesn't know anyone. Somehow she gets to an older woman's home and asks her if she'll be her grandma and the man and woman of course are delighted. It's an animated piece, probably 30 minutes long. I've never been able to find it and it was so touching to me because I am adopted and this really echoed my feelings at one time. Do you have any idea where I could find this?
Cecilia Tamayo: I have been looking high and low for this film/movie. It would be showing during Christmas time when I was a little girl. I believe it was out in the 1950's or 1960's, it may even be from England. Although I saw it late 60's early 70's or so.
The story goes that there is a little girl sick in bed, very ill. Her father comes home and gives her a music box of "Twas the Night Before Christmas. It veered away from that moment and started an animated story of the poem...it was done so well. The station...2 - 4 or 7 (we only had about 5 stations back then) stopped it one year and started playing the ridiculous 'Twas the Night before Christmas a mouse tail instead. It was surely a gloomy time, my mother was horrified. Every time I see it come on, I long for the other. It was so beautifully done. They always seem to take the good stuff away and put on crap instead.
Wednesday, September 19, 2012 - 11:26am
WOULD YOU LIKE TO RESPOND?

Read more CLASSIC TV Blog entries here!